He Ain't Heffe
| Straight To Ale
BA SCORE
84
good
10
Reviews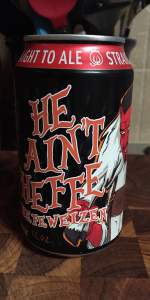 BEER INFO
Brewed by:
Straight To Ale
Alabama
,
United States
straighttoale.com
Style:
Hefeweizen
Alcohol by volume (ABV):
5.00%
Availability:
Rotating
Notes / Commercial Description:
He Ain't Heffe is our take on the traditional German hefeweizen. An unfiltered wheat beer, it has a big nose full of banana and clove, a light and fruity flavor and a very small hop profile. Sweet and refreshing… a great lawnmower beer!
Added by Reaper16 on 08-02-2012
Reviews: 10 | Ratings: 48
4.35
/5
rDev
+18.9%
look: 4 | smell: 4 | taste: 4.5 | feel: 4.5 | overall: 4.5
served on-tap @Alcove, Tuscaloosa, AL, into a mason jar
Pours a pretty bright yellow color. It's hazy, of course. A nice, 1.5 fingers of sterling white head. It looks like a nice hefe.
The banana esters are quite strong in the nose of this beer. Banana and, like, hazelnut. Or something. Pretty nice. The spices are toned down relative to other hefeweizens. This reminds me of a blend of Paulaner and Weihenstephaner.
the flavor bears out that blended, in-between idea. It's a fruit-forward hefeweizen, but not overdone; not at the expense of balance. Lots of banana, wheat malt, hazelnut, and some slight notes of brown sugar. The cloves-laden spice bill takes a backseat, content to balance the esters and wheat flavor instead of demand equal attention. It's very good.
The mouthfeel is pretty full for the style: creamy but the carbonation isn't too sharp. It is filling, in a satisfying way.
Overall, this is one of the best American-brewed Hefeweizens I've had the pleasure of consuming. A wonderful beer for a humid Alabama summer. Straight to Ale continues to impress.
★
1,090 characters

3.91
/5
rDev
+6.8%
look: 3.5 | smell: 3.75 | taste: 4 | feel: 4 | overall: 4
This beer is AWESOME! Between the aroma and flavor of banana and spice from the German yeast to the delectable, lively mouthfeel, I really can't decide what I like most about this beer, but there is certainly nothing to gripe about.
★
232 characters
3.79
/5
rDev
+3.6%
look: 3 | smell: 4 | taste: 3.75 | feel: 4 | overall: 3.75
Had poured from a very cold can into a chilled mug.A least two fingers of white head with a little bit of lacing. Interesting smell took a while to figure it out but smells like a banana sandwich . Good smooth taste and feel but like most heffe's not real strong flavor other than the banana . Overall good beer for a hot day.
★
326 characters
3.76
/5
rDev
+2.7%
look: 3.75 | smell: 4 | taste: 3.75 | feel: 3.25 | overall: 3.75
A: Pours a relatively clear deep golden yellow in color with moderate amounts of active visible carbonation rising from the bottom of the glass and moderate brassy highlights. The beer has a finger tall dense foamy light beige head that slowly reduces to a large patch of medium thick film covering the entire surface of the beer and a medium thick ring at the edges of the glass. Moderate amounts of lacing are observed.
S: Slightly stronger than moderate aromas of banana + clove with light aromas of wheat malts.
T: Upfront there is a moderate flavor of wheat malts with a light amount of grainy sweetness. That is followed by light to moderate flavors of banana and light flavors of clove. No discernible flavor of hops and only a light hint of bitterness which fades away pretty cleanly leaving a light lingering flavor of banana.
M: Light to medium bodied with moderate amounts of carbonation. Slightly thin.
O: Easy to drink and refreshing with decent banana + clove yeast flavors and aromas. Nothing special but very drinkable.
★
1,039 characters
3.75
/5
rDev
+2.5%
Out of Growler from The Filling Station in Nashville,TN (day of growler fill)
Bright golden yellow color with minimal quick dissolving head, aroma of slight bananas and wheat malt. Tastes pretty good, you can taste the banana and a little nuttiness. This is a pretty good Hefeweizen, but not a very good example of one. There are much better ones out there, but it is always good to try different breweries takes on an iconic style of brew.
★
444 characters
3.71
/5
rDev
+1.4%
look: 3.5 | smell: 3.75 | taste: 3.75 | feel: 3.5 | overall: 3.75
Hazy appearance of a lighter shade of gold. Attractive white cap that quickly dissipates.
An aroma of light citrus with clove, banana and wheat malt seasoned with a hint of spice.
Taste is simple but solid, straight down the middle of the road with a little tartness all the way. Banana and clove apparent on entry with wheat becoming stronger mid palate and prominent in the finish/aftertaste. There is little hop presence but enough there to balance the rest.
Light medium texture.
A good solid effort without any flashes or flourishes, just simple stuff that does it's job a bit better than average. Good flavor that should enjoy a wide appeal. Not the equal of a sophisticated German Hefe but relatively unflawed and certainly nothing to complain about.
★
768 characters

3.56
/5
rDev
-2.7%
look: 3.5 | smell: 3.75 | taste: 3.5 | feel: 3.5 | overall: 3.5
First had poured from 12-oz. can into Weizen glass. All of the Hefeweizen elements are present, but this 5.00 ABV beer is a bit rough around the edges. Great can.
★
164 characters

3.49
/5
rDev
-4.6%
look: 3.25 | smell: 3.5 | taste: 3.5 | feel: 3.5 | overall: 3.5
On tap at Cypress Street pub (ATL).
Hazy light amber with a decent but rather short-lived head.
Flavor features more malt and Moderate banana. Otherwise, true to style with some yeasty and spicy flavors.
★
205 characters

3.44
/5
rDev
-6%
look: 3.5 | smell: 3.75 | taste: 3.25 | feel: 3.25 | overall: 3.5
Appearance - Pours mostly clear yellowish color very small white head from an aggressive pour, no lacing.
Smell - Banana, clove, yeast, typical nothing stands out.
Taste - More of the same but much weaker, banana and clove, little bit of cinnamon. I was pretty surprised this is very watered down not much flavor.
Feel - Light just kind of bland
Overall - Not a big fan of this probably will not try it again.
★
415 characters
2.97
/5
rDev
-18.9%
look: 3.5 | smell: 2.75 | taste: 3 | feel: 3 | overall: 3
On tap at the brewery.
Clear gold. Smells and tastes oddly sweet and syrupy; but there's a whiff of wheat yeast on the endtaste. Clean, but a bit meh. Some fruit.
★
163 characters
He Ain't Heffe from Straight To Ale
3.66
out of
5
based on
48
ratings.