He Ain't Heffe
| Straight To Ale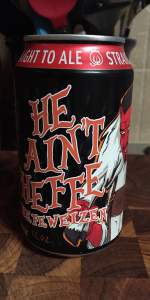 BEER INFO
Brewed by:
Straight To Ale
Alabama
,
United States
straighttoale.com
Style:
Hefeweizen
Alcohol by volume (ABV):
not listed
Availability:
Rotating
Notes / Commercial Description:
No notes at this time.
Added by Reaper16 on 08-02-2012
Reviews: 8 | Ratings: 41

3.44
/5
rDev
-5.5%
look: 3.5 | smell: 3.75 | taste: 3.25 | feel: 3.25 | overall: 3.5
Appearance - Pours mostly clear yellowish color very small white head from an aggressive pour, no lacing.
Smell - Banana, clove, yeast, typical nothing stands out.
Taste - More of the same but much weaker, banana and clove, little bit of cinnamon. I was pretty surprised this is very watered down not much flavor.
Feel - Light just kind of bland
Overall - Not a big fan of this probably will not try it again.
★
415 characters

3.91
/5
rDev
+7.4%
look: 3.5 | smell: 3.75 | taste: 4 | feel: 4 | overall: 4
This beer is AWESOME! Between the aroma and flavor of banana and spice from the German yeast to the delectable, lively mouthfeel, I really can't decide what I like most about this beer, but there is certainly nothing to gripe about.
★
232 characters
3.79
/5
rDev
+4.1%
look: 3 | smell: 4 | taste: 3.75 | feel: 4 | overall: 3.75
Had poured from a very cold can into a chilled mug.A least two fingers of white head with a little bit of lacing. Interesting smell took a while to figure it out but smells like a banana sandwich . Good smooth taste and feel but like most heffe's not real strong flavor other than the banana . Overall good beer for a hot day.
★
326 characters

3.56
/5
rDev
-2.2%
look: 3.5 | smell: 3.75 | taste: 3.5 | feel: 3.5 | overall: 3.5
First had poured from 12-oz. can into Weizen glass. All of the Hefeweizen elements are present, but this 5.00 ABV beer is a bit rough around the edges. Great can.
★
164 characters
2.97
/5
rDev
-18.4%
look: 3.5 | smell: 2.75 | taste: 3 | feel: 3 | overall: 3
On tap at the brewery.
Clear gold. Smells and tastes oddly sweet and syrupy; but there's a whiff of wheat yeast on the endtaste. Clean, but a bit meh. Some fruit.
★
163 characters
3.75
/5
rDev
+3%
Out of Growler from The Filling Station in Nashville,TN (day of growler fill)
Bright golden yellow color with minimal quick dissolving head, aroma of slight bananas and wheat malt. Tastes pretty good, you can taste the banana and a little nuttiness. This is a pretty good Hefeweizen, but not a very good example of one. There are much better ones out there, but it is always good to try different breweries takes on an iconic style of brew.
★
444 characters

3.49
/5
rDev
-4.1%
look: 3.25 | smell: 3.5 | taste: 3.5 | feel: 3.5 | overall: 3.5
On tap at Cypress Street pub (ATL).
Hazy light amber with a decent but rather short-lived head.
Flavor features more malt and Moderate banana. Otherwise, true to style with some yeasty and spicy flavors.
★
205 characters
4.35
/5
rDev
+19.5%
look: 4 | smell: 4 | taste: 4.5 | feel: 4.5 | overall: 4.5
served on-tap @Alcove, Tuscaloosa, AL, into a mason jar
Pours a pretty bright yellow color. It's hazy, of course. A nice, 1.5 fingers of sterling white head. It looks like a nice hefe.
The banana esters are quite strong in the nose of this beer. Banana and, like, hazelnut. Or something. Pretty nice. The spices are toned down relative to other hefeweizens. This reminds me of a blend of Paulaner and Weihenstephaner.
the flavor bears out that blended, in-between idea. It's a fruit-forward hefeweizen, but not overdone; not at the expense of balance. Lots of banana, wheat malt, hazelnut, and some slight notes of brown sugar. The cloves-laden spice bill takes a backseat, content to balance the esters and wheat flavor instead of demand equal attention. It's very good.
The mouthfeel is pretty full for the style: creamy but the carbonation isn't too sharp. It is filling, in a satisfying way.
Overall, this is one of the best American-brewed Hefeweizens I've had the pleasure of consuming. A wonderful beer for a humid Alabama summer. Straight to Ale continues to impress.
★
1,090 characters
He Ain't Heffe from Straight To Ale
3.64
out of
5
based on
41
ratings.