Liberation No. 1
| Straight To Ale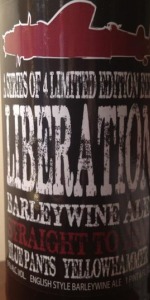 BEER INFO
Brewed by:
Straight To Ale
Alabama
,
United States
straighttoale.com
Style:
English Barleywine
Alcohol by volume (ABV):
9.00%
Availability:
Limited (brewed once)
Notes / Commercial Description:
No notes at this time.
Added by rhoadsrage on 01-10-2013
This beer is retired; no longer brewed.
Reviews: 10 | Ratings: 27

4.43
/5
rDev
+10.8%
look: 4 | smell: 4 | taste: 4.75 | feel: 4.25 | overall: 4.5
This is truly an English Barlewine with more focus on the malt: a nice roast, great caramelization and a great malt sweetness. The abv, above 9, is evident but not demanding. Low hops: to be expected with this style. NOT American BW in that sense, for sure. It is a bit high on the abv side for the usual English, but all that's going on here makes that not problematic.
370 characters
4.09
/5
rDev
+2.3%
look: 3.75 | smell: 4 | taste: 4.25 | feel: 4 | overall: 4
This one was in the back of a friend's fridge. Glad he decided to share. Looks like it's aged about 2 years.
A: That dull brown with ruby highlights that seems to be characteristic of b-wines. Not much head or lacing.
S: A malt bomb with caramel and a bit of dark fruits. Some booziness is coming through, too.
T: Oooh, this one has a terrific malt character. The aging has done it well. Picking up some bourbon aspects along with some dates and raisins. A terrific sipper.
M: Medium mouthfeel with low to medium carbonation. I agree with Cliff, it could use more carbonation.
O: A superior (and aged well) English barleywine. I'm glad Thile decided to bring this beauty in for Superbowl.
706 characters
4.05
/5
rDev
+1.3%
look: 3.75 | smell: 4.25 | taste: 4 | feel: 4 | overall: 4
Pours dark brown-amber with off white head.
Nice toffee, chocolate and raisin smell.
Lots of chocolate and sweet toasted malts. Caramel and toffee and rich ripe fruit. Good mild bitterness rounds it out.
Mouthfeel is medium bodied with average carbonation.
Overall I thought this was very complex and enjoyable. Will try to find another and put some age on it.
365 characters

4.01
/5
rDev
+0.2%
look: 3.75 | smell: 4 | taste: 4 | feel: 4.25 | overall: 4
Poured into an over sized wine glass a deep mahogany with a thin light tannish colored head atop.Aromas are deeply fruity with cherries and raisin notes standing out over top of brown sugar and sweet alcohol,a hint of leather is there as well.A nice full chewey feel to the beer makes it nice a rich and enhances the big malty flavors.Cakey flavors with alcohol dipped fruit coming out nicely,some brown sugar notes lend more sweetness but it's not overly sweet.This is English to the hilt flavor wise with the hops being minimal,a sipper but a very good one at that.
567 characters

3.96
/5
rDev
-1%
look: 3.75 | smell: 4 | taste: 4 | feel: 3.75 | overall: 4
This has aged nicely in a store since I picked it up in Sept. of 2014. Close to two years from bottle date.
L - Pours a murky brown body with hints of red mahogany. One finger khaki head that doesn't have great retention and not much lacing to speak of.
S - Huge caramel, brown sugar and sweet bready malts. Hints of dark fruits and raisins come through
T - To me, the taste pretty much follows the nose with a little of the boozyness coming out.
F - Medium bodied and low carbonation. To me, it could use a bit more carbonation to prop up the body.
O - Age has treated this one well.
590 characters

3.92
/5
rDev
-2%
look: 4.25 | smell: 3.5 | taste: 4 | feel: 4.25 | overall: 4
Poured from 22 oz bomber into Founder's tulip glass.
A: Pitch black with one finger head and didn't last very long at all. Some minimal lacing.
S: Some sweet malts, but a bit faint.
T: Roasted malts mixed with dark fruity flavors. Almost a toffee or similar note in background.
M: Full bodied and coats the tongue nicely. Alcohol is hidden well, and gentle carbonation.
O: Good beer. Goes down nicely, and very enjoyable. Nice to see the local breweries with a solid product.
481 characters
3.9
/5
rDev
-2.5%
look: 4 | smell: 4 | taste: 4 | feel: 4 | overall: 3.5
(Served in a tulip)
A- This beer pours a dense brown glowing garnet brown at the base. There is at thin film of tan head that fades to a thick ring after a bit. There is a slow microcarbonation that glides up the side of the glass.
S- The clean aroma has notes of dry woody brown malt with a blend of softer malt character.
T- The nougat malt flavor is soft with a hint of dry toffee and some slight sweet notes in the finish. There is a nice cream flavor that comes through as the beer opens. The deep roasted black malt bitter note in the finish mixes with a pine wood hop hint and a faint hint of smoke at some points. There is a nice lemon hop tartness that grows in the aftertaste but stays light.
M- This beer has a medium mouthfeel with no alcohol heat and a nice gentle fizz in the finish.
O- This is a nice beer with good flavor but it is very soft and almost hidden. It is very drinkable and the alcohol is buried but a bit more sweetness or malt richness would really help. I thing this would be very tasty on cask if the English yeast character came through. Thanks for coldchill for this beer.
1,123 characters
3.87
/5
rDev
-3.3%
look: 3.75 | smell: 3.5 | taste: 4 | feel: 4 | overall: 4
Was extremely pleased to see this when I was in Mobile. As I think back to all the 'Bama brewed beers I have had so far, I haven't had a stinker yet. Hopefully this keeps things moving in the right direction.
Looks like this is a year old now. Smooth, nice balance, malty sweet, though there is a mild boozy tone to it. It meshes well with things enough that it is not really a detractor. Very smooth feel.
I had this feeling that I should get more of this when I had the chance. But now the chance is gone. I'd be interested to see this at 5 years. At least I was able to try it.
583 characters

3.86
/5
rDev
-3.5%
look: 3.75 | smell: 4 | taste: 3.75 | feel: 3.75 | overall: 4
Tasted On: 01-25-2013
Freshness: Not indicated
Packaging: 22 oz. brown bottle, pry-cap
Glassware: Signature glass
Purchased: Single from Midtown, Nashville
A: Pours a dark brown (near black) beer, with some red on the edges when held to light. Head retention is fair, with a decent amount of lace on the glass. Seems a bit dark for a barleywine...
S: First aromas are of malts (with caramel and molasses) and dark breads. Also has some smells of earthy hops and dark, overripe fruits.
T: Very flavorful, the beer is malty and sweet with some boozy presence. Bitterness is low and there's a woody/oak component as well.
M: Full-bodied feel, showing medium amounts of carbonation. Finishes with caramel malts and earthy hops. Balance is clearly toward the malty end of the spectrum.
O: I think this was a very good beer overall, although I think it would benefit from some additional hop bitterness. It's very cool to see the growth of craft beer in my hometown of Huntsville and I'd love to try the other Liberation brews from Yellowhammer and Blue Pants.
1,059 characters

3.82
/5
rDev
-4.5%
look: 3.5 | smell: 3.25 | taste: 4 | feel: 3.75 | overall: 4.25
Liberation Barley-wine Straight to Ale, Blue Pants, Yellowhammer. 9% ALC. VOL. English-style Barleywine Ale. A Series of 4 Limited Edition Beers. No. 1. Straight to Ale Brewing, Huntsville, Alabama.
Appearance: dark brown body, small, slimmed dark cocoa-tan head.
Aroma: malt-forward, but rather subdued. Some fruity notes down there. This nose is keeping it close to the vest.
Taste: Bigness, sweetness, malt and dark fruit. Just a hint of hops, and then along comes the booze. It's creeping up there, knocking on the door. Meanwhile, we're getting earthy tones, nutty notes, waves of caramel and cocoa. Not too big, not outsized in the least, and that's what's had me stroking my whiskers.
This doesn't fit the formula of barley-wines as I expect them, or desire them. But, what's wrong with that? It's it's own thing, more refined, and mellow.
850 characters
Liberation No. 1 from Straight To Ale
4
out of
5
based on
27
ratings.