Rocket Bike American Lager (Non-4% Version)
| Moab Brewery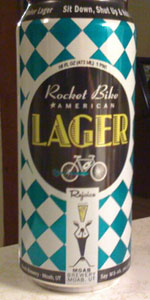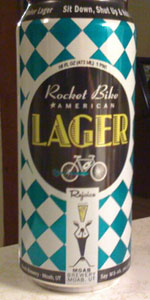 BEER INFO
Brewed by:
Moab Brewery
Utah
,
United States
themoabbrewery.com
Style:
California Common / Steam Beer
Alcohol by volume (ABV):
5.50%
Availability:
Year-round
Notes / Commercial Description:
No notes at this time.
Added by JohnGalt1 on 10-19-2012
HISTOGRAM
Ratings: 12 | Reviews: 7
Reviews by tone77:
3.47
/5
rDev
-6%
look: 4 | smell: 3.25 | taste: 3.5 | feel: 3.5 | overall: 3.5
Poured from a 16 oz. can. Has an amber color with a 1/2 inch head. Smell is kind of mild, a bit of malts. Taste has a bit of hops up front, didn't get that in the smell. A good bit of malts kicking in at the finish, hints of caramel. Well balanced. Feels medium bodied in the mouth and overall is a pretty good beer.
316 characters
More User Reviews:
3.85
/5
rDev
+4.3%
look: 3.5 | smell: 3.5 | taste: 4 | feel: 4 | overall: 4
The Utah Beer Blog helped with some info about this brew.. that is why I entered it in as a new brew in this database.... Thanks Mikey!!
http://utahbeer.blogspot.com/2012/09/massive-moab-update.html
Pounder can picked up tonight at the Meridian Brewforia on the way home from work... I paid an expensive $3ish. Poured into my slim tulip with a clear fairly dark amber.. nice 2 finger off white head.. nice retention and lacing.
Nose is pretty heavy on the malt spectrum for the style... toasty and some dry caramel/toffee notes.. Hops are there and seem sorta green or even woody..
Flavor mirrors the nose with a touch of roasty malt that seems out of place.. more malty than hoppy... could use some hoppiness IMO to make things a bit more balanced... but I dig it nonetheless..
Unapologetically NOT Anchor Steam, but I see the parallels and certainly like it.. I would buy this one again, especially if I didn't pay $3 for a 16oz can.
3.5/3.5/4/4/4
969 characters

3.95
/5
rDev
+7%
look: 3.5 | smell: 4 | taste: 4 | feel: 3.75 | overall: 4
Reviewed during the last week when out of service area/Wifi in WY/UT. Full phone notes taken at the Watchman Campground, Zion National Park, UT.
A- Tallboy can poured to a goblet with a fairly clear amber body. An off white, foamy head tops the beer at about one finger high with fair retention. A ring around the top deposits spotty lacing.
S- As the amber color suggested to me some toasted or roasted grains were used and it shows up with plenty of toasted nutty malt notes. Main things beyond that are hints of caramel, cereal, bread and fruit esters.
T- Toasted nutty notes are prominent from malts that also provide caramel, light sweetness, biscuit and cereal grain notes. Yeast and hops provide a balance bringing apple, light fruits, bread, floral, earthy and spicy characters.
MF- Light to medium bodied overall with a foamy and frothy consistency from slight agitation. Carbonation is moderately high and brings a crisp edge. Some bitterness lingers after each sip.
Fairly clean compared to a lot of microbrew Steam Beers I have had, no lager yeast funky off flavors. The Amber grains and liberal hops provide nice angles to a style that sometimes lacks depth. Probably my favorite Moab brew so far.
1,215 characters

3.81
/5
rDev
+3.3%
look: 3.5 | smell: 3.75 | taste: 4 | feel: 3.5 | overall: 3.75
The CANQuest (TM) rolls on, thanks in no small part to tone77, my local, in-person trader who keeps me hooked up with new and different CANs.
From the CAN: "Amber Lager"; "Sit Down, Shut Up & Hold On"; "Say Mo[h]-ab, you pilgrims!"; "!0 Million Years In The Making"; "Our Steam Beer is a unique 100% Ameri[CAN] style. Brewed with a special strain of lager yeast that works better at warmer temperatures. This method dates back to the late 1800's in America when refrigeration was a great luxury. Amber in color, medium bodied with a malty character. Mildly fruity with an assertive hop bitterness and a crisp clean finish. ENJOY!"; "Save The Planet, Recycle This C[AN]".
The Crack was music to my ears and so an inverted Glug was CANducted to really get things moving. Following a pseudo-cascade, two fingers of dense, rocky, light-tan head formed, evincing decent retention. Color was an oh-so-slightly hazy copper (SRM = > 13, < 17). Nose smelled of dried pineapple, caramel and fresh baked bread. Oooh. Mouthfeel was medium and the breadiness of the malt really jumped out on the tongue. I let it roll around a little bit to allow the sweeter aspects of it to begin to assert themselves. It worked! The pineapple and caramel flavors really started to pop and I was pleasantly surprised. The finish was semi-sweet, about as close to sweet as I will put up with in a beer. I understand the style and until Anchor begins CANning their products, this would do in a pinch.
1,478 characters
3.48
/5
rDev
-5.7%
look: 3.75 | smell: 3.75 | taste: 3.25 | feel: 3.5 | overall: 3.5
Canned: unk
Its an amber beer with a solid sheet of toasted foam. Smells woody, creamy and like it has a slight hop kick, and almost herbal hop character. Flavor is much, much more robust than I'd anticipated with plenty of roasted malt character, bits of caramel, some more wood, tea, a little cream as well. Full bodied with velvety carbonation and a decently wet finish. A farily decent beer, I'd drink again maybe colder and if it were about 50 cents less (paid $2.75).
474 characters

3.66
/5
rDev
-0.8%
look: 4 | smell: 3.5 | taste: 3.75 | feel: 3.25 | overall: 3.75
Poured from 16oz tall can into a pint glass.
Appearance: medium orange hue with a light haze and light effervescence. Head is a thick finger of frothy ivory foam with good retention that leaves a nice chunky lace on the glass. Great!
Smell: malty aroma which is rather toasty and biscuity. Maybe not my favorite malt element, but it's pretty clean and otherwise rather nice.
Taste: bready and a little biscuity with a little bit of a light fruit character. The bready maltiness fades pretty quick into a very clean finish. I like it.
Mouthfeel: medium body with a decent carbonation yielding a rocky effervescence which is refreshing enough.
Overall: a rather drinkable and refreshing California common.
708 characters
3.77
/5
rDev
+2.2%
look: 4 | smell: 3.75 | taste: 3.75 | feel: 3.75 | overall: 3.75
i dont drink a whole lot of lager beer, especially amber lagers, never really had much appeal, but this one is great, and about as well crafted as the style can be in my experience. a solid can of beer here, pint sized, clear amber in color, with an inch of fizzing tan airy head. a nose far less sweet than expected, not at all the amber or vienna style in smell, so much drier and hoppy, i really like it, and while still simple, its very very appealing to me as a refreshing first beer of the afternoon of a very long day. the flavor is a little one dimensional, and the hops from the nose dont come all the way through in taste, but the malt is nice, somehow light for what it is and very clean. no doubt the lager was made patiently, this is well done and mature beer, nothing rushed at all. clean and well carbonated on the palate, maybe only slightly filling after a few, and like many lagers, it does not warm well. drink fast and cold. maob has impressed me in my limited interaction with the brewery, this one has me digging a style i usually pass over.
1,063 characters
Rocket Bike American Lager (Non-4% Version) from Moab Brewery
Beer rating:
3.69
out of
5
with
12
ratings