The Warren Store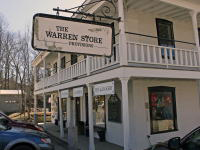 PLACE INFO
Type:
Store
284 Main St
PO Box 79
Warren
,
Vermont
, 05674-0079
United States
(802) 496-3864 |
map
warrenstore.com
Notes:
One of a handful of places that sells Lawson's Finest in bottles.
Added by papat444 on 04-25-2010
Reviews: 23 | Ratings: 71
4.73
/5
rDev
+15.4%
vibe: 5 | quality: 5 | service: 5 | selection: 4 | food: 4.75
The Warren Store is a solid one hour drive from my house, and though I've made the solo trek a number of times, I really enjoy bringing my wife and son there because it is such a great place to visit
Pure Vermont, this is the epitome of a Country Store: the smells, the sights, the locals. The gentlemen that greet me every time I go are friendly and fun to talk to. Really nice place to sit down and have a meal also (the roast turkey reuben was hefty and delicious).
While their beer selection is limited to the size of the small cooler, they have what I'm looking for. Fun store to visit and super nice folks!
614 characters

4.16
/5
rDev
+1.5%
vibe: 4 | quality: 4.5 | service: 4 | selection: 4
My first stop on my recent Vermont trip. GPS got me a tad lost, it thought this place was a trailer, once I figured out what went wrong I went down the road about a mile and found the actual store.
Upon entering I was a bit overwhelmed, there is a TON of stuff packed into this small place. I checked out the front area and upstairs first because I knew once I made it to the beer I would be done for. Lots of different baked goods and treats scattered around the area, I picked up a few for later in my trip. Lots of different clothes upstairs, I almost bought a hat but they didn't have one that would fit my giant head.
Service was good. I talked to a few of the workers about the shop and the beer and they knew quite a bit about it all. Selection is a little limited but what they have is quite a bit of Lawson's and since that is the reason all of us stop there that is plenty for me. I picked up a few bottles and got a Lawson's glass to go along with them. I didn't try the food but it looked really good, I will definitely try it next time.
Overall a really cool store that I will definitely return to when I am in the area.
1,136 characters
4.03
/5
rDev
-1.7%
vibe: 4 | quality: 4.5 | service: 4 | selection: 3.5
The Warren Store is a rustic little place out in the middle of nowhere essentially, but as I neared it in the quiet town of Warren, I was surprised at how bustling it was. It sits right on the cusp of a creek, and its construct is a little slice of Americana. They sell all sorts of trinkets and crafts, and of course, they have a good selection of beer available, including goods from Lawson's and Alchemist (this includes glassware). Choices are limited, as it is a small space, but you're probably here for Lawson's, so you can't complain. There is a deli and other local food selections for take-out or dine-in; as for the latter option, there is a small indoor seating area and a patio. I haven't sampled any of the food, but of course it looked pretty good.
This is a beer destination due to the availability of Lawson's, so obviously if you're coming to VT for a beer haul, you'll want to come here. It's been said before: call in advance for availability.
964 characters
4.23
/5
rDev
+3.2%
vibe: 4.5 | quality: 4.5 | service: 4 | selection: 4
Have stopped here often while going to Waitsfield, Bristol, or points nearby.... Hit it again on 01Sep12, to see what was available...
Place is a large, wooden, white building set just adjacent to a small creek carving a gorge through the hills... Enter to a maze-like mish-mash of foodstuffs, clothing, souvenirs and esoterica... Aisles are narrow and crammed with goods in this rustic, days-gone-by setting. A bit further through and to the left is a popular deli, and the fridge opposite holds what many seek - Lawsons, as well as other local brews, plus some assorted crafts from further afield. There were 4 Lawsons bottles left when I came in; turned my head and only 2 remained, which soon ended up in my possession. The prices are decent, overall, though I think Lawsons are overpriced, based mainly on their tickerifity. The staff here is friendly and helpful, though they usually have their hands full. Even without Lawsons, this is a cool little piece of old-time Americana in the heart of Vermont.
Prosit!
4.23/5 rDev +3.2%
vibe: 4.5 | quality: 4.5 | service: 4 | selection: 4 | $$
239
1,102 characters

4.25
/5
rDev
+3.7%
vibe: 4.5 | quality: 4.5 | service: 5 | selection: 3 | food: 4.5
Beer geeks know of and flock to The Warren Store because it is essentially the birthplace of Lawson's Finest bottle sales (along with the farmer's market, but I digress). Yes, you can still get Lawson's Finest bottles here: Sean delivers on Friday, four-bottle limit. But I love this place because it's a great country store that outshines most northern New England country stores. The service is excellent, there's a deli with all sorts of tasty meats, cheeses, and charcuterie, knick knacks galore, local maple syrup, and even a hip clothing boutique upstairs. The world needs more places like The Warren Store, beer aside, to make us all feel normal again.
659 characters

4
/5
rDev
-2.4%
vibe: 4 | quality: 4 | service: 4.5 | selection: 3.5
Rustic general store in Central Vermont, most known as one of the few places to acquire brews from Lawson's Finest Liquids. Called a few days in advance of our trip and was told to call on Friday, the day of the delivery. Called at 8:35am and was told they can hold 2 bottles of that weeks shipment, but no notification of what they would be.
Store is on the main street of a sleepy town. Parked in the gravel lot and entered the old time feeling store with wood planked floors , walls and ceilings. Organized fairly well with a checkout counter at the front, wine on one side, a deli area in the rear with a few old iceboxes which contain a good selection of local brews and a small selection of domestic craft. Great selection of Vermont Cheeses, candies and assorted maple items and good selection of prepared foods available to eat at a folding table or two towards the front. Beer was held towards the checkout in a brown paper bag.
Nice little spot to browse while the main purpose of most our visits is the Lawsons.
1,024 characters

4
/5
rDev
-2.4%
vibe: 4 | quality: 4 | service: 4.5 | selection: 3.5 | food: 4
My service with Verizon Wireless goes almost everywhere. Warren is a rare exception. We stopped in here to pick up some Lawson's beers, just like everyone else who reviews this place on BA. But it's worth stopping here anyway.
Rustic, complete with wide wood plank flooring and wood burning stove, the store looks like a Hollywood set, at least to a city slicker like me. Plenty of Vermont made goods are available in the store, of which the highlight is Sean Lawson's beers. This is, as is well known, the only retail place where you can buy them. The Lawson's delivery arrives every Thursday or Friday. If you call ahead, you can reserve up to 4 bottles per person. They are all worth trying so max out. Some other nice craft beer is available as well (Stone, VT locals, etc.)
Make time for some food when you go to pick up. Breakfast was delicious, all made to order. The staff could not have been nicer.
HV
913 characters

4.05
/5
rDev
-1.2%
As of now the only location where you can buy bottles of Lawson's Liquids.
I was up in Burlington for a few days and decided to make the trip over to Warren to grab some of Lawsons. I was told to call ahead since they usually go fast. I was lucky that some had been dropped off about an hour before I called.
The store is exactly what you would expect from a New England general store. They have a deli counter and lots of wine as well as Vermont items (cheese/maple syrup etc.).
The beers are in two little coolers across form the deli area. I was in a bit of a rush so did not really look much, but I remember there being some DFH and Magic Hat. I went right for the Lawsons and bought the maximum 4 I was allowed.
Overall, its a nice little day trip, and of course the only place to get Lawsons.
805 characters
4.03
/5
rDev
-1.7%
vibe: 4 | quality: 4.5 | service: 4 | selection: 3.5
A New England general store in the truest, most rustic sense. We meandered through Vermont's mountains to get here with one thing on our mind: Lawson's.
Quality: What a cute little place! The store is a one-stop shop, with prepared foods, wines, trinkets and beer. An old stove warms the store, which was packed in this early New Years Eve afternoon. A deli in the back will serve you lunch to go with a wine or beer.
Service: I called ahead and spoke with Jack, confirming that a shipment was arriving from Lawson's on Friday. He was very friendly, agreeing to set aside a bottle or two for me (in case I missed the rush). Turns out I didn't need that service. Just a note, they limit you to four bottles of Lawson's per day, assuming that it lasts a day.
Selection: Generally sparse, a few micros including DFH 60 minute and Magic Hat were lying around. For more in the way of wine. Lawson's is the reason for the visit though and I stocked up on Red Spruce Bitter and Paradise Ale. For Lawson's alone, this place gets good marks. For other craft beer look elsewhere.
1,072 characters
4.15
/5
rDev
+1.2%
During a trip to Vermont for the Vermont Brewer's festival, we took a detour after a hike in Lincoln and decided to go to the Warren General Store in Warren, VT to try and get some of Sean Lawson's Maple Tripple (which we had sampled at the Brewer's Festival) or some of his other beers to bring home. The store was an old-fashioned general store in it's appearance. Inside, there was an array of local products including cheese, wine, beer, candy, household items, and a deli area. The deli's menu was pretty extensive and included a lot of vegetarian items. I tried a tempeh wrap which was really good. The atmosphere of this place was very friendly and the service was great. Sadly, I was informed that the store was out of Sean Lawson's finest liquids of any kind. However, they did say we could go across the street to a bar in the hotel there and be served Maple Tripple on-tap. There was a litlle stream outside of the store where you sit by and eat your deli sandwiches in a really peaceful environment. The staff informed me that you need to call ahead in order to reserve Sean Lawson's beer and that his stuff always sells out as soon as it gets on the shelves there. I would recommend going and checking out the Warren Store. I hope to go back sometime soon and be successful at obtaining some of Sean Lawson's beer.
1,327 characters

4
/5
rDev
-2.4%
Throwback is the operative word here. In the heart of the hippie nation of the Mad River Valley, this place is like walking back to 1972 or so. The Dead were heavily jamming on the stereo when I walked in just after 8 in the morning, veggie breakfast burritos cooking in the back, lots of nice antique display areas, local artisinal cheeses for sale, super friendly staff, and most importantly...they get deliveries of Lawson's Finest liquid on a regular basis. Go for the tasty/healthy home made chow, cheeses, Lawson's super hard to find brews, a dose of crunchy good karma, as well as a smattering of other BA worthy brews. Besides the Lawsons, they offer a non memorable smattering of other easy to find but quality locals, and a few regional/nationals..If you are just interested in tracking down some lawson's, as I admit I was, call ahead, go on Friday/Saturday and then its time to see what all the fuss is about
920 characters

4.05
/5
rDev
-1.2%
The Warren Store is a real throw back and quintessential VT in my opinion. Tiny shop in front with loads of VT products, some type of boutique upstairs that I didn't visit so I'm not sure what is going on up that way, and a deli that makes excellent sandwiches in the back. I had the "Turkey Tumbler" on a fresh baked white roll that was fantastic albeit a bit pricey at $8.50. The beer cooler is across from the deli counter and isn't large but offers good choices including Lawson's when available.
500 characters
4.2
/5
rDev
+2.4%
In the quite little Vermont town of Warren, on historic Main Street sits The Warren Country Store. Old, rustic, turn of the century type of place. You think you walked back in time. They have a deli with home cooking prepared everyday from scratch with locally grown products. Featuring a full breakfest and luncheon menu.
The bakery is behind the store, all the breads, pastries and desserts are baked fresh everyday. They also have an upstairs with all kinds of stuff, clothing, toys etc.
But the real reason to come here is because this is the only place that I know of where you can purchase Lawson's Finest Liquids. In an old wooden door refrigerator was the prize, Maple Nipple and Chinooker'd IPA. Those were the only ones' there and I bought them all. They said that if I wanted to wait a few hours they would have more. I declined. It's best if you call ahead because it's stocked on a rotating basis and you never know what will be on the shelves, if any. There were a few other local brews there also, Rock Art etc. and some Dogfish Head, man does he get around. But I was only interested in The Lawson's.
I enjoyed my step back in time...
1,153 characters
The Warren Store in Warren, VT
4.1
out of
5
based on
71
ratings.