Infinite Jest

Notch Brewing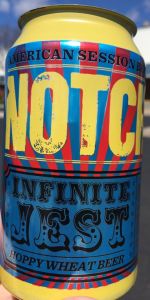 Rate It
Beer Geek Stats
| Print Shelf Talker
Style:

ABV:

4.3%

Score:

Avg:

4

| pDev:

10.75%

Reviews:

13

Ratings:

From:

Avail:

Rotating/Seasonal

Wants

Gots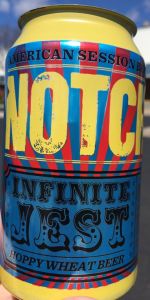 Notes: Formerly Zen Arcade

An American Pale Wheat beer brewed with large portions of malted wheat and malted oats. Dry hopped with Equinox, Mosaic, and Citra. Fermented with a US ale yeast.

johnnnniee from New Hampshire
3.46
/5
rDev
-13.5%
look: 3.5 | smell: 3.75 | taste: 3.5 | feel: 3 | overall: 3.25
Sample at homebrew club last night.
Hazy deep yellow color with a thin white head. Earthy spicy wheat malt on the nose and in the flavor. Earthy pine tropical citrus hoppiness counters. In my opinion the body is horribly lacking and feel's a bit watery, I'm not a fan.
Jun 11, 2017
ppark94 from New Jersey
1.61
/5
rDev
-59.8%
look: 3.25 | smell: 1.5 | taste: 1.5 | feel: 1 | overall: 1.75
Can
A - N/A
S - Aroma's got green onion and grass upfront. Mild garlic and pine. Finishes as malty,
T - Hits you with green onion and then drops off. Quite watery. The linger is full-bodied and earthy.
M - You can easily separate that which is silky and frothy (thin) from the very very watery and weak in your mouth. Initially silky but very watery.
O - Perhaps I am missing the subtlety, but quite a disappointing beer. It hasn't quite found it's balance between wheat and hops. Really flimsy and awkward.
Feb 14, 2017

cbutova from Massachusetts
3.99
/5
rDev
-0.2%
look: 3.75 | smell: 4 | taste: 4 | feel: 4 | overall: 4
A- The 12oz can pours a slightly chalky, starch hazed brew into my goblet. The head is thick, white and frothy rising up to about two fingers with pretty good staying power. Spotty lacing stays on the glass.
S- Hoppy up front with a mix of stone fruits, dank, floral hints, citrus and herbs. Has moderate strength of aroma as it does not come off as juicy pungent but also isn't faint. Whole cracked grains and a hint at sweetness round it out.
T- Follows the nose with some more specific and obvious flavors coming into to forefront and for my palate passionfruit, melon, clementine and floral hop notes run the show. The backdrop provides herbal, grassy, spicy, lightly sweet, cereal grain, bread and citrus zest hints.
MF- Silky smooth consistency, some of which must come from the yeast, with a creamy foamy texture. Medium overall carbonation with a very light bitterness in the finish.
Melon and fruity hops laid upon a slightly sweet grainy base with a smooth and silky light body.
Sep 07, 2016
smm0589 from Massachusetts
4.11
/5
rDev
+2.8%
look: 3.75 | smell: 4 | taste: 4.25 | feel: 4.25 | overall: 4
Great summer brew. Hoppy without being over the top. Wheat plays a role but it's hardly a wheat ale. Overall very balanced and light enough to go back for a couple.
Aug 29, 2016
jlindros from Massachusetts
3.74
/5
rDev
-6.5%
look: 4 | smell: 3.75 | taste: 3.75 | feel: 4 | overall: 3.5
canned 5/13/16
Pours a big fluffy foamy 2 finger head that fades at a med to slower pace, nice soapy lacing, hazy sediment laden golden honey color.
NOse big hop profile, lots of tropical fruits, papaya, little dank musty guava, floral grassy a bit, grassy and resin with a faint pine sap and touch of green onion, orange peel, creamy base, orange cream note, generic tropical, touch melon rind and pear skin like.
Taste brings the mild green onion and pine sap out front, then mild tropical, very dank, resinous, earthy pine sap and grassy, a little papaya musty guava, some citrus, a little creamy malt base, orange cream, citrus rind and a little pear or apple skin thing again, big juicy citrus orange cream on the back end, dry finish with fair bitterness, htankfully the onion and pine sap fades as orange citrus and mild tropical fruit comes through more.
Mouth is med bod, a bit creamy, decent carb.
Overall, decent beer, but the mosaic comes through too much and destroys the niceness with that pine sap resin and green onion.
Aug 13, 2016
TheManiacalOne from Rhode Island
4.15
/5
rDev
+3.8%
look: 4 | smell: 4 | taste: 4.25 | feel: 4 | overall: 4.25
On-tap 7/16/2016 at Natty Greene's Tavern in North Attleboro, MA, served in a US tumbler pint glass.
A: The beer is a light gold color, with a short white head that fades slowly and leaves a thick lace on the glass.
S: The aroma contains citrus, floral hops, wheat and light caramelized malts.
T: The taste starts out sweet with flavors of citrus and caramel. Then a strong for the style but not over-powering hops bitterness comes in. The malt character is on the thin side but provides a very good balance. The after-taste is slightly sweet and slightly hoppy.
M: Crisp and smooth, medium body, medium carbonation, finish is slightly sticky.
O: Very tasty, goes down easily, not too filling, mild kick, good representation of style, this is a very solid beer to pound down for a long time.
Jul 17, 2016

Sheppard from Virginia
4.28
/5
rDev
+7%
look: 4.25 | smell: 4.25 | taste: 4.25 | feel: 4.5 | overall: 4.25
Drank straight from the can, getting a bump from a generic rating due to awesome can art. Nice tropical fruit aroma. That shines through in the flavor. Notch does a good job of using wheat to give this some body without making this a meal. It is a great refreshing hoppy summer ale that I expect to see in my fridge all Summer. There is a reason that Notch are the kings of the sessionable beer.
Jun 27, 2016

soze47 from Massachusetts
4.15
/5
rDev
+3.8%
look: 4 | smell: 4 | taste: 4.25 | feel: 4 | overall: 4.25
Odd beer to review - it has that wheaty body and that tangy nose. Hops play with expectations a lot though. Nose has melon fortified by some tropical fruit notes. Taste carries a bit more citrus that blends well. This beer is all subtlety. Nothing whacks you over the head, but it all amounts to a pretty great beer.
Jun 11, 2016

ManapuaMan from Massachusetts
4.19
/5
rDev
+4.8%
look: 4 | smell: 4.25 | taste: 4.25 | feel: 4.25 | overall: 4
Outstanding low-ABV wheat ale. While not its own style, I think it's fair to rate within the context of it being a "sessionable" sub 4.5%. Golden body with an average head and lacing. Pine and citrus on the nose. Grapefruit, orange rind, melon, wheat, barley. Nice bitter kiss that lingers. Smooth and creamy from the wheat ale chassis. So drinkable - looking forward to several more.
May 27, 2016

ichorNet from Massachusetts
4.01
/5
rDev
+0.2%
look: 3.75 | smell: 4 | taste: 4 | feel: 4.25 | overall: 4
Naming your hoppy, sessionable American pale wheat ale after one of the most notoriously complex American novels in history is seemingly a very silly idea. However, Notch's very own Chris Lohring is not typically the kind of brewer to shy away from ideas that may initially seem doomed-to-fail, considering he has pretty much pioneered his own brand of "American session beer" over the past six years, through a market of "bigger is better" and, especially, through a deluge of hoppy beers which he originally, as I recall, turned a major blind eye to. Seems as though Mr. Lohring has finally realized that the juicy, tropical-fruit-laden hop bomb craze is here to stay, in New England at least. Thusly, he has released Infinite Jest, a garishly-labeled hoppy wheat ale clocking in at just over 4%, to stave the thirsts of the new breed of NE beer drinker.
Pouring an initially voluptuous golden with several fingers of head, IJ has, over the course of only five minutes, become a simple looking APWA; the kind of lighter-colored body with a soapy white head and moderate lacing bespeaking its (admittedly) unusually-hoppy charms. Though short-lasting in its grandeur, IJ has a decent enough construction, including some nice opacity and overtone golden color.
Nose is a bit on the green oniony side with some grassy, stereotypically-"dank" and, yet, brightly fruity hops hanging around there. Lemon, mango and pulpy orange juice come to mind. Getting some papaya and melon as well. Lots of juicy and mouth-watering aromatics in play. Pretty heavy grapefruit pith and cut-grass aromatics. Seems like it'll be a good drink.
On the tongue this is pretty much a textbook American wheat beer with enhanced hop aroma/flavor. Very light, airy and open-ended with tropical, citrus and grassy flavors combining with a very slight malt chew. I get some mandarin orange and red grapefruit among the cut-grass notes and fluffy, wheat-laden malt. Nice stuff here.
Carbonation is semi-strong and body is on the medium side despite being a lighter beer in ABV terms. These aspects combine to make an enjoyable "sessionable" wheat ale with a modern IPA-ish bent. Apparently this is a completely different beer than the Infinite Jest that was designed as a bitter and available on cask previously. Though I never had that, it's no secret that I hate when breweries do stuff like this. Come up with a different name if you're going to style-jump and make a whole new recipe! Though it's entirely possibly Mr. Lohring did this because Infinite Jest is a "confusing" (some might call it "pretentious") book, I have only this to say: beer should speak for itself, and it should speak far more clearly than this. Though this is definitely good beer, the unnecessary confusion and disgustingly gaudy label really threw me off. Still would enjoy drinking some more of it regardless of these silly things.
May 27, 2016
mynie from Maryland
4.44
/5
rDev
+11%
look: 4.5 | smell: 4.25 | taste: 4.5 | feel: 4.5 | overall: 4.5
First off, "New Day Rising" is the superior album. I hope Notch corrects this problem immediately.
Second, this is the most spot-on Gumballhead ripoff I've ever sampled.
Pours dark amber with a nice white head, smells of crisp nodes of read wheat with a fruity, grassy hop profile that's one of the most nicely variegated I've ever come across in a hoppy pale wheat.
Tastes like crisp, dry wheat up front, moving into a middle of grapefruit and mango with pronounced Citra nodes, ending on a very dry mixture of red wheat and pils malt. Fantastic throughout--crisp, interesting, and hoppy.
I've sampled about a halfdozen of Notch's beers since I moved to Salem, and while they were all pretty okay none compelled me to get off my lazy ass and write a review (which is impressive, because doing as much doesn't even require me to physically get off my lazy ass). This is, easily, the best Notch beer I've had, and I really hope they start offering it more frequently.
May 22, 2015
Flounder57 from Massachusetts
4.24
/5
rDev
+6%
look: 4 | smell: 4.25 | taste: 4.25 | feel: 4.25 | overall: 4.25
Served in a pint glass at the Union Brewhouse in Weymouth.
Appearance: A one finger head was poured that reduced to a thin layer. It is pale yellow orange color with great clarity and vision of bubbles coming up through the glass.
Smell: Tropical, citrus, grassy, herbal, toasted, bready, and pale malts.
Taste: Awesome hop flavor balanced by a light malt backbone. Light bitterness and chewy notes.
Mouthfeel: Smooth, light bodied, crisp, refreshing, a little chewy, light bitterness, and medium carbonation.
Overall: Pretty crushable and delicious. Need to see more of this.
May 16, 2015
smcolw from Massachusetts
3.91
/5
rDev
-2.3%
look: 3.75 | smell: 4 | taste: 3.75 | feel: 4.25 | overall: 4
Golden color and clear. Good blanketing lace. One-finger head that settles to rim bubbles.
I smell mostly grapefruit, almost like a Fresca (a little bit of sweetness). No wheat.
If I were told this was an IPA, I wouldn't question it. I like this beer, but I still do not detect any wheat. Think bitter pale ale. Lingering bitter aftertaste. Full bodied.
May 10, 2015
Infinite Jest from Notch Brewing
Beer rating:
87
out of
100
with
66
ratings