Notch Valley Malt BSA
| Notch Brewing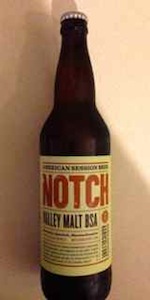 BEER INFO
Brewed by:
Notch Brewing
Massachusetts
,
United States
notchbrewing.com
Style:
Saison / Farmhouse Ale
Alcohol by volume (ABV):
4.40%
Availability:
Fall
Notes / Commercial Description:
No notes at this time.
Added by Maxwell on 10-29-2012
Ratings: 13 | Reviews: 5

4.32
/5
rDev
+14.6%
look: 4.5 | smell: 5 | taste: 4 | feel: 3.5 | overall: 4.5
The beer pours a murky browned yellow like dying straw. The head is a finger width, fluffy white, and lasts forever, leaving thick sticky sheets of lacing on the edges of my glass. There are lots of carbonation bubbles racing up to replenish the head, though the beers body is murky enough that I cannot see through it at all, and would definitely classify it as opaque. On the nose, this beer smells fantastically saisony. Great spicy wafts of earth, biscuity malt, and saison yeast-funk caress the nose. Citrus hops and citrus esters are there in great helpings, with light piney notes also shining through. Slight hay comes through from the malt and esters, while banana esters are surprisingly there in amounts that make me think of a hefeweizen, especially as the beer warms. This smell is really alive with a great complexity, reminding me of lemon banana biscuits, spiced and buttered. On the taste, the beer is light but flavorful, slightly sweeter than the smell might suggest, though still quite pleasing. The taste begins with light hay moving into earthy hops, then opening into big citrus and biscuity buttered malts with hints of creamy banana. The malts, however, are eaten away rather quickly by the bitters from the hay-like and pilsner-feeling hops, which play with each other well into the after taste. Sweet citrus lingers in the mouth as light spicing. The more I drink of this the more I think of strongly citrus-zested bread with hints of banana, while the beer as a whole remains light and lovely on the stomach (just as any Notch beer must). Mouthfeel is smooth and velvety till it begins to slide down the throat and slight carbonation prickles tickle you. The beer is crisp and smooth, though a little thin, leaving the mouth wet on the sides and kind of hop dry on the top of the tongue. Overall, this is another great beer by Notch. In my mind, Notch does saisons right, with perfect amounts of biscuit, funk, and citrus. I could chug this beer all night, or sip it forever, and I would love to get a sixer of it. My one complaint is that the mouthfeel is oh-so-slightly off, but really this is a great beer, and definitely stands up to Notch's regular saison. Try this beer. Drink this beer. Drink even more of it. Notch has done it again. All hail the king of sessionable beers.
2,311 characters

4.13
/5
rDev
+9.5%
look: 4.5 | smell: 4 | taste: 4 | feel: 4 | overall: 4.5
Been enjoying the Notch beers so far, full of flavor and very sessionable and drinkable, and affordable. If I wasn't so inclined to try so many new beers, Notch would be one of my staples.
Pours a decent fluffy soapy looking 1 finger head that fades at a med pace, tons of lacing, semi hazy pure honey looking beer.
Nose is quite aromatic, very farmhouse like with lots of straw, toasted hay, grainy malts, wheat, fresh picked aromatic malt and light earth of the farm itself. Plenty of saison spices, the funk from the yeast really comes through, farmhousey and earthy, light spices, light citrus and lemongrass, light juicy malt, touch of orange peel like hop as well.
Taste starts with orange peel, clementine juice, a light tangerine like juicy fruit and little bitter rind. then nice saison flavors, a bit of grassy earthy funk, grainy bready malts, dusty farmhouse funk, light saison spices and saison lemon peel like flavors. Malts bring wheat, grass, toasted hay, straw flavors and some earthiness from the barn, cracked straw like flavors come through quite a bit, but then fade to more grassy floral hops and bitter slight orange rind. Finish is drier but a bit sticky, some bitterness from grassy hops and light orange rind, more farmhouse funk and saison spices, and grainy malts and straw flavors.
Mouth is med to a bit lighetr bodied, nice carbonation.
Overall quite nice, again one of my fav styles and this really does well with it, great farmhouse funk, saison spices, citrus juice and orange peel bitterness, wheat like, straw, hay, earthy, all of the above, and a light bit of grassy hops coming through. And it's very drinkable.
1,654 characters

4.06
/5
rDev
+7.7%
look: 3.75 | smell: 4 | taste: 4.25 | feel: 3.75 | overall: 4
Spent quite a while trying to hunt this one down. Finally found it with dust on the bottle a full four months after it's release. Certainly this living beer had changed over time, but to my surprise, it was still quite good.
The pour was almost excessively foamy and I was worried, but once the five inch head settled down and I could finish filling my glass, I knew I was going to be alright. The aroma was obvious even without tipping it under my nose, yeasty toast.
the color was consistent as a light brown slice of toast. A tad chunky with bits of fallout dropping to the bottom and sending up trails of little bubbles. I liked it even more.
The foam really set the tastebuds in motion and I got fresh straw, flowering meadow and a funky, aged cheese hint at the end.
made with locally grown grains and malted at Valley Malt, this is about the best way to preserve the local harvest.
893 characters




3.48
/5
rDev
-7.7%
look: 4 | smell: 3.5 | taste: 3.5 | feel: 3 | overall: 3.5
Good bar-pour head. Naturally hazy. Light gold/dark straw color. Leaves some stringy lace.
Traditional Saison aroma of green spice (oregano, thyme, etc.).
Pale malt start but it quickly yields to the previous aforementioned spices. Relatively thin bodied with a high level if carbonation.
292 characters
3.06
/5
rDev
-18.8%
look: 4 | smell: 3 | taste: 3 | feel: 3 | overall: 3
Pours a lighter dirty brownish with a slight head. No lace.
Cardamon nose and some yeast and spice. A little funk and wet newspaper.
Lean watery flavors with some yeasty and tart notes. Some spice, white pepper, cardamon. Feels weaker and thinner than it is. Some boiled grain as this comes to the finish with some mild watery bitterness.
Carbonated but thin.
Not a fan. Why waste time on this when nearly everyone else makes a better version of this style. Too many undeveloped and off-flavors. The hook is low alcohol? Who could session this?
548 characters
Notch Valley Malt BSA from Notch Brewing
3.77
out of
5
based on
13
ratings.