Notch Left Of The Dial
| Notch Brewing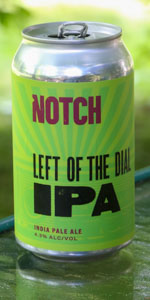 BEER INFO
Brewed by:
Notch Brewing
Massachusetts
,
United States
notchbrewing.com
Style:
American IPA
Alcohol by volume (ABV):
4.30%
Availability:
Rotating
Notes / Commercial Description:
UK inspired IPA in strength, and US influenced with Citra Mosaic and Centennial hops. Notch does not refer to this as a "Session IPA" as lower ABV IPAs have been available in the UK for over 100 years. It's nothing new, it's simply an IPA.
Added by Todd on 04-17-2013
Reviews: 37 | Ratings: 237
3.85
/5
rDev
+1.9%
look: 4.5 | smell: 3.75 | taste: 3.75 | feel: 4.25 | overall: 3.75
12 oz can was poured into a pint glass.
Appearance: A one finger head was poured that reduced to a thin layer. It is a pale orange color with good clarity and vision of bubbles coming up through the glass. Nice lacing down the glass as the beer was drank.
Smell: grassy, citrus, toasted, bready, and pale malts.
Taste: Light citrus, mild bitterness, chewy and toasted malts, and some pale malts.
Mouthfeel: Light bodied, chewy, refreshing, and low to medium carbonation.
Overall: Very tasty for a Session IPA. I'll have another can.
539 characters

3.71
/5
rDev
-1.9%
look: 3.75 | smell: 4 | taste: 3.5 | feel: 3.75 | overall: 3.75
A: Clear golden yellow color. Forms a modest sized white head. Light lacing.
S: Pleasant aroma. Mostly biscuit malt and grapefruit. Dry, pithy, grapefruit.
T: Taste is rather simplistic. A light pale malt backbone along with some biscuit malt. Cracker. Hops a fairly light. Grapefruit and citrus pith.
M: Medium bodied - feels bigger than it's ABV would have you believe. Mild bitterness. Appropriate carbonation.
O: Not necessarily a bad beer, just a fairly simplistic one.
481 characters
4.03
/5
rDev
+6.6%
look: 4.25 | smell: 4.25 | taste: 4 | feel: 4 | overall: 3.75
Tis the IPA season, and I do love me some craft beer in a can, esp a nice IPA. And I really like most of the sessionability of the Notch stuff, very well done beers. Even dated on the bottom of the can, 4/08/14, so quite fresh.
Pours a nice fluffy slight creamy 1.5 finger head fades pretty slowly, nice column of streaming bubbles in the center, hazy golden orange blond beer, decent soapy lacing eventually forms when the head slowly fades.
Nose explodes out of the can, fresh hops, little hop resin, spicy and floral, little citrus note and faint hint of grapefruit, a hint of orange peel and tangerine, decent light fluffy sweet hitn grainy malt underneath.
Taste cuts in first with the malts, a little grainy touch of sweetness, with a little fluffy malt and faint amber malt toasty note. Then hops come through, lighter than I thought at first, with a touch of grapefruit and a little citrus, pithy, with some juicy grapefruit juice like, mild spicy floral hops as well, touch of resin, a touch of tangerine and lemon rind too, bit of a gritty abrasive hop feel too. Mild bitterness overall, even on the dry finish it just gets mildly bitter, fairly clean finish with a hint of hop water grassy note and mild pith.
Mouth is med to a bit lighter bod, nice carbonation, bit of an abrasive gritty hop note.
OVerall pretty nice, I think it has lower marks as that the hops overall are fairly light for an IPA, this is more in the APA range than IPA. Nice hops overall though, with nice aroma, grapefruit and floral spicy rind components, bit more citrus and other fruits, just a touch of bitterness with a nice malty backbone. So still quite a well done beer, just not really an IPA so hard to judge, but then again it is "left of the dial".
1,749 characters

3.89
/5
rDev
+2.9%
look: 4.25 | smell: 4 | taste: 3.75 | feel: 3.75 | overall: 4
Left of the Dial pours a clear yellow/orange with a moderate sized, stiff head on top. As the foam dissolves it leaves a nice coating of lace on the glass.
The aroma has nice notes of orange citrus,pine, lemon grass and bready malt.
Each sip of this light to medium bodied beer is smooth with moderate carbonation. The flavor is nicely balanced between floral hops and pale malt. It begins with pine and orange citrus with a little lemon mixed in. Pale malt is present throughout and nicely balances the hops. It finishes somewhat bitter and very dry. When gone the citrus and sweet malt lingers on the palate.
This is a very easy drinking beer with a nice balance. Lots of flavor in this low abv brew.
706 characters

2.74
/5
rDev
-27.5%
look: 3.75 | smell: 4 | taste: 2 | feel: 3 | overall: 2.25
A: Similar to a light apple juice. 1/2 finger head slowly fading.
S: Juicy hops. Plenty of aroma. Piney and tropical. Malts smell lightly roasted and a little caramel note.
T: Whamp whamp. Where did the nose go? It tastes like bitter tap water. The malt is weak at best and only as it warms. All the juicy tropical notes are missing and all that is left is bitter.
M: A little frothy, reminiscent of a champagne carbonation but certainly not as aggressive. Body is light.
O: I definitely won't buy again. This beer looked good, smelled great, and brought nothing to the palate. It was slightly better as it warmed.
622 characters
4.2
/5
rDev
+11.1%
look: 3.75 | smell: 4.25 | taste: 4.25 | feel: 4 | overall: 4.25
Served on-tap at Meadhall in Cambridge, MA
A: Pours a lightly hazy medium golden orange in color with light to moderate amounts of visible carbonation and some apricot + copper highlights. The beer has a half finger tall foamy off white head that reduces to a medium sized medium thick patch, a very thin film covering the majority of the remainder of the surface of the beer, and a thick ring at the edges of the glass. Moderate amounts of lacing are observed.
S: Light to moderate aromas of biscuit malts with a touch of caramel sweetness underneath much stronger aromas of citrus/grapefruit and spicy/peppery hops.
T: Upfront there are light to moderate flavors of biscuit malts with a light amount of caramel sweetness. There are moderate flavors of citrus/grapefruit and spicy/peppery hops which contribute a light to moderate amount of bitterness which lingers for a while.
M: Just shy of medium bodied with moderate amounts of carbonation. Creamy.
O: I'm really excited to have happened upon Notch beers while I was in Boston - I love a brewery that makes interesting and tasty beers while keeping the ABV low. This is delicious and super easy to drink, I wish that I could have it as my every day beer.
1,215 characters

4.56
/5
rDev
+20.6%
look: 4.25 | smell: 4.5 | taste: 4.75 | feel: 4.25 | overall: 4.5
20 and 10 oz pours from Deep Ellum on 5/2/2013.
Who would have though a 4.3% ABV IPA could be so good. Straw to golden with a very whispy head. West coast aroma, pine and tropical fruit. The taste follow suit with a bit of grain present. Lots of flavor despite the low alcohol. Light body and minimal carbonation. I started with the 10 oz. and realized my mistake, so I order the full pour next.
396 characters
3.95
/5
rDev
+4.5%
look: 3.75 | smell: 3.75 | taste: 4 | feel: 3.75 | overall: 4.25
Nearly no head from the bar pour. I'm impressed with the blanketing lace with so little to work with. The color is gold. Crystal clear.
Plenty of grapefruit rind aroma. Spicy.
Not much base malt on the taste, but the hop takes over well, leaving a strong black pepper bite in the swallow. Subtle lingering bitter aftertaste. The body is thin but not watery. Good carbonation.
379 characters

3.2
/5
rDev
-15.3%
look: 3.25 | smell: 3.75 | taste: 3 | feel: 3 | overall: 3
$7 for .5 liter at Meadhall, Cambridge MA
Golden orange with a small white head. Fair crescent of retention leaves a small crust of foam stuck to my glass. Served in a Notch glass.
Aroma starts peppery and grapefruit but the pepper fades as the beer sits. Grapefruit pulp flavor but without the grapefruit sharpness. Peppery at first but that fades as my beer sits. Malt is fairly sparse as would be expected for 4.3% but adds some cracker influence. It's also has a steely mineral characteristic which I really don't like.
Not great but I like that someone makes low abv IPAs for light weight sissies like me.
613 characters

4.24
/5
rDev
+12.2%
look: 4 | smell: 4.25 | taste: 4.25 | feel: 4.25 | overall: 4.25
The beer pours a pale orange color with golden accents. A nice, half finger's width head of medium sized, pebble-like bubbles forms as a head and lasts for some time. The beer is clean in body, but features a heavier chill haze than other beers in the style. Bubbles can be seen racing up to the top of the beer in a nice steady torrent. On the nose, the beer smells of big pine and tropical fruits with a shivering backbone of light biscuit malts and slight grapefruit citrus. Pineapple and mango play from the Galaxy and Citra hops while the Simcoe and Centennial hops add nice dank and resinous pine notes to the nose. There is even a very faint whiff of spice and apple skins in the nose. On the tongue, the beer tastes dry and bitter with just a touch of sweetness and salt and some lingering acid from the hops. In flavor, the beer begins bitter grows nicely, incorporating in light spicy biscuit notes with hints of mango juice and a big splash of pine and a touch of medicinal bitters which lasts into the aftertaste. The finish is of almost sweet bready biscuit with pine and a touch of rosemary. The aftertaste is mostly medicinal and piney bitters, but it also has faint traces of the "rosemary" flavor, with a nice, light saltiness that is really pleasant beside the bitters. In the mouth, the beer is superbly light and quaffable, sitting below medium in body. The beer displays a little bit of a fierce carbonation, but this just helps to keep the beer dry and drinkable on the palate, which is lovely. The mouth is left wet on the tongue and dry on the roof of the mouth. Overall, this is a superb session IPA that is honestly comparable to many 'normal' IPA's. Great bitter flavors that are balanced by a light malt. This beer is superbly dry, and just asks for more sipping. In many ways, it reminds me of Founder's All Day IPA, only this beer is by far superior to it. Notch has done it yet again. A superb IPA.
1,941 characters
4.26
/5
rDev
+12.7%
look: 3.5 | smell: 4.25 | taste: 4.25 | feel: 4.75 | overall: 4.25
Served from a 22oz Bomber from Quality Liquors in Salem, MA into a Lagunitas mason jar glass. I've also had this beer on-tap at The Lower Depths in Boston, which was also fantastic...That being said I can't base my review off it because I drank a Salute DIPA right before and it wrecked my palate.
A - Hazy orangey-straw color. Nice bubbles with good retention in the head, but the head was not as thick as you might want in an IPA.
S - This is when you can start to recognize that this is a well crafted beer. Hop smells emerge right away with a malt smell that has lots of cream-soda notes in it.
T - Fresh tasting hops, this bottle was right off the truck when I bought it. This beer has a pleasant fruity-pine hop taste but stays true to a traditional IPA with a noticeable malt character. Cream-soda notes as noted in the smell round the malt out to make this beer very tasty.
M - For being a light IPA (4.3%!) this beer does not sacrifice one bit on mouthfeel. Extremely creamy and although the head isn't as thick, the beer washes down like velvet. If you compare this to an All Day IPA (Founders) you would say Left of The Dial is much less watery.
O - As you might expect from Notch, this beer is highly drinkable, light on the palate; and yet delivers a depth of flavor that never makes you feel like your not getting enough beer for the money. It's been a long time coming since Notch made an IPA (they put up a fight), but the demand wins the day and this beer lives up to the reputation of the brewery.
1,523 characters

3.72
/5
rDev
-1.6%
look: 4 | smell: 3.75 | taste: 3.5 | feel: 3.75 | overall: 4
A-Pours a lightly murky orange color. Mild head dies off to nearly nothing. Soft lacing.
S-There is plenty to like here. It isn't very potent, nor is it incredibly complex but its hoppy and vibrant. Light clementines and just a wink of grass. Fresh squeezed citrus. Definitely floral. Malt provides enough backing and complements the relative sweetness from the hops.
T-I enjoy the nose more. Its similar to the nose but a bit blander. A bit less to talk about here. Still getting the citrus and florals but its just not as energetic. Whispy, crackery malt.
M-Way too carbonated. The bubbles sting and detract from the otherwise exceptional drinkability and sessionability.
O/D-A neat session IPA.
701 characters
Notch Left Of The Dial from Notch Brewing
3.78
out of
5
based on
237
ratings.