The Boon Island Ale House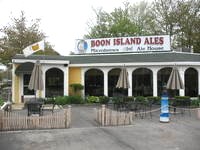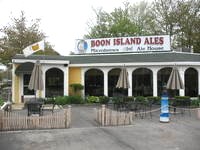 Brewery, Bar, Eatery
124 Post Rd
Wells
,
Maine
, 04090-3802
United States
// CLOSED //
Notes: Beers are brewed at / by another brewery.
Reviews by Cavanaghty:

Cavanaghty from Maine
4
/5
rDev
+6.1%
vibe: 4.5 | quality: 4.25 | service: 4.5 | selection: 3 | food: 4
Finally got a chance to stop in here and try it out. It is only 2 towns over from me, but they are only open for dinner so it makes it hard to get in sometimes. But I was impressed at the classy atmosphere.(the picture provided on here is their old location, not sure on if it is better than before or not) The service was good with polite wait staff. They only offer 4 of their own craft beers but they did have some other locals and usuals on tap. Food was pricy but good. Limited selection, but had something for everyone. Overall I was glad I stopped by, it was not a bad place. If you are in the area stop by, but don't go fighting your way to get there, with only 4 of their own brews its not really a destination, rather a convenience if you are in the area.
Sep 01, 2013
More User Reviews:

Burt from Rhode Island
3.13
/5
rDev
-17%
vibe: 3.5 | quality: 2.5 | service: 5 | selection: 2.5 | food: 1.5
Nice clean interior, we sat in a side room that was away from the bar area. Waitress was nice and attentive.
Beer selection was limited to three of their own off site brewed beers and five other brews. One of which was 60 minute that saved the day. Had the house lager that was ok.
Went there with three other people. We had burgers, pizza, soda and beer. Came to $25 a person. Burgers were well made, pizza was very poor. Well done bottom that was charred, every bite was burnt tasting. Did not have the time to complain and have it redone . It should never left the kitchen.
Might retry in the much later future.
Sep 07, 2012

seanzzila from Maryland
4.3
/5
rDev
+14.1%
vibe: 4.5 | quality: 4 | service: 5 | selection: 4 | food: 4
The outside is very welcoming and casual looking. Clean with a flavor of the local Maine seaside. Inside is classier than the outside suggests. There are two rooms for you to suit your style. You have your choice of "classy casual" in the bar area accompanied by high tables and semi-formal in an adjoining sit-down room.
The staff we encountered were all friendly. Beer selection was decent in quality, not a great amount of selection. Four house beers and 5 other drafts (4 area, 1 Dogfish Head). Keep in mind the house beers are just that, brewed off premise for the establishment by a separate brewery. Drink service was quick & food service was superbly fast. I had (and reviewed) the Boon Island IPA.
Jun 12, 2012
SevaTse from New Hampshire
3.98
/5
rDev
+5.6%
vibe: 4 | quality: 3.5 | service: 4.5 | selection: 4
Drove by it before, couldn't remember the name, couldn't find it based on my search queries, so after visiting Tully's me and my wife decided to retrace our steps. The sign out front reads "Ale house" and references "microwbrews." Not sure if this lead previous reviewers to think it implied that they brew their own, or maybe they just changed the sign, but I agree- them is some buzz words for our type!
Inside it's a very nice, clean place, we were even questioning whether our Saturday's best attire would be acceptable, until we saw the rest of the patrons dressed about the same.
The staff was super friendly and accommodating of the beer geek questions. What they didn't have knowledge of, they were willing to ask staff members that would know, rather than shrug their shoulders and such.
The selection was above average for the area, though I didn't see them taking any risks, with Boon Island IPA, Boon Island Nut Brown Ale, Boon Island Light, Boon Island Lager, along with Sea Dog Wild Wheat Blueberry, Belfast Brewing Lobster Ale, Allagash White Ale, Fisherman's IPA, Fisherman's Brew, and one of the Dogfish IPAs. Would have been nice to see them take better advantage of wider distribution in Maine, and carry some crazy Belgians or stuff like Southern Tier- this would be close enough to New Hampshire to get people to come just for that! Either way, I'd recommend stopping by, but only if you're passing by or already are going to Tully's.
Apr 17, 2011
kandu33 from Massachusetts
4.22
/5
rDev
+11.9%
vibe: 4 | quality: 4 | service: 4.5 | selection: 4 | food: 5
Even though this is not technically a "brewpub" the beers that Boon Island has to offer are very tasty. The brown ale is nice and malty and full flavored. The IPA is a little underhopped, more like a pale ale, very tasty though. The real surprise is the light ale. Nice hoppy bite and refresing finish. I think that they might benefit from renaming a couple of their beers, but for the price ($3.75/draft) you can't beat it. They also have a good selection of local craft brew on draft.
The atmosphere is very clean and new. The food we got was exeptional. Try the chicken tenders with Boon Island's own Beer-becue sauce, delicious! We also had pizza that was awesome, well worth a try.
All in all if you're in the area of Wells or Ogunquit, head over to Boon Island Ales. It's a little off the beaten path but well worth it for some different beers and first rate food.
Aug 28, 2010
Eastman2009 from Maine
4
/5
rDev
+6.1%
vibe: 4 | quality: 4 | service: 4 | selection: 4 | food: 4
While this is a really nice new spot on Route One, ZERO beers are produced or brewed at Boon Island Ales.
All the beers listed here are products of Oak Pond Brewery, Skowhegan, Maine. White Fox Ale (the IPA), Nut Brown Ale, Somerset Lager (the pilsner) and DoorYard Ale (the "light") are produced and sold to the _bar_ (it is neither a microbrewery nor a brewpub as it proclaims) from the Skowhegan brewery.
If beers are being rebranded for sale please contact myself via private message.
May 24, 2010

lordofthewiens from New Mexico
4.13
/5
rDev
+9.5%
vibe: 4 | quality: 4 | service: 4.5 | selection: 4 | food: 4
In the winter of 1710 there was a shipwreck on Boon Island off the coast of Maine. Little food, bitterly cold, the survivors resorted to cannibalism before they were rescued. That's the kind of feel good story to name your brewpub after. Fortunately, it's a pretty nice place. Located on busy Route 1, it's ordinary-looking on the outside. Next to the door is a wooden hightop with two stools. I'm not sure if that's for alfresco dining or if it is decoration. As you enter there's an enclosed porch with three tables on the right. Further down on the right is the bar, also with a few tables and several stools at the bar. Just off the bar is a little alcove with four easy chairs around a small table (nice cozy touch). The dining area is straight ahead, with six tables. The interior is bright and cheerful, with a nautical theme. The colors are all shades of beige. I think they could use some other colors that could complement the beige.
They don't actually brew their beer at Boon Island Alehouse. The brewer is Don Chandler of Oak Pond Brewing. Their beers include an IPA, a nut brown ale, a lager, and a light beer. Eight other taps include Seadog Blueberry, Geary's HSA, Geary's Seasonal, Belfast Lobster Amber Ale, Allagash White, Sebago Boathouse Brown Ale, Fisherman's IPA, and Fisherman's Brew. They were out of the blueberry, much to my wife's dismay. I had a couple Boon Island IPAs. They were OK, not great.
The menu is typical pub food: appetizers, burgers, pizza, salads, a few entrees, a lobster roll and a fish sandwich. Fairly large selection of burgers. We each had a burger and enjoyed them very much. My wife had hers with crabmeat and avocado (it tasted better than it sounds) and I had a cheeseburger with bacon.
Our server was excellent. There were other tables occupied, but she was attentive and efficient.
We liked this place. Decent selection, good food, great service. Try it
May 16, 2010
The Boon Island Ale House in Wells, ME
Brewery rating:
3.12
out of
5
with
7
ratings