Premium
| Quidi Vidi Brewing Company
BA SCORE
78
okay
10
Reviews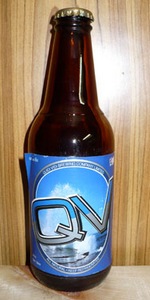 BEER INFO
Brewed by:
Quidi Vidi Brewing Company
Newfoundland and Labrador
,
Canada
quidividibrewery.ca
Style:
American Pale Lager
Alcohol by volume (ABV):
5.00%
Availability:
Year-round
Notes / Commercial Description:
Quidi Vidi Premium lager is brewed with the finest malt and is gently hopped.
It offers a smooth and crisp taste.
Beer the way it should be, using water, malt, hops and yeast. No additives, no preservatives.
Added by MMansfield on 09-25-2007
Reviews: 10 | Ratings: 18
3.62
/5
rDev
+16.4%
look: 3 | smell: 3.5 | taste: 3.5 | feel: 4 | overall: 4
Picked up a single bottle at Bishop's Cellar in Halifax.
Appearance: Pours a crystal clear light gold colour. Vigourous pour brings a medium foamy, bone white cap. Fairly slowly resides to a thin layer with some lacing.
Aroma: Grainy & grassy with some light floral hops. Very similar aroma as Eric's Red. Must be a very characteristic house yeast.
Taste: Light flavour, solid malty lager with a nice caramel sweetness. Grassy and floral with a small bitter finish. Incredibly smooth tasting. Leaves a nice sticky, bready finish.
Mouthfeel: Quite soft and not over carbonated. What a suprise.
Final Statement: Wow. I was expecting a mess here as it's seemed like it would be a bad macro styled lager after tasting the honey brown & eric's red. However, it's a soft, light malty lager, nothing fantastic about it except that it doesn't taste bad. The flavour is subtle and quite nice, could drink these all night at a cabin.
930 characters
3.6
/5
rDev
+15.8%
look: 3.5 | smell: 3.5 | taste: 3.5 | feel: 3.5 | overall: 4
Clear with a yellow and light golden hue. White head is one finger with medium-small bubbles, slow moving gentle but persistent carbonation. White ring, a bit of ribbon lace. The smell of different white wine varieties surprized me, grassy, hay like a Sauvignon Blanc then more buttery like a Chardonnay. Nice.
Very good retention with a clean malty bill, hops subdued, some candy floss sweetness, not cloying. This beer has a lot more body than other QV beers I've had although still not a complex offering. Pleasant, easy drinking, this is my favourite QV product so far.
574 characters

3.55
/5
rDev
+14.1%
look: 3.5 | smell: 3.5 | taste: 3.5 | feel: 4 | overall: 3.5
Packaged July 3, reviewed July 7.
A: Yellow, white head, very little retention, slight lacing.
S: Floral & spicy hops; Biscuity malt.
T: Slight caramel sweetness, biscuity, slight floral & grassy hops, peppery. Flawless, but it is what it is.
M: Moderate body & carbonation; smooth, almost creamy; dry finish.
D: Not something I'd seek out, but it's decent.
They use hop pellets, no extracts. It's not an advocates dream, but it's unoffensive (unlike some macro's).
471 characters

3.47
/5
rDev
+11.6%
look: 3 | smell: 3.5 | taste: 3.5 | feel: 3.5 | overall: 3.5
341ml bottle poured into pint glass may18 2010
A pale straw yellow with lots of bubbles floating up to a pop like head that just fizzed out and died not leaving any lace whatsoever
S some lemon and honey with a little floral hops
T not far off the smell but a little malt and some tropical fruit to go along with a sweet biscuit flavor
M thick enough to prevent it from having a watery feel and decent carbonation
D nothing disappointed me and nothing amazed me about this beer but I would drink this over most of our macros
I know nothing about this brewery other then they make Eric's Red Ale and their from Newfoundland, no reason not to try this but don't look for it either
686 characters
3.33
/5
rDev
+7.1%
look: 4 | smell: 3.5 | taste: 3 | feel: 3.5 | overall: 3.5
Bought and reviewed in St. John's Newfoundland - June 2010
A: Clear light amber with faint white head - little retention.
S: Floral & spicy hops mild; Biscuity malt mild.
T: very mild caramel sweetness, slight floral & grassy hops, peppery. Very mild hint of diacetyl(?) or some ester
M: Moderate body & carbonation; smooth, dry finish.
D: Stands up well in its style against other comparable but not outstanding. This is probably the best non seasonal product from this brewer.
All of this brewer's beers use the same yeast so some compromise may be evident in the flavor profiles. It may be that this is a british ale type yeast (best guess)
649 characters

3.3
/5
rDev
+6.1%
look: 3 | smell: 3 | taste: 3 | feel: 4 | overall: 4
The beer's soft, daisy yellow tone may be ambiguous but it sure makes colour commentary easy. Much of it remains shrouded anyhow, either behind the blast of bubbles or the giant lumps of lace. Its head is stout and healthy, rugged and broad shouldered like the Rock itself, and likely the vikings that long ago landed on it, too.
Damp grains, a splash of buttery chardonnay and a spritz of lemon make an underwhelming, albeit very agreeable aroma. Ideally, this would be considered an average smelling lager. Pathetically, however, there are so many (and such bad) examples of the style that I'm compelled to bump the score above what I was first inclined to give it.
QV is definitely more malty than most pale lagers but it's not necessarily any more flavourful. White bread, coarse grains, white wine grapes and a few tablespoons of cider are all well and good but also, sorry to say, quite boring. This has a long ways yet to go before being considered 'flavourful'.
But to make a comment like that when reviewing a beer like this is to miss the point. No pale lager will ever be blessedly, enchantingly, euphorically delicious - not unless you're really, really thirsty anyhow - and so to put the emphasis on depth and multitude of flavour is unfair. Is this beer agreeable, refreshing and clean tasting? You betcha.
And although there isn't the extra flavour to accompany it, the brewers seem to have included a sizable amount of malt, much more than is customary for the style. Furthermore, it must be a really good quality; there is no cloying aftertaste or even the slightest hint of adjunct. The carbonation is assertive but not overly gassy. Great job.
If Quidi Vidi was to only keep one of their numerous clear, pale, characterless beers, this would certainly get my vote. It is extraordinarily clean and uncharacteristically pleasant for a beer its style. Normally I wouldn't lobby for the import of another pale lager, but QV is something I'd actually like to have readily on hand.
2,004 characters
3.05
/5
rDev
-1.9%
look: 3 | smell: 3 | taste: 3 | feel: 3.5 | overall: 3
341ml bottle, Newfie flag label.
This beer pours a clear pale golden yellow colour, with two fingers of thin foamy white head, which leaves very little in the way of lace as it recedes. It smells of faint sweet grain, and stinky, weedy hops. The taste is mild sweet adjunct grain, some soft orchard fruit, metal, and weak weedy hops. The carbonation is moderate, the body light, strangely creamy, with a bit crisp rising effervescence. It finishes fairly dry, nothing much else going on.
A very basic lager, not too sweet, and drinkable enough.
546 characters

2.93
/5
rDev
-5.8%
look: 3.5 | smell: 3 | taste: 2.5 | feel: 3 | overall: 3.5
341ml bottle courtesy of Milos. Thanks friend! QV lager pours a very clear and pale yellow with one finger white foam and some lacing on the shaker. Smell and taste are toast, metal, crab apple, semi-sweet grains, water, small bite on the tongue, trace of sourness, no aftertaste. One of the most basic craft beers I've ever sampled. Mouthfeel is lighter than medium, a tad creamy, crisp spiciness through the middle, dry and flavourless finish. There's nothing terribly 'wrong' with this beer, it just lacks character. No reason to buy this if better options are available to you. On to the Traditional Ale...
610 characters
2.45
/5
rDev
-21.2%
look: 3 | smell: 3 | taste: 2.5 | feel: 1.5 | overall: 2
341ml brown bottle with twist-off cap. Poured in a pilsner glass. Part of a sampler 6-pack bought at Willow Park in Regina.
Clear, straw yellow to pale gold in colour. White head is 1/4 inch on the pour but quick recedes to a thin ring around the edge. Lots of carbonation streams.
Smells like your typical north american macro lager. Grainy, cooked veggies and some sweetness.
Tastes like a sweeter version of most macro lagers. Some grains with sweet corn. Finish is dry and acidic. There is an initial burst of flavour right off the start that is then obliterated by the carbonation rush which attacks the taste buds, scouring the flavour from existence.
Harsh, acidic mouthfeel and over carbonated. The mouthfeel really hurts the drinkability.
A fairly standard macro lager, but not as smooth as most. You're better off looking elsewhere.
847 characters
2.11
/5
rDev
-32.2%
look: 3 | smell: 2 | taste: 1.5 | feel: 2.5 | overall: 3
pours light straw, initial fizzy white head. faint corn aroma. Taste- some green apple, mild vegetable taste. Not grainy at all. Very little flavour at all. Fizzy mouthfeel. Finishes clean, but so does water. Quite an achievement to make a beer with virtually no flavours, good or bad. Drinkability is decent.
309 characters
Premium from Quidi Vidi Brewing Company
3.11
out of
5
based on
18
ratings.