Happy Dog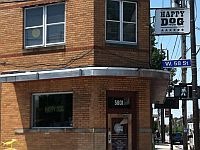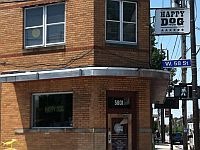 Bar, Eatery
5801 Detroit Ave
Cleveland
,
Ohio
, 44102-3001
United States
(216) 651-9474 |
map
happydogcleveland.com
Notes:
Reviews by JimmyVortex:
More User Reviews:

4.11
/5
rDev
-3.3%
vibe: 4.25 | quality: 4 | service: 4 | selection: 4.25 | food: 4.25



5
/5
rDev
+17.6%
This is my favorite bar in Cleveland. It's got a great vintage vibe with great beer, food and music.
The beer selection is pretty good. There are about 20 beers on tap and at least another 20 craft beers available in bottles. Prices range from $2 (Genny cream) to $7 (Dogfish 90 min.). Most of the beers in their craft selection are fairly common but they usually have a few unusual beers I've not seen. If you're a craft enthusiast looking to try a bunch of new beers, this probably isn't the best place, but beer selection isn't why a give this place a five star review.
The food is exceptional and inexpensive. Although they technically only serve three items (dogs, fries and tots), these items are endlessly customizable with over 50 toppings and sauces.
And what truly makes this bar special is the quality of the live music that occurs so frequently on its stage. All of the best indie rock bands in Cleveland play here, in fact many members of them work at the dog in their spare time. Nationally touring bands also frequent the stage. There is often a cover charge for shows, but it's rarely more than five bucks. This is the best place to see quality original live music for cheap in Cleveland.
1,208 characters

4.3
/5
rDev
+1.2%
vibe: 4 | quality: 4.25 | service: 3.5 | selection: 5 | food: 5
If you love dogs, this place might be heaven. Great, natural dogs, or a very flavorful veggie Italian sausage, with infinite topping choices. Place is unpretentious, affordable, decent beer choices. The wait staff can be a little less than "happy" but somehow it adds to the ambience.
284 characters

4.7
/5
rDev
+10.6%
vibe: 4.5 | quality: 5 | service: 4.5 | selection: 4.5 | food: 5
This is truly a one of a kind beer bar. The owners wanted to recreate the feel of an old-style urban neighborhood bar and that's what they've done to a T.
First, they started with a bar, just a few blocks northwest of Great Lakes that hadn't been redecorated since, oh, probably slightly after WWII, and they basically left it that way. The place is real retro, not modern dressed up with retro. I can't say it's beautiful, but it definitely has the look of an old-fashioned beer bar, the kind you see in movies from the 50s. Just pine paneled walls and chrome & vinyl bar stools and booths.
The staff was friendly, quick and knew their business. Of course, we were there on an early Wednesday and the place was definitely not hopping yet, but good staff is good whether there are 5 or 50 customers, and bad staff is bad no matter how many customers.
The beer selection was quite good with 24 taps and around 20 craft bottles, and the same number each of imports and domestics in bottles. Most of the taps are the standard craft offerings like Bells Two Hearted and Great Lakes Dortmunder but there are a few hard to find beers like Dark Horse Crooked Tree and Buckeye Hippie, of which I had one of each. The tap prices ran from $4-6, quite reasonable IMO.Thankfully, the BMC offerings are relegated to cans and bottles and don't waste tap space. There are also cocktails and a small wine selection for come-alongs who don't want beer.
The food is as unique as the rest of the bar. The menu consists of hot dogs and fries or tater tots. That's it. Bur the hot dogs are custom made for the bar (they also offer vegetarian dogs) and the toppings list runs as long as your arm. The fries are house made and quite good.
I'm a fool for a good old-fashioned Chili Dog (or Coney if you prefer) so I ordered my dog Old Skool with chili sauce, chopped onions and ball park mustard. It was easily the best in memory. The dogs are at least twice the size of a regular grocery hot dog and quite tasty. The sauce was perfecto and the mustard, if you never had ball park style, beats the yellow stuff by a mile.
Unfortunately, there was no live music to review, but their website says they have everything from polka to punk, so how can you go wrong?
I would return to the Happy Dog in a heartbeat. In what other big city can you still get a full sandwich and a craft beer for under $10 these days? Truly a great place. I hope it becomes a Cleveland institution, right up there with Great Lakes and the Brew Kettle.
2,509 characters
4.38
/5
rDev
+3.1%
vibe: 4.5 | quality: 4.5 | service: 4.5 | selection: 4 | food: 4.5
Great place! From the beer, to the food, to the music, to the crowd. It is a favorite spot for my wife and I. Well over 20 taps with an excellent mix of micro brews! Bells, Founders, Great Lakes, Lagunitas, etc. Reasonable prices. Staff is killer. Friendly, fast, and have a really good beer knowledge. Music is great, never know what you are going to hear while there.Only complaint is sometimes the bands are a little to loud, but what can you do its a small bar. Food is great. Dogs and tots...who needs anything else! Not to mention you get to choose from an endless list of toppings. Happy Dog is what a bar is supposed to be.
631 characters

4.83
/5
rDev
+13.6%
vibe: 4.5 | quality: 5 | service: 5 | selection: 4.5 | food: 5
This place is damn good. Heard of it through a friend that lives in the area, had great things to say. So I made the 1 1/2 hour drive on up to Cleveland! Not only was there beer selction incredible, but their options for hot dog toppings was insane. I went with an all spicy dog, anything and everything hot. They also have great tots too. Had a few Lagunitas IPAs, a Willoughby Peanut Putter Cup Coffee Porter, and a Bell's Two Hearted. Sat right next to a Buck Owens poster, which was great. The staff was very helpful, being as I was a new customer and was a little overwhelmed by all the topping choices! If you're a hot dog lover (you'd have to be to go there, that's all they sell) or you just want to a have a nice craft beer in a comfortable setting, this is the ideal place. Long live the the hot dog!
810 characters
3.13
/5
rDev
-26.4%
vibe: 4 | quality: 3 | service: 3 | selection: 3
What a weird places this is. It is arranged as a big donut with the bar in the middle taking up a large space. I was there on a Saturday night around 10pm and it was packed, mostly with hipsters and other general "cool" types. Only a few from a d-bag crowd. Music was way too loud, the bartender said the food was going to be a very long wait, and they were out of three of the beers they listed on their small taplist, unfortunately those being the only 3 I cared about. This is not a beer place, this is a place that has a couple of craft taps where people hang out.
568 characters
4.22
/5
rDev
-0.7%
vibe: 4.5 | quality: 4 | service: 4 | selection: 4.5 | food: 4.5
After revving up their food selection about a year ago with hotdogs, vegdogs, french fries, tatertots, and a choice a 50+ house made toppings; The Dog completely overhauled their draft delivery system and introduced 24 new taps w/ a fine selection a regional (MI, OH, NY, PA) craft brews. The bottle selection includes many hard to find German & Eastern European lagers. Bartenders are generally knowledgeable and sampling is allowed.
4pm is the general opening time, but on Fridays (only), lunch is served. Lunch is probably the best time to truly enjoy the experience of sipping a great craft brew while taking your time selecting toppings to create a delectable dog. Dinner time is good too, but after that, the live music revs up with local, regional, and national rock'n'roll acts, and eating becomes a bit more difficult. Great juke box too!
849 characters
Happy Dog in Cleveland, OH
Place rating:
4.25
out of
5
with
14
ratings