Big Country Winter Ale
| Breakside Brewery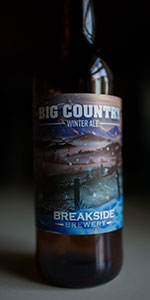 BEER INFO
Brewed by:
Breakside Brewery
Oregon
,
United States
breakside.com
Style:
Winter Warmer
Alcohol by volume (ABV):
7.80%
Availability:
Rotating
Notes / Commercial Description:
No notes at this time.
Added by artoolemomo on 11-30-2013
Ratings: 13 | Reviews: 4
Reviews by macrosmatic:

3.11
/5
rDev
-11.9%
look: 4 | smell: 3 | taste: 3 | feel: 3.5 | overall: 3
Thanks to eyebereej for sending this one! Reviewed from notes. Poured from bomber into a Brooklyn Brewery snifter.
A: Dark brown with garnet highlights, not quite opaque. A big, light tan fluffy head and visible carbonation on the low side.
S: Sweet roasted malts, some spices, and an aroma in the background that's kind of a weird burning plastic smell.
T: Toasted malts up front, with some nutmeg and cider spice, some fruity (apple, a touch of clove?) flavors, that might be from the yeast. The flavors fade into a touch of hops. But, it still has a weird artificial or plastic undertone on the tongue that's not good.
M: Relatively light body for a winter warmer, and the alcohol is well-hidden. Medium levels of carbonation sensation.
O: I don't know if this was a bad bottle or what, but the plastic flavor rendered it unfinishable. It has some promise, so I don't want to completely slam the beer, but this bottle wasn't particularly enjoyable.
956 characters
More User Reviews:



3.94
/5
rDev
+11.6%
look: 4 | smell: 3.75 | taste: 4 | feel: 4 | overall: 4
Poured into a Chuckanut pint glass. Pours a dark reddish brown with a fine two finger khaki head with great retention and lots of lacing. Aroma of bready and caramel malt, nuts, mild holiday spices. Flavor of bready, caramel and lightly toasted malt, cocoa, pine, hints of chocolate and clove. Finishes with spicy malt and some grassy hop bitterness. Nice medium body with some creaminess. This is a malty, busy winter warmer, but the complexity keeps it interesting. The light spicing and hint of spruce or pine make this stand out from the pack. This is exactly what I'm looking for in a winter warmer. Quirky, but tasty. I'll get this again next year.
654 characters


3.57
/5
rDev
+1.1%
look: 4 | smell: 3.75 | taste: 3.5 | feel: 3.25 | overall: 3.5
22 oz bomber bought from Fred Meyer in N.Salem. $4.99 OK poured into Imperial pint glass, it is a nice darker amber coloured beer with a very nice looking thick creamy eggshell white head. Malty aromas mostly, caramel,bread,slight spruce like hop tinge.getting a wee bit of hazelnut also. OK Well balanced beer mainly on the malt side to start and rather surprisingly creamy in aspect, hops and spices make an appearance near the end. Mouth feel starts of very nicely then near the end it loses it and it becomes almost watery. Nice enough beer but could have been more substantial.
582 characters

3.27
/5
rDev
-7.4%
look: 3.75 | smell: 3.5 | taste: 3 | feel: 3.5 | overall: 3.25
Appearance- Pours up a good amount of head which also has fair retention. The head is a very fluffy and very light beige while the body is a dark amber with hints of maroon which appears as a dark amber with orange hues when held up to the light. Considerable lacing.
Nose- Subdued but still rather odd. There's a slight sour note or tang at first followed by a sort of plastic (almost like Playdoh) smell. Maybe a little soapy? Some grain from the bottle. Light ashiness? A light burnt caramel? A little bit of grassiness. Slight hint of cocoa but it's rather earthy- sort of like clay. Some toast but I don't really get any orange or candied fruit. That would be nice. Swirling shows a whole lot of mustiness and grapefruit. A little bit of dirty sock. That's definitely an improvement.
Taste- Lots of malt. Brown bread with notes of raisins which is accompanied by the weird plastic, clay, earthy notes of the nose. Some woody bitterness on the finish. Pine, resin, and oak. Bits of orange- a mimosa like linger. Some mustiness, some grapefruit, a little bit of dirty sock. Cocoa around the edges but nothing I would describe as candied fruit. Don't really know what I think about this beer at the moment. I really wish this were more malt-driven as hops seem to dominate more than 36 IBUs should. Really just an average beer- I can't get over the odd clay/earth notes of the flavor profile.
Mouthfeel- Between light and medium bodied with an appropriate amount of carbonation.
Drinkability- Okay. I don't know if I would consider the weird notes flaws but they certainly don't make me want to buy this again. 5 bucks is reasonable for a bomber though.
Overall- Pretty much just average. I'm fairly ambivalent about this beer- try it, don't try it, what's the difference? I've definitely had better from Breakside.
1,827 characters

Big Country Winter Ale from Breakside Brewery
3.53
out of
5
based on
13
ratings.