Breakside Bourbon Barrel Aztec
| Breakside Brewery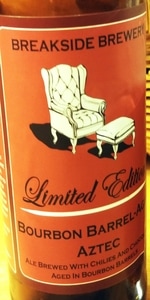 BEER INFO
Brewed by:
Breakside Brewery
Oregon
,
United States
breakside.com
Style:
American Strong Ale
Alcohol by volume (ABV):
12.00%
Availability:
Rotating
Notes / Commercial Description:
Strong amber ale made with cacao/chocolate nibs and two types of chilies that was aged in freshly emptied bourbon barrels.
Added by msubulldog25 on 09-01-2011
Reviews: 13 | Ratings: 110

3.51
/5
rDev
-12%
look: 3.5 | smell: 4.25 | taste: 3.25 | feel: 3.25 | overall: 3.25
I really wanted to like this beer and the appearance and nose led me to believe I would. The taste is just all bourbon with the smallest hint of chili and the mouthfeel is a mess
★
178 characters
3.62
/5
rDev
-9.3%
look: 3.5 | smell: 4 | taste: 3.5 | feel: 3.5 | overall: 3.5
Appearance: Slips out a hazed, dullish amber-tan body with a smallish, ivory head.
Smell: Caramel-scented, toasty malts with a modest hint of a roasty element with a little pinch of cocoa powder. The aroma is mostly the chiles and barrel qualities.
Taste: Caramel-glazed toast, maybe a subtle edge of roast there in the upfront flavor, too. Sweetish, until the heat from the alcohol content and chili pepper's bite catches up to you. Barrel aging provides touches of wood, bourbon. Lingering capsaicin heat, with a bit of the barrel character still trying to come forth beyond the spiciness.
Mouthfeel: Medium-plus body. Light, low level of carbonation.
Overall: A chili-infused beer with an extra added kick of bourbon and booze.
★
734 characters

3.74
/5
rDev
-6.3%
look: 3.5 | smell: 3.75 | taste: 3.75 | feel: 3.75 | overall: 3.75
22oz into a tulip. Pours a dirty coppery amber w/ a 1-finger head.
Aroma is fruity and malty. Dried dates and apricots, warm bourbon, a hint of spice.
Taste is likewise fruity, sweet, and malty. Dried fruit, caramel, light brown sugar, boozy heat. Chile peppers give it a subtly spicy twist.
Mouthfeel is thick and chewy.
Overall a big, strong, sweet, malty beer.
★
367 characters
3.75
/5
rDev
-6%
look: 3.75 | smell: 3.75 | taste: 3.75 | feel: 3.75 | overall: 3.75
Sampled at 16 tons the other day.
While there were a lot of interesting flavors in this beer, I felt the spice and chili flavor was dominated by the barrel aging (lots of vanilla). The regular version of this beer is pretty sweet and boozy IMHO, and so this was more so. I found the beer tiring on the palate, and so was glad I just ordered a sample size portion at 16 tons.
Not a bad beer, but at least on this day, it was just too overly sweet and boozy for my palate.
★
472 characters
3.76
/5
rDev
-5.8%
look: 3.5 | smell: 3.75 | taste: 3.75 | feel: 4 | overall: 3.75
Thanks to jmgrub for sharing this one at Wowcoolman's tasting.
Pours a hazy honey orange with a foamy off-white head that settles to wisps of film on top of the beer. Foamy streaks of lace form around the glass on the drink down. Smell is of malt, honey, vanilla, bourbon, and wood aromas. Taste is much the same with vanilla, bourbon, and slight chile flavors on the finish. There is a mild amount of woody bitterness on the palate with each sip. This beer has a good level of carbonation with a crisp mouthfeel. Overall, this is a pretty good beer that is very bourbon forward but the cocoa and chile ingredients of the base beer are very hidden in this one.
★
661 characters
3.84
/5
rDev
-3.8%
look: 3 | smell: 4 | taste: 3.75 | feel: 4 | overall: 4
650 mL bottle poured into a snifter.
Appearance - Deep red amber, small white head. Thin collar.
Smell - Bourbon and vanilla. Slightest bit of oak. Cinnamon, spicy pepper.
Taste - Spices all over. Cinnamon. Caramel. Bourbon. Vanilla and oak. Finishes with a lot of bourbon.
Mouthfeel - Dry and a little boozy. Good barrel character.
Overall - Even after 15 beers, this tastes great. Flavorful.
★
401 characters

4.01
/5
rDev
+0.5%
look: 3.5 | smell: 4.25 | taste: 4 | feel: 3.75 | overall: 4
Interesting brew, sort of an amped up amber ale thrown into bourbon barrels w/ various chile peppers and some chocolate for good measure. Some serious sediment to work around on the pour, literally ended up with a piece of charred wood from the barrel in my glass. Nice smell, oaky/bourbony/vanilla, maybe something almost fruity from the malt+chocolate combo, light traces of chile peppers. Pleasant and maybe even a touch vinuous. Palate is sweet, some booze heat, and chile warmth on the swallow. It really ain't bad and is a novel way of doing the spiced/adjunct barrel aged beer thing. Cheers.
★
598 characters
4.07
/5
rDev
+2%
look: 4 | smell: 3.75 | taste: 4.25 | feel: 4.25 | overall: 4
Bottle opened on 10.5.13
A - Pours a dark amber with a fluffy light tan head with good retention.
S - Malty, sweet and spicy.
T - Booze, fruity, sweet malt, a touch of chili heat.
D - Good carbonation and a medium body.
O - Boozy fruit and a nice chili finish.
★
265 characters

4.07
/5
rDev
+2%
look: 3.75 | smell: 4.25 | taste: 4 | feel: 4.25 | overall: 4
From a 650 ml bottle (dated June 4, 2014) to a snifter.
A-A normal pour produces about a half-finger of grayish-tan head. The beer is the color of dark caramel and mostly clear. There is very little carbonation visible and no lacing.
S-The aroma is heavy on the chiles. It is not just spicy, but you can really smell the chile flavor/flesh. Nice. There is also a good dose of cocoa, and some alcohol warmth, brown sugar, and vanilla. The smells are pretty distinct.
T-The beer tastes almost exactly like it smells. Heavy chile flavor and spice lead the way with cocoa well represented as well. The other flavors are less obvious but they form a nice background for the chiles to do their thing.
M-The beer is medium to full in body with a lower level of carbonation.
O-This is one of those beers that delivers exactly what is says on the bottle, i.e., chiles and cocoa. Those who like their chiles to be more subdued won't like this one, but if you want a spicy big beer that isn't a stout, this is a good choice. A nice beer for winter.
★
1,043 characters

4.23
/5
rDev
+6%
look: 4.25 | smell: 4.25 | taste: 4.25 | feel: 4 | overall: 4.25
Poured into a Fremont small snifter. Pours a medium to dark coppery orange amber with a fine half finger light khaki head with great retention and lots of lacing. Great aroma of bourbon, vanilla, toffee and hints of chile. Flavor follows, dominated by bourbon, caramel and vanilla,with the chile spiciness building and leaving a pleasant light chile bite in the finish. On the sweet side and quite warming. Medium bodied with mild creaminess. An excellently balanced amount of chile for the rich body, with the other flavors nicely masking the capiscum at first then slowly revealing it. Lots of barrel character, with good bourbon and oaky vanilla. I'm a fan of bourbon barrel ales and chile that is well supported by other flavors and this bring it all home. Very tasty. ABV dangerously covered, needs pacing.
★
811 characters
4.3
/5
rDev
+7.8%
There's lots of cocoa in this ale, smooth tasting, not too sweet. The chiles kick in, but the heat level isn't high, at least not to this chile aficionado. The bourbon aroma and flavor don't lead the parade, but they're there. As BBA beers go, this one is just a little on the lighter side, which is fine with me. Nice alternative to the barrel aged stouts.
★
362 characters

4.32
/5
rDev
+8.3%
look: 4 | smell: 4.5 | taste: 4.5 | feel: 4 | overall: 4
750ml bottle into a Ranger Creek tulip. Many, many thanks to Oregonhopmonster for the killer extra!
Pours with a ruddy amber hue; cloudy body with mahogany edges. Very nicely retained head of light khaki foam forms up top. Spicy aromas of chili-rich gourds permeate the nose: cinnamon, caramel & dusty chocolate malts. Booze augments the heat that the chilies provide. Very intriguing nose overall.
Chewy, boozy malt notes greet the palate. Green, woody bourbon barrels slide in mid-sip and culminate in a flash of spicy heat from chili peppers. Mouthfeel is semi-chewy with a medium carbonation level. Overall, BB Aztec is a fantastic ride. Not exactly the most quaffable beer in existence, but you will enjoy the experience. Recommended.
★
741 characters
4.39
/5
rDev
+10%
look: 4 | smell: 4.25 | taste: 4.5 | feel: 4.25 | overall: 4.5
this is enormously high quality and rather unique, instead of using a darkly roasted malt base for a beer that features cocoa and chili, it starts as a lighter, copper colored brew that exchanges out the bitterness of such a roast for the sweetness of a caramel malt base. very cool, it allows the additives to be dialed in just right, and tasted really cleanly. the chilies are bold in flavor but mild in heat, even minimal in heat, and the carry on the sweet grain for a long time. the cocoa is raw, and adds a welcomed dry earthiness to this. the boubon barrel has almost taken over though, its so intensely flavored like the whiskey that other flavors struggle to stand out a bit. i cant imagine this beer without it though, it ties it together super well, shows nuances of vanilla and sweet corn, and even hides its booze rather well for 12% abv. i havent had enough barrel stuff from these guys, so this was a heck of a start, a truly individual beer, definitely one to share. amazing overall.
★
999 characters
Breakside Bourbon Barrel Aztec from Breakside Brewery
3.99
out of
5
based on
110
ratings.