All-In Amber
| Full Pint Brewing Company
BA SCORE
83
good
39
Reviews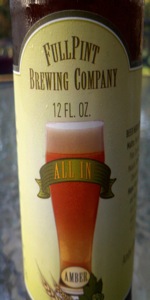 BEER INFO
Brewed by:
Full Pint Brewing Company
Pennsylvania
,
United States
fullpintbrewing.com
Style:
American Amber / Red Ale
Alcohol by volume (ABV):
5.80%
Availability:
Year-round
Notes / Commercial Description:
No notes at this time.
Added by Hojaminbag on 06-05-2010
Reviews: 39 | Ratings: 144
4.22
/5
rDev
+15.3%
look: 3.5 | smell: 4 | taste: 4.5 | feel: 4.5 | overall: 4
Poured into a standard pint glass, nice transparent amber color with slight haze, off white head but no lacing.
Smell is caramel malt, hint of hop fruitiness, very clean but pleasant.
Taste is smooth and nicely sweet with a kick of bitterness. Flavors range from some caramel and light roasted malt, to hints of fruit (cherries?). Very clean flavors and smooth.
Mouthfeel is great, very crisp for an amber ale (not over sweet or cloying), nice sweetness thats cleaned up by solid bitterness with a good amount of carbonation.
Overall, very nicely done amber ale touching on amber lager standards but with better malt flavor and hints of fruitiness.
652 characters

3.75
/5
rDev
+2.5%
look: 3.5 | smell: 3.5 | taste: 4 | feel: 3 | overall: 4
Appearance: Medium amber, almost brown. Thin white head. Minimal to moderate lacing. Low retention
Aroma: White grape on the nose. Caramel malt.
Taste: Complex malt taste. Mostly caramel and pale malts, but the low amounts of Munich, Brown, and Chocolate malts add something here. Nice and mild, slightly bitter, orange citrus.
Mouthfeel: Plain texture, if anything it's a bit on the oily side. Medium body. Nice, moderate carbonation.
Overall: A bit interesting for the style. The malt complexity adds something without going overboard. Very drinkable.
557 characters

3.75
/5
rDev
+2.5%
look: 4 | smell: 4 | taste: 3.5 | feel: 3.5 | overall: 4
Another nice looking brew from full pint! Nice two finger, sticky head. Plenty of lacing, again. Sweet malty nose. Very sweet on the tongue also. Almost a bit cherry like. Not cloying, however. Very easy to drink. Nice session beer. Only negative is, it is a bit thin. However, it is very smooth with a bit of almost, an octoberfest-like feel to the beer. I liked it and it is worth a shot.
390 characters

3.83
/5
rDev
+4.6%
look: 4 | smell: 3.5 | taste: 4 | feel: 3.5 | overall: 4
A: Pours a hazy amber color with some golden hues. Provides a one finger off white head with plenty of lacing.
S: A decent amount of bready malt character. Also some toast, caramel with a light undertone of citrus.
T: The sweet caramel and bready malt flavor is the most prominant up front and throughout. There is a small amount of citrus as well.
M: Leaves a dry clean taste on the palate.
D: A decent offering. Nothing over the top or stand out but a solid amber ale. Easy to have more than one in a sitting.
515 characters

3.58
/5
rDev
-2.2%
look: 4 | smell: 3.5 | taste: 3.5 | feel: 4 | overall: 3.5
pours a fairly dark amber..polished barssy on color.
little head displayed with minimal lacing.
malty nose, caramel and sweet notes.
taste was very sweet, verging on cloying as it warmed. kind of thick on the mouth
obviously, the mouthfeel was full
solid beer
259 characters
4.25
/5
rDev
+16.1%
look: 4 | smell: 4 | taste: 4 | feel: 4.5 | overall: 5
A - A very solid hazy amber color with a inch of fluffy head
S - Starts off with a caramel sweetness of the nose, then a hop assault of pine and a sweet malt.
T - Wow this is a nice rep of the style. A nice sweet caramel with a hop forward body of pine and citrus with a malty sweet finish. Bravo
M - Light I could drink this all day
D - As for full pint goes this is the best red ale I ever drank. Almost like an amber lager with more sweetness. Great brew and good times!
477 characters

4
/5
rDev
+9.3%
look: 4 | smell: 4 | taste: 4 | feel: 4 | overall: 4
Pours a hazy orange-ish to amber color with an off white head. In the aroma, caramel malt and a small pine hop presence. In the taste, caramel maltiness and ends with a small grapefuity hop. A smooth and medium bodied mouthfeel, with a small dry, grpefruity hop in the aftertaste. Nice and decent hop presence. Easy to drink, not too shabby.
341 characters

3.57
/5
rDev
-2.5%
look: 3.5 | smell: 4 | taste: 3.5 | feel: 3 | overall: 3.5
Served from bottle to pint glass.
Pours a solid copper brown color with slight head.Notes of malty, chocolates, and some sweet caramels hit the nose.Tastes of a typical brown ale, but still worthy of interests as a nice hop aroma with Warrior and Fuggles comeing out.A very nice collaboration beer with all the talents there I cant wait for the next in line.
359 characters
3.53
/5
rDev
-3.6%
look: 4 | smell: 3.5 | taste: 3.5 | feel: 3.5 | overall: 3.5
This one is a nice malty amber they mention American hops on the label but it's pretty focused on malt. Slightly hazed amber body with a bright white head fine speckled scattered lacing goes around my pint. Aroma has full on sugary malts bringing slight honey tones with caramelized fruit notes. Flavor is sweet upfront with little hop addition to balance things out, super sweet almost cloying malt base. I liked the Rivertowne IPA and I've got the witbier on deck but this amber is lacking in balance. Mouthfeel is medium bodied with ample carbonatin, like I said malts are laid down heavy enough to create some cloying qualities at times. A solid beer I'm sure many of these recipes are being tweaked in accordance with their new production brewing facility. Good Luck to Andrew Maxwell (John Harvard's Pittsburgh, Rivertowne Pourhouse), Barret Goddard (John Harvard's, West Virginia Brewing, Johnstown Brewing, and Rivertowne Pourhouse), Sean Hallisey (John Harvard's, Johnstown Brewing), and Sean McIntyre (Harvard's, Vahalla, North Country), and the new player who retired from his career to join the venture known as Full Pint Brewing. I think ths is great for beer in the Burgh, and a good thing for these guys who have been passionate about what they've been doing for years.
1,284 characters
3.8
/5
rDev
+3.8%
look: 3.5 | smell: 3.5 | taste: 4 | feel: 3.5 | overall: 4
This might be at least my 3 or 4 time trying this brew. Anyway drank from a bottle with no freshness date. Some pungent hops scents but mostly malts. With 5 types of malts and 2 types of hops, this beer is very flavorful. Some of the heavier malts stand out most like the brown and munich malts. Well balanced flavor. Mouthfeel is smooth and very drinkable. Well done.
368 characters
3.75
/5
rDev
+2.5%
look: 4 | smell: 4 | taste: 3.5 | feel: 3.5 | overall: 4
This was the first beer I'd tried from Full Pint, in the form of a sample at Pints for Pets in Altoona, PA.
Poured into a tulip pint: Deep amber with bright orange & gold highlights under two fingers of thick, whipped, beige foam. Head drops to a thick coating & retains well, leaving swaths of lacing.
Smells of slight peach, cherry, & some bitter orange peel. Also a little of a mineral smell. Funny, this smells a lot like my own amber, which was brewed using water only 12 miles away from the brewery -- coincidence? Some light, toasty malt shows up.
Initial grainy maltiness in the taste, followed by moderate leafy bitterness & round off by a toasted taste reminiscent of popcorn. A dryness carries throughout, again kind of mineral. Decent, just not a lot to say about it. Aftertaste is a little more bitter than I care for.
Medium-light body, crisp & alive, but restrained.
A decent drinker, can't say there's much here that stands out to me. Still, I wouldn't be unhappy sessioning this one for an evening.
1,021 characters
3.83
/5
rDev
+4.6%
look: 4.5 | smell: 4 | taste: 3.5 | feel: 4 | overall: 4
Poured a golden-red colour with little head. Quite sweet smell, with maybe a hint of chooolate in the nose (though maybe I'm crazy). I really enjoyed this for an amber, it had this chocolate taste that I didn't expect, but it is delicious. Very smooth. A little bit of bitterness in there too. I could drink a lot of these.
323 characters
4.25
/5
rDev
+16.1%
look: 4 | smell: 4 | taste: 4.5 | feel: 3.5 | overall: 4.5
Pours a dark amber color with a one finger head that gives way to a little bit of lacing. The aroma is of sweet malt and caramel malt as a nice backbone, there is also a hint of bread malt toastiness to it. At the back end is a hint of citrus hops. The taste is good and complex. There is the malt backbone of bread, sweet, and caramel malt. On the top is a citrus hop bite with hints of earthy hops as well. The mouthfeel is moderately carbonated. Overall for an amber lager this is a very good beer for drinkability. Unlike other amber's this beer has some nice aroma, but more importantly there is a nice complex flavor. You could easily have six or more of these, very solid.
679 characters

3.97
/5
rDev
+8.5%
look: 3.5 | smell: 4 | taste: 4 | feel: 4 | overall: 4
I am somewhat surprised to see that Full Pint's All-In Amber hasn't been added to the database here on BA, because I have seen this beer at quite a few places around Pittsburgh in the last month or so. Anyway, it is the first beer that I have tried from this new brewery, and I'm looking forward to trying many more. Fresh and local is the way to go. I had this on-tap at one of the various Rivertowne locations around town (north shore).
The blurb I read about this beer is that it's a kicked-up amber that is a product of a collaboration between six different brewers, who all contributed something to the beer. I believe this was the first beer that Full Pint launched, but it could have just been one of the first wave of beers they sent out.
The body remains translucent, but it is pretty dark for an amber. The white head has some pretty decent retention and leaves a few scraps of lacing.
The aroma is pretty interesting. Along with some sweet, caramel malts, I swear there is a bit of rye in there. The hop profile is similarly varied, with a strong, spicy aroma and a bit of citrus type bitterness.
There is a lot going on in All-in Amber. When it says that each brewer contributed something, I think that each brewer may literally have added an ingredient to this beer. The sweet caramel malts from the aroma are there in a big way, but the spicy rye bread flavor is also there. I have no way of knowing, but I'm fairly sure that at least some malted rye was used to brew this one. The strongest hop flavor is the slightly grassy, earthy flavor. Just a hint of citrus and bitterness is also in there though. A generic fruitiness is underneath all of that too, which is probably from the yeast.
The body is on the full side for the style, and the carbonation is adequate.
Had I know that I would be the first one to review this beer, I might have taken better notes. I think I got everything in this review, but it might have been more helpful and coherent if I had focused more. Mostly, I could have made a note of the ABV. Either way, All-in amber is kind of all over the place, but I enjoyed it. It is more interesting than I expected from an amber, and it is definitely worth a try. In fact, it convinced that other Full-Pint brews are worth a try. It's always nice to see another craft brewery in the Burgh.
2,328 characters
All-In Amber from Full Pint Brewing Company
3.66
out of
5
based on
144
ratings.