Night Of The Living Stout
| Full Pint Brewing Company
BA SCORE
83
good
61
Reviews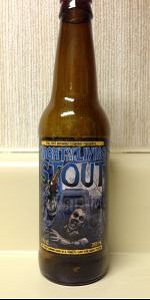 BEER INFO
Brewed by:
Full Pint Brewing Company
Pennsylvania
,
United States
fullpintbrewing.com
Style:
American Stout
Alcohol by volume (ABV):
7.10%
Availability:
Rotating
Notes / Commercial Description:
No notes at this time.
Added by Stinkypuss on 08-27-2012
Reviews: 61 | Ratings: 285
3.82
/5
rDev
+3.8%
look: 4 | smell: 3.75 | taste: 3.75 | feel: 4.25 | overall: 3.75
Inky black appearance with a nice dark tan head. The smell is almost like an ale more than a stout. The hops hits your nose harder than the roasted malt. The taste is hoppier than any stout I have ever tried. Other than that it has all the roasted malt charictaristics of a nicely done stout, a bit of chocolate flavor with nice smokey malt. The mouthfeel is gritty like a stout should be. Worth a try for anyone who loves APA and IPA who is out for stout!
456 characters

3.18
/5
rDev
-13.6%
look: 3.75 | smell: 3.75 | taste: 3 | feel: 2.5 | overall: 3
A. looks correct for a stout dark in color with a sub zero head very little lacing
s, it has a very burnt smell like burnt coffee grounds
T. this is the bad part not that impressive. taste more like a german swartz than a stout
M. vert watery again more of a German Swartz
O. not bad if they would relabel it is not a stout but more a black ale,
350 characters
4.74
/5
rDev
+28.8%
look: 5 | smell: 4.75 | taste: 4.75 | feel: 4.5 | overall: 4.75
This brew pours a solid coal black with plum colored highlights when held up to the light. There is also a mocha three finger head which, even though it dissipates fairly quickly, leaves a nice remnant floating on top of the beer and as a collar. There is a lot of moca lacing.
The smell is piney and grapefruit like. Floral hops, cocoa powder and nutty. There are also lightly roasted and sweet malts present.
The taste follows the nose with sweet and roasted malts first, followed by light chocolate then a deep earthy nutty taste. This beer could be an imperial stout due to the bold, up front hop presence from start to finish. The feel is light and creamy in spite of the hops; the finish is slightly dry. Overall another winner from Full Pint.
753 characters
1.44
/5
rDev
-60.9%
look: 2.5 | smell: 2.25 | taste: 1 | feel: 1 | overall: 1.25
The aroma and appearance are true to the style. The pour is thick and syrup like. Night black with a thin tan head, the flavor is strongly cough medicine and biting alcohol. It's mouthfeel is thick. A big disappointment. Missing the normal roasted chocolate and strong coffee flavor.
283 characters

4.5
/5
rDev
+22.3%
look: 4.5 | smell: 4.5 | taste: 4.5 | feel: 4.5 | overall: 4.5
Black as the pit from pole to pole, the aroma is dominated by deeply roasted malt and charred wood. Velvety and smooth texture. Then WHAM! those hops hit. This would be shocking if you expected a stout but didn't know the IBU content! Toasted malt, smoke, and charred wood stand up to the intensely bitter hops.
313 characters

4.04
/5
rDev
+9.8%
look: 4 | smell: 3.75 | taste: 4.25 | feel: 4 | overall: 4
12oz bottle poured into pint glass.
Pours black with a nice dark khaki head. Looks like a standard stout, but the smell is much more complex then the regular roasted stouts most people put out. Roasted coffee and milk chocolate mingle with citrus hops making a very pleasing smell.
The taste is very creamy milk chocolate with bitter coffee accents. Good amount of hops for a stout too. The overall feel is creamy and light. I could drink this all day. Coats your palate well and evenly. I really enjoyed this beer and will look for it again.
546 characters
3.89
/5
rDev
+5.7%
look: 4.25 | smell: 4 | taste: 3.75 | feel: 3.75 | overall: 4
Poured pitch black with a milkshake 3 finger head that dissipated in a few minutes to a thin head that remained. Lots of lacing. Aroma was chocolate malt. Tastes the same but with a bit of a hop kick on the end. Moderate thickness and carbonation.
251 characters
3.78
/5
rDev
+2.7%
look: 4.25 | smell: 3.75 | taste: 3.75 | feel: 3.75 | overall: 3.75
Bottle into stout glass
Appearance- Black, nice sized tan head good lacing.
Aroma- Roasted malt, chocolate, some carmel, pine and herbal hops, coffee
Flavor, roasted malt, piney hops, some citrus as well, coffee, some chocolate, earthy on the backend, some lingering bitterness that takes this down a bit but not bad.
Mouthfeel- medium, with good carbonation
Overall- Once I read the lable it made sense. This is a very bitter hoppy stout. I liked it as a change up in the style, you could call it black ale. They do say its a west coast style stout, and its hoppy and very bitter, so if thats not your thing or you want a more standard stout maybe not the best. Glad I tried it.
684 characters
4
/5
rDev
+8.7%
If I were to tell you that a beer with 110 IBUs was a stout, you'd kick me off this site. Let me tell you that this beer is outstanding.
Growler from store. Pour is dark and heady. Aroma is burnt marshmallow, but in a good way. Taste is a bit coffee at first but the bitterness of the hops comes through and everything works out really well.
348 characters
4.03
/5
rDev
+9.5%
look: 4.5 | smell: 4 | taste: 4 | feel: 4 | overall: 4
Pours very dark into a tulip glass with a 1.5" tan head. The head lingers lightly as you drink, but returns quickly with a slight swirl. Subtle lacing.
The smell is roasty with a good dose of cascade hops. Slight hints of chocolate can be picked up.
The taste is a nice balance of roasted malt and hop bitterness. The cascade bitterness comes through pretty firm, but works well with this brew. A little sweetness lingers on the tongue after the bitterness of the hops has passed.
Mouthfeel is medium/thick with good carbonation.
All in all, this is a really good brew. The large, citrusy hop profile separates it from other stouts. While drinking this I'm reminded of Troegs Dead Reckoning.
696 characters
4.12
/5
rDev
+12%
look: 3.25 | smell: 4.25 | taste: 4 | feel: 4.5 | overall: 4.25
Really interesting "stout". Has the color and aroma of a stout, but drinks like an ipa, first beer I've had at over 80 IBU. The head reminds me of the foam you get in root beer floats. This is not something I would recommend to people that like sweet stouts, but it would be good for the people that are more IPA oriented trying to edge into stouts.
349 characters
Night Of The Living Stout from Full Pint Brewing Company
3.68
out of
5
based on
285
ratings.