Dismiss Notice
Dismiss Notice
Pumpkin Porter
| Epic Brewing Company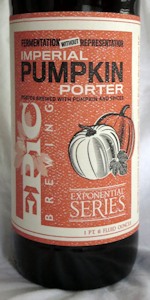 BEER INFO
Brewed by:
Epic Brewing Company
Utah
,
United States
|
website
Style:
Pumpkin Ale
Alcohol by volume (ABV):
8.60%
Availability:
Fall
Notes / Commercial Description:
No notes at this time.
Added by Bandi on 10-26-2013
Reviews: 10 | Ratings: 78
3.54
/5
rDev
-9.2%
look: 4.25 | smell: 4 | taste: 3.25 | feel: 3.25 | overall: 3.5
Tasted during pumpkin share. Intial pours like typical porter and has slight pumpkin smell. The taste however, can best be described as a dirty pumpkin.
★
154 characters

3.9
/5
rDev 0%
look: 4 | smell: 4 | taste: 3.75 | feel: 4 | overall: 4
Poured a dark brown body with one finger head that left some lace. Aroma contained mostly pumpkin spice with a little bit of sweetness. A rather sweeter pumpkin ale thanks to a kick of cinnamon and nutmeg, it seems at least to me, and there is also a bit of booze prevalent in this beer. Not much else going on as the pumpkin seems to overpower other sweet aspects of this beer. Not a bad beer but I wish the notes of bitter chocolate and roasted malts came out a little more.
★
480 characters

4.15
/5
rDev
+6.4%
look: 4.5 | smell: 3.75 | taste: 4.25 | feel: 4.25 | overall: 4.25
Just a great pour,pours a deep tawny brown with a full one finger creamy light beige head atop that never really full settles.Some chocolate,light spice, and roasted pumpkin aromas,would have been fantastic if they had a little more oomph.A really nice full creamy feel to the beer,this kind of feel makes the pumpkin and chocolate notes really stand out.Chocolate and pumpkin flavors with the spice coming late wich is mainly nutmeg but it's not heavy handed.A kick ass pumpkin porter,creamy and not overly spiced,as I drink more slight rawness presents itself as well.Anyways a great beer.
★
591 characters
4.13
/5
rDev
+5.9%
look: 4 | smell: 4 | taste: 4.25 | feel: 4.25 | overall: 4
Poured a very dark brown, almost black. Nice two finger fluffy tan head with good retention and lacing. Mostly coffee and pumpkin, didn't get much spice in the nose at all. The flavor was predominantly coffee, chocolate and pumpkin, with just a hint of allspice. The mouthfeel was pretty full for a porter, as it seems that most are somewhat thin, but this one was quite nice. Overall, this was a nice tasty beer, will probably have a few more of these great local brews before the season is past us.
★
500 characters

3.63
/5
rDev
-6.9%
look: 4 | smell: 3.5 | taste: 3.75 | feel: 3.5 | overall: 3.5
Poured into a snifter from a bottle. Release #15, 8.4% ABV.
4.0 A: Black color. Fairly aggressive pour yielded one and a half fingers of frothy beige/light brown head. Retention is pretty good a half finger of thick lacing is left.
3.5 S: Pumpkiny goodness. You can really smell the pumpkin. The spices, on the other hand, are a bit subdued. Still, cinnamon, nutmeg, allspice, and ginger waft up to the olfactory nerve. Roasty notes from the porter with hints of chocolate covered strawberries, caramel, and dark fruits. This would be great if the spices were kicked up a few notches.
3.75 T: The taste makes up for what the nose lacks. Definitely a stronger spice presence though still not enough. Big pumpkin flavor though. Roasted barley, chocolate, caramel, with hints of molasses and perhaps a touch of anise. Spices per above.
3.25 M: Medium body. Good moderate carbonation. Somewhat dead on the tongue - could be creamier or spritzier. Still, quite smooth.
3.5 D: This is a good start and a lot better than most of the pumpkin beers in circulation but it doesn't have the spice kick to match a solid base beer.
★
1,145 characters
4.36
/5
rDev
+11.8%
look: 4 | smell: 4.25 | taste: 4.5 | feel: 4.5 | overall: 4.25
Nice. Nice. Very nice. I really enjoy pumpkin porters. Alaskan made a great one, I think they stopped, there are some others kicking around, even one from Red Hook (I hope they make it again).
This beer is wonderful. Poured from bomber, series #25 brewed in Denver, 8.50%, into Alaskan Brewing smoked porter snifter glass.
A = dark nutty brown color with tinge of orange a little light for a porter but pretty. Tan-ish head that drops quick leaving a rim of foam. Some lacing.
S = almost a faint chocolate liquor smell, some dank pumpkin, spice.
T = different than the smell. dark chocolate, warming liquor, pumpkin, enough malt and hops almost some faint dark red fruit (cherry?) in the way way back, not sure where that comes from (I see someone else gets that too). Very balanced and drinkable.
M = soft, almost tender if a liquid can be tender, smooth, sweet.
O = for the $6.98 I paid I believe I'l buy a few and enjoy them through the season, want to enjoy next to the fire on a 40 degree day with rain and see how well it warms.
Very nice beer, perhaps best I've had from Epic (Big Baptist, red IPA).
★
1,114 characters

3.58
/5
rDev
-8.2%
look: 4 | smell: 3.5 | taste: 3.5 | feel: 4 | overall: 3.5
Pours a nice dark reddish brown with light showing through all the way. Has a nice thick tan head that leaves a decent amount of lacing on the glass as it dissipates. The smell seems mostly coffee like with roasted dark malts. The pumpkin spices are present but never make a noticeable appearance. They merely waft out intermittently in random bursts. The taste is dark malty sweetness with some raw pumpkin flavor and a bit of pie spice flavors at the end.
★
457 characters

3.86
/5
rDev
-1%
look: 4.25 | smell: 3.75 | taste: 3.75 | feel: 4 | overall: 4
I had this beer on-tap in a pint glass at 8oz Burgers & Company in Seattle.
Appearance: extremely dark brown with a little bit of light let through. There's a thick finger of very creamy foam which has stuck around for quite a while. Great.
Smell: a light roastiness with a very light pumpkin character. It appears that spicing is minimal, if any. Still, the pumpkin character itself is quite nice.
Taste: flavor is quite good; it appears there's no spicing at all. A nice, light roastiness is present with a good pumpkin character. Simple, but tasty.
Mouthfeel: medium body with a well-integrated carbonation and a very good creaminess. I quite like it.
Overall: I like this beer a lot. It's not over-complicated, and though it is a porter it lets the pumpkin do its thing. I applaud this kind of approach to the style.
★
839 characters
4.2
/5
rDev
+7.7%
I had the Dc Brau/epic imperial pumpkin porter at the Bayou in SLC.
From a bomber to a pint glass, the beer is a dark brown with a tan head.
It has an inviting nose of pumpkin, dark fruit and roasted malts. There is a lot going on.
The taste is a great mashup of pumpkin spices, roasted malts, dark fruit and baker's chocolate. I liked the multi facets of the beer.
The mouth is thick and coating.
Wow, just a great beer!
★
431 characters

3.96
/5
rDev
+1.5%
look: 3.75 | smell: 4 | taste: 4 | feel: 3.75 | overall: 4
32 oz. growler filled last week poured into a 20 oz. shaker.
A - Pours a rich dark copper/brown with deep ruby red highlights. Two-finger head of sudsy, loose, chocolate shake foam that collapses at a moderate pace, leaving a thick ring of large lace around the glass. Surface eventually shows several puffy islands of foamy bubbles surrounded by a fine sheen of lace. Held to a full-spectrum light, the beer is a dark brown with hints of very deep red at the edges. It's almost completely opaque, but clear, with just the slightest amount of light penetrating through the glass.
S - Well-toasted and gently roasted malts. Milk chocolate. Raw, fresh pumpkin - as if carving a Jack O' Lantern - floats into the nose. Ripe, fresh squash. Smells a bit like chocolate chip zucchini bread. Hints of nutmeg, clove, and cinnamon. Background of marshmallow seems to envelope the nose, with a sweetness that suggests warmed whole milk for cocoa. As it warms, spices become a bit more prominent.
T - Just like the nose suggests - lightly roasted malts softly feature 50% milk chocolate with a nutmeg garnish. Very subtle notes of raw pumpkin emerge in the back-end. Toasted pumpernickel bread. Herb/woodsy bitters along with a bit of spice such as ginger and clove clean the palette in the finish. As it warms up, notes of vanilla push into the front of the quaff. Toward the end of the growler, the pumpkin/spice really stepped forward. No trace of the ABV until the tummy begins to warm.
M - Leans toward the creamy side, with a fair amount of carbonation. Light-medium body with solid structure. Nicely integrated components. Short, clean, and rather dry finish.
O - An interesting and pretty tasty combination of styles. Nicely balanced, with the chocolate of the porter complementing the spices. This beer strikes me as one to have in a flight of seasonal beers, starting with a couple Marzens, followed by a pumpkin or two, and then followed by this. This would offer a great transition to either a robust porter and imperial stout track or a holiday spice track. The pumpkin gives the beer an earthiness not found in standard robust porters, and it's a pleasant change-of-pace.
★
2,179 characters
Pumpkin Porter from Epic Brewing Company
86
out of
100
based on
10
ratings.