Mid Mountain Mild Ale
| Epic Brewing Company
BA SCORE
81
good
39
Reviews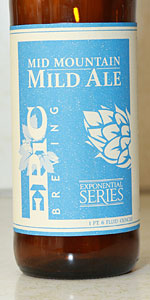 BEER INFO
Brewed by:
Epic Brewing Company
Utah
,
United States
epicbrewing.com
Style:
English Pale Mild Ale
Alcohol by volume (ABV):
5.00%
Availability:
Rotating
Notes / Commercial Description:
This extremely pleasant to drink ale has very minimal hop addition. The delicate Mt. Hood hops give it a smooth body with a bit of nuttiness and a slightly sweet malt at the end. This sessionable ale has some wonderful vanilla and honey notes that are well balanced throughout the drink.
Added by JohnGalt1 on 03-17-2011
Reviews: 39 | Ratings: 82
3.45
/5
rDev
-1.7%
look: 3 | smell: 3 | taste: 3.5 | feel: 4.5 | overall: 3.5
bomber into tulip. release #6 of the exponential series.
A: caramel hued brew. very hazy. murky even. white head looks good and has some retention. lacing looks good as the brew goes down.
S: some gentle, earthy hop aroma works its way into a mostly malty/fruity aroma. light caramel and toasted grains. a little diacetyl?
T: some hop bitterness. similar to the nose, a little buttery. toasted malts. a little roast too, but definitely light. caramel even. bitterness in the finish. almost minty-like.
M: a very natural, gentle carbonation on a light body. well executed.
D: at 5%ABV this would definitely be on the heavy end of the English Pale Mild category. i have had better milds at lower abv's, which is something signature about this style. however, reviewing it simply as what is in my glass, drinkable, but not worth seeking out.
846 characters

3.52
/5
rDev
+0.3%
look: 3 | smell: 3.5 | taste: 3.5 | feel: 4 | overall: 3.5
Hazy orange color with no head or lacing. Aroma is light mix of pale malts, a touch of caramel and and very light, citrusy hoppiness, but almost non-existent. Taste is right on with the nose. Bready malts, light caramel, light graininess, but overall smooth and easy to drink. Completely non-offensive in any way. Just a good drinking, pale beer. Medium body, light carbonation. Not bad at all! My first beer from Utah. If this were canned and priced at around $6.99 for a sixer, I would drink it all the time.
510 characters

3.85
/5
rDev
+9.7%
look: 3.5 | smell: 3.5 | taste: 4 | feel: 4 | overall: 4
22 oz. bottle poured into a standard pint glass.
A: Pours a rich copper/orange hue with a fluffy off-white head that settles to a thin froth on the surface. Lacing is decent, and carbonation is quite subtle.
S: Caramel and honey, along with fresh baked bread and butter. Slightly floral on the back end. Also has a bit of a sherry-like aroma.
T: This doesn't resemble an American blonde to me. It starts off slightly sweet, with hints of toffee and fruity esters, along with biscuity malt notes. Finish is clean and has a floral, slightly bitter character.
Notes: This beer has some body to it and has a well-balanced flavor profile. Quite tasty overall. This reminds me more of an English pale mild as far as the style goes. Easy to drink, and quite sessionable.
768 characters

3.5
/5
rDev
-0.3%
look: 3.5 | smell: 3.5 | taste: 3.5 | feel: 3.5 | overall: 3.5
Bomber of Release #10.
Appearance: Hazy copper hue with a pillowy white head that disappears quickly.
Aroma: Sweet bread and malty notes. Caramel and a slight fruityness. Not the sort of fruit you get from hops but more of a yeast fruit smell.
Taste: Interesting palate. While it's light and there's not too much going on, there are a lot of flavors (subdued flavors that is). Though it's light on the hops, there is a little bit of a piney/spicy hop character, but that takes a backseat to the bready malts. There is a bright apricot or similar fruit flavor that blends nicely with the malt. Actually feels lighter than the 5% abv and it seems like there could be more flavor packed into that 5% abv. It's as if someone took a APA or ESB and added a cup of water to it.
Mouthfeel: A little over-carbonated and light bodied. Above average drinkability.
Final Thoughts: I'm not sure where I stand on this one. I wouldn't buy it again, but I would recommend it to someone who is new to craft beer. It's basically an average beer but far from being memorable.
1,061 characters
3.56
/5
rDev
+1.4%
look: 4 | smell: 3.5 | taste: 3.5 | feel: 3.75 | overall: 3.5
On-tap served in a mug at Brewski, Bangkok.
Hazy copper hue with thick frothy white head, it stands with good retention before slowly collapsing to an everlasting bubble sheet atop along with numerous yet sticky lacing patch and spot all along.
Mild malty aroma that is reminiscent of honey, vanilla, caramel, buttery, nut, cracker, husk, grain, and some toasted bread. Hop is barely can be sensed with subtle leafty character.
Husky grain leads the palate sensation thereafter closely following by some toasted malt and some nuttiness yet lightly sweet and bready in the middle. Hop silently discloses at the almost end with its vague bitterness and mild fruity touch.
The body is medium with good crispness and lively carbonation to yield smoothness throughout the palate. Finish is clean and rather dry.
It is mild and smooth overall to hold the style, very malty, easy to drink and sessionable.
903 characters
3.58
/5
rDev
+2%
look: 4 | smell: 3.5 | taste: 3.5 | feel: 4 | overall: 3.5
Pours a dark amber color with a one finger off-white head. Good lacing on the side of my snifter. Fairly hazy in appearance. The nose is caramel, floral notes, honey, mild hops, malt. Fairly weak, although pleasant smell to this beer. The taste is completely different than the nose. I get hops, caramel, nuts, and malt. Not bad for the style. Feel is light, with light carbonation and a slightly malty finish. Overall, a decent beer in the style. Cheers.
455 characters

3.83
/5
rDev
+9.1%
look: 4 | smell: 3.5 | taste: 4 | feel: 3.5 | overall: 4
22 oz. bottle poured into pint glass.
A: Pours a hazy copper color with big fluffy cream colored head.. and lots of it... good 2 plus fingers on the first pour... it settles to a thin layer with good lacing. Looks very good.
S: Slight hint of caramel and honey... maybe a little vanilla mixed in... I'm also getting a little floral hops.
T: Quick hit of tartness... then a nice rounded off sweetness... hints of honey and vanilla with a little biscuit like malt. Clean finish with just a touch of floral hops.
M: Carbonation is lively at first then settles... Light to mid bodied
O: Very nice looking and well balanced brew.. could be a very nice session beer....
My first Epic brew.... I will be on the look out for these guys..
736 characters

3.67
/5
rDev
+4.6%
look: 3.5 | smell: 4 | taste: 3.5 | feel: 4 | overall: 3.5
A: Pours a dark amber with a slightly off-white head that dissipates quickly, but leaves nice lacing.
S: This smells really nice. It has a strong toffee-like maltiness and light floral and citrus characteristics.
T: The bitterness comes out straight away and lasts through the experience. Big floral notes here, and surprisingly, the sweetness that came in through the scent isn't present. I wish it was a bit more balanced than it is, but overall not too bad.
M: Light bodied and moderately carbonated.
D: This is an excellent drinker! All day long, it is quite quaffable.
579 characters

3.86
/5
rDev
+10%
look: 4.5 | smell: 3.5 | taste: 4 | feel: 3.5 | overall: 4
A- Deep amber with a decent white head that dissipates to a persistent quarter inch or so. A little darker than I was expecting but very attractive.
S- Light grassy hops, a little cracker-like malt, and a slight metallic aroma.
T- Fairly sweet upfront with a good dose of caramel but it dries out quickly. The hops have an interesting grassy/ mineral character and add a light but persistent bitterness. Finishes semi-dry with a hint of butterscotch and a little mineral bitterness.
M- On the light side of medium and a little creamy. Good dose of carbonation keeps it lively.
I don't know much about milds, but it seems like 5% abv is a bit high. This beer also seems a little heavier than I would imagine a mild to be. Nevertheless, this is a very tasty beer and one I would not mind drinking anytime. Recommended.
820 characters

3.66
/5
rDev
+4.3%
look: 4 | smell: 3.5 | taste: 3.75 | feel: 3.75 | overall: 3.5
At last, I have added an Epic beer to my profile. This baby pours a cloudy copper/light brown color with a creamy beige head; at present, there is some sticky lace on my English nonic pint glass. The nose is quite malty and sweet, with a fresh scent of toasted light caramel malt. It's a light smell that isn't too much to write about. It tastes exactly what the name says: mild. The front end has a delicate balance of sweet and toasted malt; the backend is dominated with a somewhat mild peachy/sweetness, and a bit of toasted bread. A toasty and watery aftertaste lingers. The body is light and smooth, with enough carbonation to quench my thirst. Overall, I'll drink a few of these bombers, no problem. If this is how mild an English mile ale is in England, give me several! It's not the greatest beer, but it's solid and worth drinking.
841 characters
3.87
/5
rDev
+10.3%
look: 3 | smell: 3.5 | taste: 4 | feel: 4.5 | overall: 4
Rusty Orange with a fine head. Little hazy. Smells like brown sugar and earth. Taste begins smooths with caramel and moves quietly to nutty. A very malty profile no doubt, with hints of candied fruit toward the finish. The feel is wonderful! Like I was drinking a stout on NO2. Low carbonation tends to bring out this sort of malty sweet flavor.
A caramel delight. Very smooth and "mild," which for my palate, is just what the doctor ordered.
443 characters
2.78
/5
rDev
-20.8%
look: 3.5 | smell: 3 | taste: 2.5 | feel: 2.5 | overall: 3
Let's just start up front - this was not my kinda thing.
Too sweet.
It looks ok in the glass, poured a decent head and the smell was inviting but not complex, not interesting in the least.
The taste started fresh and summery but quickly becomes sweet... way too sweet. Carmel, even maple and the overall thin taste leaves me wanting something more satisfying.
As a fan of Epic, a local in Utah ready for more of their good stuff, this one falls off the list quickly.
471 characters
4.21
/5
rDev
+19.9%
look: 5 | smell: 4 | taste: 4 | feel: 4.5 | overall: 4.5
Lots of malt here. Tastes like very good home brew... And that's a good thing.
This one sticks out because it's brewed to style. Very light hopping let's the Marris Otter malt dominate.
Delicious.
198 characters
3.7
/5
rDev
+5.4%
look: 3 | smell: 3 | taste: 4 | feel: 4 | overall: 4
Release #14, 4.8% ABV. Orange-tan color that is cloudy. The head is made up of rather large bubbles. Low hopping rate with a slight earthy aroma and flavor. Quite drinkable with a smooth mouth feel. This is one I will buy again and is the first Mild Ale I have tasted.
268 characters
Mid Mountain Mild Ale from Epic Brewing Company
3.51
out of
5
based on
82
ratings.