Mid Mountain Mild Ale
| Epic Brewing Company
BA SCORE
81
good
37
Reviews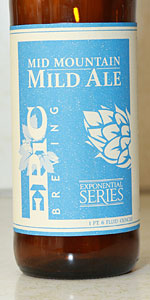 BEER INFO
Brewed by:
Epic Brewing Company
Utah
,
United States
epicbrewing.com
Style:
English Pale Mild Ale
Alcohol by volume (ABV):
5.00%
Availability:
Rotating
Notes / Commercial Description:
This extremely pleasant to drink ale has very minimal hop addition. The delicate Mt. Hood hops give it a smooth body with a bit of nuttiness and a slightly sweet malt at the end. This sessionable ale has some wonderful vanilla and honey notes that are well balanced throughout the drink.
Added by JohnGalt1 on 03-17-2011
Reviews: 37 | Ratings: 79
3.7
/5
rDev
+5.7%
look: 3 | smell: 3 | taste: 4 | feel: 4 | overall: 4
Release #14, 4.8% ABV. Orange-tan color that is cloudy. The head is made up of rather large bubbles. Low hopping rate with a slight earthy aroma and flavor. Quite drinkable with a smooth mouth feel. This is one I will buy again and is the first Mild Ale I have tasted.
★
268 characters

3.7
/5
rDev
+5.7%
look: 4 | smell: 4 | taste: 3.5 | feel: 3 | overall: 4
Release #6.
This is currently the #7 ranked English Pale Mild Ale here on BA. Geez... only an 80% approval rating? Needless to say, this is not a very popular style.
Served in a FFF shaped glass.
A: Poured a rather dark and saturated, gold color, with a slight chill haze, and a flimsy 1/8 finger head that stuck around for a bit.
S: VERY doughy and bread-like, with soft fruit and hop character, with a slight, cotton quality overall. Nice.
T: I really dug the liquid bread finish on this one. However, the front part started out a bit bland, but then got more intense in its sugar content as the session grew on. This one played the sweet/not-too-sweet game like a well-tuned fiddle.
M: I wish the carbonation was a bit more and this one needed to be a little more "bubbly" overall. The lacing was quite robust.
O: I'd have this one again. It's simple, well crafted, and quite tasty.
★
892 characters

3.83
/5
rDev
+9.4%
look: 4 | smell: 3.5 | taste: 4 | feel: 3.5 | overall: 4
22 oz. bottle poured into pint glass.
A: Pours a hazy copper color with big fluffy cream colored head.. and lots of it... good 2 plus fingers on the first pour... it settles to a thin layer with good lacing. Looks very good.
S: Slight hint of caramel and honey... maybe a little vanilla mixed in... I'm also getting a little floral hops.
T: Quick hit of tartness... then a nice rounded off sweetness... hints of honey and vanilla with a little biscuit like malt. Clean finish with just a touch of floral hops.
M: Carbonation is lively at first then settles... Light to mid bodied
O: Very nice looking and well balanced brew.. could be a very nice session beer....
My first Epic brew.... I will be on the look out for these guys..
★
736 characters

3.83
/5
rDev
+9.4%
look: 4 | smell: 3.5 | taste: 4 | feel: 3.5 | overall: 4
Release #6.
Pours amber with hints of orange and tiny bit of haze. Two fingers of off-white head, decent retention, some lacing. Not bad, not amazing.
Smell is, as expected, mildly malty. Subtle grainy malts with light grassy hops. Pleasant, inoffensive, and promising.
Taste is pretty good. A nice mellow balance of malts and hops, but reasonably flavorful. Very faint bitterness, just enough to keep things interesting, that picks up with a little prickle of carbonation about half-way through.
Mouthfeel is good. Medium-light body, medium carbonation. Smooth and a fine complement to the rest of the beer.
Quite a flavorful session ale. A great example of what a low-ABV beer can be, solid across the board. Very nice, mellow, balanced, and flavorful, without needing to bludgeon you with any of its elements.
★
819 characters
3.83
/5
rDev
+9.4%
look: 4 | smell: 3.5 | taste: 4 | feel: 3.5 | overall: 4
Beer #49 in my great Utah Brew Hunt.
This is a pretty standard kind of mild with earthy tones and it's a pretty easy drinker overall. There is a somewhat fruity thing going on, in a mild ale, beer-ish kinda way.
Like I said: this is a pretty even keeled mild ale. Nothing really outlandish or out there, but pretty well done.
I'd say it's great to have a mild ale, but so much of the beer in Utah is 4% abv that this is actually a "heavy" beer. (Ha!)
★
453 characters

3.85
/5
rDev
+10%
look: 3.5 | smell: 3.5 | taste: 4 | feel: 4 | overall: 4
22 oz. bottle poured into a standard pint glass.
A: Pours a rich copper/orange hue with a fluffy off-white head that settles to a thin froth on the surface. Lacing is decent, and carbonation is quite subtle.
S: Caramel and honey, along with fresh baked bread and butter. Slightly floral on the back end. Also has a bit of a sherry-like aroma.
T: This doesn't resemble an American blonde to me. It starts off slightly sweet, with hints of toffee and fruity esters, along with biscuity malt notes. Finish is clean and has a floral, slightly bitter character.
Notes: This beer has some body to it and has a well-balanced flavor profile. Quite tasty overall. This reminds me more of an English pale mild as far as the style goes. Easy to drink, and quite sessionable.
★
768 characters
3.86
/5
rDev
+10.3%
look: 4.5 | smell: 3.5 | taste: 4 | feel: 3.5 | overall: 4
A- Deep amber with a decent white head that dissipates to a persistent quarter inch or so. A little darker than I was expecting but very attractive.
S- Light grassy hops, a little cracker-like malt, and a slight metallic aroma.
T- Fairly sweet upfront with a good dose of caramel but it dries out quickly. The hops have an interesting grassy/ mineral character and add a light but persistent bitterness. Finishes semi-dry with a hint of butterscotch and a little mineral bitterness.
M- On the light side of medium and a little creamy. Good dose of carbonation keeps it lively.
I don't know much about milds, but it seems like 5% abv is a bit high. This beer also seems a little heavier than I would imagine a mild to be. Nevertheless, this is a very tasty beer and one I would not mind drinking anytime. Recommended.
★
820 characters
3.87
/5
rDev
+10.6%
look: 3 | smell: 3.5 | taste: 4 | feel: 4.5 | overall: 4
Rusty Orange with a fine head. Little hazy. Smells like brown sugar and earth. Taste begins smooths with caramel and moves quietly to nutty. A very malty profile no doubt, with hints of candied fruit toward the finish. The feel is wonderful! Like I was drinking a stout on NO2. Low carbonation tends to bring out this sort of malty sweet flavor.
A caramel delight. Very smooth and "mild," which for my palate, is just what the doctor ordered.
★
443 characters
3.97
/5
rDev
+13.4%
look: 3.5 | smell: 4 | taste: 4 | feel: 4 | overall: 4
Can a mild ale be at 5%? Guess will find out how she goes, pouring into a nonic pint glass. Release #6.
A bit dull cloudy appearance, probably unfiltered, with a body color that is a dull murky orange and brown. Head is simple foamy off white, picking up some of the orange body color and about two/three fingers off the pour. Seems to fall at a good clip.
Nice light toasted malt body, but also fairly fruity esters here. Quite nice, kind of simple and good. A faint hint of chocolate sense.
Light palate but doesn't get watery in the feel. Light toasted grain comes through with some hints of citrus orange. Finish has a nice quenching character, and goes down nicely. Carbonation is just about right.
OVerall pretty easy drinking, sort of has an English Pale Ale style to it, but quite tasty I must admit.
★
812 characters

4.2
/5
rDev
+20%
look: 4 | smell: 4 | taste: 4.5 | feel: 4 | overall: 4
A - Pours a cloudy amber-orange with a finger of frothy white head. The head fades down at a normal pace leaving behind some light lacing.
S - Aroma is a mix of sweet biscuity malts with some fruity English yeast esters, with some nuttiness.
T - Starts off with some sweet biscuit or cracker malts with some fruity English yeast esters. Through the middle, some nuttiness and bready malts come through with a bit of bitterness and some more fruitiness. The finish is a mix of sweet bready malts with fruity English yeast flavors and nuttiness.
M - Medium-minus bodied with mild carbonation. Feels smooth with a sweet and fruity finish.
D - Very drinkable. Nice example of an English mild. Good overall balance and malt profile.
★
731 characters
4.21
/5
rDev
+20.3%
look: 5 | smell: 4 | taste: 4 | feel: 4.5 | overall: 4.5
Lots of malt here. Tastes like very good home brew... And that's a good thing.
This one sticks out because it's brewed to style. Very light hopping let's the Marris Otter malt dominate.
Delicious.
★
198 characters
4.42
/5
rDev
+26.3%
look: 4 | smell: 4.5 | taste: 4.5 | feel: 4 | overall: 4.5
This beer pours a cloudy orange-amber color. The head is one inch in height, and recedes quickly into minimal lacing. The aroma is of toffee, caramel, vanilla, and a hint of honey. This isn't the strongest aroma out there in a beer, but it does have really good complexity. The taste is similar to the aroma with a lot of vanilla and toffee, and hints of caramel and honey. The mouthfeel is medium bodied with a velvety texture, and moderate carbonation. Overall, this is a really good mild ale that I would gladly session.
★
523 characters
Mid Mountain Mild Ale from Epic Brewing Company
3.5
out of
5
based on
79
ratings.