Mid Mountain Mild Ale
| Epic Brewing Company
BA SCORE
81
good
39
Reviews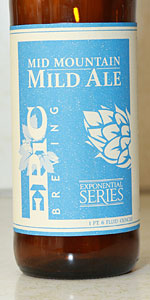 BEER INFO
Brewed by:
Epic Brewing Company
Utah
,
United States
epicbrewing.com
Style:
English Pale Mild Ale
Alcohol by volume (ABV):
5.00%
Availability:
Rotating
Notes / Commercial Description:
This extremely pleasant to drink ale has very minimal hop addition. The delicate Mt. Hood hops give it a smooth body with a bit of nuttiness and a slightly sweet malt at the end. This sessionable ale has some wonderful vanilla and honey notes that are well balanced throughout the drink.
Added by JohnGalt1 on 03-17-2011
Reviews: 39 | Ratings: 84
3.58
/5
rDev
+2%
look: 4 | smell: 3.5 | taste: 3.5 | feel: 4 | overall: 3.5
Pours a dark amber color with a one finger off-white head. Good lacing on the side of my snifter. Fairly hazy in appearance. The nose is caramel, floral notes, honey, mild hops, malt. Fairly weak, although pleasant smell to this beer. The taste is completely different than the nose. I get hops, caramel, nuts, and malt. Not bad for the style. Feel is light, with light carbonation and a slightly malty finish. Overall, a decent beer in the style. Cheers.
455 characters
3.97
/5
rDev
+13.1%
look: 3.5 | smell: 4 | taste: 4 | feel: 4 | overall: 4
Can a mild ale be at 5%? Guess will find out how she goes, pouring into a nonic pint glass. Release #6.
A bit dull cloudy appearance, probably unfiltered, with a body color that is a dull murky orange and brown. Head is simple foamy off white, picking up some of the orange body color and about two/three fingers off the pour. Seems to fall at a good clip.
Nice light toasted malt body, but also fairly fruity esters here. Quite nice, kind of simple and good. A faint hint of chocolate sense.
Light palate but doesn't get watery in the feel. Light toasted grain comes through with some hints of citrus orange. Finish has a nice quenching character, and goes down nicely. Carbonation is just about right.
OVerall pretty easy drinking, sort of has an English Pale Ale style to it, but quite tasty I must admit.
812 characters

3.37
/5
rDev
-4%
look: 2.5 | smell: 3 | taste: 3.5 | feel: 4 | overall: 3.5
Amber color is nice but chill haze and tiny floaters won't win any beauty contests. Nice mouthful of malt with the hoppy aromatics working in the background. Modest beery aroma with a touch of applesauce. A pleasant quaff with just that hint of hops. Very plain and lacking in much-needed zing. It's not bad, but I don't find it a contender among the many light beers to be had here.
I'm not sure why they decided to make a "mild" that's 25% higher in alcohol than the Utah draft limit of 4%. ABV Release No. 11, with 5.1% ABV.
528 characters
3.87
/5
rDev
+10.3%
look: 3 | smell: 3.5 | taste: 4 | feel: 4.5 | overall: 4
Rusty Orange with a fine head. Little hazy. Smells like brown sugar and earth. Taste begins smooths with caramel and moves quietly to nutty. A very malty profile no doubt, with hints of candied fruit toward the finish. The feel is wonderful! Like I was drinking a stout on NO2. Low carbonation tends to bring out this sort of malty sweet flavor.
A caramel delight. Very smooth and "mild," which for my palate, is just what the doctor ordered.
443 characters

2.05
/5
rDev
-41.6%
look: 3 | smell: 3 | taste: 1.5 | feel: 2.5 | overall: 1.5
Another Epic! Excellent. Can't quite read the batch number on the bomber, so no idea when it was brewed, but hey, at least there's some indication. 5.2% ABV on the label. Points.
I'm used to milds being darker, but maybe that's just the handful I've had. This one pours a darker yellow with orangishity, middling clear, not easy to see through. Smells bready. Wonder Bread.
Mid Mountain Mild Ale doesn't taste quite right. Almost a nut brown taste up front, plenty of acorns, but then a slab of margarine intrudes, & not politely. Diacetyl? Not sure, but it's unpleasant. Crusty bread comes through faintly, but the butter reasserts itself aggressively.
Blech. A rare disappointment from Epic, but this has the hallmarks of a bad bottle. Not good.
753 characters

3.67
/5
rDev
+4.6%
look: 3.5 | smell: 4 | taste: 3.5 | feel: 4 | overall: 3.5
A: Pours a dark amber with a slightly off-white head that dissipates quickly, but leaves nice lacing.
S: This smells really nice. It has a strong toffee-like maltiness and light floral and citrus characteristics.
T: The bitterness comes out straight away and lasts through the experience. Big floral notes here, and surprisingly, the sweetness that came in through the scent isn't present. I wish it was a bit more balanced than it is, but overall not too bad.
M: Light bodied and moderately carbonated.
D: This is an excellent drinker! All day long, it is quite quaffable.
579 characters
3.45
/5
rDev
-1.7%
look: 3 | smell: 3 | taste: 3.5 | feel: 4.5 | overall: 3.5
bomber into tulip. release #6 of the exponential series.
A: caramel hued brew. very hazy. murky even. white head looks good and has some retention. lacing looks good as the brew goes down.
S: some gentle, earthy hop aroma works its way into a mostly malty/fruity aroma. light caramel and toasted grains. a little diacetyl?
T: some hop bitterness. similar to the nose, a little buttery. toasted malts. a little roast too, but definitely light. caramel even. bitterness in the finish. almost minty-like.
M: a very natural, gentle carbonation on a light body. well executed.
D: at 5%ABV this would definitely be on the heavy end of the English Pale Mild category. i have had better milds at lower abv's, which is something signature about this style. however, reviewing it simply as what is in my glass, drinkable, but not worth seeking out.
846 characters

3.52
/5
rDev
+0.3%
look: 3 | smell: 3.5 | taste: 3.5 | feel: 4 | overall: 3.5
Poured into an imperial nonic a hazed coppery color with a very thin almost nonexistent head,aromas are nutty with light sweet biscuit,a lingering toastiness as well.Flavors are of nutty malt with some caramel/biscuit,the hops as expected are light giving off a light herbal note in the finish.Not bad for what it is,not quite as sweet as a traditional mild wich is fine with me.
379 characters

2.96
/5
rDev
-15.7%
look: 4 | smell: 3 | taste: 2.5 | feel: 4 | overall: 3
Bottle. Not sure I'd consider 5% a mild but here goes. Poured into a Surly pint glass a clear golden color with a white thick head. Clean, light biscuit flavor in the nose with a touch of sweetness. Semi clean taste with some fruit flavors and a touch of what I can only describe as a plastic taste. Ends crisply. Decently easy drinking. Medium mouthfeel. Ex the plastic note, this wasn't too bad.
401 characters

3.52
/5
rDev
+0.3%
look: 3 | smell: 3.5 | taste: 3.5 | feel: 4 | overall: 3.5
Hazy orange color with no head or lacing. Aroma is light mix of pale malts, a touch of caramel and and very light, citrusy hoppiness, but almost non-existent. Taste is right on with the nose. Bready malts, light caramel, light graininess, but overall smooth and easy to drink. Completely non-offensive in any way. Just a good drinking, pale beer. Medium body, light carbonation. Not bad at all! My first beer from Utah. If this were canned and priced at around $6.99 for a sixer, I would drink it all the time.
510 characters

3.83
/5
rDev
+9.1%
look: 4 | smell: 3.5 | taste: 4 | feel: 3.5 | overall: 4
22 oz. bottle poured into pint glass.
A: Pours a hazy copper color with big fluffy cream colored head.. and lots of it... good 2 plus fingers on the first pour... it settles to a thin layer with good lacing. Looks very good.
S: Slight hint of caramel and honey... maybe a little vanilla mixed in... I'm also getting a little floral hops.
T: Quick hit of tartness... then a nice rounded off sweetness... hints of honey and vanilla with a little biscuit like malt. Clean finish with just a touch of floral hops.
M: Carbonation is lively at first then settles... Light to mid bodied
O: Very nice looking and well balanced brew.. could be a very nice session beer....
My first Epic brew.... I will be on the look out for these guys..
736 characters

3.85
/5
rDev
+9.7%
look: 3.5 | smell: 3.5 | taste: 4 | feel: 4 | overall: 4
22 oz. bottle poured into a standard pint glass.
A: Pours a rich copper/orange hue with a fluffy off-white head that settles to a thin froth on the surface. Lacing is decent, and carbonation is quite subtle.
S: Caramel and honey, along with fresh baked bread and butter. Slightly floral on the back end. Also has a bit of a sherry-like aroma.
T: This doesn't resemble an American blonde to me. It starts off slightly sweet, with hints of toffee and fruity esters, along with biscuity malt notes. Finish is clean and has a floral, slightly bitter character.
Notes: This beer has some body to it and has a well-balanced flavor profile. Quite tasty overall. This reminds me more of an English pale mild as far as the style goes. Easy to drink, and quite sessionable.
768 characters

4.42
/5
rDev
+25.9%
look: 4 | smell: 4.5 | taste: 4.5 | feel: 4 | overall: 4.5
This beer pours a cloudy orange-amber color. The head is one inch in height, and recedes quickly into minimal lacing. The aroma is of toffee, caramel, vanilla, and a hint of honey. This isn't the strongest aroma out there in a beer, but it does have really good complexity. The taste is similar to the aroma with a lot of vanilla and toffee, and hints of caramel and honey. The mouthfeel is medium bodied with a velvety texture, and moderate carbonation. Overall, this is a really good mild ale that I would gladly session.
523 characters
3.35
/5
rDev
-4.6%
look: 3.5 | smell: 3.5 | taste: 3.5 | feel: 3 | overall: 3
I have been trying to decide what category this brew should be in... Not an American Pale (not enough hops) ... sorry it is definitely not a "Mild", too Americanized... and I am even more sorry to say it IS a "Blonde".
Pours with a short lasting white head... foamy and dies quickly... the brew is lightly hazed orangish/yellow.
Nose is grainy .. bready .. biscuit malt .. American hoppiness is no doubt there with albeit a minor citrus zest component and a bit of a floral element.
Flavor has a more hop bitter presence than a Mild... the grains though are the big player... hops are a bit spicy with a lesser lemony essence... with warmth, an odd and out of place honey taste comes into play.
Body is lite.. carbonation is nice... overall, I just am having a hard time digging it. I will buy it again if the price is right (less than $3), but just too average for me to give it much more than a second look.
3.5/3.5/3.5/3/3
930 characters
Mid Mountain Mild Ale from Epic Brewing Company
3.51
out of
5
based on
84
ratings.