Hop Syndrome Lager
| Epic Brewing Company
BA SCORE
82
good
80
Reviews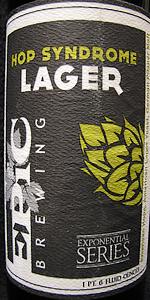 BEER INFO
Brewed by:
Epic Brewing Company
Utah
,
United States
epicbrewing.com
Style:
American Pale Lager
Alcohol by volume (ABV):
5.00%
Availability:
Rotating
Notes / Commercial Description:
A deliciously hoppy lager, this clean, spicy, yet fruity addition to the Exponential series is sure to quench your summer palate just right!
Added by Viciousknishs on 07-21-2011
Reviews: 80 | Ratings: 283
4.03
/5
rDev
+12.6%
look: 4 | smell: 3.5 | taste: 4.5 | feel: 3.5 | overall: 4
A- SLightly hazy pale yellow. Head is thin, but leaves quite a bit of lacing on the glass.
S- Smell is relatively clean but there is just a bit of citrus aromas in there. Some spicyness too. But a clean aroma is the predominant charactersitic here.
T- Taste is initially pretty clean as well, sweet grains. In the finish the flavors really show, with a spicy and citric aftertaste, spice moreso than citrus. This is how a lager can be clean and still have flavor.
M-Pretty light and clean on the tongue. Could have used a boost in carbonation I think. Dry finish, however.
O- By American Pale Lager standards this is near the top. I would gladly pick this up for tailgating, or as my beer for over the course of a night. It doesn't push the boundaries quite so much as it advertises, but it still tastes good and that's what counts.
★
832 characters
3.53
/5
rDev
-1.4%
look: 4 | smell: 3.5 | taste: 3.5 | feel: 3.5 | overall: 3.5
A - Yep, looks like a lager...straw yellow in color, a thick, white creamy head, sticky lacing, mild carbonation.
S - Pungent earthy, grassy, grainy, with a little bit of dankness and light lemons dominate the nose.
T - Earthy, grassy, and mild lemons with a mild to moderate citrus bitterness are the main attraction on the palette, not much more. Leaves a slight citrus aftertaste.
M - Light side of medium body, crisp, and leaves a coating of citric grassy aftertaste in the mouth. The grassy citrus bitterness lingers for several minutes after the sip.
O - This particular beer in the Exponential series doesn't do it for me. It's hoppier than the average lager but compared to the other beers I've tried in the Exponential Series from Epic, it seems out of place. Yeah, it's hoppier, but it's only 5.1%, I don't see how this would be classified in the same category as some of their bigger beers...maybe I'm missing something?
★
936 characters

3.75
/5
rDev
+4.7%
look: 3.5 | smell: 3.5 | taste: 3.5 | feel: 5 | overall: 4
Release #2.
Poured from a 22 oz bottle into a pint glass.
A: Pours straw yellow with a one finger white head. (as expected for the style)
S: Pilsner malt with a lightly hoppy background.
T: Reminds me of your run of the mill light lager while cold, but after warming up a bit, the hops start to show through with a fruity presence.
M: Crisp, clean, light bodied, and well carbonated.
O: Once I let this warm up to about 45-50 degrees rather than the colder temperatures lagers are traditionally enjoyed at, the beer became more than just your average pale lager, yet not as hoppy as advertised. So good for the style, but falls short of expectations of a hoppy lager, and probably my least favorite Epic offering as of yet.
★
725 characters
3.85
/5
rDev
+7.5%
look: 3.5 | smell: 3.5 | taste: 4 | feel: 4 | overall: 4
22 ounce bottle, 16 oz shaker.
A - A nice straw color, fairly clear. Head forms nicely, thins out but stays arund with a capper.
S - Clean aroma. The earthy American hops are there, barely detectable, but there.
T - A nice tasting lager. Good amount of pils malt. The hops provide a touch of spice, small earthy note.
M - Very nice, easy to drink lighter body. Nice carbonation for a thirst quenching lager.
O - A very nice, quenching, easy to drink lager.
Notes: Excellent for the style. Torn here, as it is a high dollar for an American lager but it is a truly excellent, well made beer and definitely satisfies more than most pale US lagers. A worthwhile buy, even for a style that people generally don't associate with high quality, non-adjunct laden ingredient bills.
★
779 characters
3.52
/5
rDev
-1.7%
look: 3 | smell: 3.5 | taste: 3.5 | feel: 4 | overall: 3.5
A- pours a pale pale straw yellow with a great clairity.
S- lots of german pilsner malt aromas with a cracker like characteristic. Earthy tones mingle in with a leafy grassy hop profile. Finishes with a clean dry aroma.
T- dry cracker biscuity malt up front. Bright leafy hop flavors in the middle. Finishes with an earthy note that transitions into a dry clean crispness that lasts into the aftertaste.
MF- slick mouthfeel with a medium body and average soft carbonation.
D- very very drinkable and bright. Perfect summer quencher.
★
544 characters
Hop Syndrome Lager from Epic Brewing Company
3.58
out of
5
based on
283
ratings.