Brainless On Cherries Belgian-Style Ale (Batch 5+)
| Epic Brewing Company
BA SCORE
78
okay
59
Reviews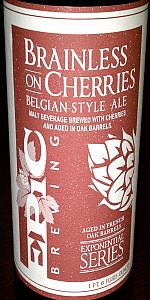 BEER INFO
Brewed by:
Epic Brewing Company
Utah
,
United States
epicbrewing.com
Style:
Belgian Strong Pale Ale
Alcohol by volume (ABV):
10.10%
Availability:
Rotating
Notes / Commercial Description:
Aged in Red Wine barrels.
We took our double gold medal winning Brainless® Belgian, added cherry puree and aged it in French red wine casks (Cabernet and Syrah) for a secondary fermentation. It pours a beautiful deep ruby color with a medium white head. A nice nose of sweet cherries, Belgian malts, and barrel aging.
Added by Mora2000 on 04-07-2012
Reviews: 59 | Ratings: 337
3.1
/5
rDev
-7.5%
look: 3 | smell: 3 | taste: 3 | feel: 4 | overall: 3
Thanks to queens1130 for sharing this one at Benny's tasting.
Release # 7.
Pours a murky reddish-brown with a foamy beige head that fades to nothing. No lacing on the drink down. Smell is of malt, slight cherry, and some medicinal aromas. Taste is much the same with a slight tartness. This beer has a good level of carbonation with a crisp mouthfeel. Overall, this is a pretty average beer with some really mild aromas and flavors.
★
438 characters
2.76
/5
rDev
-17.6%
look: 3.5 | smell: 2.5 | taste: 2.5 | feel: 3.5 | overall: 3
Pours a cloudy, watermelon pink-red with a slight haze that settles to a thin ring. Aromas of Belgian yeast, maybe a touch of cherry and ripe pear. Pretty subdued and weak, honestly. Taste is similarly bland, with a dominating Witbier-style yeast profile that imparts some clove and phenols, some light grain, and just a whiff of cherries. Mouthfeel is light and crisp, with a medium body, good carbonation, and a fairly dry finish. Overall a pretty weak offering, I'm hoping the peach version is better.
★
504 characters
3.45
/5
rDev
+3%
look: 3.5 | smell: 3.5 | taste: 3.5 | feel: 3 | overall: 3.5
I had to try this both because of the novelty (haven't had an Epic beer and the name seemed entertaining) and because I'm a sucker for things like "aged in french oak barrels" and an American produced Belgian which costs upwards of $13 a deuce.
Appearance is peach/pink with a hefty head that recedes rather quickly into the aether. It's basically appealing but nothing special.
Smells like hops, strong booze, and the slightest hint of cherries.
Thankfully the (very much so) advertised cherries come through on taste, but they seem to bookend the alcohol heat and overwhelming (but not bad!) yeast comprising the majority of what's here.
There's decent body and adequate carbonation combined with a nearly-thick-enough Belgian mouthfeel which is somewhat tampered by the alcohol heat and lack of real texture.
There's something about this which intrigues me and leaves me mostly satisfied with my purchase.. but I'm not sure, especially at this price, that I'd gladly grab another. There are far better options (especially from Unibroue) for the same or better price, and of course there are imports from the namesake nation which outdo this in every conceivable way. Still, it's not hopeless. Give this a try if you like Belgians, cherries, and aren't afraid of alcohol.
★
1,278 characters

3.43
/5
rDev
+2.4%
look: 3.5 | smell: 3 | taste: 3.5 | feel: 4 | overall: 3.5
Shocked we managed to get this in CO. The joys of Ft. Collins having slightly different distribution than Denver.
Pours a pinkish color with a lot of foam at first, although it dies down pretty quickly.
The nose is a little astringent with tart fruity notes and (non-funky) Belgian yeast.
While the story behind this beer might be complex...the flavor profile really isn't. It essentially tastes like a Belgian strong blonde (a la Duvel or Lucifer) with a little bit of a tart cherry note in the finish. I get the same corn-y flavor (this NOT a flaw, I get that from most strong Belgian pales) and hint of heat. The cherries never really seem to blend with that flavor, but usually seem to come to the forefront early or late as a completely separate flavor.
Not bad, but not really as good as the details behind the beer might suggest. I'd be curious about the other fruit variations on this beer more than having another one.
★
927 characters
3.62
/5
rDev
+8.1%
look: 3.5 | smell: 4 | taste: 3.5 | feel: 3.5 | overall: 3.5
22 oz. bomber, Release No. 10,
A: Pours a light burgundy with a fizzy white/pink head. OK retention, no lace. But I really like the colour.
S: Watermelon Jolly Ranchers, black cherry skin with a hint of mandarin orange.
T: Cherries for sure, some yeasty esters. Solid flavour, doesn't really taste artificial, but nothing is grabbing me.
M: Very lightly tart with some drying hoppiness on the back end. Full-bodied, no booze is nice.
O: A nice beer, but for it's price nice isn't good enough. Peaches was clearly better.
★
525 characters

2.15
/5
rDev
-35.8%
look: 2 | smell: 2 | taste: 2 | feel: 3.5 | overall: 2
Poured from a bomber into a wine glass. Reviewed live. Batch #9.
A- Finger and a half white fizzy head, with no retention whatsoever. Well carbonated but no retention or lacing. Light burgundy color with some clarity. Translucent in appearance. Looks like wine, which makes sense considering where it was aged.
S- Sour cherries, red grapes and a vinous smell. Dates and other dark fruits. No sense of hops or malts. Like an old ale moreso than a Belgian.
T- Surprisingly mild taste. Cherry and berries with vinous notes and some mild booze tastes present. Not impressive.
M- Light, yet vinous feel, finishes wet and clean.
O- This one's a loser. Avoid unless you really like cherries and lots of booze.
★
708 characters

2.21
/5
rDev
-34%
look: 3.5 | smell: 2.5 | taste: 2 | feel: 2 | overall: 2
Slightly cloudy light red color with thin head fading to a collar. The nose has some artificial cherries plus some medicinal character. Off and not pleasing. Flavor is the se but quite a bit worse. Stale cough syrup with a hefty bit of booze. Body is medium with a dry off character. Chemicals and other gross things. Ugh.
★
322 characters

4
/5
rDev
+19.4%
look: 4 | smell: 4 | taste: 4 | feel: 4 | overall: 4
[Best served in a Trappist glass]
The pour was a murky medium cranberry red with a small (1 finger or less) pink fizzy head that quickly dissipated down to a thin puddle and small collar, but did produce some really nice sheets of lace.
The aroma was of a mild bread malt and a musty Belgian yeast with strong notes of cherries, red wine, wood and a light hint of alcohol.
The taste was sweetly tart and a tad acidic with a big note of cherries early on, with the finish being a bit winey with a woody alcohol finish. The flavor lingered for a really nice long time after the swallow, allowing for the fruity alcohol taste to grow as time went on.
Mouthfeel was just above light in body with a very nice dry texture and a fizzy carbonation.
Overall a delicious Strong Ale, with the taste of the cherries and cask pretty much masking the high ABV...
★
853 characters
4.2
/5
rDev
+25.4%
look: 4 | smell: 4 | taste: 4.5 | feel: 4 | overall: 4
"Beginning with Batch #5, the Brainless on Cherries beers were aged in Red Wine barrels rather than the White Wine (Chardonnay) barrels that were used in the first four batches. Therefore, I am adding this as a new beer and all reviews from Batch #5 on should likely be moved to this entry."
Batch 7. Brewed August 4, 2011, bottled September 29, 2011.
Thanks to thirdeye11 for sharing this bottle.
The beer pours a reddish-pink color with a white head. The aroma has a ton of oak and red wine notes, as well as some cherries and grapes. A very fruit smelling beer.
The flavor is similar. The dominant flavor is the cherries and wood, with some vanilla and grape notes also thrown in. There is also a good bit of bread, Belgian yeast and alcohol in the flavor.
Medium mouthfeel and medium carbonation.
★
819 characters
Brainless On Cherries Belgian-Style Ale (Batch 5+) from Epic Brewing Company
3.35
out of
5
based on
337
ratings.