Fest Devious (Release #7)
| Epic Brewing Company
BA SCORE
82
good
11
Reviews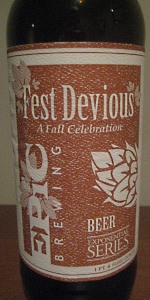 BEER INFO
Brewed by:
Epic Brewing Company
Utah
,
United States
epicbrewing.com
Style:
Märzen / Oktoberfest
Alcohol by volume (ABV):
6.20%
Availability:
Fall
Notes / Commercial Description:
No notes at this time.
Added by Halcyondays on 09-16-2012
Reviews: 11 | Ratings: 23
3.56
/5
rDev
+0.3%
look: 4 | smell: 3.5 | taste: 3.5 | feel: 3.75 | overall: 3.5
Poured a copper color with smell of cracker and malt. Taste is very biscuity with a malty backbone and a little bit of oak. Mouthfeel is good, medium bodied and a little slick. It's a good Oktoberfest but not the best version I've had.
235 characters

2.68
/5
rDev
-24.5%
look: 3.25 | smell: 2.75 | taste: 2.5 | feel: 3.25 | overall: 2.5
Pours a reddish orangey with an off white head. Aroma is sticky, bready, caramel, and a bit spicy. Flavor was similar, but the flavor lingered into the finish and aftertaste and totally ruined this beer for me. I had no need for the sweet and spiciness to remain in the front of my mouth well after my sip had finished. A medium bodied, creamy mouthfeel. Overall, this one was not for me. Won't drink this again.
412 characters
3.54
/5
rDev
-0.3%
look: 3.75 | smell: 3.5 | taste: 3.5 | feel: 3.75 | overall: 3.5
good and true to style octoberfest, nothing out of the ordinary though. clear sappy honey color, thick looking for the genre, lacey white head dies pretty quick. a nose of german malts, grassy and fresh in a way these usually aren't, but perhaps a little too much residual sugar in this one, its sweet as can be as it closes, not something I look for in a lager. caramel flavors as it winds down, too much for the delicate grains to handle. however, the flavors all really work, its seasonally nice, easy enough drinking, and a little fuller bodied than most, which I always appreciate in the style. I guess there are many fest devious releases. does anyone know how much this changes batch to batch? it doesn't seem like a real groundbreaking evolution of beers if this is its seventh incarnation. anyways, good not great, you have better options at the new Denver tap room and brewery.
887 characters

4.05
/5
rDev
+14.1%
look: 3.5 | smell: 3.5 | taste: 4.25 | feel: 4.5 | overall: 4.25
Poured into a pint glass.
3.5 A: Mildly hazed orange amber color. One and a half fingers of frothy off-white head. Retention is very good and a very short ring of lacing is left.
3.5 S: Big toastiness in this. Dry, grainy maltiness. Caramel malts. Simple, clean, good.
4.25 T: Wow, the taste is just so much better than I was expecting after the nose. It's big and bold with toastiness leading the way. Not as dry as the nose either. Indeed, it has a great balance between the toastiness and the caramel sweetness. Again clean with a slight yeasty richness.
4.5 M: Heavier medium body. Thick and velvety creamy. While it is a touch chewy, it's only minorly so. Very good here.
4.25 D: Overall a very tasty, super easy to drink beer. Pick this one up.
755 characters

3.19
/5
rDev
-10.1%
look: 3.25 | smell: 3.5 | taste: 3 | feel: 3 | overall: 3.25
Labelled "Marzen #5" in the rectangle on the side of the label. 6.2% ABV. I chose this listing (Release #7) because though mine is marked Marzen #5, the ABVs and styles match up. In any case, there seems to be a fundamental problem with the way these Epic beers are labelled. 1 pint 6 fl oz brown glass bottle with standard branded pressure cap served into a conical Samuel Smith's pint glass in me gaff in low altitude Los Feliz, Los Angeles, California. Reviewed live. Expectations are average; I've not liked anything from Epic so far except Big Bad Baptist.
Served straight from the fridge. Side-poured with standard vigor as no carbonation issues are anticipated.
A: Pours a three finger beige colour head of fair cream, pretty decent thickness, and pretty good (~4+ minute) retention. No real lacing as the head recedes. Body colour is a clear translucent copper. Vibrance is average. A typical appearance for the style. No yeast particles are visible. No bubble show. Looking forward to trying it. An unassuming little märzen.
Sm: Floral hop notes, healthy crisp grainy character, light toasted malt, a bit of caramel, definite spices (I guess that's a no-no in German brewing tradition?) including clove, apple, light brown sugar, heavy munich malt, and bready grains. A mild strength aroma, but a pleasant and appealing one. I don't get any yeast character or alcohol off the aroma. Looking forward to trying it.
T: Layers of munich malt with fantastic creamy character. Light toasted character. A bit too much caramel. Brown sugar, light pear and apple. Bready grains. Too much floral hopping for the style and flavour profile, but it's forgivable. Still, the balance really suffers. A simple but pleasant beer. Strange for a märzen; it's certainly not traditional. I generally like it, but I'm unimpressed. No yeast character or alcohol comes through.
Mf: Sleek, smooth, and wet. Adequate carbonation. Not oily or viscous. Suits the flavour profile in a general sense, but it doesn't feel custom-tailored to it. There are no overt flaws with the texture, but it's far from exemplary. Decent presence on the palate.
Dr: Drinkable but forgettable. A pedestrian märzen from Epic brewing. I'm unimpressed. Do they make a good beer other than Big Bad Baptist? I'm content to keep trying their beers to find out. Decent but unexceptional. I won't be trying this again. The price point could also be far better. Hides its above average ABV decently, though.
C+
2,481 characters
3.9
/5
rDev
+9.9%
look: 4 | smell: 4 | taste: 4 | feel: 4 | overall: 3.5
22 ounce bottle into signature pint glass, bottled 8/14/2012. Pours lightly cloudy orange amber color with a 1 finger fairly dense off white head with very nice retention, that reduces to a thin cap that lingers. Spotty soapy lacing clings to the glass. Aromas of caramel, apple, pear, toast, nuttiness, biscuit, brown sugar, citrus zest, floral, pine, and grassy hops. Very nice aromas with good malt/hop balance and complexity. Taste of caramel, apple, pear, toast, biscuit, brown sugar, nuttiness, floral, pine, citrus zest, and grass. Light amount of piney bitterness on the finish; with lingering notes of caramel, light fruits, toast, nuttiness, biscuit, brown sugar, pine, floral, citrus zest, and grassy hops on the finish for a good bit. Very nice flavor complexity and hop/malt balance; with zero cloying flavors present after the finish. Medium carbonation and body; with a fairly creamy, sticky, and crisp mouthfeel that is nice. Alcohol is very well hidden with nearly zero warming noticed after the finish. Overall this is a very nice hoppy Oktoberfest style. Very nice hop/malt balance and complexity; and extremely smooth to drink. A very enjoyable offering.
1,174 characters
2.73
/5
rDev
-23.1%
look: 3 | smell: 2.5 | taste: 2.5 | feel: 3.5 | overall: 3
A - Served up a bells anniversary glass of this ruby bubbly brew with 1 inch head with quickly disappeared
S - Smells of caramel malt, some pine, a tinge of mustiness
T - Taste close to smell . Malt heavy lager, lots of backbone filled with Munich malt, nutty grains, some clove. Short sweet finish, with a trace of hops. Very much in step with an Oktoberfest, and an average one at that. Not really sure what Epic is seeing this as particularly unique.
M- full mouthful. Medium carbonation.
A full bodied Oktoberfest... cheers.
534 characters
3.7
/5
rDev
+4.2%
look: 3.5 | smell: 3.5 | taste: 4 | feel: 3.5 | overall: 3.5
This beer is a deep, murky orange-brown. It develops a head just under a finger tall with fairly good retention that keeps a steady foam when it drops off. Lacing is moderate and spotty.
It's key to let this beer warm. It's completely different with a few minutes on it. Aroma's still light, but caramel and breads come out, more like biscuit than toast, and there's a note of herbal hops.
The flavor follows the nose appropriately, the chief differences being that the herbal hops note is strengthened a bit and added to by a floral note as well. It's got a good balance between the malts, with just a touch of sweetness, and the hops. A touch of alcohol sting goes into the finish.
The feel seems to work in three stages. Initially, there's a good smoothness but the crispness bites too hard. It goes into a sort of ideal zone when the crispness backs off. In the last stage, it thins a bit and fades a touch but the smoothness remains. The body is a sturdy medium.
968 characters
3.23
/5
rDev
-9%
look: 4 | smell: 3.5 | taste: 3 | feel: 3.5 | overall: 3
Pours a clear copper with a foamy bone colored head that settles to a thick cap on top of the beer. A foamy latticework of lace forms around the glass on the drink down. Smell is of toasted malt, caramel, and some slight vegetal aromas. Taste is much the same with a slight metallic flavor on the finish. There is a mild bitterness on the palate with each sip. This beer has a lower level of carbonation with a slightly crisp and medium bodied mouthfeel. Overall, this is a pretty average beer that smells better than it tastes in my opinion.
542 characters

4.03
/5
rDev
+13.5%
look: 4.5 | smell: 4 | taste: 4 | feel: 4 | overall: 4
22 oz bomber from release 7 of Fest Devious. I poured this beer into my perfect pint on the first really cool night here in Salt Lake City.
Appearance: A great clear reddish copper. A thick film of sandy colored foam settles while leaving some delicate lacing.
Smell: Slight alcohol, nutty and bready. Caramel from the toasted malts and maybe a tiny touch of mint from the hops.
Taste: An overall clean taste. Round nuttiness with a helping of bread and caramel. Mild earthy hops balance against the solid malts. I nice change from the usual ales that I prefer. I really enjoy the beers this time of year. The alcohol is well hidden.
Mouthfeel: A thick almost chewy beer. The carbonation is lower also. Makes for an overall heavy beer, but appropriate for the style.
Overall: A solid example of the Marzen style. I am glad this one is available to me.
857 characters
3.93
/5
rDev
+10.7%
look: 4 | smell: 3.5 | taste: 4 | feel: 4.5 | overall: 4
22 oz. bomber, the side is half off and it looks like Marzen #5, but this is no way a Scotch ale as their website says. It says 6.2% and Epic's website says that Release #7 is a Marzen at 6.2%, so I'm going with that, I feel free to be corrected,
A: Pours a dark amber with creamy big white head, some lace.
S: Munich malt, caramel, solid.
T: Toasted malt, heavy Munich malt, caramel. Some earthy hop character. Pecans with a nutty finish. There is a nice balance to this beer.
M: Medium to full-bodied, creamy, a tad astringent, nice easy aftertaste.
O: Tastes like a big ol' Oktoberfest. In your face for the style, I enjoyed it quite a bit, something to revisit if they brew something like this again.
719 characters
Fest Devious (Release #7) from Epic Brewing Company
3.55
out of
5
based on
23
ratings.