Dismiss Notice
Brew/Ultimo Coffee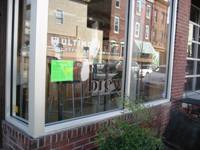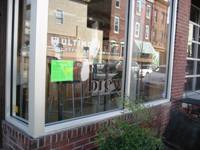 PLACE INFO
Type:
Eatery, Beer-to-go
1900 S. 15th St
Philadelphia
,
Pennsylvania
, 19145
United States
(215) 339-5177 |
map
Notes:
No notes at this time.
Added by asteiger on 05-24-2010
PLACE STATS
Reviews:

7

Ratings:

pDev:

4.49%
HISTOGRAM
Ratings: 11 | Reviews: 7
Reviews by woodychandler:

4.3
/5
rDev
+7.2%
Transcribed from notes dated T, 10 August 2010.
I was on a mission on this day. I had received a trade request for Sly Fox CANs and I was getting ready to head to Madison, WI that Thursday so I needed to reload and ship mos' quick. I had a list of all Beer Stores on BA Beer Fly at the time and I decided to visit as many of the ones that offered singles and sixers as I could, taking notes at each one.
"Beer and coffee together at last." That was their motto, but I had partaken in a Spring House Planet Bean the past weekend, so who was zoomin' who?
Located on the southwest corner of South 15th and Mifflin Streets, the entry was angled to the corner. Entering, tables and chairs lined the north wall ending at the lavatory all the way aft (west). The coffee and pastry counter was just inside the door along the south wall. Quantifying the selection: three (3) coolers, four (4) doors and four (4) shelves each for thirty-two (32) beers per door times twelve (12) doors. 32 x 12 = My Lit mind does not do math easily. Lots. It boasted a great selection and the prices were clearly marked, but I mused "Why bother when SPTR is just up the street?" as I had my second single of the day. I guess that for takeaway and singles, this is going to fill the need as the answer to my non sequitur.
1,296 characters
More User Reviews:
3.87
/5
rDev
-3.5%
vibe: 3.5 | quality: 4 | service: 4.25 | selection: 3.5
It's a small corner coffee shop that also serves beer for in house consumption or takeout. Coffee is good and service is friendly. There are beers on tap and growler fills, plus a decent selection of bottles/cans for takeout purchase. I think it's run by the owners of South Philly Tap Room, but I'm not sure. Prices are about what you'd expect for this part of the city. Worth checking out if you're at SPTR, as it's right across the street.
442 characters
3.95
/5
rDev
-1.5%
vibe: 4 | quality: 3.75 | service: 4.5 | selection: 4 | food: 3
Ten beers on tap for pints or growler fills. Decent coffee and pastries. Beer served starting at 11am.
102 characters

4.35
/5
rDev
+8.5%
vibe: 4.5 | quality: 4.5 | service: 4.5 | selection: 4.5 | food: 3
Nice selection, good prices and friendly service
48 characters


4.15
/5
rDev
+3.5%
vibe: 3.75 | quality: 4.25 | service: 3.75 | selection: 4.75 | food: 3.75
The wife and I were looking at apartments around the area and spotted Ultimo Coffee. We had been to SPTR, but I didn't know about this joint (owned by the same folks).
Not much to see here, just a corner store with coffee and beer. A couple of tables inside and out and cool music playing on the stereo. It is a great place to just hang out and chill, or to pull your computer and write beer reviews. It doesn't get super busy here that you feel like you gotta give your table up.
The coffee is super good, and the beer selection is top-notch as well. Evil Twin Aun Mas Cafe Jesus, Evil Twin Imperial Biscotti Bourbon, lots of Russian River, Hardywood Bourbon Cru, Omnipollo Hypnopompa, Sucaba, Dogfish 120... lots of rarities. You'll pay dearly for them, but if you've got the cash and want a good, extreme beer, Brew is the place. They now have three draft lines for growler fills.
There is some food- gourmet sandwiches all day and pastries/baked goods in the morning. Good stuff.
I may be biased because I am now a resident of the neighborhood, but I'm loving this place!
1,082 characters
3.86
/5
rDev
-3.7%
vibe: 4 | quality: 4 | service: 3.5 | selection: 4
I stop in here on occasion, always after hitting up SPTR. Brew is right across the street which is very handy if in a pinch.
Brew is fairly small, it's pretty muchh a cafe and coffee bar that serves beer to go. Im not sure if you can drink on premises here. The coolers are to the left with a small standing area to the right. About 8 coolers in full with assorted selections consisting of locals, regionals, West coast stuff, pretty much everything that Philly gets and alot of Bella Vista distributed beer. Some European selections as well which is always nice to see. As with Philly, bottles here are pricy so beware of what you pick up. You really cant get away from any bottle shop in Philly (Im not singling out BREW here) without getting taken a bit. Luckily, brew clearly marks their bottles, Which in Philly is about all you can ask for.
847 characters

3.93
/5
rDev
-2%
vibe: 4.5 | quality: 4 | service: 4 | selection: 3.5
It's nice being in Philly these days for the beer drinker because there is so much variety and accessibility to good beer for people in so many different Philadelphia neighborhoods. Brew is the only notable bottle shop West of Broad and south of Washington. A bottle shop in this neighborhood is understandably run-by and patronized by mostly young, white, middle-class hipsters looking for an authentic urban experience... Like most coffee shops it has attractive, tatted young people in edgy clothes working there. There are a number of coffee drinkers chilling out on their macbooks and gaggle of fixed gear and vintage bikes locked up out front. It's a cool place to hang out if you want to feel young and and trendy. There is plenty of light from the big window, lots of tables and chairs, and laid back staff that will leave you alone if you are working on the next great American novel or just shooting the breeze with friends.
The beer selection is pretty good and kept cold in one row of 5 or 6 glass front coolers. The highlights were FW Abacus & Parabola, RR Supplication, Redemption, & Consecration, LA Red Poppy, Stoudts Old Abominable, good selection of 12 singles from Bells, Founders, Victory and Troegs. Whereas some beers were reasonably priced, Bells singles were $2.50-4 for most everything, some beers were ass-rape: $30 for Red Poppy, $22-25 for Abacus and Parabola, $10.50 for Stone IRS, there are more but I don't want to mis-remember (no notepad) erroneously giving wrong specifics. The pricing was mostly clearly labeled with bottle caps below or infront of the rows of beer, but the high prices of some bottles are some of the highest I've seen anywhere for to-go beer. I think that most bars with bottles lists are comparable in price and will at least open the beer for you, pour it and then wash the glass you drank it from.
Overall, I think this place is very expensive, although it's set-up nice and the staff was friendly (and attractive).
1,974 characters
4.08
/5
rDev
+1.7%
vibe: 3.5 | quality: 4 | service: 4.5 | selection: 4
Visited mid-afternoon, 9/11/10.
Just a block east of South Philadelphia Taproom and across the street, I wouldn't have thought twice about stopping in had I not parked my car out front... When I pulled up, I barely took notice of the clusters of twenty-somethings chatting over lattes or loners hunched over laptops at the outdoor seats of this seemingly innocent non-corporate coffee shop. After lunch and a couple brews at SPTR, and having caught barely 3 hours of fitful sleep on a cross-country journey, curiosity got the best of me and a cuppa joe sounded good. 'Ultimo Coffee' sounded cool as I neared, but...what's this?...'Brew'??? I'd seen 'BREW' pop up as a wi-fi option an hour before but figured it was part of SPTR's network. I was wrong.
Entering off the corner (what's with these odd corner columns?), I sorta forgot the coffee when I spotted 8-10 glowing coolers of single bottles to the left, halfway across the clean and comfortably lit cafe. Interesting concept: half coffee house, half bottle shop - though given my limited knowledge of PA's quirky beer laws, it's a perfect fit. Have a bagel with your bock, a panini with your porter. Coolers were nicely broken up by regions, representing local micros the likes of which I had never heard of in a few instances and all the big craft brewers in the Upper Midwest and the majority of the Atlantic seaboard. Plenty of imports, too, with emphasis on Belgium and Germany.
One thing I liked right away was the clear labeling, small multi-colored stickers mounted inside bottle caps in front of each row (as opposed to the cryptic tome kept at unnamed store visited later). Another was the friendly service, courtesy of a lone young lady (Jade) hanging out at the back register ("we have to keep beer and coffee sales separate", she informed me). We chatted a few minutes and she had a reasonably good knowledge of what was stocked...frankly, I don't have to have great recommendations when I'm traveling, because I often just like to grab local bottles and throw caution to the wind. She asked about where I was from, why I was visiting and knew about several of my favorite Oregon breweries...a much nicer experience than the lackluster reception across the street.
In the end I walked away having spent nearly $14 on a mixed six-pack containing one each from some regional breweries I'd (mostly) never tried: Cricket Hill and River Horse of NJ; Yards, Lancaster and Sly Fox of PA; Arcadia of MI. Not too unreasonable, but more than I'm used to paying to mix back home...and that was WITH a 10% discount (then an added 10% 'Phila. Liquor Tax', WTF?).
Then what did I do? Forgot to buy coffee! Oh well...
A happy little accident to stumble on this place and one I'd shop at again if I lived nearby. It should be noted that their license to sell beer was just granted in Spring 2010, so it's worth a stop if you're a frequenter of SPTR and might otherwise ignore the coffee place down the block.
2,967 characters
3.85
/5
rDev
-4%
Right around the corner from the South Philly Tap room, great location. I just happened to wander in when my sister went for a cup of coffee and I was very pleasantly surprised. Plenty of bottle options from places like the Bruery, Russian River, Alesmith, Lost Abbey, and Pretty Things, just to name a few. Lots of local selections were available as well. Most of the hundreds(?) of bottles they offered had price tags on them. Are you listening Foodery? Some prices were on the fair to low side. Orval was $6 for instance, a very fair price imo. I bought some Consecration for $13 which seemed about right. I was shocked to see a $25 price tag on the Stoudt's Old Abominable, that is insanely high. There is a bench for seating running parallel to the beer coolers. There is only room for one person comfortably in this space, so browsing can be awkward. Overall, I would have no problem suggesting this as worthwhile place to bottle shop if you're in the neighborhood.
971 characters
Brew/Ultimo Coffee in Philadelphia, PA
Place rating:
4.01
out of
5
with
11
ratings