Dismiss Notice
Motorino Ale
| Argus Brewery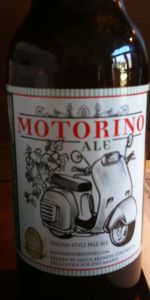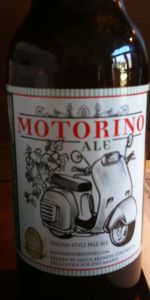 BEER INFO
Brewed by:
Argus Brewery
Illinois
,
United States
argusbrewery.com
Style:
American Pale Ale (APA)
Alcohol by volume (ABV):
4.60%
Availability:
Limited (brewed once)
Notes / Commercial Description:
"Italian Style Pale Ale"
Added by TheHoppiest on 04-10-2011
This beer is retired; no longer brewed.
HISTOGRAM
Ratings: 13 | Reviews: 10
Reviews by HeightsEats:

3.58
/5
rDev
+27.9%
look: 4 | smell: 3.5 | taste: 3.5 | feel: 4 | overall: 3.5
I got this for my wife, who doesn't really drink beer, largely because of the scooter picture. She enjoyed her half and described it as "just like Heineken." Slight German hop aroma with caramel malts coming through. Taste is fairly sweet but with a decent, mellow hop counterbalance, making it pretty drinkable. I actually prefer it to Heineken, largely because I'll generally take an ale over a lager.
I'm not sure about the bottle's claim about pairing with Italian food. Very few drinks go better with tomato sauce based dishes than red wine. That said, the flavor profile is similar to Pinot Grigio, which is pretty food friendly.
636 characters
More User Reviews:
2.98
/5
rDev
+6.4%
look: 4 | smell: 3.5 | taste: 2.5 | feel: 3 | overall: 3
The color is amber, dark enough to almost reach copper, with an opaqueness to it. The nearly pure white head sits at about a finger and remains as foam that never fades off. Good lacing is left behind.
From what I've read in limited reviews, it seems from the smell that some are getting bad bottles or carrying a heavy bias. It's hoppy, mostly herbal and floral with a light citrus element. There's a touch of malt but it's not perfectly attenuated or balanced. That said, it's not bad; some tweaking could fix this up.
There are some things that come out more in the flavor, though: specifically, a sort of burnt element and an overly grainy undertone. It also goes oddly watery in the finish. The balance is lost as hops bitterness becomes over pithy and harsh.
The feel has just enough of a crispness, though light, to keep from going flat, and it does get fairly smooth, but otherwise this light-bodied beer is fairly lackluster.
I've had worse shots in the dark.
968 characters
3.17
/5
rDev
+13.2%
look: 3 | smell: 3.5 | taste: 3 | feel: 3.5 | overall: 3
Poured from a 12 oz bottle into a pint glass. I had a hard time finding out information on this beer. I purchased it from the Mustard Seed Market in Solon, OH. The bottle is the standard shape, and has a black and white ink drawing of an Italian scooter. "Motorino" is in red, with "Ale" in green, and there are green border stripes on either side of the drawing. It is advertised as an "Italian Style Pale Ale, but as I am unaware of any such thing, I labelled it an English Pale Ale above. It further indicates it is brewed by Argus Brewery in Chicago, even though the Argus website does not list it. It further states it is brewed for Eno Amano, and it is unclear if that is a person or a company. Again, I foun no information on line about it.
The beer pours a honey amber color with very little head, and the head that is there upon pouring disappears after a minute or so. There is no active carbonation, and the beer looks as flat and dead as a puddle.
Very little smell, other than a yeasty-funky aroma, wet straw, and mild malt.
Weak and watery to start, some grainy barly malt in the middle with mild bitter to end. Very uncomplicated. There is a slight metallic twang, but it is barely noticeable.
Light bodied, and very easy drinking. There is a leafy aftertaste in the back of the throat.
This reminds me in feel of a light white wine, with very little substance or flavor, but not bad as an easy drinking beer. No matter how drinkable I find it, however, I'm not sure how readily available it will be for those interested in giving it a try.
1,560 characters

1.88
/5
rDev
-32.9%
look: 4 | smell: 1 | taste: 2 | feel: 3 | overall: 1.5
Thanks(?) to Chris for sharing.
A - Golden color beer, white head, moderate lacing. The beer looks fine.
S - Holy shit, it smells like shit. Burnt rubber, ass, rotten vegetables, athelete's foot. This is potentially vomit inducing. Completely horrible.
T - The taste is really bad, but almost seems good compared to the horrible smell. Rubber, plastic, some malts. Bad aftertaste.
M - Medium bodied with moderate carbonation, at least this aspect isn't disasterous.
O - This beer is horrible. It tastes bad, and you have to hold your nose not to smell it while you're drinking or you might lose your stomach contents. Send it to people as a joke, or people you don't like.
677 characters

2.7
/5
rDev
-3.6%
look: 3 | smell: 3 | taste: 2.5 | feel: 3 | overall: 2.5
Served in a Bruery snifter.
Happened upon this little guy whilst perusing the selection at Friar Tuck's right before my buddy's wedding. Worth a try, I figured then. Let's see: It pours a clear copper topped by a finger of off-white foam and populated by some small, dark floaties. The nose comprises grapefruit rind, mild but blunt menthol, mandarin orange flesh, and light pine sap. The taste holds notes of grass, light orange peel, light rye spice, and light earthy greens. Things come across light, transparent (so to speak), and then mildly unappealing. It's hard to explain properly... The body is a very light medium, with a light moderate carbonation and a slightly watery feel. Overall, a pretty weak beer. Maybe it would have fared better with a nice, strong Italian red sauce to o'erpower my tongue a bit...
820 characters

3.21
/5
rDev
+14.6%
look: 4 | smell: 3 | taste: 3 | feel: 3.5 | overall: 3.5
Pours a golden orange color with a tall white head. Pretty standard aroma to this one: bready malt, toffee, some floral hops, and a touch of citrus peel. There might even be a bit of melon. Flavor has a malt sweetness of bread and biscuit with a bit of yeast. Floral hops, light citrus, and a hint of cantaloupe. A touch of grass and some light bitterness on the finish. Mediocre through and through.
400 characters


3.02
/5
rDev
+7.9%
look: 3 | smell: 3.5 | taste: 3 | feel: 3 | overall: 2.5
Beer poured from bottle into a Nonic pint shaped glass
A - Beer pours with a dark orange, amber colored body; opaque; forms a small frothy looking creme colored head; visible bits of yeast; no visible carbonation; head doesn't hold very well and there is barely any lacing
S - Sweet roasted malt smell; hint of dark grapes; back-end roasted nut nose; straw; subtle hop smell; yeast
T - Sugary flavor; touch of roasted malt; slight citrus hop flavor; brown sugar; cinnamon or paprika(?), there is a hint of herb, but can't tell what it is, maybe grains of paradise
M - Ting of burnt malt flavor; foamy head with a liquid body; lingering bitter aftertaste, doesn't last very long
D - Light and easy to drink; flavor profile is not well defined; brewer could have made up for it by having a well-bodied beer, but fell short in that category too
846 characters
3.33
/5
rDev
+18.9%
look: 4 | smell: 3.5 | taste: 3 | feel: 3.5 | overall: 3.5
Copper toned pale ale with some good lacing and foam. Bubbling is good too.
I get some ripe apples with floral hop notes in the nose. Also a little caramel malty biscuit.
Floral hop bitterness and thin biscuit malt. Has the carbonation and bright, metallic hopping of a lager almost. Good carbonated palate thats a little oily. But easy to drink.
349 characters

2.27
/5
rDev
-18.9%
look: 4 | smell: 2 | taste: 2 | feel: 3.5 | overall: 2
Thanks to Chris (spycow) for sharing this gem. Served in a Hill Farmstead wine glass.
A - A finger of white foam settles to a thick collar, leaving behind some spotty lace and wisps on top. Transparent golden body.
S - Burnt brown sugar, rotten fruit, some musky sweaty jockstrap. Smells like a ton of sugar was poured into this beer. Slightly sickening.
T - Taste is a generic amber with some notes of plastic and rubber, and a strange bitter aftertaste. Not very appetizing.
M - Medium bodied, with moderate carbonation, a dry finish, and no alcohol. No problems here.
D - This beer is pretty bad. Not sure what an Italian Pale Ale is supposed to be, but as an Italian citizen I'm offended by this beer. I would recommend avoiding this and any other crappy beers put out by the new wave of mediocrity in Chicago - the unholy triumvirate of Argus, Finch's, and Chicago Beer Company.
888 characters

1
/5
rDev
-64.3%
look: 1 | smell: 1 | taste: 1 | feel: 1 | overall: 1
Let me say first that this beer is awful.
A. Drinking it from the bottle, but based off everything else this can't be good.
s. smell is awful, smells like skunked stella.
t. ughhhh wow this is really bad. Reminds me of the taste of an envelope, in a really bad way.
m. I want it out now.
o. do not buy, I want my $1.80 back, so glad I only bought one.
356 characters
Motorino Ale from Argus Brewery
Beer rating:
2.8
out of
5
with
13
ratings