Daddy Warbucks
| Barrier Brewing Company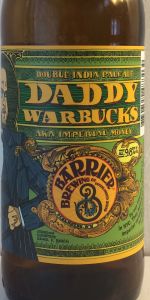 BEER INFO
Brewed by:
Barrier Brewing Company
New York
,
United States
barrierbrewing.com
Style:
American Double / Imperial IPA
Alcohol by volume (ABV):
9.00%
Availability:
Rotating
Notes / Commercial Description:
No notes at this time.
Added by brentk56 on 11-23-2013
Reviews: 12 | Ratings: 127

4.73
/5
rDev
+11.6%
look: 4.75 | smell: 4.75 | taste: 4.75 | feel: 4.5 | overall: 4.75
Poured from a 16.9oz bottle into a speiglau IPA glass.
Look is a slightly hazy Amber with yellowish gold highlights and a 1inch head with small bubbles.
Lots of tropical notes tangerine orange grapefruit. A dry citrus hop so you can tell there was dry hopping. Really smells like money IPA.
Taste is a hopped up money IPA with lemon and pine. So delicious.
★
359 characters

4.68
/5
rDev
+10.4%
look: 4.5 | smell: 4.5 | taste: 4.75 | feel: 4.75 | overall: 4.75
Appearance: Pours beautiful golden-amber with 1/2 finger of white head.
Smell: Mango, pineapple, citrus and dank hops.
Taste: A delicious, sweet and juicy mango citrus bomb! The malt and hop bite at the end balances the residual sweetness nicely.
Mouthfeel: Medium bodied and sticky with just the right amount of carbonation.
Overall: I loved Money, and I'm glad that a good store owner recommended this, essentially 2x Money. Definitely one of the best Double IPAs I've had. This makes me proud to be from the East Coast!
★
529 characters

4.41
/5
rDev
+4%
look: 4 | smell: 4.75 | taste: 4.25 | feel: 4.25 | overall: 4.5
A: Amber to bronze in color, solid carb out of the bottle. Head dissipates quickly leaving about an 1/8 of an inch of head behind. Very small amount of lacing lines remain thought drinking.
N: a bit of muskyness, grapefruit, grape must, and solid hop presence.
T: somewhat dry, hoppy, moderately sweet, tons of citrus fruit, medium body with medium low mouthfeel. Hops linger long afterwards but are imparted nicely with the sweetness from the fruit and malt.
★
463 characters
4.27
/5
rDev
+0.7%
look: 4.25 | smell: 4 | taste: 4.5 | feel: 4 | overall: 4.25
The beer comes in a golden amber.
The beer is extremely hoppy of floral, tropical mangoes, pineapple, and juicy citrus orange. The finish is of a gentle bitterness and balances with the bready malt in there.
This beer is extremely clean and hoppy with a light malty backbone. This is a fantastic addition to the beers of Long Island.
★
336 characters

4.24
/5
rDev 0%
look: 4 | smell: 4.25 | taste: 4.25 | feel: 4.25 | overall: 4.25
From 11/29/13 notes. On tap at One Mile House in NYC. 16 oz. pour in a pint glass.
a - Pours a golden amber color with two inches of fluffy off white head and moderate carbonation evident.
s - Smells of citrus hops, grapefruit, tropical fruits, pineapples, fruity malts, pine hops, and floral hops. Very nice, with ltos of citrus hops.
t - Tastes of citrus hops, tropical fruits, mangos, pineapples, grapefruit juice, floral hops, fruity malts, dank pine hops, bread, and earthy notes. Taste is super fresh and hoppy, with a ton of nice citrus and tropical fruits. Awesome taste, even better than the nose.
m - Medium body and low to moderate carbonation, with no real bitterness to it. Pretty nice.
o - Overall I thought this was a great beer; up there with Money as one of their best, and reminds me of it quite a bit. Tons of fresh citrus hops and tropical fruits and no bitterness. HIghly recommend, would like to have it again.
★
937 characters
4.24
/5
rDev 0%
look: 4.25 | smell: 4.5 | taste: 4 | feel: 4.5 | overall: 4.25
Early sunrise with light haze in body with a white bubbly head. Aroma of papaya, pine, bubblegum, grass, citrus. Tastes of papaya, grass, pine, citrus with rind, bubblegum, and booze. Medium bodied with medium carbonation. A big hoppy beer that'll get you where you're going.
★
275 characters

4.21
/5
rDev
-0.7%
look: 4.5 | smell: 4 | taste: 4.25 | feel: 4.25 | overall: 4.25
L - dark orange, hazy, two-finger head sticks around, cool label art too
S - malty like an English IPA, some nectarine and pine hops
T - sure enough, lots of malts, fruity at first (nectarine, maybe pineapple if you really look for it), bitter musty finish, satisfying but lacking hop complexity
F - round, creamy, well carbonated, slight heat from the ABV
O - It's like they increased everything on the Money recipe equally instead of mostly just increasing late-addition hops, resulting in an all around big beer. Reminds me of War Elephant.
★
548 characters
4.16
/5
rDev
-1.9%
look: 4 | smell: 4.25 | taste: 4.25 | feel: 4 | overall: 4
L: unexceptional bronzed yellow. Crystal clear. Large head that dissipates quickly.
S: yeast and tropical fruits and citrus.
T: generic citrus fruits. Maybe something approximating a refreshing herb. Not mint itself, but the spirit of mint.
F: syrupy.
O: large step down from the base beer. Undifferentiated IPA that skews towards the generic. And with its ABV present, and high malt sweetness, makes it a bit of a labor to drink.
★
438 characters

4.12
/5
rDev
-2.8%
look: 4.25 | smell: 4 | taste: 4.25 | feel: 4 | overall: 4
Served from the 16.9 ounce bottle into a 4 ounce snifter at 38F. No visible bottle date.
Light copper, orange, slightly translucent.
Nectarine, mango and peach on the nose. Some slight bready malt smells as well.
Up front nectarine and pineapple, ends with some peach and bready malts. Very clean fermentation and bottling taste. No off flavors. Hides the alcohol really well for the ABV.
Mouthfeel is solid. Balanced, decent head retention. Somewhat of dry finish. Not a sugary syrup bomb like a lot of mass produced imperial products in it's market segment.
I think it could use more of a dry hop to make the flavors punch a little harder, but overall a well put together product. Well balanced, and better than a lot of DIPA's in it's segment.
★
756 characters
4
/5
rDev
-5.7%
look: 4 | smell: 4 | taste: 4 | feel: 4 | overall: 4
Appearance: Arrives with a small foamy head perched atop the hazy amber liquid; several streaks of lace are left behind
Smell: Sugary shortbread malt underpins pineapple and citrus tones
Taste: Shortbread malt, up front, but the bitterness builds through the middle, with pineapple and citrus; the malt lingers into the finish despite the aggressive bitterness; the 9% is very apparent in the aftertaste
Mouthfeel: Medium to full body with moderate carbonation; some warmth lingers in the gullet
Overall: A nice double IPA but a bit too boozy and sweet on the finish for my palate
★
584 characters
3.86
/5
rDev
-9%
look: 3.75 | smell: 4.5 | taste: 3.5 | feel: 4 | overall: 3.75
A - Slightly hazed golden body, white head has decent retention and lacing.
S - Huge burst of tropical citrus, pineapple, mango, grapefruit.
T - Follows smell, but then turns and finishes slightly astringent and boozy. Big caramel sweetness comes in as it warms.
M - Medium to full body, good medium carbonation level. Not overly bitter considering style.
O - Wonderful nose on this one, but didn't completely translate to the taste.
★
437 characters

3.72
/5
rDev
-12.3%
look: 3.5 | smell: 3.25 | taste: 4 | feel: 3.75 | overall: 3.75
From tap, bought same day. Shared 32oz growler with a buddy last night. Poured into HF glass. Pale color, clear, little head, moderate lacing. Not much in the nose compared to most DIPAs. Huge alcohol presence in the first half of glass, the 9.0 abv is in your face. Oddly, the alcohol warmth subsided as the beer warmed. The second half of the glass was much better than the first and I enjoyed the last few sips quite a bit. I was looking forward to trying this one for a while since it's local, not on tap very often at Barrier, and so highly rated, but I have to say I was underwhelmed overall. Not bad by any stretch, but I've had better by Barrier.
★
654 characters
Daddy Warbucks from Barrier Brewing Company
4.24
out of
5
based on
127
ratings.