Messrs Maguire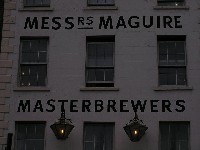 PLACE INFO
Type:
Brewery, Bar, Eatery
1-2 Burg Quay
Dublin
Ireland
+353 (0)1 6705777
// CLOSED //
Notes:
No notes at this time.
Added by stcules
Ratings: 11 | Reviews: 11
Reviews by JohnfromDublin:

3.51
/5
rDev
-6.1%
vibe: 2.5 | quality: 3.5 | service: 3.5 | selection: 4
This is a well located pub just off O'Connell bridge in Dublin city centre. It has a very nice street frontage. Entering by the door nearest the bridge (used by most customers), you have to go down a number of steps and then go back up the same number of steps. Curious!. It also has quite a poor level of lighting as you enter. The interior decoration is that fake old style. It has bare wooden floor boards, very practical. There are a number of floors, and also a cellar (overfow) area.
They have a wide number of taps (for Dublin), catering for those who want the usual brews as well as the option of trying their own brews. This is where the place falls down, in my view. Depending on what part of the bar you approach, you may be unaware that they brew and serve a range of their own decent beers. And the last time I was there; they had promo material left on the tables that stated "Have you tried Bud Light yet?". Make your mind up! Do you want to promote and sell the decent beers brewed on site, or what?
I know that I should like this place, as it is so rare to find brews other than the usual in downtown Dublin, but it could be so much better.
1,161 characters
More User Reviews:

4
/5
rDev
+7%
vibe: 4 | quality: 4 | service: 4 | selection: 4 | food: 4
Visited this on my trip to Dublin.
It's a big bar with several floors and it was pretty crowded on a Wednesday night. There was rugby on the TV and about 12 taps and 2 casks. They had Guinness and BMC stuff alongside their own beers and a decent bottle list as well.
Food was delicious (get the coddle) and the beers were reasonably priced for the city. Most of the beers were decent, but their cask, "Dublin Draught Ale" was fantastic.
The staff was friendly and informative and the food came fairly quickly. There really was nothing to complain about. Overall, this is a nice, quaint brewery in a well-trafficked area. It doesn't quite live up the the standard the Porterhouse sets, but it isn't trying to be the Porterhouse. A great place to bring a date or enjoy a quieter evening.
788 characters
3.5
/5
rDev
-6.4%
vibe: 3.5 | quality: 3.5 | service: 3.5 | selection: 3.5
App: Multifloored with a wooden decor, like many of the pubs in dublin. There's televisions throughout, the one I was watching had the samsung logo float across the screen during the entire soccer game that was on.
Quality: So their beer is better than the swill served in most pubs, but it's nothing amazing. After trying the stout and the red ale both on nitro, I am once again sick of nitro. If they put their beers on cask, I think the quality may go up, but there's no sign of them doing this.
Service: It was fairly empty on the floor I was on and the service was adequate and friendly.
Selection: They have quite a few macros on tap center stage, and 5 of their own beers available, giving a decent selection. Their beers are definitely better than the macro swill available.
785 characters

4.09
/5
rDev
+9.4%
vibe: 4.5 | quality: 4.5 | service: 3 | selection: 4.5
I'm surprised that Messrs M is not rated higher. To me this was the best brewpub in Dublin. Located close to the center of Dublin and walking distance to Trinity college, tourist spots and bit mall shopping area, which is a plus in my book. Not much from the outside, but once inside there is definitely an old school/gothic feel. The stairs were cool, with 5 or so levels. And bar's at each level with access to their beers along with the typical Ireland beer/cider selections. Kind of a loungy feel with random tables and couches on certain levels and some levels with tables for dinning. Different levels would have rooms at diff levels creating a smaller area, which was nice to be able to talk to someone. Very cool vibe.
There really wasn't a waitress, but the place wasn't that busy so we just ordered from the bar each time. The bar tender was not really friendly and was not familiar with the beers beyond the names. Even questions on style, she gave the deer in headlight look.
We sampled five beers total, all brewed in house. A pilsner, a red (more of an Irish Red), a hefeweissen, a stout (closer to a foreign export stout), and a dopplebock. The pils and the red both were noticeably off, specifically the red, but the other three were very good. I found out later that the stout recently won a competition for the best beer in Dublin (take that Guinness!).
We looked a menu but the prices were really expensive. The menu had a variety of traditional Irish food but also some good salads and some American flair as well. Seemed like everyone there was pretty much just drinking so not sure on the portion sizes.
Overall a great place to visit. Good beer options, in where there was very little options for places with selections (unless you like Guinness, Smithwicks and Bulmers).
1,798 characters
3.66
/5
rDev
-2.1%
vibe: 3.5 | quality: 4 | service: 3.5 | selection: 3.5
I think there is only one reason to come to this brewpub and that's for the plain stout.It's the best stout I had in Ireland,a dryish stout with a firm chocolate taste that shows good depth of flavour. If only all Irish stouts tasted this good.
Didn't see any cask brews and the atmosphere was
underwhelming,not even close to that at Porterhouse.
Good central location on Burgh Quay, right by the river. If for no other reason, this is a must visit for the excellent plain stout. It's a very good beer.
505 characters

4
/5
rDev
+7%
vibe: 4 | quality: 3.5 | service: 4.5 | selection: 4.5 | food: 3
Nice place with lounging areas and a relaxed atmosphere. The beers were true to their style and overall they were well done but not outstanding. I had a sampler of their 8 beers--I had to wait an hour because they were cleaning the lines (at 4PM on a Saturday. What are they thinking?) Anyway, the beers were worth the wait. Only 1 was below par. The food was good--a little better than your typical pub food. Service was very good and we enjoyed our visit. Good value for the buck too. I'd go back in heartbeat...next time I'm in the neighborhood.
548 characters
3.35
/5
rDev
-10.4%
vibe: 3 | quality: 4 | service: 2 | selection: 4 | food: 3.5
A nice brewpub in the heart of Dublin. Similar to many pubs in decor, but their brewing makes up for a lot. Damn shame they don't hype their brews a little harder, I think the usual harnwasser collection get more promos than their own brews. Service was nonexistent on a Wednesday noon, we had to truck down to carvery line for food, and for every beer we ordered. Could've sold us a few more beers if it wasn't for having to hike to get each one. Still, this is a nice place among the tourist-centric central district. The beer and food value is only rated reasonable in comparison to the rest of Dublin eateries and pubs. If you're a little put off by those prices, it'll only get worse as you visit other establishments.
723 characters
3.49
/5
rDev
-6.7%
vibe: 3 | quality: 4.5 | service: 2.5 | selection: 3.5
When I got into Dublin, I had to wait for my hostel to open. So I strolled the streets and walked to this place by accident. They brewed their own beer so I was in.
Bellied up and got their stout and their red ale. Both beers were really quite good. The place was fairly empty even though there was some good EPL games on and the people there were sipping tea and eating, even though it was a Saturday afternoon. I might have been the only one drinking their beer at that time.
Service was decent at best. The bartender served me up the beers and didn't say another word to me. Really, he wasn't too nice or friendly. It almost seemed like I was an imposition.
Anyways, they also offered a wit, a weiss, and a pils from what I remember and then the usual Irish stuff. I came back at night and the place was far too crowded, but it is right next to the Temple Bar district.
Great place for drink, and the food did look good, but shotty service and atmosphere imo.
978 characters

3.88
/5
rDev
+3.7%
vibe: 3 | quality: 4 | service: 3.5 | selection: 4.5
As far as Dublin pubs go, this is a standout in that it produces and sells its own (overall pretty decent) beers and also has the same macros sold at every other pub in the country in case you simply must have another Guinness, Bulmers, Carlsberg, or Heineken.
Located in the heart of Dublin, across the Liffey from the O' Connell monument and the bridge of the same name, right near essential but totally tourist swamped Temple Bar. Three stories, with a bar and seating area on every floor and generally a standard issue Irish wooden and brass pub, a little fancier due to location and reputation but not overly chic.
My girlfriend and I went after dinner at 7:30 on a Friday night, our first in Dublin. It was crowded but not packed, and we found a booth on the third floor. Laid back atmosphere, withy lots of nooks and crannies for intimate conversations, if that's your thing.
The beer situation was good. Five house beers,:a stout (Plain), that I found easily the equal of the big names and probably better due to freshness; an Irish red ale (Rusty) with lots of flavor and hop action, a Belgian style (Abbey), a Czech style pilsner (Haus), and a dissappointing Weiss. Abbey and Haus were both unavailable so I had another Plain, which was also excellent.
Generally, this is a keeper in Dublin, especially if you're sick of Guinness. Give it a shot.
1,363 characters

3.84
/5
rDev
+2.7%
vibe: 4 | quality: 3.5 | service: 3.5 | selection: 4.5
When we went to Ireland, we had to wait for our hotel room, so my wife and I ventured out. Within two blocks I saw this place and had to go in, it is very dark inside, darkwood, victorian furniture. The selection was pretty impressive, an irish dry stout, weiss, a red ale, a german pils, american lager, and a bitter. I had a stout, it was very solid beer, very classic in its taste. Overall, if you go to Dublin, I say try this place out. It is something rarely seen in Ireland, a brewpub. Which, there are not many of, due to the Guiness dominance in the country.
566 characters
3.84
/5
rDev
+2.7%
vibe: 4 | quality: 3.5 | service: 4.5 | selection: 3.5
The only other brewpub in Dublin, that I know of, located in the shadows of the O'Connell Street Bridge.
Very classic looking inside.
I only tried a few beers, all quite tasty. On tap they also had the standard Irish variety(Guinness, Smithwicks, Coors Light, Budwieser, Heiniken, Carlsburg and Bulmers, or something to that nature)
The pale ale and the porter were the two I sampled, both solid brews, nothing special, but not bad.
They tend to have sports running on the television, which can be nice.
Also very pricey(like everything in Dublin).
563 characters
Messrs Maguire in Dublin, Ireland
3.76
out of
5
based on
57
ratings.