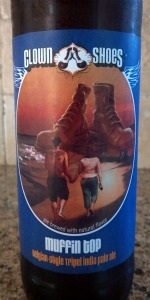 Write a Review
Beer Geek Stats:
| Print Shelf Talker
Style:

ABV:

10%

Score:

86

Avg:

3.84

| pDev:

12.76%

Reviews:

157

Ratings:

From:

Avail:

Retired (no longer brewed)

Wants

Gots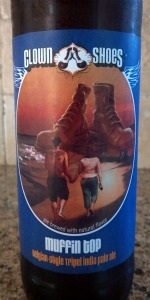 Notes: Muffin Top combines the attributes of a Belgian Tripel with a huge burst of American hops. Intense flavors from the Belgian yeast, reminiscent of candied fruits, mix with the hop bitterness and sweet orange peel to create a unique take on a Belgian-Style ale.
Reviews: 157 | Ratings: 709
4.45
/5
rDev
+15.9%
look: 4.5 | smell: 4.5 | taste: 4.5 | feel: 4 | overall: 4.5
Pours a hazy light orange copper with half inch of off white head.
Oranges, mangos, sweet red fruity belgian yeast, fresh american hops, sweet caramel, tropicals. Alcohol more noticeable in smell after I drank half a glass.
Starts off like a tripel, finishes like an American ipa, and they blend very well in the middle. Tropical flavors mix with belgian flavors and citrus that accompany a bitter that flows into a bitter american hop close. It's like they lined up the perfect array of flavors, show you them in the right order, and end exceptionally. Good description of what you're in for on bottle. It's kind of like candied hops. If there was a hop candy this is what it would taste like. Pineapple, citrus.
Mouthfeel is good, medium bodied, a bit sticky, with some spice. Not excellent, but good carbonation.
Overall this is a tasty beverage. Candy and hops melded into one and pretty big bitterness too.
915 characters
4.03
/5
rDev
+4.9%
look: 4.5 | smell: 4 | taste: 4 | feel: 4 | overall: 4
Poured in to my Portsmouth tulip
A: This beer pours a an interesting orange, amberish color - not like any other beer that I've seen before. A two finger of slightly off white foamy, sudsy head. Head recedes at a moderate pace to a film, leaving wispy lacing left on the glass.
S: Nose is of BIG belgian yeast, cloved spicing, and light citrus notes.
T: Taste starts with a big clove and pepper spicing, the pepper is an underlaying flavor through start to finish. After the spicing notes at the forefront, a strong yeast flavoring comes through the middle. Nice citrus hop flavoring comes in to mingle with the yeast notes. Grapefruit citrus hops mingle with the yeast, before the grapefruit really takes over, with a mixture of slight clove and pepper.
M: Medium body, moderate carbonation, dry at first but then becomes oily with a sticky finish.
O: Goes down easy, quite tasty, somewhat filling, well hidden but big kick, interesting representation of style. This is a very interesting blend of belgian and IPA... enjoyable, but at 10% a bomber will more than do ya!
1,075 characters
3.71
/5
rDev
-3.4%
look: 4.5 | smell: 3.5 | taste: 3.5 | feel: 4 | overall: 4
Picked up a bottle of this at Julio's. Gotta love Clown Shoes artwork...
A - Poured into my Duvel tulip a nice amber almost orange pour with a creamy two finger head that faded to leave really nice side lacing and good halowing/clouding. Nice blanket.
S - Definately a cross between styles. Some swee malts and belgian yeast for tripel aromas. After the tripel come some light belgian IPA notes (grapefruit notes).
T - Similar to the nose there is some nice tripel notes, sweet, light fruit easters and belgian yeast spices, its followed quickly by some slightly bitter citrus hops to round things off. Not exactly a smooth melding, but, interesting and tasty.
M - On the fence with this...3.5...4.0....but well, the carbonation is nice, slightly dry finish. Gave it a 4.0 thanks to how well the 10% ABV is hidden. Its still there of course, just not as prominent as one would think.
O - This is a fairly nice Belgian IPA. Not my favorite from Clown Shoes, and I'm not sure if I'd buy it again. Its a nice mixing of the two styles, and is nicely strong, just doesnt do it for me. I respect the offering though.
1,115 characters
4.47
/5
rDev
+16.4%
look: 4 | smell: 4.5 | taste: 4.5 | feel: 4.5 | overall: 4.5
A: Cloudy orange with a strong white head. Expected this to be more transparent for the style.
S:Lovely! Citrusy hops of an IPA combined with the fruity yeast flavors of a Belgian. Just perfect.
T: Doesn't disappoint. Excellent balance between the two styles. I love this.
M: Didn't this used to be drinkability? Anyway... hides the 10% ABV very well. This is a dangerous brew.
Overall.. I love this beer. I'm drinking it as I type. Wish it wasn't almost gone...
463 characters
4.69
/5
rDev
+22.1%
look: 3.5 | smell: 4.5 | taste: 5 | feel: 5 | overall: 4.5
A: This look of this one was startling, almost off putting. Hazy, murky, thick. Big head though, tons of lace. I think it may have just been extremely fresh and the yeast hadn't settled yet.
S: Boozy, hoppy, orange, citrus, bready, very complex and inviting.
T: Holy crap! I love Clown Shoes beers because of the intensity. This is the most intense of them. MT tastes like an explosion of hops, oranges, and yeast. Unbelieveably complicated and totally delcioous.
M: Thick, oily, rich, complex, mouth stimultating.
O: Wow. Just wow.
536 characters

3.69
/5
rDev
-3.9%
look: 3.5 | smell: 4.5 | taste: 3.5 | feel: 3 | overall: 3.5
Muffin Top's style description sucked me in: "Belgian-Style Tripel India Pale Ale". Is it a Tripel with IPA characteristics? Some sort of Devil Dancer-like Triple IPA? The label and name certainly don't help with this mystery.
What kind of name is Muffin Top anyways? Not an apt one for sure (although I kind of like it as a name in general), because this beer should swap names with Clementine. The first thing this beer tastes like is a pretty good Belgian Tripel. And then it tastes like you just grabbed an orange (or clementine) peel and bit into it. You know what I'm talking about: the blend of sweet/citrusy and sharp bitterness. Odd flavor transition. There's definitely some Belgian spices in here, too, but they are a little difficult to make out with that peel in your face.
The aroma is nice, though. A fairly gentle pour leads to a generous 2 finger head that dissipates a little too quickly. The beer has a medium body and is a little viscous in the mouth.
I don't exactly dislike Muffin Top, but I'm not sure this is a beer I'd reach for again. It was an interesting beer, though, for sure, and masked it's 10% alcohol with ease.
1,150 characters
3.95
/5
rDev
+2.9%
look: 4 | smell: 4 | taste: 4 | feel: 3.5 | overall: 4
Thank you sir!!
Called a Tripel IPA so I categorized it as a Belgian IPA thinking that's the closest to what I get here. Another classic label from Clown Shoes. Some of the best labels out there.
Aggressive three finger head builds in the glass and leaves a off white creamy head. Large bubbles, good retention. Clumpy lacing everywhere.
Aroma is candied sugar and yeast over a bed of citrus. Interesting. At first you get the Belgian influence then the citrus and orange comes in.
Wow, the orange peel really takes a front and center role in the flavor here. Initial sweetness gives way to a sense of the abv. At that moment a torrent of hop bitterness and the oil from the peel makes it's presence known. The after taste is long and pretty nice if you are a fan of the orange peel. Adds an interesting dimension to the hop bitterness. Very perfume like. This will be interesting with some age on it. The more I work through the glass the more I wonder if the bitterness if from hops or peel. Just an interesting flavor combination. Belgian yeast and spice are just below the surface providing some complexity here.
Very light carbonation, fairly thick body. A bit oily on your tongue.
Definitely a beer that packs a punch. One to be sipped and enjoyed. Very interested to see what happens to this over time.
1,320 characters
Muffin Top from Clown Shoes
Beer rating:
86
out of
100
with
709
ratings