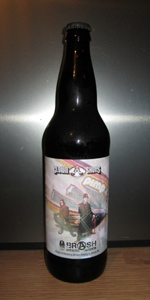 BEER INFO
Brewed by:
Clown Shoes
Massachusetts
,
United States
clownshoesbeer.com
Style:
American Brown Ale
Alcohol by volume (ABV):
10.00%
Availability:
Limited (brewed once)
Notes / Commercial Description:
Got them fancy clothes. Got that big car, suicide doors, 8 track stereo, color TV's. Livin' the American dream, now you've got a brew as smooth as chorus from Al Green. Brash Brewing and Clown Shoes each made a brown ale at Mercury, then blended them. You don't have to have solid gold pants to enjoy... but it helps.
"When life's a bitch, be a pimp"
-unknown
Added by Dope on 05-31-2012
This beer is retired; no longer brewed.
Reviews: 56 | Ratings: 162

4.58
/5
rDev
+15.1%
look: 5 | smell: 4.5 | taste: 4.5 | feel: 5 | overall: 4.5
cloudy brown with hints of ruby red and a thick and foamy tan head that leave sheets of lacing. one of the best looking brown ales I've ever seen.
Smells delicious and roasty with some serious caramel malt notes. A faint brown sugar smell rounds it out with no real scent of hops.
all of that in the taste with a bit of bitter hops.
the mouthfeel is quite smooth and very creamy, slightly dry finish compliments the rest very nicely.
Super drinkable, especially for a 10 percent beer.
Daaaamn!!! one fine beer the folks at clown shoes have cooked up. quite something else subtle yet complex in its own rights and on top of all that, very drinkable.
653 characters

4
/5
rDev
+0.5%
look: 4 | smell: 4 | taste: 4 | feel: 4 | overall: 4
Love the artwork.
Pours a dark brown with a one-finger head into my glass. Darker than I expected from the style but still well within range.
Sweet, lightly boozy malt that has a touch of raisin. I can see that this is a blend of two different brown ales. There may be some chocolate essence as well but nothing too complex.
Very interesting flavors. Sweet, syrupy malt with brown sugar, caramel and raisin characteristics.
This isn't a standard brown ale by any means. The higher ABV does affect the carbonation minimally but otherwise, much what I'd expect out of the style.
I'd recommend this for someone wanting a little more out of their brown ale.
659 characters

4.47
/5
rDev
+12.3%
look: 4 | smell: 4.5 | taste: 4.5 | feel: 4.5 | overall: 4.5
22oz bomber poured into a CCB snifter.
A- Pours an opaque very dark brown almost black with about a half of a finger of mocha brown head that recedes to leaving almost no head. About average carbonation- can see lines of carbonation bubbles lining the glass. Leaves some spotty lacing.
S- Definitely a strong aroma of coffee, malts, and maybe a faint hint of underlying dark fruits and spices.
T- Presence fairly creamy coffee, some nuts, a little bit of toffee, light roasted malts, finished with a lightly sweet tiny bit bitter taste that lingers on the palate for a little while.
M- Medium bodied, average to slightly above average carbonation, very well balanced, abv very well hidden at 10%.
O- This was a very good beer especially for Brash's first offering. I'd definitely rank this near the top on Brown ales I've had. For two different brown ales blended by two different companies (one a start up for that matter), this beer balanced very nicely between the coffee and malty presence. Unfortunately I didn't try Brown Angel before trying this beer, but I'd love to compare the two (supposedly Clown Shoes' beer was just a beefed up Brown Angel). I wish this was a regular offering, however it seems like it is a limited one-time release. Definitely pick some up while you can. Can't wait to try the other Brash brews!
1,332 characters
4.54
/5
rDev
+14.1%
look: 4 | smell: 5 | taste: 4.5 | feel: 4 | overall: 4.5
Pimp!
Bottled 5/2012, so very fresh
Beer was hazy brown, almost murky, but had a good head and left beautiful lacing. Smells of hops, choocolate, fresh bread, really good! Taste is very unusual, a mix of hops and dark malts and dark fruits, very good. The mouthfeel was medium bodied and dry, a really good beer!
314 characters
3.76
/5
rDev
-5.5%
look: 4.5 | smell: 3.5 | taste: 4 | feel: 3.5 | overall: 3.5
Split a 22 oz bottle poured into a duvel glass.
A: pours a dark dark brown/black with a two finger mocha head that dissapates nicley and leavs some beautiful lacing.
S: earthy toasted nutty grain, touch of chocolate and a touch of sweetness. A little dissapointed here after the magnificent appearance.
T: a step up from the nose... The chocolate seems to step out a bit more... The earthy nutty grain is still there and blends nicley with the chocolate notes... The alcohol is non existent here... I was suprised when I checked and saw the 10% abv.
M: on the light side if a medium body... medium carbonation, I'm not gonna lie I wish this brew had a touch more heft and creamyness to it.
O: a good beer, tasty and different, highly drinkable for 10% abv. Overall I think I prefer the original clown shoes double brown a bit more.
837 characters

3.91
/5
rDev
-1.8%
look: 4.5 | smell: 3.5 | taste: 4 | feel: 4 | overall: 4
A: Pours a very dark brown with a big dense dark tan colored head. Fades slowly, leaving a thin but solid wall of lacing behind.
S: Toasted malt with a pretty strong nuttiness to it. Kinda smells like peanut butter on toast funnily enough. I even get some salty pretzel. Pretty subtle given the strength of the brew.
T: Ahhh, now we're talking. Up front, lots of toffee, sharp, almost bitter toasted malt and hints of caramel. Again, there's that pretzel taste. It's almost a little gritty, like it's got ground up pretzels in it. I don't know how to describe it better but that's what I get out of it. Nutty towards the back end, almost like roasted peanuts. Ends with a little bit of earthy bitterness thrown in. Maybe the lightest hints of cocoa in there?
M: Fairly heavy, lower carbonation, a little grainy.
O: Definitely a unique beer. Don't think there exists a brown ale this strong - definitely a "double" brown ale if such a thing were classified. I enjoyed it, if not just for the uniqueness alone. If you like toasted malt and nuts you will like this one.
1,080 characters
Pimp from Clown Shoes
3.98
out of
5
based on
162
ratings.