Porcine Unidragon
| Clown Shoes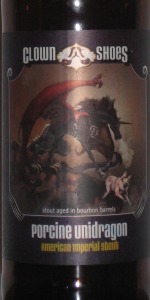 BEER INFO
Brewed by:
Clown Shoes
Massachusetts
,
United States
clownshoesbeer.com
Style:
American Double / Imperial Stout
Alcohol by volume (ABV):
12.50%
Availability:
Limited (brewed once)
Notes / Commercial Description:
This is Blaecorn Unidragon made with Beechwood Smoked malt, which adds a natural meaty note (there is no actual meat in the brew). Aged 100% bourbon barrels. Little piggies run, squeal to the heavens: Clown Shoes wishes you luck.
Added by MasterSki on 10-05-2012
This beer is retired; no longer brewed.
Reviews: 79 | Ratings: 458

4.45
/5
rDev
+9.6%
look: 4.5 | smell: 4.5 | taste: 4.5 | feel: 4 | overall: 4.5
Porcine Unidragon opens to a rich, malty, syrupy, smoky nose that immediately bespeaks a massive brew. Fresh-ground black coffee, ash, tobacco, and healthy doses of smoky peat form an almost solid wall in their potency, bolstered by heavy cream, molasses, brown sugar, toffee, and a touch of vanilla and charcoal from the bourbon barrel aging. Figs, dates, prunes, and black cherries add further nuance to the sugars, accompanied by both milk and dark chocolate. As the bottle sits open for a minute or so, faint smudges of citrusy and piney hops begin to appear and rim the edges. As a whole, the nose is fantastic, offering pretty much everything one could hope for in a barrel-aged Imperial Stout: massive sugars, ash, tobacco, and hints enough of bourbon to please the nose. A slightly larger bourbon presence would have added further pleasure, but this is still an aroma to be reckoned with.
On the tongue, the beer opens with a huge wave of tobacco, ash, coffee grounds, espresso, black malt, smoky peat, and charcoal – it's difficult to imagine more smoke, ash, wood, and char in a beer. These are somewhat tempered by heavy cream, molasses, brown sugar, and a few fruit esters (fig, black cherry, date, prune), but even the massive sugars present in here aren't enough to overcome the ash fugue. Then a shot of pretty much straight bourbon laces the teeth and tongue together, bringing heavy vanilla and charcoal, as well as a strong bourbon alcoholic burn that rises into the nasal cavities. In subsequent sips the bourbon notes somehow increase in potency, almost overly-dominating the flavor profile. The aftertaste is a long-lingering ashy and bourbon-alcoholic reminder of the main notes. Mouthfeel is a surprising medium (though it feels like it should be more viscous, given the flavors), and carbonation is medium.
Overall, this is very good Imperial Stout, and the bourbon barrel aging has added lovely layers of complexity to the base Blaecorn Unidragon. While the bourbon notes aren't as immediately present on the nose, they come out in full force on the tongue, and actually might end up being a bit too strong, overshadowing the stout, which struggles to come through. Which is to say: anyone who is not a fan of bourbon should probably stay away. But lovers of Imperial Stouts will find this a nice addition to their repertoire.
★
2,361 characters

4.05
/5
rDev
-0.2%
look: 4 | smell: 4 | taste: 4 | feel: 4.5 | overall: 4
A: Pitch black pour. Big and very dense mocha-colored head. Fades slowly; excellent retention. Decent amount of lacing left behind.
S: Decent bourbon presence initially. Lots of caramel, toffee and vanilla. Acrid BBQ pit smoke wafts up and mixes in. Just a hint of chocolate to boot.
T: Strong bourbon and smoke up front, mixes together surprisingly well. Fresh and boozy bourbon for sure. Bourbon is quite sweet, lots of caramel and vanilla. Sweet milk chocolate shows up in the middle. It's a touch meaty especially towards the finish. Kinda tastes like well burnt BBQ with all the smokiness in there. Oaky in the lingering finish.
M: Big thick and heavy. Boozy bourbon cuts it a bit but it's got a smooth oily mouth-coating character that won't be denied.
O: A complex stout for sure. Bourbon is quite strong and so is the smoke. Between the two they drown out most of the base stout itself other than a bit of chocolate - otherwise I would be giving this a much higher score. Definitely check this one out if you like bourbon and/or smoke.
★
1,050 characters

4.35
/5
rDev
+7.1%
look: 4 | smell: 4 | taste: 4.5 | feel: 4.5 | overall: 4.5
Bottled on 10/11/12
A: Pours a midnight black with slightly less than a fingers worth of grown head that fizzles out quickly
S: Roasted malts, smoke, chocolate brownies, oak, booze. Smoke is the definite stand-out, which is nice
T: Follows the nose, with a nice salty smokiness, booze, light bourbon, oak, and an inkling of chocolate
M: Full bodied with low-moderate carbonation. Big and thick
O: The beechwood smoked malt adds a great smoke flavor to the base beer, and the bourbon barrels lend some nice bourbon and oak notes. These are both great additions to an already solid base beer. A little pricey at close to $12 for a bomber, but worth it if you like smoked beers and BA stouts
★
693 characters
4.15
/5
rDev
+2.2%
look: 4 | smell: 4 | taste: 4 | feel: 4.5 | overall: 4.5
Poured from a 22oz bottle into a duvel glass ... Bottles on 10/11/12
A: pours black with about half a finger of coffe colored mocha head. Head dissapates quickly and leaves a nice little bit of lacing.... Good looking brew.
S: roasted malts and a bit of chocolate, a slight bit of burbon contributing some notes of vanilla, also a bit of salty smoke, although not as much as I expected, the nose smells nice and well rounded, and surprisingly unboozy considering the strength of this beer. As the beer warms the burbon character really starts to shine through along with the smoke.
T: chocolate and some light smokiness first off, going into a bit of the bacon notes and burbon barrel notes in the middle and on the finish, I'm not sure if I am getting wood notes from the beechwood smoke or if it is from the barrel aging, or possibly both, the burbon contributes some nice vanilla burbon notes that blend wonderfully with the taste profile here. As the beer warms the smokey bacon notes and burbon flavors intensify more and more, along with some mild coffe like notes. this is quite well rounded and tasty.
M: nice creamy heavy mouthfeel, with lower carbonation but just enough to keep it remarkably drinkable for 12.5 abv, have to be careful with this one. Nice aftertaste with a touch of smoke and burbonyness. Really diggin the mouthfeel here.
O: a very good burbon barrel impy stout, with some very nice smoke notes, I like how the smoke is not overbearing and still allows all the other flavors to come through while still adding a nice complexity overall. So far I'd have to say this is my favorite of the stouts I've tried from clown shoes. Dangerously drinkable for the abv and well balance, deffinatly give this one a try if you have the chance.
★
1,764 characters
Porcine Unidragon from Clown Shoes
4.06
out of
5
based on
458
ratings.