Keyte Ostêns Belegeringsbier

Brouwerij Strubbe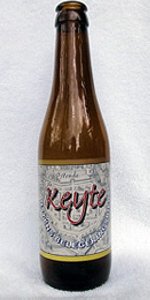 Write a Review
Beer Geek Stats:
| Print Shelf Talker
Style:

ABV:

7.5%

Score:

Avg:

3.59

| pDev:

8.64%

Reviews:

10

Ratings:

From:

Avail:

Year-round

Wants

Gots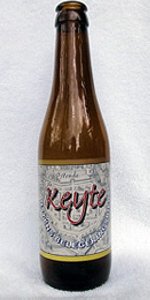 Notes:
Reviews by TheLongBeachBum:
TheLongBeachBum from California
3.53
/5
rDev
-1.7%
look: 4 | smell: 3.5 | taste: 3.5 | feel: 3.5 | overall: 3.5
Presentation: Sampled at 't Kroegske in Ostende (see BeerFly). "Keyte" is a local beer commissioned from Brouwerij Strubbe. Ironically "Keyte" is a 7.5% beer that was launched in 't Kroegske on the 10th of January, 2004, so it was good to sample it here for the first time. "Keyte Ostêns Belegeringsbier" (Ostende Siege Beer) to give its full name, commemorates the 400th anniversary of the siege of Ostend (1601-1604), one of the bloodiest events of the 80 Years' War & described as a 'long carnival of death' for it lasted an amazing 3 years, 2 months & 17 days – the conclusion of some serious fisty-cuffs between the Spain & the Dutch. The word "Keyte" is written in red lettering, this is meant to symbolize the blood of the 100,000+ people that died.
The label seems to have some contradictory information on it. Listed as "Keyte Ostêns Belegeringsbier". The label states that this brew is in fact a 9% Tripel, although listed elsewhere as only 7.5%...I'm not sure which one is correct. 17° Plato and 8-9 EBC. Uses a 90/10% Kent Goldings and Hallertau Hops mix. Served in its own Keyte Glass, which is a large bowl like goblet.
Appearance: Sheer yellow with immense carbonation and a massive white frothy head. Duvelian looks. Sheer lacing remains on the goblet after each mouthful.
Nose: Nice nose, nothing spectacular. Honey laden nose with some soft Candy Sugar notes. Light toasted malts and some yeast in the back end. Űber Blonde nose with some Tripel traits.
Taste: From the get go this has a sweet lightly toasted feel with a sweet center-piece. Some fruits in the middle and watermelon remains in the back end. The nose hints at it, but the taste profile confirms it…..this is more of a Strong Blonde rather than a Tripel. A rather aggressive ending with some high end alcohol and a dry lingering finish.
Mouthfeel: Pretty decent feel start to finish, bold conditioning supports the body. The alcohol is not masked though and can feel a tad naked at times.
Drinkability: A nice brew to wile away the early hours of the morning with. Can be a tad too raw in the longer term though.
Overall: Not that bad, a decent enough Blonde Ale, and one to certainly try whilst in Ostende.
May 09, 2005
More User Reviews:
Crosling from Colorado
3.47
/5
rDev
-3.3%
look: 3.5 | smell: 4 | taste: 3.5 | feel: 3 | overall: 3
Sampled at the Ostend Beer Festival 2004 in Oostende, Belgium.
Urine.
Pleasantly aromatic, notes of caramel, candy, honey-dew, barbeque sauce and cantaloupe.
Confident and lively and very flavorful. Front is dry and fruity (pineapple and melon). Unique in its yeast flavor. Finish is abrasive and alcoholic.
Jul 24, 2004
BuckeyeNation from Iowa
3.58
/5
rDev
-0.3%
look: 4 | smell: 3.5 | taste: 3.5 | feel: 4 | overall: 3.5
Note: since the label on my 750 ml corked-and-caged bottle is identical to the one seen in the picture above, I'm pretty sure this review is in the correct place. Below 'Keyte' are the words 'Blond Tripple Belgian Ale'. The ABV is 7.7%.
Bright honey gold with a barely perceptible yeasty haze. The alabaster colored crown is huge and has the typical Belgian ale look. That is, it's creamy, rocky and sticky at once. The lace display may not be spectacular, but the score is still well-earned.
The various components of the nose need to be both better defined and more aromatic. It's doubtful that the lower than normal ABV has much to do with it, but this ale smells like 'tripel light'. Actually, alcohol is more noticeable than it should be, not less. Golden fruit is barely appreciated and spice only a little more so. Warming helps.
Keyte is an odd sort of tripel that tastes like it was brewed in some parallel universe. It's hard to figure out exactly what's going on with the flavor profile. As in the nose, alcohol is slightly too prominent on the palate. That's partly due to the fact that the malt and hops don't contribute as much flavor as they should.
The beer tastes like unripe pears and lemons soaked in pear brandy, then sprinkled with generous amounts of clove and assorted mystery spices. That sounds better than it tastes. Whenever the words 'phenolic' and 'fusel' come to mind, I know that I'm not dealing with a world-class tripel.
Having said all that, the beer has an odd sort of quirky charm that is tempting me to give it an above average flavor score. Maybe it's the fact this is my favorite Belgian style or maybe it's because I'm drinking it quickly to attempt to unlock its secrets and the buzz is making me more generous. Hard to say.
The mouthfeel, relatively speaking, is wonderful. As is the case with all good Belgian ales, it's both light and voluminously creamy. I love beer that expands in the mouth and feels three-dimensional rather than merely two-dimensional.
Keyte Blond Tripple Belgian Ale isn't especially well-crafted, nor is it scrupulously faithful to the guidelines of the tripel style. However, it comes close enough on both counts to be considered (barely) above average. Bottom line: this is enjoyable enough beer, but it isn't worth $8.79.
Aug 30, 2008
silenius from Illinois
3.01
/5
rDev
-16.2%
look: 4 | smell: 3 | taste: 3 | feel: 2.5 | overall: 3
A good looking beer, but that is where it ends. Pours a nice clear gold with a foamy white head with nice lacing.
Smells are very subdued with only a little fruity sweetness coming through.
Taste is pretty pedestrian with some light sweetness with some spicy character. Tastes like someone watered down a tripel. This beer needs more oomph!
Mouthfeel is a little thin.
Not a bad beer, but not a really good one either.
May 25, 2005
drpimento from Wisconsin
3.5
/5
rDev
-2.5%
look: 3 | smell: 3 | taste: 3.5 | feel: 4 | overall: 4
Eh. Not bad, nothing special. Decent. Good drop. I poured aggresively and got a smallish white head and no lace. Color is a slightly hazy hazy light amber. Aroma is mild malty, slightly hoppy and ok. Flavor is similar. Real easy drinking. Good body and carbonation. Finish is very nice - bittersweet and balanced. Session beer.
Dec 23, 2009

GClarkage from California
4.03
/5
rDev
+12.3%
look: 4.5 | smell: 4 | taste: 4 | feel: 4 | overall: 4
05/25/08- Purchased at City Beer in San Francisco, CA.
Presentation- 750ml bottle, both corked and caged. Poured into my St. Fuellien chalice.
Appearance- Deeper golden colored pour. Full one inch plus head. Leaves very nice lace patchwork and some small chunky head remnents on the sides of the glass.
Smell- Light scent, but nice. White pepper spicyness, corriander and powdered confectioniers sugar. A dash of honey and a bit of bready yeast.
Taste- Has just the right amount of flavor for a tripel of this lower abv. Has a very light metallic note in the beginning, which fades as it warms. Light corriander and a nice touch of candied sugar make for a nice sweet consumption. Minor hoppy taste.
Mouthfeel- Medium carbonation, with a light touch of hoppy bitterness in the aftertaste.
Drinkability- Perfectly fine tripel. It's no Tripel Karmeliet, but a good stand by this would be.
May 26, 2008
wl0307 from England
3.65
/5
rDev
+1.7%
look: 3.5 | smell: 3.5 | taste: 3.5 | feel: 4 | overall: 4
Coming in a 330ml slim brown bottle, with a date printed on the cap "10-08" - presumably expiring in Oct. 2008? Whatever. Served chilled in Hapkin's deep tulip-shaped bowl glass.
A: be it a right or wrong strategy, the beer lands in the glass with plentiful chunks of yeast sediments after a quick, upside-down pour (allegedly the way the Belgians serve their beer?); dark orangey golden in colour, topped with a huge off-white creamy froth with good retention, while the carbonation comes moderate.
S: sour lemony and peary, maybe due to the yeasty chunks... lactose-drink's sourness and an intriguing touch of cotton-flower like flowery essence lag behind. Overall, it's pleasant but not incredibly exciting or too different from other Tripels.
T: a lightly spicy-yeasty foretaste comes with a milder presence of Goldings-like fruity hoppiness; the malts serve pretty much as background-decoration only, alongside crystal sugar and a whiff of floral scent. Clean, crisp, slightly spicy in the finish, but in lack of a crucial input of bitterness or a drier palate.
M&D: the carbonation comes at the semi-high level but full of microscopic fizz, while the palate is consistently clean. All in all, a well-integrated Tripel this is; highly drinkable but not a very complex brew.
Nov 23, 2008
Absumaster from Netherlands
3.73
/5
rDev
+3.9%
look: 4 | smell: 3.5 | taste: 4 | feel: 3.5 | overall: 3.5
A golden beer with lots of carbonation and a big frothy head, that lasts the entire beer.
Smell is fruity with mango and general exotic fruits. Some higher alcohols and solvent notes. Light biscuity and doughy yeast smells and light hops.
Taste is heavy with solvent, banana, mango and higher alcohols. A good tripel yeast. The beer is a little sweet. There are some dough flavors. Alcohol is a bit warming. Body is medium to thin. A nice beer!
Mar 11, 2008
BlackHaddock from England
2.91
/5
rDev
-18.9%
look: 2 | smell: 3.5 | taste: 3 | feel: 2.5 | overall: 2.5
Brown 33cl bottle, best before 02-2010, poured carefully into a Westmalle chalice leaving the sediment in the bottle.
Pale yellow and slightly hazy/cloudy with a small white wisp on top, a poor collar tried to hang onto the glass but failed after about two minutes.
Citrus aromas, grapefruits and lemons, not overly sour but certainly not a sweet smelling beer.
The taste is sour and the two fruits mentioned in the aroma really come to the fore and hit your buds.
Refreshing and sharp, but missing something, no umph or depth. At 7.7% the alcohol is well defind and more noticeable than other Belgian Tripples because of that shallow feel the body has.
Nothing really wrong with the beer, but it could look a bit more appetizing instead of like washing up water!
Jun 13, 2009
jgasparine from Maryland
3.83
/5
rDev
+6.7%
look: 4.5 | smell: 4 | taste: 3.5 | feel: 4 | overall: 4
Served at 't Brugs Beertje, Bruges, Belgium on 3/18/2010.
A- Poured from the bottle with a massive creamy white head, which was well-retained. The body was an aggressively carbonated golden yellow color. Incredible lacing throughout.
S- Smells of grainy malt- like a loaf of multigrain artisanal bread. Lesser impressions of straw, stale hops and Belgian yeast aromatics.
T- The Belgian yeast esters are most dominant on the palate, followed by a crackerlike malt character, impressions of lemon meringue, and some major metallic flavor that gains strength in the finish. The metallic downgrades the 'Taste' score substantially.
M- A big creamy mouthfeel with an abundant, yet non-bloating, soft carbonation.
D- The alcohol is well hidden in this one, but the metallic flavors hurt the drinkability a bit. Still goes-down smooth nonetheless.
Mar 30, 2010



HopBelT from Belgium
3.94
/5
rDev
+9.7%
look: 4 | smell: 3.75 | taste: 4 | feel: 4 | overall: 4
Oct 19, 2015
Keyte Ostêns Belegeringsbier from Brouwerij Strubbe
Beer rating:
84
out of
100
with
13
ratings