FoeHammer
| Roth Brewing Company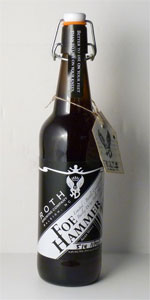 BEER INFO
Brewed by:
Roth Brewing Company
North Carolina
,
United States
Style:
English Barleywine
Alcohol by volume (ABV):
10.50%
Availability:
Rotating
Notes / Commercial Description:
No notes at this time.
Added by atsprings on 06-19-2010
This beer is retired; no longer brewed.
Reviews: 10 | Ratings: 24
3.83
/5
rDev
-4.3%
look: 4 | smell: 3.5 | taste: 4 | feel: 3.5 | overall: 4
Bottle Date: 2/8/2012
Bottle #213
I purchased two bottles at the brewery President's weekend. I had a sample at the brewery and decided to buy some for aging.
I opened the bottle Christmas Eve and poured for friends and family. After the pour, a large slightly brown head formed and this released a nice aroma, but the head dissipated quickly. Nice initial sweetness, very slight hop character. (As is the style) I noticed a slight syrup and raisin flavor. The alcohol was not entirely evident for the ABV. An above average beer and I will try another bottle in after another year of cellaring.
597 characters
3.62
/5
rDev
-9.5%
look: 3.5 | smell: 4 | taste: 3.5 | feel: 3.5 | overall: 3.5
Shared by someone during BRoss242's send-off party before he moves! Will miss you man! Served from bottle into a Mikkeller taster flute. Poured ruby red-orange with a minimal white head. Maintained decent lacing throughout the glass. The aroma was comprised of sweet malt, fruit, sugar, sweet alcohol, and honey. The flavor was of sweet malt, fruit, honey, sweet alcohol, and sugar. It had a light feel on the palate with medium-high carbonation. Overall this was a pretty decent brew. The touch of honey going on in this one was definitely its saving grace. While it had a nice flavor and aroma profile going on it just didn't stand out like I would have liked. The honey did manage to bring it all together, but it was definitely a case of too little, too late. Worth trying at least once if you get the chance, but that is about it.
839 characters

4.17
/5
rDev
+4.3%
look: 3.5 | smell: 4 | taste: 4.5 | feel: 4 | overall: 4
Bottle dated 2/8/12, #412
A: Very dark amber pour with a ridiculously big fluffy and dense tan head. Fades slowly, leaving not even the slightest hint of lacing.
S: Sweet molasses, caramel and toffee. Hints of brown sugar, fig and raisin too.
T: Loaded with fig, molasses, brown sugar and caramel up front. Quite sweet throughout. Toffee and a little bit of earthy and pine bitterness kicks in in the middle to help balance the sweetness a bit. Hints of cocoa mixed in. Finishes with a vanilla and caramel flourish. Surprisingly good.
M: Fairly thick and smooth. Borderline syrupy.
O: Well I wasn't expecting much from a brewery I'd never heard of but this was surprisingly good. Great complexity and balance of flavors really sets this one apart. Only a tiny bit hot for a fresh 10.5% barleywine too.
808 characters
4.17
/5
rDev
+4.3%
look: 3.5 | smell: 4 | taste: 4.5 | feel: 4 | overall: 4
Poured from a bottle into a snifter.
A - Deep brown with a thin white head. Good lacing.
S - Malty, toffee and a number of other aromas I couldn't place. The intesity of the smell reminded me of good coffee (though this had no coffee-like taste).
T - Dark fruits and alcohol. Some serious staying power!
M - Medium. I've only had a few Barlewines but it was spot on with the same feel as others I've tasted.
O - I was surprised how much I enjoyed this drink. Of all of Roth's current line this is the one I've been told to try first. I should have listened sooner!
569 characters

3.83
/5
rDev
-4.3%
look: 4 | smell: 3.5 | taste: 4 | feel: 3.5 | overall: 4
[Best served in a Snifter]
The pour was a cloudy chestnut brown with a huge (3-4 finger) cream colored creamy head that was mostly diminishing and had fair spotty lacing.
The aroma was of a caramel malt and a doughy yeast with notes of dark fruit (plums and raisins), pears, toffee and a strong alcohol tinge.
The taste was malty sweet with a hint of toffee early on and then it became quite flavorful with a good dose of dark fruit and a strong alcohol finish. The flavor lasted a really long time proceeding the swallow, with a good strong fruity alcohol presence left lingering for quite a while.
Mouthfeel was right in the middle of light and medium in body with a nice dry texture and a medium carbonation.
Overall a good strong Barleywine with a nice fruity presence. But as it says on the bottle "Ages Well", I believe this one would only improve with age...
874 characters

4
/5
rDev 0%
look: 4 | smell: 4 | taste: 4 | feel: 4 | overall: 4
I have to say I like this better than the Construct export stout.Poured into an impy nonic a deep rich amber with a thinner but well sustained white head atop,a few broken rings of lace were left behind as it settled.Deeply malty in the nose,dark fruit,caramel,and slight roasted nut, and a tinge of sweet alcohol.Flavors are heavily on the malty side,dark druit dipped in alcohol and brown sugar,a bit of jet fuel alcohol pops out at ya as it warms.I thinks this is a good barleywine,American barleywine not so sure,not much hop presence from my perspective.I like it just know this is big,sweet,and alcoholic.
611 characters
4.2
/5
rDev
+5%
look: 4 | smell: 4 | taste: 4.5 | feel: 4 | overall: 4
On tap at the brewery
Pours a medium brown with a nice lacing of head. Smells of fruit, hops, and alcohol. Taste is smooth and well balanced; not too bitter or too sweet, the alcohol isn't overpowering leaving a nice warm finish. Mouthfeel is full bodied and warm. This would be a great winter beer.
300 characters
4.05
/5
rDev
+1.3%
look: 4 | smell: 4 | taste: 4 | feel: 3.5 | overall: 4.5
This was brought in a growler down to JAX from some friends from NC. The beer was a deep, opaque amber coloring with a slight haze and no head. Smells of dark fruits, including raising, dates, and plums, with some light spices. The beer is slightly sour, with spiced cinnamon flavors and fruity notes. The beer has an overall flavor reminiscent of apple cider. The finish is slightly sweet and sour, but remains smooth. There is a spiced sour aftertaste, and overall the beer is extremely drinkable.
499 characters
4.18
/5
rDev
+4.5%
look: 4 | smell: 3.5 | taste: 4.5 | feel: 4 | overall: 4.5
I just want to start by saying the guys at Roth are cool as hell. This pint had a deep red body topped with a solid head. Topped up to the brim- enough to satisfy any Englishman. Perfect serving tempurature. Despite being continuously hopped, there was only a faint hop aroma - a little piney, a little floral. A faint scent of bread.
This is a perfectly balanced beer. Fairly assertive bitterness, with a kiss of the pine and floral hops. Malt flavors kick in after the initial bitterness, mainly bready with a light touch of caramel. The alcohol remains well hidden. I also noticed some faint banana ester on the back end, but they didn't take away anything from the experience.
This stuff is dangerous. Drinks like an ESB.
728 characters
4.27
/5
rDev
+6.7%
look: 3.5 | smell: 4 | taste: 4.5 | feel: 4 | overall: 4.5
1st pint of this one sold at the Brewery's tap room! Served in a standard pint glass a somewhat crisp dark brown with a thin diminishing head. Aroma is toasted malts in front of subdued hops. The taste is a nice amount of burnt caramel malts in front of pine hops with a nice bitter finish. The beer is slightly heavy, but is still easy to drink, even in a hot crowded tap room on a Summer afternoon, I can't wait to try it in Winter! This is a very respectable 2nd brew, I foresee more goodness from these guys in the future.
526 characters
FoeHammer from Roth Brewing Company
4
out of
5
based on
24
ratings.