Conscription
| Roth Brewing Company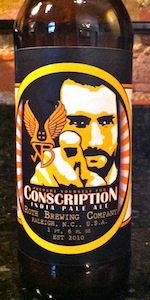 BEER INFO
Brewed by:
Roth Brewing Company
North Carolina
,
United States
Style:
American IPA
Alcohol by volume (ABV):
3.80%
Availability:
Summer
Notes / Commercial Description:
No notes at this time.
Added by blivingston1985 on 04-15-2012
This beer is retired; no longer brewed.
Reviews: 8 | Ratings: 17
3.8
/5
rDev
+27.9%
look: 3 | smell: 3 | taste: 4.5 | feel: 3 | overall: 4
A - Light yellow. Not much head to it (but take that with a grain of salt as it was on tap at a festival).
S - Smell similar to the appearance - light which can lull the drinker into a false sense of security.
T - Strong, bitter hops. In fact somewhat overpowering. Wasn't expecting that but nice for a change!
M - Medium body. What one would expect in the average IPA.
O - Quite impressed. Would have come back for more if I could have gotten through the lines!
466 characters
3.68
/5
rDev
+23.9%
look: 4 | smell: 3.5 | taste: 3.5 | feel: 4 | overall: 4
A bomber bottle from Appalachian Vintners in AVL.
A: The IPA is a golden yellow color, translucent. Plenty of white head comes off of the first pour. Substantial lacing follows.
S: The IPA has a noble hop aroma, think Saaz with a subtle grapefruit finish. Biscuity malts provide counterbalance, the combination of the hop profile and sweet malts very similar to an assertive ale-pilsner hybrid.
T: Soapiness upfront, thank you hops, passes quickly before it can drag the ale down. The hop flavors continue to resemble Saaz, earthy and herbal with a citrusy grapefruit finish. As each sip nears the end, more nondescript hop bitterness crops up, overtaking the delicate start. The hop profile, judging from other reviews, runs the gamut. Looks like my batch was the winner though - I've been drafted.
M: The mouthfeel is hoppy but restrained, the herbal hops never getting too strong. I wasn't expecting to like this as much as I did.
937 characters

3.42
/5
rDev
+15.2%
look: 3.5 | smell: 4 | taste: 3 | feel: 3.5 | overall: 3.5
tap
Pours a deep gold with a white head with decent retention.
Piney hop aroma with some dry assam tea bitterness.
Flavor is of dry hops and barley malt.
Medium body with a soft carbonation.
A pretty good effort from a group of guys who have only been at it for a couple years. I think this is an excellent session candidate. However, it's not any kind of award winner.
374 characters
3.04
/5
rDev
+2.4%
look: 3 | smell: 4 | taste: 2.5 | feel: 3 | overall: 3
Well, it finally happened. The worlds of over the top hoppiness and session/low abv brews have collided, and the result is Conscription. There are really only two numbers you need to know- 3.8% abv and 92 IBUs- that tell most of the story. Pours pale, clear yellow with a huge, fine head. Could be mistaken for a BMC if you weren't in smelling distance, but if you get a whiff you wouldn't make that mistake. Lemon peel and grapefruit hit hard in the nose, and the taste follows. Ultra-bitter, with no malt relief. I've never had anything this bitter without any trace of stickiness or sweetness. Maybe a bit of butteriness comes through, but this is thoroughly dominated by astringent, aggressive hops.
So who drinks this? The calorie-conscious hophead? The reluctant designated driver who needs to keep himself occupied with something flavorful while his buddies get hammered? I'm not sure who the target demo is, but this beer delivers on exactly what it says to be- righteous hoppy bitterness without the buzz.
1,015 characters

2.55
/5
rDev
-14.1%
look: 2.5 | smell: 2.5 | taste: 2.5 | feel: 2 | overall: 3
Fair head with fair retention. Settles to a frothy ring around the glass. Pale malt and light hops in the nose. I sort of like how the hop profile is in almost unbearably equal propotion to the cereal malt flavors. Lacking in the mouthfeel department, but that is to be expected. Finish is nice and bitter, though. And it lasts. Quite sessionable if at the right price.
369 characters
2.55
/5
rDev
-14.1%
look: 3 | smell: 3 | taste: 2 | feel: 3.5 | overall: 2.5
A- Pours a clear straw yellow - lighter in color than most IPA's and almost looking like a BMC beer color wise. But there is a nice 2 fingers of creamy white head that lingers fairly well and also has good lacing.
S- Not too shabby, almost smells like a light wheat IPA in some respects. There is a light floral/grassy presence and not much else. A tiny little bit of malt.
T- Woah pretty harsh. It's a palette wrecker. Very bitter without much malt balance to speak of. Just leaves all of that bitterness on your palette long after the sip. It becomes more bearable after several sips but it's just not overly pleasant.
M- Pretty low body (understandable for such a low malt low ABV beer) and medium carbonation. No real complaints.
O- I think it's tough to review this compared to other IPA's because it's meant to be a highly sessionable light IPA...or so you would assume based on the < 4% ABV. However the super high bitterness/IBU's makes it not sessionable at all. This beer would be far better IMHO with a bunch of extra malts (maybe some crystal malts) to give it more body, sweetness, and balance. I simply can't endorse this and wouldn't get it again.
If you go to Roth go for the FOE Hammer!
1,213 characters

2.54
/5
rDev
-14.5%
look: 3.5 | smell: 2 | taste: 2.5 | feel: 3.5 | overall: 2.5
First off I would dodge the draft before I would wage war on big beer,read the label than you would know what Iam sayin.Poured into an imperial nonic a clear yellow with a nicely formed one finger bone white head atop.Honestly I get nothing aroma wise even after a hard pour and swirl,mild soapiness that's all.Mild medicinal hops on the palate along with some leafiness,92 IBU's seriously?I didn't know what I was buying I admit,Iam trying to supprt local NC brewers,this just isn't very good and I hate to say that because Roth does make some pretty good beers,this is a EPIC fail in my opinion.
597 characters
2.52
/5
rDev
-15.2%
look: 2.5 | smell: 3 | taste: 2 | feel: 3.5 | overall: 2.5
Purchased a bomber at Bruisin Ales in Asheville while on vacation.
Note: When the bomber was first opened a ton of foam came rushing out of the bottle. This bottle had been sitting in a refrigerator for hours prior to being opened so it was shaken up. It took 45 minutes to pour a whole pint. Each soft pour produced a mountain of head.
A - golden straw color; a mountain of loose, bubbly white head with a cap like merange; great retention
S - floral, spicy, earthy, herbal
T - no malt, super bitter, faint citrus, huge spiciness, huge herbal finish, very earthy
M - light to medium bodied, smooth
There is little to no drinkability here. It's far too bitter and harsh and there is absolutely no balance. The palate fatigue is immediate. With a low abv I'm assuming they were going for a session IPA, but they'll have to reconsider the hop character for it to work.
872 characters
Conscription from Roth Brewing Company
2.97
out of
5
based on
17
ratings.