Razzy Xpress
| Twisted Pine Brewing Company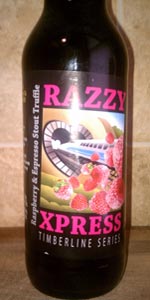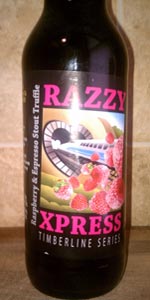 BEER INFO
Brewed by:
Twisted Pine Brewing Company
Colorado
,
United States
twistedpinebrewery.com
Style:
American Stout
Alcohol by volume (ABV):
6.00%
Availability:
Limited (brewed once)
Notes / Commercial Description:
No notes at this time.
Added by emmasdad on 09-20-2010
This beer is retired; no longer brewed.
HISTOGRAM
Ratings: 11 | Reviews: 5
Reviews by dvmin98:

2.17
/5
rDev
-34.2%
look: 3.25 | smell: 2.5 | taste: 2 | feel: 1.75 | overall: 2
On recommendation from Boognoosh23
Bottle bought from Healthy Home Market in Charlotte, NC
A - Very dark; no head whatsoever. What little was there, last for about 15 seconds, and then dissipated.
S - You can smell some of the expresso on the nose, but I really don't smell any of the raspberries
T - Coffee with just a hint of 'raspberry'. Not sure if they were actually raspberries, or what
M - Very thin body for a stout; low carbonation. Not sure I like the combo of thin and low carbonation.
O - I wish Boognoosh23 would have stolen my bottle. Not recommended. I will pass on this one from now on. Haven't finished, but I think this is a drainpour.
660 characters
More User Reviews:


2.55
/5
rDev
-22.7%
look: 3 | smell: 3 | taste: 2.5 | feel: 1.5 | overall: 2.5
Reviewed from notes. Poured from the bottle to the snifter. Inky brown with a 1/2 finger of head that quickly dissipates, leaving some light lacing up the sides. Strong raspberry aroma, almost smells like an extract. Really sets you up for a big berry taste....which is totally absent in this one. This was all bitter chocolate, coffee, and malt. Finish is extremely dry. Mouthfeel was off, way too thin for a stout.
416 characters
3.45
/5
rDev
+4.5%
A: Pours a clear but opaque jet black in color with light to moderate gentle visible carbonation rising slowly along the edges of the glass and hint of dark cola brown + crimson red highlights. The beer has a two finger tall fizzy foamy dark tan head that reduces to a very thick film covering the entire surface of the beer with a thick ring at the edges of the glass. Light amounts of lacing are observed.
S: Moderate aromas of slightly artificial raspberry (kind of like black raspberry ice cream) over the top of light aromas of roasted malts and coffee.
T: Upfront there is a light to moderate flavor of dark roasted malts and just a hint of freshly brewed coffee. That is followed by a hint of tart raspberry. Finally, about 30 seconds after finishing the sip...there is a moderate to heavy flavor of artificial raspberry which lingers for a while. Hints of chocolate in the finish as well.
M: Light to medium bodied with moderate to heavy amounts of carbonation.
O: Not as bad as I expected based on the couple of reviews I noticed after @metter98 purchased this one when visiting NC. I wish the raspberry flavor was more natural but it was pretty enjoyable and light in body.
1,187 characters
3.67
/5
rDev
+11.2%
look: 3.5 | smell: 4 | taste: 3.5 | feel: 4 | overall: 3.5
Had this one on tap at the brewery and decided to give it a shot, despite not enjoying it in the bottle. Poured black, with a little brown head. Aromas of roasted malt, light raspberry and espresso. Medium bodied on the palate, with raspberry, coffee and roasted malt. Better than the bottle.
292 characters


1.48
/5
rDev
-55.2%
look: 2 | smell: 1.5 | taste: 1.5 | feel: 2 | overall: 1
22oz Bomber poured into a Snifter
I bought this bottle solely because the label would appeal to a friend of mine ... one who has been prominently featured on lookatthat****inghipster and brooklyn vegan. I then promptly took a picture and uploaded it to BeerAdvocate where it will be saved hopefully for posterity, and my children.
Yes there is a bullet train going into a heart-shaped tunnel. Yes there are flying raspberries. Yes those raspberries were hastily blurred in photoshop in a futile attempt to give the impression of berries moving at great speed. Yes this is possibly the greatest label in the history of ... labels. Thank you Twisted Pine. Thank You.
Now on to the beer ...
L: Deep muddy brown with nearly no head. Looks dead, like pond-water.
S: Smells like watered down gas-station lady-coffee left on the burner for 3-days. Just terrible watered down coffee, with a hint of freeze-dried and re-concentrated raspberries.
T: No. I know the guidelines ask me to give more of a reason than just ... No, and so I'll try to describe the taste. It tastes like it smells ... watery, burnt, similar to drip coffee making a trip through the grind for the 3rd or 4th time. The raspberries taste like a non-fresh afterthought, hastily thrown on top in a futile attempt at salvaging a watery, burnt coffee stout. None of the too-many components to the flavor profile were executed well, and none is strong enough to over-power the others. For how much is supposed going on here, it's a weak beer.
F: Feels like it looks, like tepid pond water ... only more dead.
D: No. It's just not drinkable, even for how watered down it is, it still offends completely.
1,668 characters
Razzy Xpress from Twisted Pine Brewing Company
Beer rating:
3.3
out of
5
with
11
ratings