Ghost Face Killah
| Twisted Pine Brewing Company
BA SCORE
72
okay
182
Reviews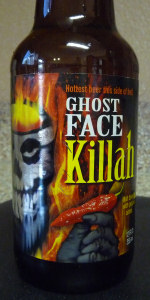 BEER INFO
Brewed by:
Twisted Pine Brewing Company
Colorado
,
United States
twistedpinebrewery.com
Style:
Chile Beer
Alcohol by volume (ABV):
5.00%
Availability:
Spring
Notes / Commercial Description:
Made with 6 chiles including Anaheim, Fresno, jalapeño, serrano, habenero, and ghost chile.
Added by Todd on 01-11-2011
Reviews: 182 | Ratings: 583
4.37
/5
rDev
+41.4%
look: 4 | smell: 4.5 | taste: 4.5 | feel: 4.5 | overall: 4
I'm giving this beer such good ratings for it's style. I've had other chili beers and this one tops the chart.
appearance - hazy yellow orange, simple but pretty. no head whatsoever
smell - chili, pepper, hot (not from alcohol), a little onion (maybe i just relate the two)
taste - the same, spicy lil guy but not overwhelming so, interesting one to pair up chips and salsa with this guy, or burritos, enchiladas, tamales, oh the options...interesting
mouthfeel - sort of obvious from the taste
498 characters
3.5
/5
rDev
+13.3%
look: 3.5 | smell: 3.5 | taste: 3.5 | feel: 3.5 | overall: 3.5
After reading the other reviews, I am wondering if my buddy and I got "dud" bottles...
Pours out a good golden color, with not much head or lacing. The smell of the grains is there, as well as that of peppers, threatening to bring the heat. Finishes crisp with a decent taste and far less heat than either of us were expecting. It was honestly a little disappointing after seeing all the build up. Tastes good, finishes crisp, but the ones we got were absolutely no where near the heat Billie's Chilis has. Works ok for the style though.
EDIT/UPDATE: Tried another bottle....was still not impressed.
601 characters
3.88
/5
rDev
+25.6%
look: 3 | smell: 2.5 | taste: 4 | feel: 5 | overall: 5
Thanks to Boatshoes for this bottle. I received this along side Billy's Chilies, which I thought was pretty interesting and quite good. I've been excited for this one. I put on "Fishscale" by Ghostface Killah for the occasion. Let's try the ramped up version.
Appearance
As Tony Starks takes me deep into the 36 chambers of Wu, I pour the beer into a Mikkeller wine-style glass. GFK is lot like Billy's, not much to look at. A short, white head fades quickly with barely a trace. At least Ghost Face has nice clarity and great color, a rich amber.
Aroma
Much like Billy's this one is extremely vegetal on the nose. Fresh cut peppers are coming through very strongly but there is a smell of steamed peas and lima beans. The peas somehow overpower the chili peppers. There is almost nothing in the way of malts and hops.
Taste
WOAH, like a ton of bricks the jalokia peppers decimate the palate. The heat is apparent right away, but once you swallow you don't know what hit you. Its intense, piquant, persistent and...AWESOME. But this heat isn't really much of a flavor, although it does carry a really nice red pepper calling card. In actuality the flavors are minimal, it really just tastes like some bogus lager-like creation that got all messed up and turned all vegetal. The aftertaste is quite the spectacle though. Curry, jerk, crush and dried red peppers. Niiice.
Mouthfeel
Here's where I count out the rest of the heat these peppers dole out. Simply put, this is THE hottest, most chili-forward beer out there. It HAS to be. My lips are burning, my tongue is burning and my throat is really burning all the way down into my chest. Take care with this one, I'd hate to get it in my eyes.
The beer is low carbonated, medium bodied and slick. Its kinda gross if it weren't for the heat.
Overall
Amazing. I have very little experience with the Ghost Chili, but this actually has me even more scared of it. If Jolokia can transfer this much pepper heat into a beer, the real thing must be deadly.
2,008 characters
3.32
/5
rDev
+7.4%
look: 3 | smell: 3.5 | taste: 3.5 | feel: 3 | overall: 3
Jumping jezuz, this thing ain't lying!
Pours a clear, slightly light golden color. No head. Looking back, no foam could develop with this much fire.
Aroma is more of an anaheim chili, or pablano pepper, doesn't seem hot..unless you think about it. Yes, I can tell this will be hot. The aroma lies a bit, but underneath it's a burner.
Flavor is chili pepper. Green chili pepper at first. But hey, you won't get more of that, or remember it, because the heat hits. Mostly at the back of the throat, but if you swirl the your mouth will catch fire. Cripes....hot!
Although not too hot. The slight smoke and the chili skin flavors really present a nice Catch 22: do I keep drinking it, cuz it's tempting me?
Mouthfeel: well, it's hot. Not filmy or cleansing. Hot
Good beer for those who like spice, or for a good red-beer.
823 characters

4.49
/5
rDev
+45.3%
look: 3 | smell: 4 | taste: 5 | feel: 4.5 | overall: 4.5
Preface - I always rate brews to style...
A - Very average. No head. or lacing. Very golden *slightly* murky clear color. Great bubbles.
S - Hot! Spicy and Round! Strong pepper scent. Slight wood smell too. There's not too many other scents besides Chilies.
T - Sweet JEEZSUS! Strong pepper taste! Not nearly as much heat as I thought there would be... But, very spicy nonetheless.
M - Great carbonation; perfect for the style! Heavy bodied and very wet tasting. A very complete brew.
O - Perfect for the style, not much was missed. Would be an awesome brew for a BBQ, or to sneak up on your friends with.... Very unique and delicious. I couldn't drink a whole lot of this one... But, good while it lasts, great to split with a friend, or two, or three...
Cheers!
770 characters
4.17
/5
rDev
+35%
look: 3.5 | smell: 4 | taste: 4.5 | feel: 4 | overall: 4
After sharing a bottle of this one with schmittymack and my wife at the brewery late yesterday morning (after the burn in my nose had subsided), I decided to drink a bottle last night. Like Dan mentioned, glad I have more.
Poured a light straw color with a very smallish white head. This beer is essentially Billies Chiles, "dry-hopped" with ghost chiles. Nice smokey aromas, roasted hatch chiles and light straw. On the palate, this one is very light and drinkable, with flavors of smoke, fresh chiles and roasted hatch chiles, with some slowly building heat on the back of the throat. Not nearly as hot as I was led to believe, but a very well balanced and drinkable chili beer.
681 characters
3.87
/5
rDev
+25.2%
look: 3 | smell: 3.5 | taste: 4.5 | feel: 3.5 | overall: 3.5
Got this at the release today, 5 May 11. Poured from a twelve ounce bottle into a small taster glass at the brewery. Poured a light, straw-like color with a small head and very little lacing. Aroma of sweeter malt, wheat, and chiles. Had to laugh when Dan tried to inhale too much to get the aroma and got a noseful of it--heat definitely got to him! Taste was pretty good: malt, a little wheat bread or biscut, and heat/chile. Mouthfeel was decent: less heat than I was expecting, though definitely hotter than any other chile beer I'd had prior to this one. Not too bad at all; glad I have more than one bottle left.
EDIT: After having a full bottle last night, I'd have to say that this is a tasty brew and have changed my rating a bit.
740 characters
Ghost Face Killah from Twisted Pine Brewing Company
3.09
out of
5
based on
583
ratings.