Ilona's Garden Cafe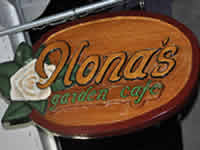 PLACE INFO
Type:
Bar, Eatery
416 Applerouth Ln
Key West
,
Florida
, 33040-6535
United States
(305) 517-6865
// CLOSED //
Notes:
No notes at this time.
Added by floydcw on 06-12-2010
Ratings: 7 | Reviews: 7
Reviews by OWSLEY069:

4.64
/5
rDev
-1.7%
vibe: 4.5 | quality: 4.5 | service: 5 | selection: 4.5
Happened into this place by accident, but knew the name because of Beerfly. Got there after their dinner service, but just looking for a drink. Had six taps all craft, with a cooler full of craft and import bottles. Jack, the owner, was the bartender, was really into the craft beer scene. We also met Ilona, she came back and we talked food, but I never tried anything, but next time I will. I really found out about little restaurants and local things to do. Great conversations! A really nice place, great people, good beer. A must stop in Key West!
P.S. Jack, thanks for the shot!
585 characters
More User Reviews:
4.75
/5
rDev
+0.6%
vibe: 5 | quality: 5 | service: 5 | selection: 4 | food: 5
Not really a beer bar per se, but they have an excellent selection of very good microbrews. The atmosphere of Ilona's is the same as every other other restaurant in Key West. Half of the restaurant is inside and the rest outside under a canopy. The staff is very informative and helpful in all your selections from food to beer. But let me add, having the owners cooking and making beer choices for you (Jack & Ilona), it's one of the things I enjoy about going there.
As for food everything I've had is great. From the Hungarian nachos to a platter of pierogies. Did I mention this is Hungarian food. But, this is also a place for BEERS! Jack works the bar and has 6 taps and a refrigerator full of bottled microbrews. He's knowledgeable with his beer choices and helps pair them with your food choices. The bar area though is small (9 stools) and you can smoke at the bar. "And everybody at the bar smokes". Only bad knock on the place.
We always make it when in Key West. I prefer that its off the beaten track and hard to find. Either way just go, it's a fun place with good food and a beer selection to make you happy.
1,126 characters
5
/5
rDev
+5.9%
vibe: 5 | quality: 5 | service: 5 | selection: 5 | food: 5
We knew nothing about Ilona's other than it got rave reviews here. Being huge beer lovers on a desperate search for "good beer" in Key West, we decided to give it a shot. All I can say is RUN, don't walk, to Ilona's.
Located in a back alley between Duval and Whitehead, Ilona's is truly a hidden gem of Key West. Owners Jack and Ilona (the best host and hostess in Key West) rehabbed the building and it it gorgeous. Outdoor seating hosts dining under an enormous Banyan tree. Indoor seating is cozy and romantic. They have a great outdoor bar where you can enjoy a beer. And when I say "beer", I mean the great selection of the craft beer you've been looking for.
If you love beer Ilona's offers a fantastic selection of craft beer that owner Jack rotates out regularly. During our visit, he offered Avery White Rascal (one of my faves), Holy Mackerel's Panic Attack (10% ABV Belgian), Well's Banana Bread, Full Sail IPA and about 30 others. There is always something new in bottles and on tap so check back often.
I'll be honest. At first I thought "Hungarian food? In Key West?" YES! It was surprising how well the amazingly delicious food paired with the beer. We started the evening with Hungarian Nachos (WHAT?) which were superb. Fluffy french fries smothered in spiced pork - really, really good. The entree menu offers a delightful variety of traditional Hungarian dishes and none of us could decide on just one. So Jack offered up a platter of three dishes with a side of homemade dumplings. We enjoyed Chicken Paprikash (my friend Gregg says its the best Paprikash he's ever had), Beef Goulash (tender beef cubes with Hungarian spices) and Transylvanian Cabbage (pork cubes smothered in sauerkraut, onions, spices - AMAZING!) My Avery White Rascal wheat beer paired perfectly with everything. And the generous portions will fill you up in no time.
For those of you thinking that this must had cost a fortune - it didn't. This is probably the most reasonably priced "fine dining" experience that you will have in Key West.
Our time at Ilona's was complimented by the live entertainment of Dave Bootle. Supported by his keyboard and drum machine, Dave is talented, fun and hilarious.
I really can't say enough about Ilona's. It was truly a Key West night that's going to be hard to top.
2,301 characters
4.63
/5
rDev
-1.9%
vibe: 4.5 | quality: 4.5 | service: 5 | selection: 4.5 | food: 4.5
What can I say about Ilona's Garden? I enjoyed it through and through. From the warm greeting, to the comfy courtyard, to the great support of craft beer, to the great unique food offerings. This was everything we could ask for in Key West.
As you will quickly find out, Jack is a great guy. He is enthusiastic and knowledgeable about beer. Draft beers represent several styles, and newcomers were often encouraged to sample before committing to a glass. My kind of place.
Beer prices are fantastic. Walking around Key West, you may get the impression nothing but BMC is sold here, but this was the rare exception. Not only do they deliver on great beers, the prices are geared to make better beer accessible to more people. Any number of beers one the list were cheaper than they would be in my hometown...and this is an island!
In the charming courtyard a jazz number was performing one night, very tastefully. I remember some sort of music the second night....faintly. There were also a handful of tables available indoors for dining.
A great feature was the use of crowd-supported jukebox, powered via youtube. Theres a flatscreen behind the bar, and patrons are given fair chance to get their preferred tunes tuned in. Very cool.
TLDR: Warm hospitality, great beer at a great value, very tasty food, and just steps off Duval. Go here. Enjoy.
1,354 characters
4.78
/5
rDev
+1.3%
vibe: 4.5 | quality: 5 | service: 5 | selection: 4.5 | food: 4.5
Wonderful place for a couple or for friends; for a meal or a drink!
Ilona's is a fairly small and intimate indoor/outdoor restaurant tucked away off a side street between Duval and Whitehead and Southard and Fleming.
The small but serviceable bar itself is almost - but not quite - "on the street." Good for people watching or for watching sports or just hanging and conversing. The outdoor dining area is "ally-like" and quite romantic while the indoor air-conditioned seating area is casual upscale.
Ilona is Hungarian and so is the tasty, authentic, homestyle cooking. Jack - Ilona's boyfriend and co-owner - is the host and sometimes server as well as the beer and wine guy. He knows what he's doing and is attempting - successfully - to create a unique Key West spot in terms of the wines and beers served.
You can't go wrong stopping by this place. Even if you don't go for a full dinner, beers or wine at the bar with a few "snacks" will no doubt entice you to stay for dinner or else plan a return trip so as to enjoy dinner on another night.
1,054 characters
4.58
/5
rDev
-3%
vibe: 4.5 | quality: 4.5 | service: 5 | selection: 4.5 | food: 4
This place is for beer nerds alike! I was with my buddy Shareanevda on the hunt for a tasty brew. I walked into this place, and its a low lighted location in the alley. The owner Jack greeted us and we got to talking. This bar has 6 great taps that are improving weekly. His bottle selection was really good, He had Victory, Oscar Blues, Dogfish head, Terrapin, and Cigar City to name a few. We ended up coming the next night for round two and we brought him a Cigar City beer to drink. TIP: Get on the owners good side, bring him brews he doesn't often get you might find yourself leaving without breaking your bankroll. The food there is also excellent. I strongly recommend having the Hungarian Nachos. Very good and affodable! TIP 2: If your going to Fantasy Fest 2010 he told me he is featuring a few kegs of Cigar City on tap! Cheers and Enjoy!
850 characters
4.63
/5
rDev
-1.9%
vibe: 4.5 | quality: 4.5 | service: 5 | selection: 4.5 | food: 4.5
This is a MUST DRINK place half a block off Duval. The owners are very friendly and this is a local beer bar. It's Key West so a real treasure to find some unlikely craft beer. Solid six on tap including the Florida Beer Jai Aliai by Cigar City, a favorite. Impressive bottle selection, including Canadian "Terrible" which the owner cracked open to share with us. What's an experience like this worth in Paradise? Stop in for the surprise of your life in a sea of yellow fizzy beers. I recommend the Brie appetizer. Their wine choices, of which there are TWO, yes two, remember you are there for the beer and will be glad you came. Your bill will be less than anywhere in Key West, if not I'll come down and but you one. Slip your sunburned buns in to be treated like a local by Jack and his lovely wife Ilona, tell them Pete sent ya!
834 characters
Ilona's Garden Cafe in Key West, FL
4.72
out of
5
based on
7
ratings.