Barrel-Aged Project Brew No. 1 - Jenever
| Brouwerij Hof Ten Dormaal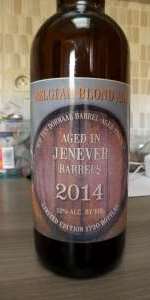 BEER INFO
Brewed by:
Brouwerij Hof Ten Dormaal
Belgium
hoftendormaal.com
Style:
Belgian Strong Pale Ale
Alcohol by volume (ABV):
12.00%
Availability:
Limited (brewed once)
Notes / Commercial Description:
No notes at this time.
Added by MasterSki on 08-07-2012
This beer is retired; no longer brewed.
Reviews: 6 | Ratings: 20

3.68
/5
rDev
+6.7%
look: 3.5 | smell: 3.5 | taste: 3.75 | feel: 3.75 | overall: 3.75
Very pretty golden color with a hint of copper glow.
Aromas of lemon zest, sour patch kids, fresh herbs, lees, sourdough bread, caramel and candy corns.
Flavors mirror the aroma; lots of citrus rinds, sour candy, lees, bread yeast, caramel, vanilla sugar, dry vermouth and candy apple.
I detracted some points from the harshness of the high alcohol, which is not integrated into the beer well. You cannot smell alcohol, but you can certainly sense it here.
A solid offering that I would pass on again if had the opportunity. But, this put me on to a new brewery I was not familiar with beforehand, so I enjoy the experience.
625 characters
3.2
/5
rDev
-7.2%
Always deceptive, the Belgian stronger, golden ale seems innocent enough in appearance and bubbly fruit-forward portrayal. But its sneaky strength links up the jenever barrel with seamless complexity and powerful palate.
With the spicy tingle of booze and the lightly syrup sweetness dueling out on the early tastebuds, the honey-tinged beer pours with swirling lace and legs before falling still shortly after a burst of champagne-like effervescence.
Its decadent sweetness seeps deeply in to the tongue, carried by savory alcohol spiciness. Its peppery pang balances the candied and honey-dipped malt across the middle with a deeply engrained vinous flavor offering support. Apple, pear, orange and grape all take on the "drunken" booze-soaked variety.
Intensifying spice numbs the palate with its fusel flavors and textures, lightening the body by thinning its sugars. Playful vinous acidity also breaks up the malt and gives a dry texture to the otherwise cloying ale. Its an ale that's best reserved to finish rich dinner sessions, and accompanied with fruit and strong abbey wash-rind cheese instead of dessert.
1,120 characters

3.47
/5
rDev
+0.6%
look: 4.25 | smell: 3.5 | taste: 3.25 | feel: 3.75 | overall: 3.5
Bottle from West Lakeview Liquors. Served in a taster glass.
A - Big white foam settles to a near-complete cap, thick collar, and splotches of lace. Hazy amber-peach body.
S - Smells like a very malty, Belgian strong ale, with a small amount of estery yeast, faint vanilla, and a hint of juniper from the Jenever barrel. The spirit character intensifies a bit as the beer warms up, but there's actually less botanicals here than in a lot of Belgian beers that aren't aged in barrels. Alcohol is well-hidden.
T - The taste is also quite heavy on sweet candi sugar, fruity yeast, a bit of phenolic spice, and light oak. Jenever is even less present than in the aroma. Marmalade malt sweetness dominates, and this gets a bit cloying over time.
M - Medium-full body, lower carbonation, lightly dry and grainy texture, with some light lingering stickiness. Some definite alcohol warmth, particularly when warm.
D - This reminds me a bit of the Sauternes version in the barrel-beer balance, but with a tad more juniper and less vinous character. I appreciate the restraint in the spirit character, as I think too much Jenever would have been even less desirable. Surprisingly drinkable for a 12%, but not a particularly good one. No brett; this one isn't infected.
1,263 characters
3.58
/5
rDev
+3.8%
look: 3.75 | smell: 3.75 | taste: 3.25 | feel: 4 | overall: 3.75
Served in a 750ml bottle. Belgian fruit & nut flavor on the front end with a subtle sweetness leading to hints of the Jenever (Belgian Gin). Nose not very strong. Finish leads to a strange flavor of dry gin. Was not pleased with the finish. It leaves a dry taste like I just ate a nut. Conisistent with the flavor profile of many barrel aged (non sour) beers. It's not a beer for the sour enthusiast but those that enjoy the barrel aged flavor could endure the gin taste and possibly rate this higher than me.
509 characters

2.44
/5
rDev
-29.3%
look: 4 | smell: 2.5 | taste: 2 | feel: 4 | overall: 2
750ml bottle shipped from Belgium, split 6 ways. Thanks to kscaldef for ordering these.
A: Thick off creme head. Cloudy copper.
N: I swear this smells like bad tomato sauce. A wisp of sharp ethanol.
T: More tomato paste. The sweet bready maltiness of the Belgian pale. Caramel, toffee. Lots of alcohol.
M: Medium and fluffy.
O: Not a fantastic thorough review for a beer that's pretty mediocre and not tasty. Like spaghetti-o's.
Edited to reflect that these are a far cry from mediocrity.
499 characters

3.75
/5
rDev
+8.7%
look: 3.5 | smell: 3.5 | taste: 4 | feel: 4 | overall: 3.5
Picked this up at my favorite beer store in Belgium, Dranken Geers. Hazy copper-amber pour with a one finger off-white head with good retention and great lacing. Sweet, fruity, woody nose with hints of pears,caramel, oak, and good amount of booze. The taste follows suit with hints of peach, pear, vanilla, caramel, oak, tea, plums, and gin. The Jenever emerges even more as it warms. The mouthfeel is medium bodied and slightly fizzy and syrupy with a spicy, tangy, and boozy alcohol warming finish. Can't wait to taste the other 7 in the series!
547 characters
Barrel-Aged Project Brew No. 1 - Jenever from Brouwerij Hof Ten Dormaal
3.45
out of
5
based on
20
ratings.