Dismiss Notice
Extreme Beer Fest:Los Angeles
Join us December 9th in Los Angeles for the ultimate throwdown of craft beer creativity!
Learn more...
Dismiss Notice
Sainte Source Stout
| Brasseurs De La Mauricie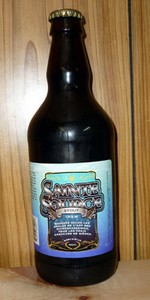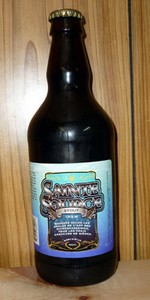 BEER INFO
Brewed by:
Brasseurs De La Mauricie
Quebec
,
Canada
brasseursmauricie.com
Style:
American Stout
Alcohol by volume (ABV):
5.50%
Availability:
Year-round
Notes / Commercial Description:
No notes at this time.
Added by Thorpe429 on 09-20-2009
This beer is retired; no longer brewed.
HISTOGRAM
Ratings: 13 | Reviews: 13
Reviews by ucusty:
3.6
/5
rDev
-5.3%
look: 3.5 | smell: 3.5 | taste: 3.5 | feel: 3.5 | overall: 4
Thanks to CaptanCougar for this one! RateBrackets 2010 Dark pour with a thin beige head. Aroma is roasty with subtle hint of cocoa. Creamy mouth-feel. Flavor is much of the same maybe some coffee and chalk. Crisp clean finish. Ends rather abruptly and the body was a little thin.
279 characters
More User Reviews:
3.45
/5
rDev
-9.2%
look: 3.5 | smell: 3.5 | taste: 3.5 | feel: 3 | overall: 3.5
Had to check this out. It seems to have won a gold medal at last year's Mondial in Montreal. I tried maybe 20-30 beers there that year but missed this one.
Pours with a thin blanket of mocha head, fading to a ring around the glass. Black, opaque body. Not much retention or lacing. Some sediment at the bottom of the glass.
Interesting smell for a stout. It smells a lot like Shredded Wheat cereal. Very wheaty (moreso than any stout I've had), with some smoke, dark malt and hints of dark chocolate and molasses. Not enough presence after the head disappears.
On the light side flavour-wise but not too bad. Some roasted malt, light chocolate and minerals (including a slight saltiness) and alcohol, surprisingly (at. 5.5%), although it's not a bad thing...adding the only interesting aspect to this pretty bland stout. Faint hops on the finish. There's nothing wrong with it but nothing outstanding either. This won a gold medal?
I don't know what to make of this feel. It seems like every sip foams up in your mouth. Medium body with a pretty high carbonation for a stout. I don't think I'm really into the carbonation actually. The bottle says it's re-fermented in the bottle, which is strange for a stout. Maybe that has something to do with it.
There's not necessarily anything wrong with it, it's just pretty boring. Drinkable but not something I'll be buying again. Why did the Mondial award this with a gold medal? That's pretty much the only reason I was interested in this one but it doesn't live up to any kind of gold standard. The gold medal is misleading. Average at best.
1,597 characters
3.85
/5
rDev
+1.3%
look: 4 | smell: 4 | taste: 4 | feel: 3.5 | overall: 3.5
Thanks to Deuane for sharing this stout. Never heard of Brasseurs de la Mauricie before.
A: The stout is appropriately dark, black with a tan head.
S: The nose is dark, roasted thoroughly, but has plenty of graham, chocolate and even java waiting in the wings. For such a small beer, the aroma contentedly runs the gamut.
T: Chewy, the stout brings both bold and mild flavors to the table. Bold comes in the form of dark roasted malts. Mild is a little more varied, coming via graham, toffee, caramel, chocolate, and even smoke. The stout has a powdery feel that accentuates the cocoa and graham aspects. A good start to the day.
M: The stout revels in its mildness, offering up plenty of flavors. The graham and toffee are stand-outs in my book.
750 characters
3.7
/5
rDev
-2.6%
look: 3.5 | smell: 3.5 | taste: 4 | feel: 3.5 | overall: 3.5
Bottle: Poured a black color stout with a large enough off-white foamy head with good retention and some lacing. Aroma of light black chocolate with light fructose notes is quite enjoyable. Taste is also a nice enough mix between some light dry roasted malt notes with some traces of black chocolate and a light fructose finish. Easily drinkable with enough character. Body is on average for style with good carbonation.
420 characters

3.57
/5
rDev
-6.1%
look: 3.5 | smell: 4 | taste: 3.5 | feel: 3 | overall: 3.5
This beer as won the gold medal at the 2009's Mondial in Montréal. I wouldn't consider this a Russian Imperial Stout. This is more in line with the American Stout. ABV is 5.5% on my bottle.
A: Dark black. Head is made of big bubbles that disappear quickly.
S: Chocolate. Coffee grains.
T: Dark Chocolate with a nice bitter finish. The bitterness is similar to what we found in dark chocolate.
M: Lots of carbonation in the mouth which is bad for stout IMO. The beer doesn't feel as creamy as it should too. It isn't bad either.
D: Well, not my go to stout... however I wouldn't turn one down.
594 characters

4.32
/5
rDev
+13.7%
look: 4 | smell: 4.5 | taste: 4.5 | feel: 4 | overall: 4
Pours a very dark black with a minimal toasted-marshmallow color head. Smells of dark fruits, molasses, and deeply-roasted malt along with a little bit of vanilla and oak. Taste is very similar; quite complex. Very full mouthfeel and fairly drinkable for the type of brew that it is.
283 characters

3.48
/5
rDev
-8.4%
look: 4 | smell: 3.5 | taste: 3.5 | feel: 3 | overall: 3.5
Thanks to Deuane for busting this one out for us to try. Poured into a taster glass.
A - Pours dark brown, bordering on black, with a small, fizzy, one finger tall khaki head leaving spotty lace down the glass.
S - Smells of fire pit smoke, dark roasted malt, chocolate, coffee, and graham cracker malt. Very dark smelling but not to the point of being overpowering.
T - Starts off with a big dose of smokey dark roast slowly giving way to a mix of light coffee and chocolatey sweetness and even more smoke. The finish has just as much smokey roast as it did at the beginning, lingering for some time.
M - Heavy body and flavor with moderate carbonation. A bit thin in the feel with plenty of smokey darkness, lingering through the finish.
O - Not too bad. I would have preferred a bit less smoke and a bit more flavor but that isn't a huge deal. My big problem with this one is the thin feel. If it had a bit more body I think it could have been real good.
962 characters
3.8
/5
rDev 0%
look: 3.5 | smell: 3.5 | taste: 4 | feel: 3.5 | overall: 4
A thoroughly enjoyable beer! This particular bottle has been unintentionally cellared for longer than intended - almost 9 months - but has held up remarkably well.
Pours an inky black with coffee coloured head. The oily appearance does not translate into the mouthfeel, which is silky but smooth and enjoyable. Aroma of dark roasted malts with milky coffee undertones. Sweet flavour of caramelized malts is followed by a pleasantly bitter, lingering dry finish. Nuanced chocolate and coffee tones are part of the well balanced whole.
Definitely a beer I'd recommend and will purchase again.
593 characters

3.45
/5
rDev
-9.2%
look: 3.5 | smell: 3.5 | taste: 3.5 | feel: 3 | overall: 3.5
A: Licorice black with a billowing mocha coloured head. Good lacing down the glass.
S: Dark roasted malts, dark chocolate and coffee, and hints of licorice. There's a herb or floral-like smell as well, but I can't quite put my finger on what it is.
T: Malts are more subdued, with a surprising sour citrus taste thats fairly dominant. Faint notes of dark chocolate, dark coffee, and smoke in the background. Certainly a different taste than what I was expecting, but the faint sourness gives this a lighter, easy-drinking feel to it.
M: Thin mouthfeel that's about average for a stout. Medium carbonation that's slightly above-average.
D: Despite the funky citrus-like thing going on, this stout is still quite drinkable. This is more a refreshing stout that would be nice for a patio in the summer. However, I still don't think I would pursue this one again considering the fruitiness.
893 characters

3.95
/5
rDev
+3.9%
look: 4 | smell: 4 | taste: 4 | feel: 3.5 | overall: 4
A - touch of red around the edges. Tall creamy dark tan head.
S - malts, yeast, chocolate and a touch of fruit. Mild overall.
T - almond chocolate, smoke, malts, a touch of fruit. Mild bitter and alcohol flavor in the mix. Odd for a 5.5% brew.
M - medium coating with a sharp tingle on sides of tongue.
O - mild enough to be an all night drink and flavor enough to want to drink it.
386 characters
4.6
/5
rDev
+21.1%
look: 4.5 | smell: 4.5 | taste: 4.5 | feel: 4.5 | overall: 5
wow. black with a very attractive coffee-with-cream colored head that holds nicely and leaves spotty lace as the beer drains from the glass. nose is very pronounced, yummy, light roast coffee with that fermented taste that comes with ethiopian coffee a lot as well as all kinds of other roasty goodness along with an earthy, wet rock minerality, a touch of dark chocolate (the powdery kind), some dried dark fruits, some fireplacey smokiness and a touch of hop just ever so slightly adding it's two cents. fantastic. taste is dry and the fire place smokiness really comes out. reminds me of being in an old world coffee/pastry shop that is housed in a stone building on a rainy fall day with a huge open fireplace in it. great, medium-full body with a great way of gripping your palate and letting it go gently a little bit at a time with everything rocking out in harmony. exceptionally drinkable and simply amazing with fried fish. actually, having this beer with fried fish and collard greens has become one of my favorite ways of turning something pretty simple (fried fish and collards that is) into a mind blowingly gourmet dinner that always impresses and satisfies at a deeper level. this will be in my rotation as long as i can find it.
1,245 characters
3.42
/5
rDev
-10%
look: 3 | smell: 3.5 | taste: 3.5 | feel: 3 | overall: 3.5
Thanks to Deuane for sharing this 500ml bottle on 7/24/11.
A - Poured a very dark brown liquid that bordered black territory with a fizzy tan head that reduced to a quarter inch of bubbly retention and spotty lacing.
S - Initial aroma is quite smokey and roasty with a hint of charred wood, chocolate and savory smoked meat.
T - Flavor elicits a campfire with a hint of chocolate, meat and dark roasted coffee amidst a dominating smokey character that persists throughout. However, the chocolate presence expanded as the liquid warmed up, offering a bit more sweetness to the pot.
M - Medium bodied with modest carbonation and a bit thin for a stout overall. Finish is dry and roasty.
D - Pretty tasty, albeit thin, stout with a hefty smokey presence and roasty character.
778 characters

4.23
/5
rDev
+11.3%
look: 4.5 | smell: 4 | taste: 4.5 | feel: 4 | overall: 4
pitch black brew with 2 fingers brown thick head
Smell:torrefication, smoke,
Taste: like the smell of smoke, burned malt
with a nice chocolate flavour just like any good stout
Mouthfeel: texture of the brew is round, nice malty body, after-taste of chocolate bitter
Drinkability: all in all, a pretty good stout
round and a nice chocolate flavor
352 characters
Sainte Source Stout from Brasseurs De La Mauricie
Beer rating:
3.8
out of
5
with
13
ratings