Ineeka Organic Green Tea Bier
| Ineeka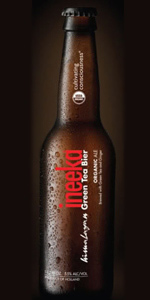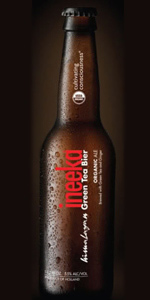 BEER INFO
Brewed by:
Ineeka
Illinois
,
United States
Style:
Herbed / Spiced Beer
Alcohol by volume (ABV):
5.50%
Availability:
Year-round
Notes / Commercial Description:
Ale brewed with green tea and ginger.
Certified Organic by CCQF.
Contract brewed in the Netherlands.
Added by crossovert on 06-23-2010
This beer is retired; no longer brewed.
Ratings: 5 | Reviews: 5
2.77
/5
rDev
-7%
look: 3 | smell: 3.5 | taste: 2.5 | feel: 2.5 | overall: 2.5
Pours a bright clear orange amber with a short off white head that fades fast.
Nose is apricot esters and pears. There is a hint of tea, but only perhaps because you're looking for it.
Mouthfeel is medium/thin with elegant but short carbonation. Not bad mouthfeel but is overwhelmed by the unique flavor profile.
Simply put, it tastes like carbonated, cold green tea with a light green spice/herb, green pepper bitter character, all of which carries over to the finish.
End of finish is lightly tannic green tea.
Candidly, if you like cold green tea you'll like this; otherwise, not so much.
601 characters
3.7
/5
rDev
+24.2%
look: 3 | smell: 3 | taste: 4 | feel: 4 | overall: 4
Hmm... so I guess this is a weird find. I mean, I'd never heard of Green Tea Beer before (that's why I bought it), but I figured it'd have more of an online presence than this. Anyhow, it was at a Binny's somewhere, and although Ineeka is a Chicago-based tea boutique, the beer bottle says it's a product of Holland.
Smells like a low-hopped APA, tastes like a low-hopped APA mixed with sweet green tea. Strange, but tasty and not at all bad. I've had tea-touched beers before, most notably the "Tea Bagged" blends that Surly puts out, but all of those were like beer styles that just a little spicy tea bitterness at the backend. This is more like a tea that happens to also be a beer. The malt switches from apple fruity to barley bitter, and the tea is, well, like green tea. There's no real stages to the flavor, either; it finishes as the same bizarre melange that it starts off as.
It's bitter, herbal, and floral, but also almost sugary sweet. Think of green tea ice cream and add to it a medium roast, lightly bitter barley. Really, for as bold as an experiment as this is, the finished product comes together really well, even though it's probably not to everyone's taste.
Worth trying, if just for the novelty. Binny's was selling this way cheap, though (a buck a bottle), so I'm guessing it wasn't much of a commercial hit and it might not have a very bright future. Try to score some if you can.
1,413 characters

2.79
/5
rDev
-6.4%
look: 2.5 | smell: 3.5 | taste: 3 | feel: 1 | overall: 2.5
Appearance -- Pours a murky amber with essentially no head. Looks just like an Arnold Palmer.
Smell -- Very malty: Plums and some sweet caramel-like notes.
Taste -- Pretty much follows the nose: fruity, spicy, some green tea in the mix, but if you're not a regular tea drinker it would go unnoticed. It seriously tastes like somebody mixed a Marzen and a pumpin ale and threw in a tea bag.
Mouthfeel -- Medium in body, moderate carbonation. Lots of tannic dryness. Almost chemical-feeling. Not good.
Drinkability -- I wouldn't call this good. The massive tannin dryness almost seems chemical, and it's quite unpleasant. I like the idea of a tea-infused beer, but sweet euro lager + tea + spices = don't ever drink.
718 characters
2.65
/5
rDev
-11.1%
look: 3 | smell: 3 | taste: 2.5 | feel: 2.5 | overall: 2.5
Silkscreened bottle, XP111910 on the cap, assuming expiration date is 11-19-2010.
Into a Duvel glass it's a dull, opaque orange. A finger of foam initially rises and subsides into an island cluster of bubbles floating in the center. The color is very dull, like liquid oatmeal, or murky tea.
The smell is overly sweet, like many euro lagers. A sweet cereal note resembles some Czech Pilsners, but there is very little there to associate with tea.
Flavor is similarly sweet, vaguely papery, some apple hints. Pretty much your standard euro lager, too sweet and adjuncty. Dry in the aftertaste. A bit too slick and flaccid. Full feeling where it shouldn't be. Just a bland and overly sweet mess... not recommended. Hoping there would be something vaguely identifiable as tea in this, but there was nothing. Avoid.
817 characters
3
/5
rDev
+0.7%
look: 3 | smell: 3 | taste: 3 | feel: 3 | overall: 3
11.2 oz bottle. This is a strange one. Beer brewed with Green Tea. Seems it is imported from Holland but there isn't much other info, I found it at Whole Foods and it seems to be a sort-of house brand.
It pours a hazy brown cider color. The head is big and offwhite and recedes rather slowly and leaves some ok lacing.
It has a malty smell, it smells like they completely skipped the hops, though it is listed on the label. Green Tea is obviously also high in the mix.
It tastes much like a gruit, if you like a scottish gruit this is similiar. The green tea is pronounced in the flavor along with the malts. There is a definite ginger note as well.
Overall it is unique but it lacks a hop character that would have been welcomed.
734 characters
Ineeka Organic Green Tea Bier from Ineeka
Beer rating:
0
out of
100
with
5
ratings