Farmer Brown Ale
| Great River Brewery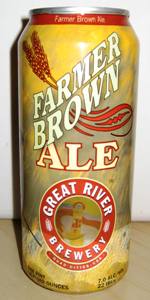 BEER INFO
Brewed by:
Great River Brewery
Iowa
,
United States
greatriverbrewery.com
Style:
American Brown Ale
Alcohol by volume (ABV):
6.20%
Availability:
Year-round
Notes / Commercial Description:
This nut brown ale is mildly hopped to allow dark crystal, chocolate, and biscuit malt to dominate the flavor of this malt brew. A robust, rich, and nutty ale dominated by true malt flavor.
Added by beerdown77 on 06-19-2011
Reviews: 24 | Ratings: 89

4.71
/5
rDev
+20.8%
look: 5 | smell: 4 | taste: 5 | feel: 4.5 | overall: 5
Pours out of can very THICK, with a 2 inch khaki colored creamy head.Dark brown in color,almost black. Smells very heavily of roasted malts and a hint of bittersweet chocolate. Taste is delicious to say the least but very rich and complex, no simplicity here. This beer is very heavey and creamy in body almost like a stout, very unlike your average brown. Not a beer you could easily drink more than one or two of, unless you are used to thick, delicious, rich, gloriousness but the 7% alchohol volume is completly masked which makes it somewhat dangerous! This is my new favorite brown!
★
588 characters
3.25
/5
rDev
-16.7%
look: 4 | smell: 4 | taste: 2.5 | feel: 3.5 | overall: 3.5
I think this is the right beer? Doesn't say "organic" anywhere and the ABV listed is 7%. Poured from 16oz can to imperial pint glass:
Pours a dark inky brown with a medium, thick brown head - great lacing and low retention.
Nice, soft chocolatey malt presence. Nice and fresh.
Taste is all in order but a bit weak... tons of potential but it just seems dull. I'm doubtful that the ABV is as advertised.
I'll certainly revisit this one after they've got a better rhythm for it.
★
480 characters
4.18
/5
rDev
+7.2%
look: 4.5 | smell: 4 | taste: 4 | feel: 4.5 | overall: 4.5
reviewed from notes taken 6/23/12.
tallbou can poured into glass stein.
Appearance: lite black bodied beer with a dark brown hue towards the side of the beer stein. 2 fingers of head that leave a heavy lace.
Smell: Its roasty and nutty with a hint of sweetness. You get a hint of the oats also.
Taste: nice balance of roasty and nutty malt flavors. You get the oaty flavor from the oatmeal used to brew the beer. The beer finishes with just a mellow bitter bite from the hops. This beer is all about a nice robust brown ale with really great balance as all the flavors dont overpower each other.
Mouthfeel: medium bodied beer with moderate carbonation. This beer drinks like it 5% no alchol is sensed. Smooth, slightly creamy, and carbonation is done right.
EDIT- beer advocate lists the ABV as 6.2% when it is written as 7% ABV on the can.
Overall: havent been impressed by a brown ale in a long time, but this beer does! At 7.99 for a 4pk of tall boys; I will be revisting this beer often throughout the entire year. Not only because its a great price point, but also because its a damn tasty brown ale. It would probably pair nicely with a burger right off the grill on a hot summer day. I love Great River Brewery and I am lucky to have them as a solid local beer option!
★
1,285 characters

3.85
/5
rDev
-1.3%
look: 3.5 | smell: 3.5 | taste: 4 | feel: 4 | overall: 4
Poured from a pint can into a Central Waters pint glass.
Nearly opaque seal brown liquid with faint ruby highlights is topped by an active desert sand creamy cap. Soapy lacing, good retention.
Roast malt, chocolate, hazlenut, and toast in the nose - smooth and inviting.
Good depth of malt on the palate with layers of malt suggesting light roast coffee, cocoa nibs, and bread crust. Mild clean earthy bitterness adds interest. Finishes with a tangy gentle astringency and a subtle nuttiness.
Creamy, medium-bodied, very well carbonated, and roast-y but not quite puckering. Fairly warming for the ABV.
A decent American brown - balanced and tasty.
★
654 characters

4
/5
rDev
+2.6%
look: 4 | smell: 4 | taste: 4 | feel: 4 | overall: 4
A: Dark, dark brown; nearly black with a large brown foamy head; lacing is good
S: Lots of rich roasted malts: chocolate and coffee especially; some subtle sweet aromas underneath like brown sugar and molasses but the roasted malts dominate
T: Rich roasted malts again especially chocolate and a bit of coffee; some bitterness on the front end that's eventually balanced by the sweet malty breadiness
F: Creamy medium body with good texture overall
O: A very nice roasty and malty brown ale; another solid offering from Great River
★
535 characters
4.27
/5
rDev
+9.5%
look: 3.5 | smell: 4 | taste: 4.5 | feel: 4 | overall: 4.5
No mention of "Organic" on the can. Not that I care. Also the can lists 7% ABV and 22 IBUs. Pours a dark brown color with a massive tan head that quickly settled to a thick cap. Lacing is not sticky to the glass very well.
Big malty aroma. Rich with caramel and toffee. Hints of chocolate, tree nuts, and earthy/floral hops.
This is a big brown ale. I taste caramel, toffee, a touch of roast, nuts, and finishes with some floral, earthy notes. Brought the malty goodness a lot better than the stout I just had.
Bigger body than what typically is found in brown ales. A little overcarbonated but not much to complain about.
Great River beers are becoming regulars in my fridge. Farmer Brown will get plenty of action as well. I believe I paid $5.99 for this 4-pack of pint cans. A tremendous value when you consider Surly Bender is generally $3-$4 more for the same volume. Great River can really produce well-crafted, affordable beers.
★
939 characters

4.19
/5
rDev
+7.4%
look: 3 | smell: 4 | taste: 4.5 | feel: 4.5 | overall: 4
A - Body is very dark brown with only slight translucent highlights. A finger of dark tan head forms and dissipates after several minutes. No lacing.
S - Light coffee and toasted bread aroma are most noticeable. Mild hints of cocoa and some faint herbal hop play around in the background. In one word, this beer smells "toasty".
T - Sweet toasted malt and caramel up front. A bit more of the bitter coffee and burnt grains come in through the middle. A mild tanginess hits the sides of the tongue toward the finish. Finishing flavors of cocoa, mild fruity esters and more toasted malt. Overall, very smooth flavors that don't try to one-up each other.
M - Quite a smooth ale. The burnt grains used in the grist lend just enough of an edge to make things interesting, but the generous use of rich, toasted malts makes this quite a smooth-drinking ale.
★
853 characters
3.95
/5
rDev
+1.3%
look: 4 | smell: 4 | taste: 4 | feel: 3.5 | overall: 4
A - Dark cola brown with a full, creamy, sticky, slightly chewy looking, off-white colored head. Nice retention leaving a nice, sticky lace.
S - Plenty of cocoa and nuttiness. Earthy, caramel sweetness. Dark, bittersweet chocolate. A bit of a roasted grain aroma, but not much.
T - Loads of earthy cocoa and nutty flavors. Some caramel and dark chocolate malt with just a hint of toasted/charred malt. Slight bitterness toward the finish. Hints of coffee and maybe vainilla making this lean a bit more toward a porter.
M - Medium to light body. Average or a bit below carbonation. A touch on the thin side and fairly drying on the finish.
D - Nice combination of flavors and fairly balanced. Pretty easy to drink although I don't know if I'd necessarily grab another right away.
Notes: Interesting beer as it definitely leans toward a porter. Nice mix of flavors. Goes down pretty easy although it doesn't inspire me to grab another. Definitely worth a shot.
★
963 characters

3.83
/5
rDev
-1.8%
look: 4 | smell: 3.5 | taste: 4 | feel: 3.5 | overall: 4
16oz can into an oversized wine glass
Ap- dark brown with a creamy tan head that has OK retention.
Ar- roasted malt, chocolate, caramel
T- really good flavor, chocolate, roasted malt, maybe a touch of molasses.
M- medium bodied, good carbonation
O- a really good brown ale, this is one of the best things to come out of Iowa since I-35. At $5.97 a 4 pack, you can't really go wrong with this stuff. Will be enjoying this one again.
★
437 characters
3.82
/5
rDev
-2.1%
look: 3 | smell: 3.5 | taste: 4 | feel: 4 | overall: 4
16 oz. can poured into a pint glass. Thanks to GraniteSkunk for this extra.
Appearance - Pours a deep brown with a khaki head. Not too big. I like pouring pint cans into British pint glasses because it leaves room for the head, but this one doesn't use all the extra space. No real lacing.
Smell - Nutty caramel and chocolate. Slight hop presence. Biscuity malts as a base, but the darker malts really stand out.
Taste - Solid nutty caramel and biscuit malt flavor. Light on the bready flavors and much more of an emphasis on the chocolate malts. Hop flavor that transforms to bitterness in the finish. Really nice flavor for a brown.
Mouthfeel - Light, but slick enough to keep the flavors around. I find myself gulping this down. Decent carb, but maybe a little bit lower than average.
Overall - Solid brown ale. I like it. Reminds me that there are plenty of not-so-extreme beers out there that taste great.
★
915 characters
3.94
/5
rDev
+1%
look: 3.5 | smell: 4.5 | taste: 3.5 | feel: 4.5 | overall: 4
The beer has a rich brown color, but pours leaving an unimpressive thin foam that is barely a head. The aroma has a robust maltiness, very roasty with a nutty chocolate character. Not alot of hop balance detected, but it there is some nice depth overall.
The taste is less sweet than expected, it's almost like a dry porter with a smokey streak. The charred malt is quite intense and without much sweet balance it gets a bit one dimensional, making the rest of the experience a bit bland. Solid marks for the mouthfeel. Fine, prickly carbonation, with a smooth, moderately thick feel.
Overall a solid beer with alot of potential. Not exactly your typical brown ale, but I like that it's unique and they didn't just go for a boatload more hops to spice things up. Worth a try.
★
778 characters

4.08
/5
rDev
+4.6%
look: 4.5 | smell: 4 | taste: 4 | feel: 4.5 | overall: 4
Serving type: 16-ounce can. No freshness date. Booo.
Appearance: Straight pour into a nonic pint glass. The color is surprisingly dark, almost black. It is, I think, extremely dark brown. Tons of thick, tan head developed (do not pour it straight) and produced the same cascading effect as nitro stouts. However, there is no nitro widget in the can. It dissipated unevenly to leave a billowy, thick lacing and trails along the glass. After continuing to fill the glass as the head dissipated, it began to look like what I imagine a proper pint looks like in the UK.
Smell: Lots of roast for brown ale. (Is this their brown ale? Did Great River can their regular stout by mistake?) Coffee, dark chocolate, and caramel. There is also nice nuttiness to it. Very solid aroma.
Taste: The mouthfeel is superb; smooth and creamy but not overly thick. The flavor is much more in line with brown ale, but it is still tilting toward stout. It is dominated by malts — chocolate and caramel — and offers a nice, roasted coffee bitterness. The nuttiness is much more pronounced, but it does compete with the coffee.
Drinkability: Sol-id, sol-id. This is brown ale to the extreme — and I like it.
★
1,192 characters

3.7
/5
rDev
-5.1%
look: 3.5 | smell: 3.5 | taste: 4 | feel: 3.5 | overall: 3.5
This was served on-tap at Old Capitol Brew Works into a pint glass.
Appearance- Not really any head on this thing, just some beige film. This has a really dark body for a brown, completely opaque with some ruby highlights. There is no carbonation noticeable in the glass.
Smell- This has a bread malt and slight caramel malt note. There is just a little roast poking through.
Taste- Roasted malt pervades the palate. Some vanilla pops out mid-drink. There is also a sweet creamer quality to the drink near the finish. You have to let it warm or it is just too roasted and caustic on the tongue.
Mouth feel- It is not quite medium bodied. The beer could be much creamier, with the smooth factor diminished a little. Just okay.
Overall- This brown's quality comes out a lot better once it warms. Everything is kind of average, and the flavor profile could be much more refined. Need more of that bread malt and vanilla. I like the direction they were going, just did not follow through.
★
991 characters
3.35
/5
rDev
-14.1%
look: 3 | smell: 3 | taste: 3.5 | feel: 3.5 | overall: 3.5
This pours almost black and seems a little under carbonated. The taste is slightly hollow, but drinkable. It is very dark and has a caramel smoky and slightly sweet flavor. I shared a growler of this and it just wears on you. It's smokier and less sweet than most brown ales, but lacks in refinement.
★
302 characters
Farmer Brown Ale from Great River Brewery
3.9
out of
5
based on
89
ratings.