Barrel Aged Farmer Brown Ale
| Great River Brewery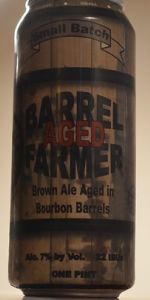 BEER INFO
Brewed by:
Great River Brewery
Iowa
,
United States
greatriverbrewery.com
Style:
American Brown Ale
Alcohol by volume (ABV):
6.20%
Availability:
Limited (brewed once)
Notes / Commercial Description:
No notes at this time.
Added by rundocrun on 07-10-2011
This beer is retired; no longer brewed.
Reviews: 9 | Ratings: 34

2.75
/5
rDev
-23.2%
look: 2.75 | smell: 2.75 | taste: 2.75 | feel: 2.75 | overall: 2.75
CAN: Aluminum tallboy. 1 pint. Good label art, but it has an amateurish screen-print layout and application.
Acquired in a trade with the always-generous Duff27 and served cold into a pilsner glass at low altitude in Austin, TX. Reviewed live as a bourbon barrel (Cody Road bourbon) aged brown ale per the label. Expectations are above average; it sounds tasty. 22 IBUs. 7% ABV. Allowed to warm over the course of consumption.
No bubble show forms as it's poured.
HEAD: 1 finger wide. Nice supple consistency and apt khaki colour. Nicely creamy and full, with sufficient thickness. Smooth and even. Soft-looking. Retention is average - about 2 minutes. Leaves a light coating of lacing on the sides of the glass as it recedes.
BODY: Dark cola-black. Off-puttingly schwarzbier-esque. It doesn't look like much of a brown ale. Opaque and dull, with no stand-out characteristics. No yeast particulate or hop sediment is visible.
In a nutshell, I'd say it looks plain.
AROMA: Not what I expected; it's fairly fruity, with a cherry presence and some accompanying tartness as well as grape and fig amongst an indistinct dark fruit character. The barrel character is damp, but not in a stale cardboard sense or a farmhouse ale sense. I get some dampened wood barrel and a hint of vanilla, but there's no rich toasty oak or evocative bourbon.
The fruit notes seem to clash with the dark malt base, and the barrel doesn't seem well-tailored to the base, nor is it very evocative. Nutty notes are sorely missed here.
Ultimately, I'm more surprised than anything else; this just doesn't seem like a brown ale by any stretch.
Aromatic intensity is average.
No yeast character, hops, or overt alcohol is detectable. I'm curious but cautious.
TASTE: The fruit overwhelms all other aspects of the beer, and is accompanied by some obvious off-character strongly suggestive of infection. Muddled cherry, some grape, a bit of fig...it finishes on that rough-around-the-edges slightly sour infection with a bit of tartness. The finish is pretty disgusting as a result.
Barrel-wise, there's little here. Some vanilla is present throughout, and is the best part of the beer (and the only note lending it any cohesion). The dampened wood barrel is off-putting, but it's not oxidation-effected or anything. I find no bourbon per se, nor any rich toasty oak. The barrel character isn't at all well-suited to the base, and fails to accentuate any of its constituent notes.
The confounding absence of any nutty character whatsoever is this beer's biggest issue - even moreso than the infection. There's not much of a malt backbone; I don't even taste any brown malts.
This is a chaotic mess of a brown ale build to the extend that I wouldn't even consider it a brown ale. It's a poor quality unintentional sour at best, and I have trouble getting it down. Flavour profile is shallow, with an unfortunate above average flavour duration. Flavour intensity is modest for a bourbon barrel brew. Lacks intricacy and subtlety. I suppose you could say the infection lends it a nuanced unique character, but obviously it doesn't enhance the beer.
TEXTURE: Overcarbonated, slightly syrupy, overly thick, smooth, wet, and unrefreshing. Too heavy and full-bodied. This texture doesn't elevate the beer, nor does it complement the taste well at all. Poorly executed.
OVERALL: It's interesting by virtue of its serendipitious sourness, but unfortunately it's not a happy accident of a beer. A failure both as a brown ale and as a sour ale (not to mention as a bourbon barrel brew), Barrel Aged Farmer is a beer I won't be revisiting but I suppose I'm glad I tried it once. In fairness, this just shouldn't have even made it to market. I'll finish the can only with effort. I'd caution others from picking this up, but it's not as awful as you might expect an infected brew to be, and as it warms I find the sourness in the third act becomes more mellow and approachable.
High C-
3,958 characters

3
/5
rDev
-16.2%
look: 3 | smell: 3 | taste: 3 | feel: 3 | overall: 3
I heard this was an unintentional sour batch like some of the recent Peruvian morning, but I love sour beer, intentional or not, so I got a 4 pack of this. Its ok, The sour soesnt have much depth to it like a Belgian or Brett sour does. Overall its so so.
255 characters
3.52
/5
rDev
-1.7%
look: 4.25 | smell: 3.5 | taste: 3.5 | feel: 3.25 | overall: 3.5
16 ounce can. 7% abv. I reckon it's no longer retired.
A: Deep brown colour, small off white head of foam, not much lacing but the foam lingers.
S: Strong smell of Bourbon with lighter notes of caramel malt and a subtle nutty character.
T: Nutty, sweet, Bourbon smack to my taste buds. No bitterness.
M: I'd call it light bodied, thin for what's going on.
O: A goodish Brown Ale that was Bourbon barrel aged. If you're gonna barrel age an existing beer in your portfolio, I'm on the side that says, go the full monty. Lower abv barrel aged beers kind of defeat the purpose of barrel aging. Imho of course.
616 characters

3.73
/5
rDev
+4.2%
look: 3.5 | smell: 3.5 | taste: 4 | feel: 3.25 | overall: 3.75
Had this in a becker pint. Too bad I did not find one of the infected cans. This with sour notes would have been extremely interesting.
This barrel aged brown looked really dark for a brown ale, darker brown like a porter with a mocha colored head that was almost completely gone by the time the glass was brought to the table.
The bouquet is very whiskey forward, not necessarily "hot", but the alcohol is apparent. A toasted malt lingers underneath the booze. Some vanilla and bing cherries add some complexity. Still, that whiskey is the biggest hitter. I like it, but it needs more depth.
More of the toasty and slightly chocolatey malt with a distinct tang that is more cherry than dark fruits. Also some vanilla and bitter coffee roast near the back end of the drink. Needless to say, after the nose, I am not surprised the whiskey is also quite strong on the palate. Luckily, it is not a hot beer. The wrinkle this adds to the beer is much appreciated.
More oily and slick than anything else, also underwhelmed by the medium to thin feel this offering has. This could have been more creamy, added heft would have been nice.
I really did enjoy the whiskey notes that pervaded the BA Farmer Brown. I also really enjoyed that cherry tang that was very apparent on the palate. I prefer my barrel aged offerings to be a little more smokey and sweet than roasty and tangy, but it was a fun drink nonetheless.
1,414 characters

3.88
/5
rDev
+8.4%
look: 4 | smell: 4 | taste: 4 | feel: 3.25 | overall: 3.75
A huge amount of cinnamon to it, which puts me in mind of an autumn-time seasonal cider. There's a somewhat strong alcohol aftertaste, which I could take or leave.
164 characters

3.92
/5
rDev
+9.5%
look: 3.75 | smell: 4.25 | taste: 4 | feel: 3.25 | overall: 3.75
Pours pitch black mocha head dissipates very quickly
Smells of BOURBON with a hint of malt in the background
Tastes a bit more of the malt with strong but not as strong of whiskey hint of wood and maybe vanilla
The weakness of this is the thinness on the mouth
Glad I tried this a tasty pint in a can
307 characters

3.99
/5
rDev
+11.5%
look: 3.75 | smell: 3.5 | taste: 4.25 | feel: 4.25 | overall: 4
This is from a newer batch canned somewhat recently (early 2015, late 2014 maybe) and is nothing like the infected batch from a couple of years ago. What is there is good for both smell and flavor - molasses, caramel, bourbon, wood, vanilla, hop bitterness, the problem is that there isn't enough there. If the smell and flavor were amplified by I'd say about 1.5x, I'd say this were world class. Absolutely no fruit or tartness that overpowered the infected batch.
468 characters
4.4
/5
rDev
+22.9%
look: 4 | smell: 4 | taste: 5 | feel: 4 | overall: 4
Opened a tallboy can. 7% and 22 IBU as stated on the can. SOUR! I love it! I read it was accidental, what a great mistake. It reminds me of Russian River Consecration- sour dark ale, they are brothers. Holds a nice tan head, sour smell, crisp mouthfeel, but that sour is upfront and holds all the way through to the aftertaste but is not overpowering. If anyone from the brewery is reading this, kudos, do it again! In the meantime Im heading back to my liquor store and buying more. It was a part of a six-pack build your own.
527 characters

4.52
/5
rDev
+26.3%
look: 3.5 | smell: 4 | taste: 5 | feel: 4.5 | overall: 4.5
Had on-tap at Old Capitol Brew Works in Iowa City. Poured into a tulip glass. I paid $6 for this beer so it better be damn good! (Found out afterwards that this stuff was aged in Templeton Rye barrels! Worth the price!)
A - Dark brown, almost black in appearance. Much, much darker than any "brown" ale I've seen. Small dark tan head (almost stout-like). No lacing on the glass.
S - I get lots of hot whiskey up front in the nose. Not necessarily boozy and alcoholic, but it certainly has that whiskey-like punch. Milder notes of vanilla and caramel come through also. Only the slightest hint of sourness/tanginess.
T - Smooth vanilla and rich maltiness up front. Soft suggestions of dark chocolate and espresso bitterness. This barrel aged brown has a huge and complex malt presence that is brilliantly complimented by the trademark Templeton Rye whiskey essence. This is one smooth and incredibly delicious beer! Can I give this one a 6 for taste?
M - Thin-medium body. Mild and mellow carbonation (common with barrel-aged offerings). In this case, the low carbonation is a good thing in that it lends to the overall smoothness and drinkability of this beer.
1,164 characters
Barrel Aged Farmer Brown Ale from Great River Brewery
3.58
out of
5
based on
34
ratings.