Czuggers Pilsner
| Banff Ave. Brewing Co.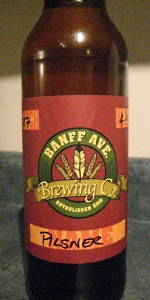 BEER INFO
Brewed by:
Banff Ave. Brewing Co.
Alberta
,
Canada
banffavebrewingco.ca
Style:
Czech Pilsener
Alcohol by volume (ABV):
4.90%
Availability:
Year-round
Notes / Commercial Description:
A Czech style Pilsner brewed with a blend of German and Czech hops and premium Canada Malting Superior Pilsen Malt. A true Canadian pil, no bunnies here.
Added by biegaman on 08-15-2010
Ratings: 4 | Reviews: 4
Reviews by tonyf55:

3.37
/5
rDev
-2%
look: 2.5 | smell: 3 | taste: 3.5 | feel: 4 | overall: 3.5
On tap at Banff Avenue Brewing Co. In an 18oz shaker.
Visual (2.5): Golden yellow, slightly hazy wit a pure white head that is quickly dissipated. Was hoping for a rolling white head from a Bohemian Pilsner, but there is none here. No real visible carbonation bubbles either.
Aroma (3): Predominately grainy malt smell, bready with a light Saaz hop evident. Hop is second fiddle to the strong grain aroma.
Taste (3.5): grassy and grainy malt flavours with a satisfactory hop hit at the end of the tasting. The Saaz hop flavours are distinct defining this as a Czech Pilsner, but never take the spotlight away from the strong grain backbone.
Mouthfeel (4): Nice carbonation bubbles over the pallet with a dry aftertaste. Very true to the style and one of the beers most endearing traits. Medium bodied with a not-too-easy to drink feel
Overall (3.5): Predominately grainy, as a pilsner should be, with defining Saaz hop but neither trait shines. The malt and hop balance was true, but flavours could be better and add a little more complexity to the beer. Head creation and retention could also add a lot giving it a true Czech Pilsner feel.
1,145 characters
More User Reviews:
3.53
/5
rDev
+2.6%
look: 4 | smell: 3.5 | taste: 3.5 | feel: 3.5 | overall: 3.5
650ml bottle, a souvenir from a trip to the brewpub and their off-sales cooler on a freaking cold mountain day last month in Banff.
This beer pours a hazy, bright medium golden yellow hue, with one finger of bubbly, foamy white head, which settles rather in haste, leaving as a consolation a decent pocked wall of shoreline lace around the glass.
It smells of nice, warm, grainy cereal malt, a smidgeon of lemon oil, and softly leafy hops. The taste is grainy, as previewed, but less cereal, and more barley stalk, a general astringency rising, which taints the subtle fruit and more prevalent hops as well, masking any Bohemian tendencies that may have been in the offing.
The carbonation is rather reserved, but still contributes to a decent structural backbone, mainly the stolid medium weight body, and unassailed, yet unremarkable, smoothness. It finishes just a tad off-dry, the heretofore unmentioned crispness of the grain still showing the sugar, but well parried by the muddled leafy, zingy hops.
Well, not exactly a contender for Canada's Next Top Czech (I know) Pilsener, but still drinkable, and flavourful in its own right. Warm, grainy, and confusingly but agreeably hoppy? Sure, and I would drink this happily all night, given the usual alternatives.
1,270 characters

3.81
/5
rDev
+10.8%
look: 4.5 | smell: 3.5 | taste: 3.5 | feel: 4 | overall: 4.5
On-tap at Banff Avenue Brewing Co, in Banff.
You can tell a good pilsner when you see one if you hold it up to the light and see that it has an almost lime hue pressed within a dense, deep chill haze. I love that. This complexion is completely blurred, despite its light and naturally shimmering colour. It'd be good enough to earn a perfect score if only it could have produced just a little more head.
The aroma strikes me first as being overtly bready - nothing but minimally toasted (if at all) pale malts - but in time comes to reveal a much livelier, much jazzier, much more floral and effervescent side. The call of the Saaz hop. It is grassy and almost lemony, a distinct soapiness that layers the otherwise dull breadiness of the pilsner malt. It smells good.
The taste tells a similar story. It is initially very bready but, right before you can write it off as being too plain or tasteless, a big Saaz hop cone comes and takes a big bite out of your palate. Actually, it's more like a nibble (a bite would have earned it the next highest grade). Still, it's felt and, along with the bready malts, files itself into the aftertaste.
At their best, Czech Pilsners have a spicy hoping that can replicate on the palate the stinging sensation of disinfecting a wound. This doesn't go anywhere near that far, likely because Banff Avenue Brewing wants to keep its customers. But while I personally wouldn't have minded another dose of the hops, I'm happy with the quantity allotted.
It has a clean maltiness, a crisp and bitter body, plenty of floral and zesty hoppiness, a disposition for quenching and a wicked lemon-lime hue - what's more to ask for? This is well above the pilsners you typically find in brewpubs (and this one's in a touristy area no less!) My mouth is starting to water just thinking about it again now... arrrggghh.
1,851 characters

3.07
/5
rDev
-10.8%
look: 2 | smell: 2.5 | taste: 3.5 | feel: 2.5 | overall: 3.5
This beer poured a bright strawey yellow color, with almost no head. I didnt find any sort of smell from this one. The taste was intially watery, but finished with a very nice spicey note. Again pretty weak flavor. Overall I found this to be an enjoyable pilsner, but not the best.
281 characters
Czuggers Pilsner from Banff Ave. Brewing Co.
3.44
out of
5
based on
4
ratings.