Pub Dog Bourbon Barrel Chocolate Oatmeal Stout
| Pub Dog Brewing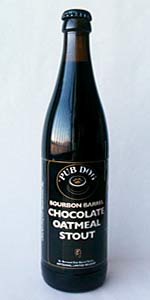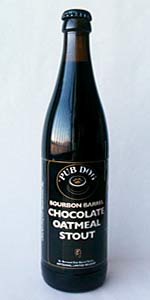 BEER INFO
Brewed by:
Pub Dog Brewing
Maryland
,
United States
Style:
English Oatmeal Stout
Alcohol by volume (ABV):
7.00%
Availability:
Limited (brewed once)
Notes / Commercial Description:
No notes at this time.
Added by Daniellobo on 02-24-2011
This beer is retired; no longer brewed.
HISTOGRAM
Ratings: 11 | Reviews: 5
Reviews by Peg2009:

More User Reviews:

1.23
/5
rDev
-51.8%
look: 2 | smell: 1.5 | taste: 1 | feel: 1.5 | overall: 1
From 500ml bottle to Bruges hybrid glass on 3/3/11
A: Dark brown, almost black in color. 1.25 finger head on a reasonable pour. Minimal lacing remains.
S: Faint alcohol esters, vanilla extract, brown sugar and chocolate. But it's strange, because none of these are easily found. It's quite subdued and blase.
T: Didn't anyone taste this before it was bottled? Where's the quality control? It's astringent, showcasing massive amounts of alloy and wet dirt. It's complex in a way that no beer should be. I feel like my tastebuds got kicked where the sun don't shine.
M: It's like someone ran a marathon and dripped their sweat into the bottle. It's oily and thin. A stout like this should have some weight to it, but this one doesn't. It's flabby all over.
O: I'm all about showing love for the local breweries. But there comes a point where taste and quality supersede. DOG's Bourbon Barrel whatever this is, is flat out undrinkable. Approach at your own risk.
Drainpoured.
978 characters

1.36
/5
rDev
-46.7%
look: 3 | smell: 2 | taste: 1 | feel: 1 | overall: 1
Hadn't tried one from this relatively local brewery so I thought I'd give it a try. Poured into a snifter. Pour looks thin coming out of bottle with a much more aggressive head than I usually find in a bourbon barrel stout. Deep mocha brown held up to the light. First whiff of the beer has me concerned. Not picking up on any normal BA characteristics (vanilla, bourbon, oak, etc), instead I'm getting a VERY acidic quality. Smells a little like watered down red wine vinegar with roasted malt present. In tasting I'm shocked that this passed quality control. It's got to be infected, really really infected. Nasty tart acid coats the pallet. Bizarrely the bourbon is just not present for me at all. What's left is a weak thin watery stout that tastes like it was aged in red wine vinegar vats. I could barely choke down 4 oz. before I did a drainpour. Simply the worst beer I've ever had. I write this review more as a warning for others than anything else. I wish I had read the reviews before I wasted my money.
1,015 characters

2.06
/5
rDev
-19.2%
look: 3 | smell: 2 | taste: 2 | feel: 2 | overall: 2
A - black as expected; black is black
small head, slight lacing, some retention
S - Not much smell, certainly not the ones I was looking for. A bit of malt and a touch of chocolate. Where's the vanilla and coffee?
T - A too light stout with chocolate malt and some woody resin. I can't say it's bourbon.
M - Thin for an oatmeal stout.
D - one is enough
After fully warming to room temperature, there is an appearance of the advertised characteristics but all are extremely muted.
It's like a milkshake made with skim milk. It leaves you wanting but not for more.
565 characters
1.86
/5
rDev
-27.1%
look: 3 | smell: 2 | taste: 1.5 | feel: 3 | overall: 1.5
Picked up a single 16.9 oz. bottle at Cindy's in Elkridge, MD a few weeks ago.
Bottle -> Snifter
A - Dark brown, very fine head, little to no lacing, head retained at the edges
S - Very slight roasty and chocolate notes.
T - Very tart up front, jumbled up with some hint of dark chocolate. The tartness continues through the tasting, almost like it was aged in bad red wine barrels. Not a hint of bourbon.
M - Thin
O - This beer just misses the mark. This should be a much more robust beer with well defined and harmonious flavors. I doubt I'd buy this one again unless a tweaking is done to it. It's kind of like a sour porter, not much of a stout feel to it.
669 characters
2.31
/5
rDev
-9.4%
look: 4 | smell: 3 | taste: 2 | feel: 2.5 | overall: 1.5
Unremarkable ale, quite avoidable.
Presentation: 500 ml brown capped bottle. Simple black label with white fonts and gold touches framing it alongside the Pub Dog logo. Notes ingredients, and 7.0% Alc. by Vol. Served in a snifter.
A - Black pour with dark brown edges, 1/2" ecru frothy head, moderate retention, fair surface memory and some lacing.
S -Nose is bizarrely acidic at first, with an emerging soft chocolate note, and a hint of vanilla. Faint dash of coffee...
T - Acidic bitterness predominates. Struggling notes of coffee, chocolate, and vanilla in the distant background. Not working well at all. As for the oak bourbon aging... Nah, nowhere to be felt on this one. Maybe that vanilla? of which they also add some beans?
M - Medium to medium/light body, soft and moderate carbonation. Defeated smoothness under the acidic range, which also kills any complex bitterness still held by the brew.
D - Unfortunately this is one of the least recommendable barrel aged brews I've come across.
Notes: Sure enough, I did not have high expectations, but was looking forward to trying this. Unfortunately this is quite the disappointment. There is a remote possibility that this is an off bottle, it better be an off bottle... Although it does not feel infected or anything of the kind, just forgettable on most grounds.
1,345 characters
Pub Dog Bourbon Barrel Chocolate Oatmeal Stout from Pub Dog Brewing
Beer rating:
2.55
out of
5
with
11
ratings