Backbone Chocolate Espresso Stout
| Boneyard Beer Company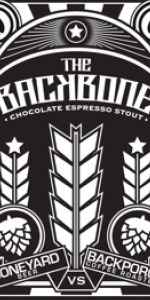 BEER INFO
Brewed by:
Boneyard Beer Company
Oregon
,
United States
boneyardbeer.com
Style:
American Stout
Alcohol by volume (ABV):
6.00%
Availability:
Rotating
Notes / Commercial Description:
No notes at this time.
Added by Docer on 11-01-2010
Reviews: 13 | Ratings: 56
3.37
/5
rDev
-14.5%
look: 4 | smell: 3.75 | taste: 3.25 | feel: 2.75 | overall: 3.25
L: Dark black with a few hints of Ruby, a small white tan head and no lacing on the glass.
S: Strong aroma of roasting coffee beans, slight hints of Roasted pepper, notes of chocolate and Roasted malt.
T: Sweet milk, chocolate, some Roast coffee. Flavor a little disappointing compared to aroma.
F: Thin body and fairly watery.
O: A average stout that needs a thicker body.
377 characters

4.05
/5
rDev
+2.8%
look: 4.25 | smell: 4.25 | taste: 4 | feel: 3.75 | overall: 4
32 oz crowler. Pours root beer brown, finer tan head fades leaving little lacing. Roasted coffee aroma, mild. Nice roasted malt taste, plenty coffee, bitter chocolate. Mouthfeel is thin but slick. Overall light n tasty brew, enjoyed it.
241 characters
3.93
/5
rDev
-0.3%
look: 3.75 | smell: 3.75 | taste: 4 | feel: 4 | overall: 4
Appearance- Pours up a minimal amount of head which has little retention as well. The head is a medium beige with some burnt umber while the the body is a chocolate brown with tinges of burgundy that appears as mix of chocolate brown and maroon when held up to the light. Some spots of lacing but that's about it.
Nose- Very rich and deep coffee from the growler that almost smells like roasting beans. The glass shows a good amount of coffee but not nearly as much as from the growler. Hints of chocolate that run from milk to mildly bittersweet. Swirling shows mild cocoa. Fairly simplistic but still very nice.
Taste- Starts off with a chocolate front that seems mostly of the milk variety. Slight espresso starts to creep in on the middle and tends to define the rest of the flavor profile. Fairly mellow but it also doesn't have the sour/acrid notes that a lot of coffee beers have. It also doesn't force the chocolate so much that beer becomes to bitter. A little thin but still pretty enjoyable. No flaws, just a very solid beer with tons of accessibility, balance, and integration. Lacks complexity and presence to a degree but is very proficient at what it does. Reminds me a bit of a milk stout but I'm pretty sure no lactose is used. I wonder what it would be like if it had been. Good to really good beer- I would say that it is pretty much in between. Probably closer to really good.
Mouthfeel- Between light and medium bodied and would seem rather thin if the carbonation wasn't so light. Instead it has a slight smoothness to it which makes it pretty drinkable.
Drinkability- Very easygoing. Around 13 for a growler seems pretty reasonable as well. I would definitely buy this again if I saw it on tap somewhere.
Overall- Good to really good beer, closer to really good. Very true to the style without some of the off-flavors of a lot of chocolate/coffee stouts. Definitely worth a try and something I would buy again.
1,943 characters
4.13
/5
rDev
+4.8%
look: 4 | smell: 4 | taste: 4.25 | feel: 4.25 | overall: 4
On tap at Growler Nation the other day.
The beer pours a very dark brown color with good head retention and lacing. As the name implies, on the nose I get consierable chocolate, and coffee, along wth some roasty malt and light vanilla. The flavor profile replicates the nose in this well crafted beer, and while the beer has some modest sweetness, there's enough bitterness in the finish to counter and balacne that sweetness very nicely. The beer is not at all heavry or tiring on the palate, though the mouthfeel is surprisingly soft and full. Alcohol is very well disguised (the menu says it's in the 6% range), and drinkability is terffific.
Wouldn't ever take this over Boneyard's Suge Knite, but nevertheless, this is a pleasant, easy to enjoy stout from Boneyard.
773 characters

4
/5
rDev
+1.5%
look: 4 | smell: 4 | taste: 4 | feel: 4 | overall: 4
Imperial pint at fstop fitzgeralds in Salem $4.00 Served in aroom temp mug. Black ale small light tan head goes fast leaving lace. Nice toasty burnt dark malts in aroma. Taste is much the same maybe with some liqurice simple but good Good mouthfeel,goes down nice. All in all a nice easy drinking stout
302 characters
3.87
/5
rDev
-1.8%
look: 3.5 | smell: 4 | taste: 4 | feel: 4 | overall: 3.5
On tap at Bailey's PDX, $2.50 for 10 oz. pour, 9.10.11. The Big Board listed ABV as 6%.
Zero fingers head, full pour, dark brown opaque body, no visible carbonation. Nose features cocoa nibs, fairly dry. Taste is chocolatey some coffee and vanilla, quite sweet, almost a marshmallow sweetness. Soft mouthfeel for style, some lacing, pretty dry finish. One of Boneyard's smaller beers, IMO not quite on the level of Oakshire Expresso Stout, though wonder if this might be the base beer for Suge Knife.
501 characters

3.8
/5
rDev
-3.6%
look: 4 | smell: 4 | taste: 4 | feel: 3 | overall: 3.5
On-tap at Brickhouse in Vancouver, WA.
appearance - dark chocolate malty, smooth head, some retention
smell - coffee and chocolate, some roasty malts
taste - big carefully roasted malt profile, some light marshmallow, coffee is definitely in the mix with a nice cold espresso profile
mouthfeel - a bit on the thin side for a stout, not as balanced as could be but fine
overall - the coffee profile is good, the body and mouthfeel could be improved
452 characters

3.9
/5
rDev
-1%
look: 4 | smell: 4 | taste: 4 | feel: 3 | overall: 4
Poured a dark cola brown into a tulip with two fingers of khaki head. Roasty aroma with coffee and hints of cocoa sweetness.
Slightly low carbonation and a creamy, light mouthfeel. Smooth espresso up front with mild caramel and milk chocolate followed by more bitter coffee on the finish.
Easy-drinking overall, but I thought the coffee flavor components were a little overbalanced (even for an espresso stout).
413 characters
4.1
/5
rDev
+4.1%
look: 4 | smell: 4 | taste: 4 | feel: 4 | overall: 4.5
A: Poured a deep, deep brownish nearly black with a nice brown cap
S: Roasted malts, subtle espresso and cocoa
T: Very smooth and well balanced on taste. Like a perfectly blended beer here. Not to much of one thing. Nice creamy cocoa and espresso taste, its not overpowering because it is a single a stout and this I have to keep in mind
M: Nice creamy feel, carbonation and body, plenty of taste for a single stout
O: Another tasty and impressive beer from Boneyard
470 characters
4.15
/5
rDev
+5.3%
look: 4 | smell: 4 | taste: 4.5 | feel: 3.5 | overall: 4
On tap at Three Floyds. Served in an Imperial pint.
Black beer with ruddy brown edges. There's two fingers of khaki head that settles to a thin layer and leaves minimal spotty lacing.
The nose is nice. Dusty burnt malts and coffee, it's pretty straight forward and simple.
The taste follows with slightly bitter malts and mellow coffee. I also pick up some baker's chocolate. Again, no frills and straight forward. It reminds me of a really roasty porter. The coffee really starts to pop out as it warms and adds some heft roasty bitterness to the finish.
The mouthfeel is light, medium bodied with a big bubble bite.
Tasty stout, but could use a little work to make it great.
682 characters
4.12
/5
rDev
+4.6%
look: 4 | smell: 4.5 | taste: 4 | feel: 4 | overall: 4
Had the first version, and I can tell this sample is much better.
Look is very dark brown, not black, but still remains a hearty looking stout.
Smell is espersso, coffee, a bit of chocolate, some bready like malts, a sweetness that kind of tingles the nose.
Taste is a strong but not overpowering dark roasted coffee, very high grade espresso beans, chocolate. For a coffee stout, this seems to really stand out, because its not overdone, or not under at all.
Mouthfeel is light, remains on the tongue and plays with taste and not sludge
Drink is very good, a perfect winter beer, honestly something I would like to have before work, Haha.
644 characters
3.87
/5
rDev
-1.8%
look: 4 | smell: 4.5 | taste: 3.5 | feel: 3.5 | overall: 4
Brother brought this back from Bend to share.
Pours a flat black color with a pretty nice off white head.
Aromas are very espresso forward with dark chocolate as well. Smells really nice.
Taste is very coffee like, burnt toasted grains, and a little gritty. Flavors then settle into some creamy malts and dark bitter chocolate. Finish is crisp, but a little fleeting with some mineral hops.
Mouthfeel is decent, but feels a little thin.
Drinkability is good. Very nice coffee stout, with a little more body and finish this would be really good.
549 characters
3.85
/5
rDev
-2.3%
look: 3.5 | smell: 3.5 | taste: 4 | feel: 4 | overall: 4
Had this on tap at the Green Dragon during their meet the brewer event.
- Roasty dark brown and black... very light mocha head.. down to a thin ring and some scattered fizzy bits...
- Light coffee and sweet oat and grainy chocolate... bitter touch...
- Very smooth and well balanced... slightly creamy sweet, oats, light bitter grassy hops... coffee is sure present, but not overdone... perhaps some slight bitter chocolate notes.
- Smooth, and not too dry, sticky, or chewy at all.. very well done.
- Overall a great stout offering and something I hope is a regular for them.
593 characters
Backbone Chocolate Espresso Stout from Boneyard Beer Company
3.94
out of
5
based on
56
ratings.