427 Scytale

Great Basin Brewing Co.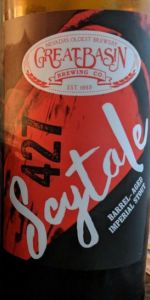 Write a Review
Beer Geek Stats:
| Print Shelf Talker
Style:

ABV:

11.8%

Score:

Avg:

4.18

| pDev:

3.83%

Reviews:

7

Ratings:

From:

Avail:

Rotating/Seasonal

Wants

Gots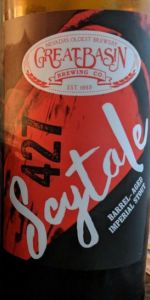 Notes: Aged In Oak for 427 Days

Late in 2016, charred-oak bourbon barrels were carefully filled with pitch-black elixir fated to undergo a transformation. There it would condition under the watchful gaze of our Brewmaster, waiting for the perfect moment to emerge.

After countless evaluations, the time came 427 days later. The oak had weaved its way throughout Scytale, imparting the lively symphony of flavors and aromas our Brewmaster sought.

Meander through the mysteries of 427 Scytale, but remember that few expeditions we set out upon unfurl in predictable fashion.

IBU: 67.9
SRM: 53.2

Harrison8 from Missouri
3.89
/5
rDev
-6.9%
look: 4 | smell: 3 | taste: 4.25 | feel: 4.25 | overall: 4
Pours black with a finger of khaki foam. Foam is a little more bubbly than foam, fizzling away quickly. Aroma is that punchy, hearty stout base - roasty, toasty, nutty and earthy malts. Caramel and molasses are drizzled across the top, adding a twinge of sweetness to the otherwise bold and bitter malts. Swirling the glass then going for a whiff reveals a light tangy cherry note, which adds a little off-center sour funk. Flavor profile is roasty, toasty, nutty, earthy and bready malts with molasses, caramel and toffee adding a squeeze of sweetness. There is a little boozy bourbon that peeps through the clouds. Bold and hearty flavor profile. Mouth feel is thick with a hearty velvety texture that generates a chewable drinking experience. Overall, hearty stout with a kiss of booze that features no frills.
Served in a 15.5oz Speigalau tulip from a 22oz bottle.
Jul 11, 2020
idsville from Florida
4.11
/5
rDev
-1.7%
look: 4.5 | smell: 4 | taste: 4 | feel: 4.25 | overall: 4.25
From Tavour. Mouthfeel is softly carbonated and creamy/smooth but a little thin. Nice, relatively complex dark fruit, vanilla, sweetish bourbon, chocolate/coffee roasted malt palate, transitions to medium, slightly boozy but low heat finish. Would purchase again.
Feb 01, 2019

Ozzylizard from Pennsylvania
4.07
/5
rDev
-2.6%
look: 4 | smell: 4.5 | taste: 4 | feel: 3 | overall: 4.25
$ 20.58 (Including shipping)/22 oz bottle ($ 0.935/oz) from Tavour, Seattle, WA. Reviewed 1/4/19.
Undated bottle. Stored at 42 degrees and served at 57 degrees in a hand washed and dried Jester King snifter.
Appearance – 4.
Body – Dark brown/black, opaque. When held to the light, slight penetration occurs at the rim.
Head – Large (Maximum 4.8 cm, controlled center pour), tan, high density, average retention, diminishing to a three mm ring and complete layer.
Lacing – Excellent! Wide complete bands of extremely tiny bubbles.
First pour – Medium brown, clear.
Aroma – 4.5 – Chocolate, dark fruit.
Flavor – 4 – Begins with weak chocolate, blends into dates and some barrel. Ends with a hint of alcohol. No alcohol (11.8% ABV), no diacetyl, no dimethylsulfide.
Palate – 3 – Medium, almost creamy, soft carbonation.
Impression and interpretation – 4.25 – A fantastic aroma and well-blended flavors make this an excellent drinking choice, although somewhat of a thinner body than expected. Overall, it tastes better than this year's CBS but is still overpriced.
Jan 04, 2019

snaotheus from Washington
4
/5
rDev
-4.3%
look: 4 | smell: 4 | taste: 4 | feel: 4 | overall: 4
2018-11-18
22oz bottle in a box, served in a tulip. It's a 2018 bottle.
Pours very dark, very murky brown with a small head that sticks around surprisingly well. Smell is chocolate and roasted malt. Vanilla and bourbon.
Taste is cherry, bourbon and vanilla, not as much booze as I would expect. Chocolate and coffee.
Mouthfeel is surprisingly light, but sticky. Overall, it's good -- the very picture of a worthwhile bourbon barrel aged imperial stout, but not an out-of-this-world one.
Nov 18, 2018
JohnnyHopps from Indiana
4.27
/5
rDev
+2.2%
look: 4 | smell: 4.5 | taste: 4.25 | feel: 4 | overall: 4.25
Appearance - The beer poured a black color with a dark mocha head.
Smell - There was such a great boozy nose, with chocolate also present.
Taste - At the front were chocolate and coconut notes. The chocolate comes off as being almost syrupy. The booze lies a satisfying undercurrent of warmth. There are hints of nuts and the booze became dryer tour the end. The finish betrayed a little bit of deterioration, perhaps oxidization, but not a lot.
Mouthfeel - The feel really allowed this to linger nicely.
Overall - what a great treat extra I got. This beer can stand on the same ground as similar beers in the style.
Sep 24, 2018

Amguerra305 from Florida
4.1
/5
rDev
-1.9%
look: 4 | smell: 4.5 | taste: 4 | feel: 3.75 | overall: 4
Pours a tad thin that leaves a thing ring of light khaki head around the rim of the glass. Very nice barrel and roasty base stout. Whiskey, vanilla, coffee and chocolate with an almost dark fruity back end. Taste is actually somewhat light, at least for the style. Red fruit notes in the middle with an espresso coffee aftertaste. A bit over carbonated and thin for my tastes. The nose is the best thing about this beer, but unfortunately the rest of it does not live up to it.
Jul 23, 2018

LiquidAmber from Washington
4.31
/5
rDev
+3.1%
look: 3.5 | smell: 4.25 | taste: 4.5 | feel: 4.25 | overall: 4.25
Poured into a Fremont small snifter. Pours a very dark mahogany brown, appearing opaque black in the glass with a thin brown head that dissipates quickly to tiny patches with slight lacing. Aroma of dark toasted malt, whiskey, molasses and slight cocoa. Flavor is dark toasted malt, whiskey, light chocolate, hints of cherry and almond; finishes with whisky, the fruit hints and a little coffee. Medium bodied with light creaminess and good carbonation despite the tame pour. Although a bit whiskey forward, there is quite well done balance in this barreled stout. The fruit, chocolate and coffee notes are clear, but very well integrated. It really has a mellow smoothness to the flavors while still having bright whiskey flavor. Warming and with moments of booziness, but overall and in the finish, handles the big ABV very well. This is a very pleasant and even tempered, but big stout. Nice job. I entered this, which I think is the base stout, well after the Tropico, which seems to have gotten quite a few reviews that do not note any tropical flavors; and to be more confusing, there is an entry for "Topico (sic) with coconut and pineapple". I was so confused, I browsed the web to find out what I actually was drinking. The brewery website has no information outside the base Scytale and other review sites have both the base and "Tropico". Since those reviews mention Pina Colada flavors (absent here), I decided they must be different stouts, although the BA "Tropico" page has a photo that is identical to my base Scytale bottle. I suspect that some reviews there (the one recent complete review also does not mention coconut or pineapple) are for the base stout. So hopefully there is a base stout and a "Tropico" variant. This is a nice stout and deserves to be reviewed under a accurate name.
May 21, 2018
427 Scytale from Great Basin Brewing Co.
Beer rating:
92
out of
100
with
17
ratings