Wild West Hefeweizen
| Ruby Mountain Brewing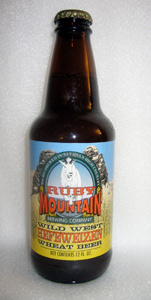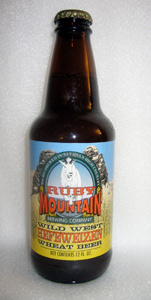 BEER INFO
Brewed by:
Ruby Mountain Brewing
Nevada
,
United States
rubymountainbrewing.com
Style:
Hefeweizen
Alcohol by volume (ABV):
not listed
Availability:
Year-round
Notes / Commercial Description:
A blend of the finest malted wheat, Pale and Munich malts, gives this unfiltered Hefeweizen style Wheat Ale it's Golden color and signature flavor. German Weinstephen Weissen yeast contributes the fruity and spicy flavors found in our true Bavarian style Hefeweizen.
Added by UncleJimbo on 12-20-2002
HISTOGRAM
Ratings: 8 | Reviews: 8
Reviews by thaichile:
3.57
/5
rDev
+2.9%
look: 3 | smell: 3.5 | taste: 4 | feel: 2.5 | overall: 3.5
Bottle. Pours a hazy amber with a nice head aboard. Nose is not overly hoppy. A good sign? Not really, very bitter but also thin and watery. Not robust and does not take a stand although the bitterness remains throughout. Thanks to BlindPig for the bottle.
256 characters
More User Reviews:
3.26
/5
rDev
-6.1%
look: 3.5 | smell: 3 | taste: 3.25 | feel: 3.25 | overall: 3.5
Was a wee college lad when I first had this, a good degree of clarity for style, which they say is a flaw, but whateva, I do what I want! Bright yellow, tons of carbonation. Clovey aroma.
Taste, near, crisp. Lemon and saaz hops I would guess going on. Keeps zesty by the immense carbonation. Was pretty thin body wise. The old lady's favorite amongst the brewery.
365 characters

3.18
/5
rDev
-8.4%
look: 3 | smell: 3 | taste: 3.25 | feel: 3.25 | overall: 3.25
More like a pale wheat ale than a hefe, either way, you really can't see the wheat in this one, has amazing clarity for a style that doesn't strive for such a thing. Aroma had some clove and wheat though.
Taste, this was a carbonation level like pilsner. Noble hops provide some lemon without needed citrus rind. Thin body probably lightened by the wheat.
Wow, this beer really brings in the banned users. 5/7 review from banned people. Ha! All in due time I guess, you can't really look at old reviews without wondering how that person is rating stuff now. . .
571 characters
4.2
/5
rDev
+21%
look: 4 | smell: 4 | taste: 4.5 | feel: 4 | overall: 4
Poured a very hazy light wheat yellow. The smell was of cloves and wheat. The taste was of clove and wheat. The finish was sort of a bitter/sour with a nice lace. I was a surprised that this brewery had produced a real nice, pleasant wheat beer. I would buy it again! Second time around and it was consistant in aroma and flavor!
329 characters
3.65
/5
rDev
+5.2%
look: 4 | smell: 4 | taste: 3.5 | feel: 3.5 | overall: 3.5
A- Thin white head on a cloudy yellow/orange body.
S- Nice big wheat aroma, banana and bubble gum come out nicely too. Some light grass hops to help balance it out just a bit.
T- Bubble gum comes through pretty big with a wheat flavor trailing it. Grass hops come through a bit and leave a light bitterness on tongue.
M- Medium/thin body with medium/high carbonation.
D- It is alright. I can get better Hefe's but I wouldn't mind one of these if I saw it on tap at a bar.
476 characters

3.68
/5
rDev
+6.1%
look: 4 | smell: 3.5 | taste: 3.5 | feel: 4 | overall: 4
12 oz brown bottle with twist off cap.
This hefeweizen poured a clear yellow color with very white, creamy foam that persisted and coated the glass a little. There was a good steady stream of fine bubbles from the bottom of the glass. The smell was light citrus/lemon with some malty sweetness. The taste was lemony (citrus) with a light, tangy fruitiness and mild maltiness, and a very light touch of clove. The mouthfeel was dry and crisp with medium-light body and a tangy aftertaste. This was a nice, refreshing wheat beer.
530 characters
3.21
/5
rDev
-7.5%
look: 4 | smell: 3 | taste: 3.5 | feel: 2.5 | overall: 3
This one has a pale golden hue that doesn't do much for me but has a unique appeal of sorts. The had and lacing are transient and copious amounts of carbonation inundate the glass. Some sediment too. Aroma is of butterscotch and fresh biscuits with just a hint of piney hops. Alcohol is apparent in the nose. The flavor is, for lack of a better term, peculiar. It is smooth, fruity and flavorful like a wheat should be, but there is a turpentine note here as well that doesn't balance well with the more typical hefe flavors. The finish is nice and dry and crispy though, and this mediated my taste rating a bit. The finish is bananas and mild alcohol warmth. Mouthfeel is frankly too carbonated and a bit thin. Combined with the fruity aspects of the brew, it is almost like drinking a Wyder's Cider or something. Drinkability is average because of its unique characteristics. True to the style and similar to stuff I had in Munich several years back. It's just not my "cup of beer".
984 characters

3.04
/5
rDev
-12.4%
look: 2.5 | smell: 3.5 | taste: 3 | feel: 2.5 | overall: 3
Poured a very heavily carbonated slightly hazy deep gold color. Nice head formation subsided quickly. Aroma is of cloves and a little banana. Tastes dry and crisp with a spicy character that is has a hint of clove. Finishes with a strong carbonic bite and dry maltiness. Over carbonation made this one have a rough body character. Drinkable if there is little other selections available.
387 characters
Wild West Hefeweizen from Ruby Mountain Brewing
Beer rating:
3.47
out of
5
with
8
ratings