Two Goats Brewing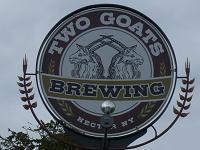 PLACE INFO
Type:
Brewery, Bar, Eatery
5027 State Rt 414
Hector
,
New York
, 14841
United States
(607) 546-2337 |
map
twogoatsbrewing.com
Notes:
No notes at this time.
Added by SierraGS on 07-05-2010
Reviews: 15 | Ratings: 38

4.19
/5
rDev
+5.5%
vibe: 5 | quality: 4 | service: 4 | selection: 4.25
This was my wife and I favorite place on Lake Seneca. Had a couple of their beers and they were all good. The location and view is amazing. Sitting on the deck you overlook the lake. The bar area is truly unique. An overall great place to visit.
★
247 characters
4.71
/5
rDev
+18.6%
vibe: 5 | quality: 5 | service: 4.75 | selection: 4.5 | food: 4
Went here with a co-worker, who happens to be friends with the owner. Situated on a hill face directly above Seneca Lake, the view is breath-taking. Built inside of a hunting-lodge style building, vintage signs and wooden beams are everywhere; there's some seating inside and outside on the wrap-around patio. They have one option for food, a roast beef sandwich, and it's all they need - delicious.
★
399 characters
2.87
/5
rDev
-27.7%
vibe: 1.5 | quality: 2.75 | service: 2.5 | selection: 4
No offering of flights, crowded and loud. Overall the actual facility is adorable with a incredible view & scenic deck, but seemed more like a local dive bar than an actual brewery/brew-pub. My husband and I each had 1 pint and got the heck out of there
★
253 characters

3.35
/5
rDev
-15.6%
vibe: 2.75 | quality: 3.75 | service: 3.25 | selection: 3.25
Everybody talks so highly of this place but I really don't understand why. To be fair, I was there around 10 PM so it could be different during the day. It basically felt like a dive bar. I almost wasn't comfortable letting my female friends out of sight. Don't get me wrong, dive bars have their place. This place was just sketchy. They don't do flights (odd for a brewery but ok) and they were very rude when I asked about them and why they don't do them. Eventually a woman came over and I explained that I was industry and was just hoping to try what they offer, even if it meant paying more than a fair price. She was very nice and gave me splashes of a few things. She could have said no and I would have been ok with it because she was at least nice about it. She was great, the place was sketchy, the beer was drinkable. Will check it out during the day to see if it's a little less dive bar like.
★
905 characters

1.29
/5
rDev
-67.5%
vibe: 2 | quality: 1 | service: 1 | selection: 1.75 | food: 1
Went in with a group. We were looking for a place to relax and have a beer or two. The "head brewer" promptly informed us that we should have made a reservation. To have drinks? We stayed despite the warm welcome and that's when things really took a bad turn. Between all of us we sampled all of their house brews and man were they lackluster. Flavorless, muddy water. No care what-so-ever seemed to be put into it's production. It's a nice enough little pub, but it's mainly a tourist trap rather than a real brewery. Skip it
★
527 characters

4.25
/5
rDev
+7.1%
vibe: 4.75 | quality: 4.5 | service: 3.5 | selection: 5 | food: 3
This place is located right on Seneca Lake, with an outdoor deck area that has a million dollar view. Seriously. One of the best spots to drink a beer that I think I've ever seen. Awesome in the literal sense of the word! Bar itself is rustic, like a log cabin kind of feel, and very laid back... no worries if you get some popcorn on the floor. Oh. By the way: free popcorn, self serve from the popcorn machine.
Great vibe overall. Very friendly. Very chill. Just like the owner, who is a really cool guy to talk to if you get the chance. I would even go so far as to say it's a kid friendly bar, as we take our 18 month old daughter here sometimes and feel very welcome to do so.
The beers are reliably solid, and sometimes outright impressive. I think they have a dozen or more of their own beers on tap and they don't do flights but they do half pints and are happy to let you taste a beer or two you're interested in before committing to it (just don't abuse it, especially if they are busy). They also have a fairly impressive selection of other peoples' beers available. All kinds of cool bottles and cans! There are some things they keep in house regularly, and some that seem to be seasonal or just "hey why not throw a few of these in the fridge and sell them". Keeps things interesting. Always something for everyone no matter your tastes or mood. Great selection! A brew pub for people who love beer.
Service is good, but sometimes slow. It gets busy often it seems and when that happens line between my glass and the bar seems quite daunting. The looming horde of thirsties waiting for the bar gets crowded and a bit disorganized. But the crowd is full of nice people, so I think of it as an opportunity to chat up some strangers. The servers are incredibly nice and they will bring your food out to you when it's ready even if they are swamped.
Food. Ah, if if there's one thing lacking here, it's grub options. They do serve a pretty decent roast beef sandwich. But, that's all they serve. To their credit, they actually slice the meat to order right in front of you on a deli slicer, and pile it high. That's cool. The beef is local, natural, and the bun is too. They make a creamy horseradish sauce that I liked even though I don't like horseradish. That, some fresh fried chips, and pickles is all the choice you have. Oh, and the free popcorn. I think some fried green tomatoes, fried pickles, and possibly a few other small, easy, quick, menu additions would be welcome, but hey, Stone Cat is right down the road!
★
2,538 characters

3.85
/5
rDev
-3%
vibe: 4 | quality: 4 | service: 3.75 | selection: 3.75 | food: 3.75
My wife and I popped into Two Goats Brewing during a trip up to the Finger Lakes in New York. It's a great little place... definitely something to see and take a little break from the wineries. It's in a small building off of Seneca Lake... almost an old barn type feel, with a nice bar and a kitschy sort of atmosphere. The food selection is very limited (as in... today we're making roast beef) but the roast beef was delicious, and it's a pretty happening local place. The beer was very good. They only had a few on tap, but what I tried was great and I'd definitely go back. They don't bottle anything (yet?) so drink up while you're there!
★
651 characters
3.93
/5
rDev
-1%
vibe: 4 | quality: 4 | service: 3.75 | selection: 4
Two Goats is the place to go to get a good beer and free popcorn in a laid back atmosphere overlooking Seneca Lake and vineyards in this wine-centric area.
Their beers are good, the Oatmeal Stout and IPA are standouts and their selection of craft beers is the best I have run across in the Southern Tier of New York - you have to see the list to appreciate it.
One of these days we will try the roast beef - but for now the beers drive our visits.
We have always found the place to be friendly - always found another patron to chat up - and often they are the same folks that we might have seen pouring wine at one of the wineries - this is a locals kind of place yet fully welcoming the stranger.
★
700 characters

4.36
/5
rDev
+9.8%
vibe: 4.5 | quality: 4.5 | service: 4.75 | selection: 4 | food: 3.75
This is a really rad place on the lake in the middle of wine country. It basically consists of one big room which looks like an old barn that has been finished - exposed frame post and beam construction. A very rustic look that compliments the beers hardy, filling, full of flavor not your usual refined boring brews. They have a deck that overlooks the lake and myriads of grape vines. They also have a loft over the bar where I'm told bands sometime play.
They had six of their own brews and offered a number of bottles - Sierra Nevada, Unibroue, Founders, Victory, Southern Tier, and some more. Their own beers started with a Pale ale - good balance solid. Red ale - very nice sweet citrus and chewy malt well balanced with some nice hop bitter notes. IPA - big flavor does not disappoint. Cream ale - I did not try. Oatmeal Stout - big roasted malt, bitter chocolate & coffee notes with some dark fruit raisin sweetness. A double IPA - less bitter than the IPA with a slicker malt backbone - more hops but subtle. The Oatmeal Stout was my clear favorite - my Wife preferred the IPA.
The food was really good but they only offer one thing - roast beef sandwich. It was tasty with the horseradish, but if you want variety of food this isn't the place.
The service was excellent - as well as being friendly and helpful the bartender was also the brewer and very knowledgeable about the beer. The prices were beyond reasonable considering the quality.
★
1,457 characters
4.4
/5
rDev
+10.8%
vibe: 5 | quality: 5 | service: 4 | selection: 4 | food: 4
We visited on a Sunday just after most of the Finger Lake wineries had closed, on our way to Ithaca, New York . We were not alone. It seems the winery tour guides know about this hidden gem. Great view overlooking Seneca lake, comfortable area and we were lucky to be there for some live music.
They only do one food item, a roast beef sandwich on kimmelweck, but when you do one thing well that is all you need. I can't wait to have another.
Two Goats has a cream ale and an oatmeal stout. They are both good, but the combination (they call it a headbutt) is even better.
★
572 characters

3.56
/5
rDev
-10.3%
vibe: 4 | quality: 3.5 | service: 3.5 | selection: 3.5
Dropped by Two Goats with a few friends while in Ithaca for a wedding.
It's a small building with a high ceiling covered in dollars. Lots of random tacky stuff on the walls. Nice wrap-around deck with a great view of the lake.
Service was a bit slow as there was only one person working the whole place, but she was friendly and the laid-back pace seemed to fit the style of the area. I tried the IPA, which wasn't half bad. In addition to the beers they brew, they had a decent local-ish bottle selection. Worth a stop if in the area.
I noticed one of the other reviews mentioned this place is cash only, but they now accept credit cards.
★
643 characters

4.13
/5
rDev
+4%
vibe: 5 | quality: 4 | service: 3.5 | selection: 4.5
Review from my visit in August.
Atmosphere - perfect location on the east side of Seneca lake. The views are as good as you'll find at any of the area wineries. The bar is actually in an old barn with a wrap around deck offering outdoor seating.
Quality - I tried two of their own beers, the oatmeal stout and the IPA. Both were good, much better than I would have expected from such a small place. They also offered several other higher end craft choices (Ommegang, Troegs, Ithaca, etc)
Service - the place was swamped when we got there, but somehow we able to snag the last two seats at the bar. Took a while to order our drinks as the bartender was the only employee there to cover serving drinks, bussing tables, and making the sandwiches.
Selection - Pretty good for wine country. 3 of their own offerings plus probably 5 or so other drafts. Nice selection of bottles too with some of them priced as low as local bottle shops ($9 Pumpking and Perpetual IPA?).
Food - we didn't try it, but the only thing on the menu is a roast beef sandwich. Saw a couple made and they looked alright, but not amazing.
★
1,111 characters

4.1
/5
rDev
+3.3%
vibe: 5 | quality: 4 | service: 4 | selection: 4 | food: 4
Finally! Where in the Hector are we?!
After our virgin visit last summer, enjoying the place very much, we left wanting because no house beers were available yet. Fast forward to Memoral Day weekend 2011.
A gorgeous sunny, bright, Sunday afternoon. The view from the deck here is something that needs to be seen in person. It is among the finest in the Finger Lakes. The panorama of vineyards, farmland and a long expanse Seneca Lake greets the patron from the cozy deck that hugs two sides of the building. Enhancing to the bustling ambiance this day a rather accomplished solo musician plays acoustic guitar and preforms tunes by DMB and David Gray, among others, with amazing deftness. In addition, I strike up engaging conversation with some Boston area beer aficionados. Cheers to you Megan and Herb!
It has been stated that this place is CASH ONLY, and a small sign does state, no tabs. But, with a friendly inquiry, the bartender happily took my VISA to hold my tab for payment later, via said card.
The establishment is situated on a steep hillside on the east side of Seneca Lake. Jutting farther out toward the lake than any of the nearby facilities Two Goats offers a commanding view.
Formed from pieces and parts of an old barn, or two, the building offers the visitor rough hewn wood and plenty of it. Large beams offer stability and the sense of comfort is omnipresent. A roughly L shaped bar hugs the left side of the single room and a smattering of small, high top tables and a couple of dart boards are on the right. The inviting deck contains numerous wooden picnic tables and beckons you for a visit on pleasant days.
Hopefully, you are not a vegetarian or else the "menu" will not appeal to you. Not being billed as a restaurant Two Goats has but one item on their menu....fresh, slow-roasted, hand carved to order, roast beef sandwiches, topped with horseradish cream sauce or straight, unadulterated, horseradish. The sandwich is accompanied by chips and a pickle spear.
Also, available for snacking, is free, fresh and hot popcorn. Complete with a tasty seasoning salt.
Service has been quite solid despite the place being quite busy. Jon, the owner/brewer, greets patrons and makes you feel welcome. The bartender that was on duty assisting was very pleasant and efficient.
Two Goats offers 8 taps and about 30 or so bottles. The bottle selection is quite solid and the taps are nothing to sneeze at either. The taps offer their three house beers (Cream Ale, IPA and Oatmeal Stout), PBR as the macro offering and 4 other, rotating, craft selections.
The three house beers are very good to exceptional. The Cream Ale is one of the finest I have had. A side by side tasting with my style champion Captain Selin's Cream Ale needs to be done. The Oatmeal Stout is solid and quite tasty. While the IPA is outstanding. Don't expect some massive, overly complex, hop bomb, but rather an impressively balanced, flavourful and incredibly easy drinking brew.
Two Goats is a fine addition to this winery riddled area. But, with the Finger Lakes Distillery and, personal favorite, Damiani Winery just down the road I can experience the triumvirate of alcohol within a stonesthrow of each other! Damn, life is good---oh and Beer Good! Keep up the excellent work Two Goats!
★
3,294 characters

3.93
/5
rDev
-1%
vibe: 4.5 | quality: 4 | service: 4 | selection: 3.5
I've made a couple of visits to Two Goats now, despite the fact that it is a bit of a drive. It is worth a visit, especially on a nice day. This place is CASH ONLY, which is always a pain in the ass. They will, however, accept checks.
The building sits on a hillside that is the eastern bank of Lake Seneca. The structure sticks out toward the lake farther than any of the other buildings that dot the hillside around it. The building itself is a one-room barn that was taken apart, moved, and re-assembled on this spot for the purpose of making this bar. Apparently, this building has gone through this process a couple of times before.
When you walk in, the bar is on the left and to your right are a couple of dart boards. There are a couple of flat screen TVs that normally play sports. The ceilings are high and everything is made out of wooden beams, which is what I would expect from an old barn. There is a skylight in the center of the building. Outside, the deck wraps around two sides of the building, affording a great view of the lake from the picnic tables on it. Actually, I think Two Goats has THE best view of Seneca Lake that I have encountered. It is in a spot that does not have an obstructed view, and it sticks out farther than any of the vineyards, allowing visitors to see a good bit of the lake.
The only thing on the menu is a roast beef sandwich with a pickle and chips. I haven't tried the sandwich yet, but I have tried the free popcorn that is the bar snack here. The popcorn is solid, it tastes like they use garlic salt to season it.
Service has been good on my visits. The owner/brewer seems to be there most of the time, and he introduces himself to a lot of the visitors, and thanks you for coming when you leave. I've had a couple of conversations with him and another bartender. Service always seems to be brisk.
There are 8 taps and about 25 bottles. The bottle selection was definitely given some thought, because it has good selections from a variety of styles. The taps include three house beers (cream, IPA, stout), PBR, Ommegang witte, and I believe Racer 5 and Brooklyn lager. Not sure about those last two, because I came here to drink the house beer.
The Cream Ale and the IPA are solid, but the Stout is very good. I don't mean that it is very good for a tiny, fairly-new brewpub. I mean that it is just a good beer. House beers are 4.50 a pint, While other things range from 4-5.5 a pint. I didn't check on the bottles.
Two Goats is an awesome place to have a beer on a nice day, because you can sit on their deck and appreciate the great view of Seneca Lake. It is also right on the Seneca Wine trail, less than a mile north and across the street from Finger Lakes Distillery.
★
2,732 characters
3.58
/5
rDev
-9.8%
vibe: 4.5 | quality: 3 | service: 3.5 | selection: 4 | food: 3.5
As of July 30, 2010, Two Goats is open however they have not received the necessary licenses to sell their product. Word in the street is 2-3 weeks.
Atmosphere: Location is everything. Two Goats is located on the banks of Lake Seneca, overlooking the lake. It has the best view of any brewery or winery that we visited on Lake Seneca, a sweeping pastoral view of vineyards, the lake and surrounding mountains. Absolutely stunning. The building itself is small, with a few scattered tables, dart boards and bar seating. Picnic tables on the deck offer the aforementioned spectacular view.
Quality: A few important notes here that impact quality. First, this is a cash only joint. Second, the food menu is limited, as you'll see below. Third, I tried to chat with the brewer but he didn't seem to interested in a conversation. That's gonna hurt things a bit.
Service: The bartender was friendly, offering up fresh horseradish to compliment lunch.
Selection: As noted, the are no house beers on yet. Instead a varied selection of 8 or so craft beers were on tap (Ommegang Witte and Blue Point Toasted Lager were our choices) along with a cooler full of Belgian and American offerings.
Food: One thing on the menu: freshly sliced roast beef sandwiches. They come with chips and a pickle (and be sure to ask for the horseradish, it'll clear out your sinuses quickly). Nothing else on the menu. The sandwiches were good though, nice and filling.
Business, or at least interest, seemed brisk. Opening the brewery side should keep some of that interest (we saw many people drive up, check it out and leave) at the bar. Good luck to Two Goats, they are filling a bit of a void in the Lake Seneca area.
★
1,698 characters
Two Goats Brewing in Hector, NY
3.88
out of
5
based on
112
ratings.