El Toro
| Fullsteam Brewery
BA SCORE
83
good
11
Reviews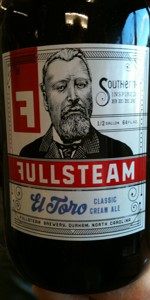 BEER INFO
Brewed by:
Fullsteam Brewery
North Carolina
,
United States
fullsteam.ag
Style:
Cream Ale
Alcohol by volume (ABV):
4.00%
Availability:
Year-round
Notes / Commercial Description:
El Toro is a distinctly Southern, true-to-style American Cream Ale brewed with 100% North Carolina barley and corn grits.
Inspired by our home city of Durham, this clean, crisp, and bright beer is welcoming and unpretentious.
Sometimes all you want is a cold beer. This no-frills "beer beer" just happens to use all North Carolina-farmed grain.
Added by atsprings on 07-06-2010
This beer is retired; no longer brewed.
Reviews: 11 | Ratings: 53
3
/5
rDev
-16.9%
look: 3 | smell: 3 | taste: 3 | feel: 3 | overall: 3
Poured from the tap at the brewery into a pint glass. The appearance is a clear pale yellow color with zero head. The aroma is faint grain and corn. The taste is very weak flavored corn meal. An average beer.
212 characters
3.52
/5
rDev
-2.5%
look: 3 | smell: 3.5 | taste: 3.5 | feel: 4 | overall: 3.5
Had this as part of a flight at Fullsteam Brewery.
Look: light golden color, thin white head, no lacing
Smell: buttered bread? & corn
Taste: sweet & creamy, but overall taste is a little more on the mild side than I would've liked
Feel: creamy & smooth, light body & carbonation
Overall: pleasant & easy to drink, but I probably wouldn't have it again.
355 characters

4.08
/5
rDev
+13%
look: 4 | smell: 4 | taste: 4.25 | feel: 3.75 | overall: 4
Pours a chill hazed deep straw that clears as the brew warms producing 1.5 fingers of white, foamy, somewhat lived head that leaves a wash of streaky lace. Quite a bit of effervescence coming from the bottom of the goblet. Aroma is not as thin as most cream ales that I have tried. The nose is comprised of biscuity malt, hints of corn & grain, banana, vanilla, honey & lemon. Taste is a more robust version of the nose with a few additions & is not nearly as delicate as my previous experience with cream ales. Having a sweeter character than the nose, comprised of biscuit & cracker malt, corn sweetness, something wheat like, banana, honey, dried apple & lemon notes with a peppery finish. Afrertaste is faint honey-lemon, again wheat & banana with a very subdued but lingering bitterness. Mouthfeel is light-medium bodied with high carbonation producing an acidic/alkaline, sandpaper prickly bite, lightly creamy, dry & crisp. The most robust example of a cream that I have had to date. Taste like a Cream Ale/Hefeweizen hybrid. Not bad & a pleasant surprise. Touche Fullsteam!
1,081 characters
4
/5
rDev
+10.8%
look: 4 | smell: 4 | taste: 4 | feel: 4 | overall: 4
growler from Bottle Revolution served up at the NCSU v. Terps tailgate 2011-2012 season, reviewed from notes...
a: served in a standard pint, this cream ale is a pale honey golden in color, supporting a lasting coating of white head
s: the nose features pale malts and a suggestion of the corn grit bill that contributes a slight sweetness to the aroma, hops mild with touches of dried grass
m: carbonated to a light-moderate level, lighter on the palate but carrying a satisfying weight all the same, creamy
t: opens up with a nice clean pale malt body, really liking the use of grits as it adds a creamy sweetness to what would otherwise be a pretty standard flavor profile, making for a fuller flavor with notes of corn and bread, hops are mild with notes of grass
o: really like this one, and they did a great job of making something for all to enjoy - proof that not everything has to knock your socks off with flavor
927 characters

4.17
/5
rDev
+15.5%
look: 3.5 | smell: 4 | taste: 4.5 | feel: 4 | overall: 4
tap
Pours a light clear gold with a white lacing.
Bready malt nose is kind of subtle.
Bread-and-butter malt flavor with a slight hop note.
Med body with a fluffy carbonation.
I really liked this, very drinkable and great taste. Would definitely have this again.
267 characters
3.6
/5
rDev
-0.3%
look: 3 | smell: 3 | taste: 4 | feel: 4 | overall: 3.5
On tap at the brewery on 3/3/12.
Pours a pale straw yellow with no head and obvious carbonation bubbles rising to the top. There is almost no smell; faint straw. The taste is identical to Corn Pops cereal; corn, light grain, husk. The mouthfeel is very light, smooth, and mildly carbonated.
This would be a nice light beer for a hot day. It has more flavor than I would expect from this style. When I say it tastes like Corn Pops, I mean it. It's not as crisp as I had first expected and it's smooth, light body add to it's drinkability. I would probably have this again.
573 characters

3.96
/5
rDev
+9.7%
look: 4.5 | smell: 3.5 | taste: 4 | feel: 4.5 | overall: 4
Transparent yellow color. Nice half inch white head. Not overly carbonated.
Smells light And airy. From the adjunct grains, it's brewed with NC corn grits. Slightly sweet and syrupy.
Taste is light and sweet. I cam feel the lager yeast. The grains have imparted that classic German lager smoothness that I love oh so much. Light body and vey drinkable. One he'll of a session beer!
383 characters
4.17
/5
rDev
+15.5%
look: 4 | smell: 4.5 | taste: 4 | feel: 4.5 | overall: 4
In all fairness I should first state that this is not a style of beer that I would normally drink. I like big hops and bold flavors in general.
Having said that I enjoyed this beer and can appreciate how sessionable it could be.
The slight malty sweetness and pleasing aroma make this beer very easy to drink.
If you are looking for a "gateway" beer to get your macro beer drinking friends to explore craft beer this would make an excellent choice.
451 characters

3.73
/5
rDev
+3.3%
look: 3.5 | smell: 3 | taste: 4 | feel: 4 | overall: 4
I am really starting to appreciate the subtle brilliance of this brewery. The initial impressions of this beer certainly aren't all that impressive, though. The color is a nice but common medium orange with a thin creamy head. The aroma isn't anything special, with a very wheat-like character predominating, and a little bit of a grassiness underneath.
I really start to like this beer, however, as I drink it. The flavor is largely earthy with that interesting wheat-like character again, but there is a sweetness that reminds me of creamed corn that becomes more and more evident as I slowly empty the glass. The tingly carbonation meshes very well with the flavor, making it part of the drinking experience rather than a distinct element.
In the end, I really enjoyed how the corn is integrated in a much different way than it is commonly found in mass-produced lagers. Like the other Fullsteam beers I have tried so far, it adds a bit of intrigue without becoming a gimmick. Overall, this isn't a mind-blowing beer, but it is different and enjoyable, and I will look forward to trying it again.
1,101 characters

2.99
/5
rDev
-17.2%
look: 4 | smell: 2.5 | taste: 3 | feel: 3.5 | overall: 3
Poured from a growler into a tulip. Buddy traveled down to NC and brought back 6 growlers from Fullsteam.
a - Pours a very transparent golden color with one inch of white head and no carbonation evident.
s - Smells of wheat, bready malts, spices, and
t - Tastes of wheat, bready malts, and light fruit.
m - Light body and no carbonation. Little bit flat.
d - A little bit creamy, but not that great of a beer. Wouldn't seek out again, but looking forward to trying their other beers.
488 characters
3.55
/5
rDev
-1.7%
look: 3.5 | smell: 3.5 | taste: 3.5 | feel: 4 | overall: 3.5
On-tap outside Foundation during Raleigh Wide Open served a pale orange with a thin off-white head. Aroma is sweet malts and a trace of earthy hops. The taste is quite interesting, with a uniqueness I have to assume is from the grits used in the mash. The beer is quite light, crisp and refreshing. Fullsteam did a great job with this beer creating something the BMC drinker will enjoy that can still be appreciated by a craft beer enthusiast like me.
451 characters
El Toro from Fullsteam Brewery
3.61
out of
5
based on
53
ratings.