Life's a Cabernet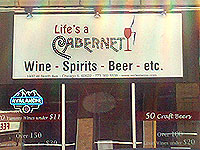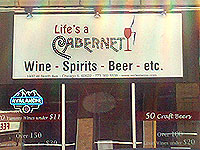 Store
1937 W North Ave
Chicago
,
Illinois
, 60622-1316
United States
// CLOSED //
Notes:
Recent ratings and reviews.
Ratings by readbaron:
Reviewed by readbaron from Illinois
3.85
/5
rDev
-2.8%
vibe: 4 | quality: 3.75 | service: 4 | selection: 3.75
The beer selection is quite impressive considering this is a fairly small shop and mostly dedicated to wine. Lots of 3 Floyds & Goose Island's better beers, and a smattering of others - representing a good cross section of beer styles (no sours).

What set the store apart, though, is the service. I stopped by this evening and Christopher (the owner) asked me how he could help. We quickly got into a discussion about upcoming beer releases, and it's clear that he knows a decent amount about beer (for a wine guy), has a good relationship with local distributors, and wants to keep his customers happy. It's not often that I leave a store wanting to return and inspired to write a positive review. Plus, it sounds like he regularly has free tastings.

If the prices were more palatable I'd be stopping by on a regular basis.
Nov 16, 2010
More User Ratings:
Reviewed by jrallen34 from Illinois
3.39
/5
rDev
-14.4%
vibe: 3.5 | quality: 4 | service: 2.5 | selection: 3.5
I actually stumbled across this place the night its opened and have visited a couple times since before heading into Piece to check if any progress has been made. A sign out fronts reads 50 craft beers, to me its a bit deceiving as this is definetly not a beer store, a wine place all the way. The inside is brand new and very nice, the way the wine is set up is fairly cool. Most impressive is their Eurocave, man I want one of those for my beer. The beer is located at the back of the restaurant in two beverage centers. Lots of local stuff, GI and Three Floyd's, mostly six packs. The stuff here is commonly found so I'm too impressed. I wouldn't ever come here just to get something, if I was in a huge pinch and right there I'd maybe be something. The beer is mostly ipa's and pales, commonly like stuff, no sours. The owner is a very personable guy but he doesn't know jack about beer and he comes across annoying; one of those people that is too bubbly and helpful. Stopped in once when he advertised a GI event and it ran about 30 minutes late and they just showed up with common crap.

A cool looking place but I can't imagine a good reason to come here or how this place fits in.
Mar 18, 2011

Reviewed by ferrari29 from Illinois
4
/5
rDev
+1%
Place caught my eye one time when I was driving to the local archery range. I looked it up on the BA website and saw that a couple of people had already been there. I stopped in tonight after shooting to see for myself, the selection of brews and wine available. I was definitely impressed with the high-quality selection of beers. Don't come here expecting to have the vast selection that a Binny's would have though. If you're in the area and are looking for a nice little place with a unique selection, this is it. It's perfectly located in an eclectic part of Chicago filled with eclectic personalities.

Limited quantities and small litter to choose from, I did a brief walk through and didn't find any major brand beers (Bud, Coors, etc...). Just a bunch of random crafts (Lagunitas, FFF, and Duvel). I also thought it was cool that they actually used the BA 'Shelf Talkers'. I've never seen any retailers actually use those before.

Overall good place, especially if you have a liking towards wine, with a friendly staff. To commemorate the occasion, I picked up a Three Philosophers Belgian Style Blend (Quadrupel) 2010 and can't wait to share it with a fellow beer advocate this weekend.
Nov 13, 2010
Reviewed by OmygodOmmegang from Illinois
4.5
/5
rDev
+13.6%
I stopped in this place on Saturday October 9th for a beer tasting. I thought it strange a wine shop would have a beer tasting, but I thought I would give it a whirl. I'm glad I did. They had Old Rasputin, Alpha King, a Three Floyds IPA, PranQster, and Brother Theloious to taste. It was free to boot.

They have a pretty good selection. I challenged the owner on his claim to have 50 micro brews. After counting he had 68 beers and 62 I would consider Craft Beer.

The pricing was decent. His four and six packs are about $.50 to $1.00 more than Binny's. Considering this is a wine shop in Wicker Park I'll gladly pay it to not have to drive to Binnys. The owner also told me if I wanted to order anything by the case he'd give me a discount.

I like the place. Better selection and service than Lush all day long. Way easier to get to than Binny's.
Oct 13, 2010
Reviewed by AdamU726 from Illinois
4.7
/5
rDev
+18.7%
Ok so I'm a bit biased, I know Christopher, the owner. But he's GENEROUS. I walked in on a Saturday afternoon as he was just opening up for the day, he opened a beer for me and my buddy to try, then another, then another, then another, then another...you get the picture. We sat there watching the Cubs game drinking and shooting the shit.

And he was able to get the beer I wanted a couple months ago over night, a tough beer to get in Chicago.

In short - go see Christopher, he is a wine guy admittedly, but always open to suggestions for beer and has good connections.
Sep 03, 2010

Reviewed by emerge077 from Illinois
3.3
/5
rDev
-16.7%
vibe: 3 | quality: 3.5 | service: 3.5 | selection: 3
6-2011:
Stopped in again on the way over to Piece, and honestly there's nothing much here to really interest BA's. A couple small coolers of random jumbled craft six packs in the back of a wine shop, less than what's typically available at a grocery store. Craft beer doesn't seem to be a priority here, plain and simple. Overstock canned beers were on low shelves directly across from the coolers' warm exhaust fans. No more imports. A few random quality beers here, but this is more of an emergency BYOB beer stop than anything. Shill reviews are a bit obvious here.

08-06-2010 B- / 3.44
A new addition to Wicker Park, it used to be a cigar shop and there were still traces of tobacco in the air. A handful of beers were displayed in the window, as well as a sign proclaiming "50 craft beers" which was pretty accurate. This is primarily a wine shop as the name would indicate.

Inside, the shop is narrow, with a table and chairs in the front, wine racks down the center and sides. Limited spirits selection behind the counter. Beer is relegated to the back, in two coolers. Six packs make up the majority of the selection, many are $2 higher than elsewhere (you are in Wicker Park).

There were a handful of bombers (Dreadnaught, Sofie, Pere Jacques, Hop Juice) and import singles like Orval, Duvel, and Schneider. Random assortment of craft, Metropolitan, Ommegang, Founders, DFH, Two Brothers, and a few macros (Bud, Tecate, Victoria). Usually only 1-2 selections from any given brewer.

The six-packs take up 3/4 of space in an already tiny area. If they took a page from Lush and sold all beers as singles, there would be room to expand and organize. As it is, there is quality there, but it's entirely random and limited.

Service at the register was friendly, and they mentioned an upcoming beer tasting. This is a good shop to grab some beer for nearby BYOB restaurants, but not a destination. Better/similar shops nearby: W Grocer, Olivia's, Before You Go, Lush West Town, Noble Grape, Puerto Rico Foods. Don't really understand the overwhelming praise for this particular place. Piece, Lillie's Q, Handlebar, and Rodan are also nearby.

Fun fact: This space was formerly the Quaker Goes Deaf record store from 1995-2000.
Aug 06, 2010
Life's a Cabernet in Chicago, IL
Place rating:
3.96
out of
5
with
6
ratings