McNally's Tavern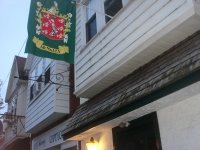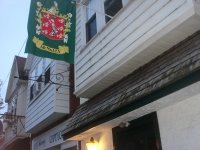 Bar, Eatery
8634 Germantown Ave
Philadelphia
,
Pennsylvania
, 19118-2841
United States
(215) 247-9736 |
map
mcnallystavern.com
Notes:
Reviews by GeoffFromSJ:
3.38
/5
rDev
-2.9%
vibe: 4 | quality: 4 | service: 3.5 | selection: 2 | food: 4
Came here with the blithering one. Home of the Schmitter, which is an excellend sandwich. Cheesesteak, peppery sauce, onions, salami on a long roll or kaiser. That pretty much is the reason to come here.
On bottle, they have Sam Adams Lager, Sam Adams seasonal, Prima Pils, SNPA and Stella. Yuengling looks like the only decent option on-tap. So good beer can be had, I'm just not overly impressed.
No cell phones and no smoking in the small interior. Crowded on the Friday at dinner time, but not overwhelmingly crowded. Family friendly.
A Philly institution. But now we have a good question. Is the Grey Lodge's Lodge Steak better than the Schmitter. Maybe so.
671 characters
More User Reviews:

3.5
/5
rDev
+0.6%
vibe: 3.5 | quality: 3.5 | service: 3.5 | selection: 3.5 | food: 3.5
As has been stated, this place can be hard to find. Of course, it is right across from Borders now - a landmark that didn't exist before. My friends used to know it as the "green door". Anyway, it's a pretty local place. Average to decent beers, but you probably won't be able to enjoy them standing up behind the row of people sitting at the bar. If you decide to eat and get a table (when you can, this place is even pretty busy during lunch) the food is pretty good, and maybe even very good, for being bar food. Nothing great on tap, even less in bottle, and not a particularly "beer culture" bar, but worth a visit. Now, why the Schmidder is so popular, I haven't got a freakin' clue!!!
691 characters
3.63
/5
rDev
+4.3%
vibe: 4.5 | quality: 4 | service: 4 | selection: 2.5 | food: 3.5
Right out in the open, but so hidden.
Many a person has mistakenly wandered into the Hill Tavern next door looking for McNally's. Don't be one of those people. Look about 6 feet to your left, at the black door with the tiny, rectangular brass plate. There it is, in small letters: McNally's.
Once you go inside, you're confronted with a long bar, and open grill on your left, a scattering of chairs and tables to your right, and the wonderful trappings of nice, dark, worn-in wood everywhere. About 25 people would fit comfortably, and about 50 usually do. Good stuff. The patrons come from all walks of life, but treat each other as old friends (which, in many cases, they are). 80-year old blue bloods, doe-eyed co-eds, construction workers, white collar, blue collar, no collar. They're here, and they're saving a stool for ya. Just about the best bar crowd around anywhere.
Quality of everything is pretty good. Food and beer get to you fast, and portions and pours alike are kind.
Service is again, excellent. The bartenders are your best source for the down low on local rumor and news -- when they're not chatting up the co-eds. Still, they're pretty attentive to keeping pints full.
Selection isn't great (think BMC, Lager, and the usual big-boy British suspects), but you didn't come here for the beer, did you? Don't be a weirdo, pestering about obscure selections. Get a Lager (maaaaybe a Rolling Rock), or three. You'll be happy with it.
The food is pretty good, with a variety of solid fare, all rediculously cheap. Of course, 99% of the food orders here go for the famous Schmitter, often imitated (*cough*lodgesteak*cough*), but never quite copied -- and you really can't copy it, as the name's trademarked. The sandwich is essentially a fancy-pants cheesesteak with a grilled tomato slice, onions, and russian dressing with a special secret ingredient. I'm a fan, but to be honest, the steak part is not the most tender you'll find, as it's not the traditional chopped steak, but rather a long slab. It's worth the experience, and certainly artery-clogging delicious, but it's not addicting enough that I get it everytime.
All in all, this is a fantastic little place, worth visiting just for the crowd and the atmosphere. Instead of Ev's suggestion that you head to the General afterwards, I'm going to suggest McMenamin's, in the other direction.
Still, stop by here -- and save me a stool, won't ya?
2,428 characters

3.38
/5
rDev
-2.9%
vibe: 4.5 | quality: 4 | service: 3 | selection: 2.5 | food: 3.5
Heralded as Philadelphia's sanctified "Home of the Schmitter sandwich" Mc'Nally's is tricky to find unless you posess the "know how & where" to locate McNally's Tavern. It is to the left of the Hill Tavern and it is across from Border's Book Store. In the warmer months, a "McNally's" flag adorns the entrance. Look for the dark brown doors, and pop open the left one as you approach with the tiny brass plate that declares "Mc'Nally's." Parking can be tight especially at dinner time 5-8 pm. Better luck parking up the hill than down it. If it's late, skooch into the vacant Border's lot across Germantown Pike after 10 pm. Once you have cracked the James Bond exterior, the interior of Mc'Nally's is: 1- Small, and 2- Cozy.
*** NON-SMOKING & NON-CELLPHONE INTERIOR ALERT ***
Irish styled motif with wooden plank floors and dark bar aestetics run the roost.
Beer selection is a twinge English Pub variety with a narrow tap selection of Kers Light, Stella Ar-Barf, Yuengling Lah-Gaire, Smithwicks, Bass (not the instument), Guinness, and Harp. (Harp AND Bass? ...We're both scratching our collective heads over that ole sore toe.)
Bottle selection is a bit wider but a yawn inducing lineup of John Courage, Cerveza, Labatts Blue, New Castle, Molson Golden, Miller Lite, Yuengling Lite, Carlsbad, Stella Ar-Barf, Sam Adams and some A-sordid scrod.
A "locals mostly" 20 seat unpadded wooden backed bar stool seating line to the left is at the front of the narrow shotgun room bar, beset by a hanful of four-top covered dinner tables to the right. Standing room only dinner crowds make the queue at 5:15 pm. Bar area is replete with hard boiled egg basket as a substitute for bar nuts.
Schmitter History: Cheese steak on a Kaiser roll with extra cheese, fried onion, tomato, fried salami and homemade 'special' dressing that is rumored to be named after famed Philadelphia Phillies 1980 World Series Championship team 3rd baseman home run sluggin Micheal Jack Schmidt but alas the appellation was chosen to honor a local Joe who ordered his cheeseteak in such tall fashion accompanied with none other than a Schmidt's Beer. The customer is alleged to have relocated up North in the Pocono region, yet still enjoys his eponymous treat.
$5.25 on a kaiser and a Double on a long roll $7.00
A cold box at the exit holds usual prosaic takeout of Miller, Bud Light, scrod beer and even Boddington's and SNPA.
Three beers and three dinners is $33 without tip. Our waitress was smiling but perfunctory. If you go, get the Schmitter (TM)...yes, it's trademarked...for bragging rights alone. Then, tell your friends that it is soooo good and rub it in that they can't get it. The chilli is filling and cheap and the plain chicken sandwich is par for the course. (No fries, just Ruffles Chips on the menu that has a cryptic entry: "There being no place like this place, near this place: this must be the place..." Anon)
The unisex little scrod's bathroom is down a harrowing wooden flight of stairs past the rickety shelves of pickled pig's feet and bat eyes, then to the left. A tulet bowl and sink await, your majesty.
Last call: Despite a boo-hoo no brass bar footing factor and so-so yawn beer offering, Mc'Nally's is the kind of bar that you (or me me me, I) would give anything to own and run. Cozy, open kitchen and small with (reiterated) NO SMOKING!!! Just don't frackus on your way to the bathroom. My advice: Have a Schmitter and a local Yuengling Lah-Gaire on tap. Then, drive three minutes on the same street to The General Lafayette Inn for a good brewed beer. This does pass the "Could you take your Mom here?" test with flying colors. Clean and smoke free in case you didn't catch my drift.
Hours:
Monday through Saturday 11.30 am to 11.30 pm
Sunday noon to 8:00 pm
except between Memorial Day and
the start of football season when we are closed.
Great place to take the kiddies.
3,936 characters
McNally's Tavern in Philadelphia, PA
Place rating:
3.48
out of
5
with
5
ratings