De Berenbak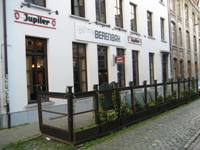 Reviews by TheLongBeachBum:
TheLongBeachBum from California
4.2
/5
rDev 0%
vibe: 3.5 | quality: 4 | service: 5 | selection: 4 | food: 4
Located off Minderbroedersrui is Minderbroedersstraat, don't confuse them otherwise you will be searching for hours. As you turn from the former into the latter, the Berenbak is about 30 secs. walk on your right next to the School of Fine Arts.
I recently planned to have a quick drink here & ended up spending about 4 hours instead, from around 12am until 4:30pm on Sat. 30th Nov. 2002. My friends had departed for UK, so I was on my own for the last day. No fear, when I entered it was quiet, but I was immediately made to feel very welcome by one of the two owners, Alex Kool, a true Gentlemen & extremely knowledgeable about beer. They serve around 50-70 beers in total. The range varies because the owners like to try new beers, which is a good sign. They have five beers on draft; whilst I was there they were; Westmalle Dubbel (quite rare on draft), Palm Dubbel (also very rarely seen as the Dubbel is a seasonal special), De Koninck (very common in Antwerp) and one/two others regulars. Also, expelled far away on its own right at the end of Bar, was a very sad looking Guinness Font. Bottled beer range was superb & extremely well thought out. It included a couple of Flemish Red/Browns, Trad. Geuze, Wheat Beers, Blond & Dark Strong Ales, a few other regular styles & "surprise", Poperings Hommelbier -which is a rare treat in Antwerp as it has only recently started to be distributed here.
Food is available, from simple but wholesome Snacks to Meals (check times). The Ice Cream is always available & excellent though!!. They collect Company & Club ties here, and have over a 1,000 on display high up around the Bar area. Sit on Stools and drink at the Bar, at Tables to the left hand side, or in the back if it is full.
I spoke to one of the owners Alex quite a bit that quiet Sat. afternoon, when he left at around 2pm, I ended up talking with one of the regulars & the other owner Wim, all of whom spoke very good English. Both owners are passionate & have a great sense of humor. I was made to feel immediately at home, and I cannot speak highly enough of the warm welcome & courteous nature of this bar.
I left with a Palm T-Shirt & Key Ring, both free-gratis, sure "small" gifts in monetary terms, but to me they are highly treasured reminders of another pleasurable afternoons drinking, in a great bar with friends that I had only just met. Only in Belgium.
I will be back here again next time I am in Antwerp, that's for sure.
Last Visit 11-30-02
Dec 03, 2002
More User Reviews:
msubulldog25 from Oregon
4.28
/5
rDev
+1.9%
vibe: 4 | quality: 4 | service: 5 | selection: 4
Visited late afternoon, 7 September, 2006.
Tucked neatly away down quiet Minderbroederstraat across from the Fine Arts Academy, De Berenbak is a small pub that's somewhat hard to find but very easy to love. I sought it out because of Tim Webb's "Good Beer Guide Belgium" and earlier BA reviews that sang its praises; I'm glad I heeded the advice.
From the outside, Berenbak wasn't much to look at on this overcast day: a plain white-washed facade with a small sidewalk seating area adjacent to the cobblestoned street. Chairs and tables were stacked due to rains earlier in the day. Inside was much different: quiet, with just a handful of local patrons speaking in hushed tones, but comfortable and inviting. High ceilings and ample natural light make the space feel airy; white plaster walls with wood wainscot panels and ancient dark wood floors give the place warmth. Behind a smallish bar are shelves filled with hundreds of glasses waiting to be filled. Above the wooden bar, hundreds of donated ties hang in clusters. Of course, soft pop music plays in the background...Shakira...U2...Kelly Clarkson...
I selected one of several wooden booths next to the front windows and began to browse the menu. Within seconds, a cheerful man tending bar (who I learned later was co-owner Wim Kool), greeted me and asked what I'd like to have; my hesitation and English "hello" gave me away as a tourist. No problem...after some chit-chat, I selected the Corsendonk Pater my host recommended. Perfect pour and presentation - a very tasty dubbel. I scribbled down some notes and tried to decompress after a long hectic day of travel. My wife stayed at the hotel, sleeping off some jetlag...
Time passed and I was ready for a second beer; there are about 60 beers on the laminated menu and 4 draft choices (Hoegaarden, Jupiler, De Koninck, and a seasonal). I chose a Poperings Hommelbier - another beautiful pour, those crisp hops really hit the spot. I'd noticed a printed copy of the BA Beerfly Review hanging from the bulletin board next to the bar. At this point, with traffic still very slow, Wim came over to my table and sat down for a few minutes. We talked some about BA/beer and about travel. He told me about his family's ownership of the pub and about the history of the building; it was once a carriage house, built in 1732. Back then, lords would lodge upstairs and dine in the restaurant downstairs (the same room where we were visiting) before crossing the canal (where Minderbroederui now is) into the center of Antwerpen.
At this point, Wim thanked me for stopping in and apologized for needing to leave - "...meeting my wife for dinner!", he explained. Speaking of food, at this point I realized I needed some, too...
I settled the tab of barely 5 euros and reluctantly left in search of a meal. I'd enjoyed a wonderful hour or so hanging out at De Berenbak; it made for a great start to the stay in Antwerp. Worth a trip if you're in the neighborhood. Next time, I'll bring a tie...
Sep 22, 2006

downes51 from England
4.13
/5
rDev
-1.7%
vibe: 3.5 | quality: 4 | service: 4.5 | selection: 4 | food: 4.5
This is one of my favourite bars in Antwerp. It's friendly, they encourage/tolerate my attempts to speak Flaams, and if you don't know what you want to drink they will suggest something from their excellent selection.
The food is, while not up to the standards of the very best restaurants (and why should it be?), by the standards of a café bar it's really top notch. Note that the kitchen shuts at 2pm but they will still do you sandwiches after that time. They start cooking again in the evening of course.
If I criticise at all, it is that the music (a local hip-hop radio station) is often turned up too loud for my taste. Otherwise, highly reccommended.
Jan 29, 2004
De Berenbak in Antwerpen, Belgium
Place rating:
4.2
out of
5
with
3
ratings